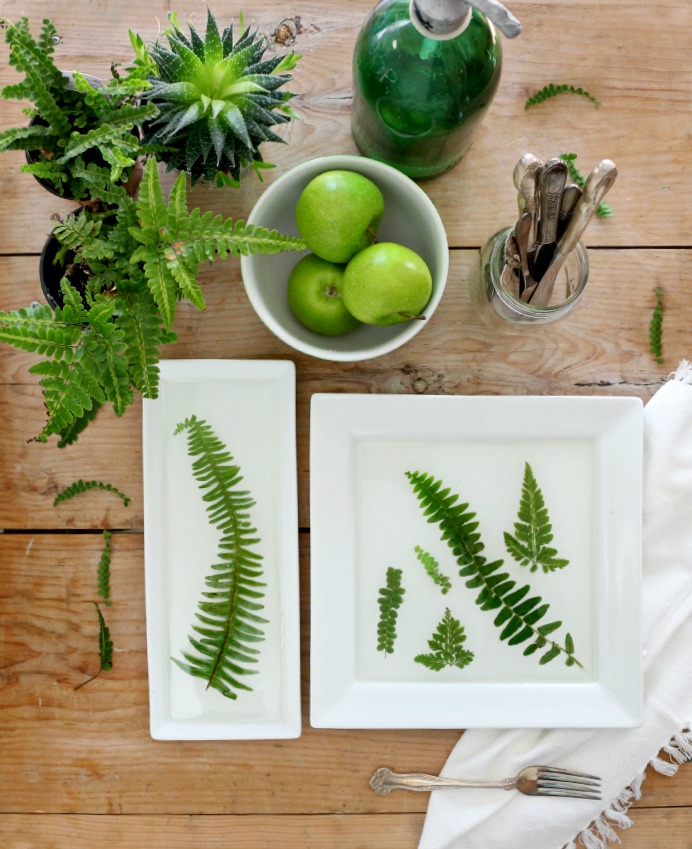 Happy Friday friends. I hope you had a good week.  Today I'm teaming up with some of my dear
Canadian friends again to bring you some beautiful handmade Mother's day gift ideas.
I think some of the most memorable and thoughtful gifts I have ever received, have been handmade.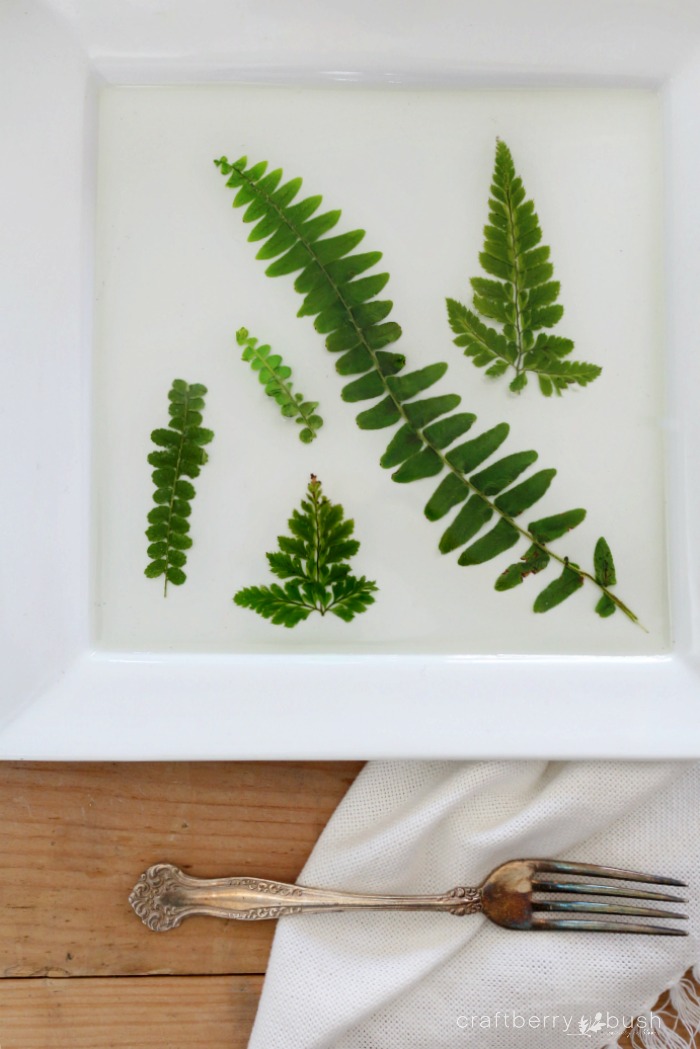 I originally wanted to paint some ferns with ceramic paint onto these trays,
but I remembered I had some left over resin from this project and thought it would be
such a neat idea to use it with live ferns. It's so easy to do and I really love the end result.
Materials:
Epoxy Resin (available at any craft or art store)
White glue or ModPodge
Tray(s)
Live ferns or flowers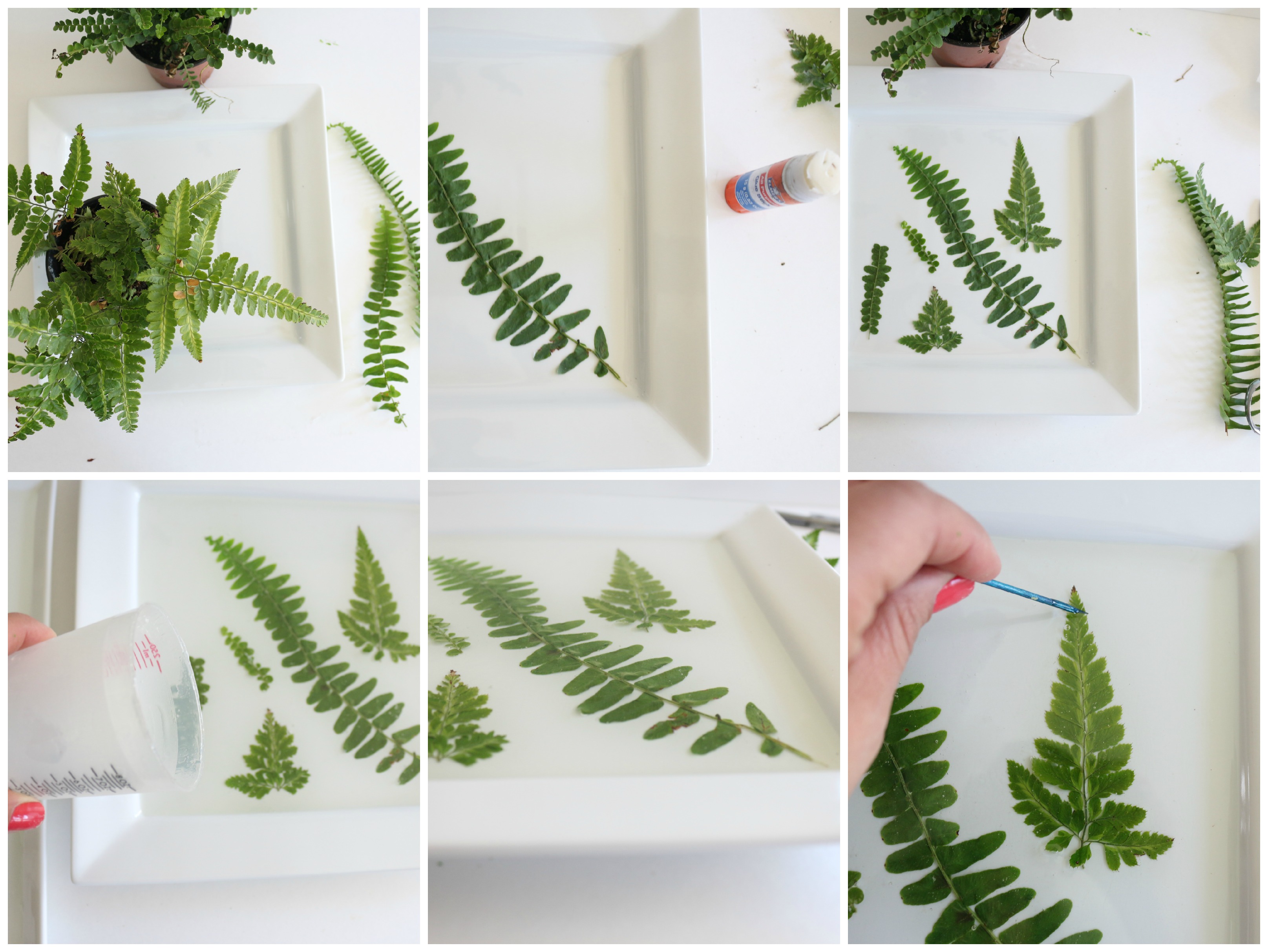 1. Choose various kinds of ferns for interest.
2. (not pictured) Place fern between two pieces of paper and iron at low temperature, until fern flattens down.
Or if doing this in advanced, you can press the fern between the pages of a book for 24 hrs.
3.Secure fern onto tray with glue, ModPodge or even a glue stick. Assure that no part of the fern is sticking up.
4. Follow package instructions for the resin. It is very important that you use the exact measurements or  the resin will not set.
5. Allow to dry for 20-60 minutes. If you notice any large bubbles gently 'pop' with a tootpick.
6. Let dry for 24-48 hours. Wash thoroughly with warm soapy water.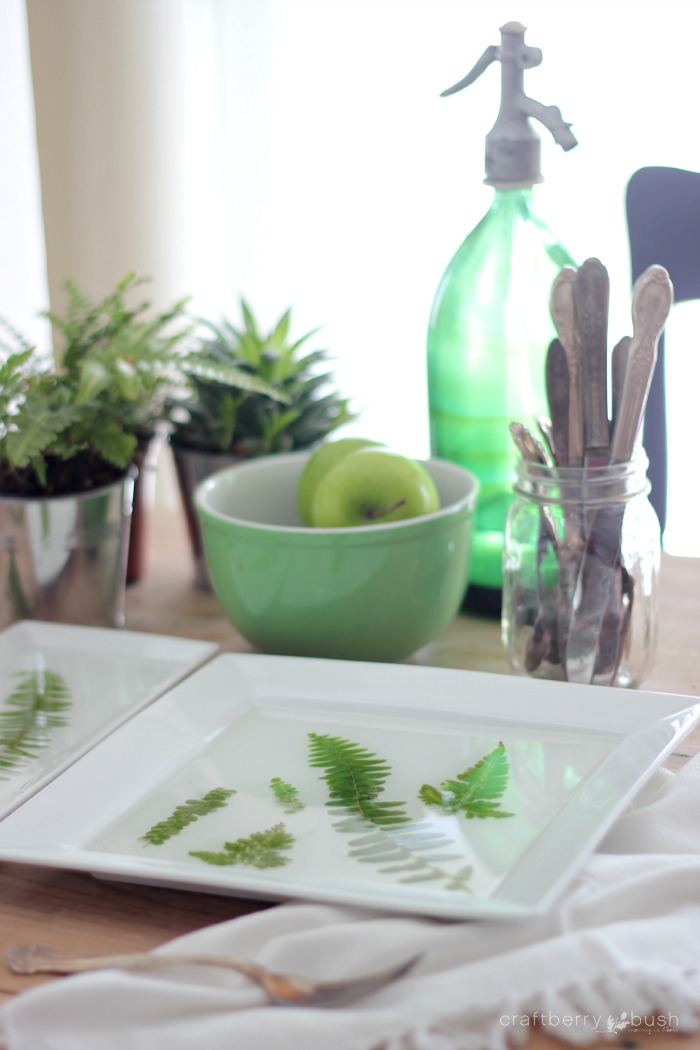 Resin is 100% food safe and can be used to serve food or simply used as a charger. (Do not place in microwave or dishwasher though)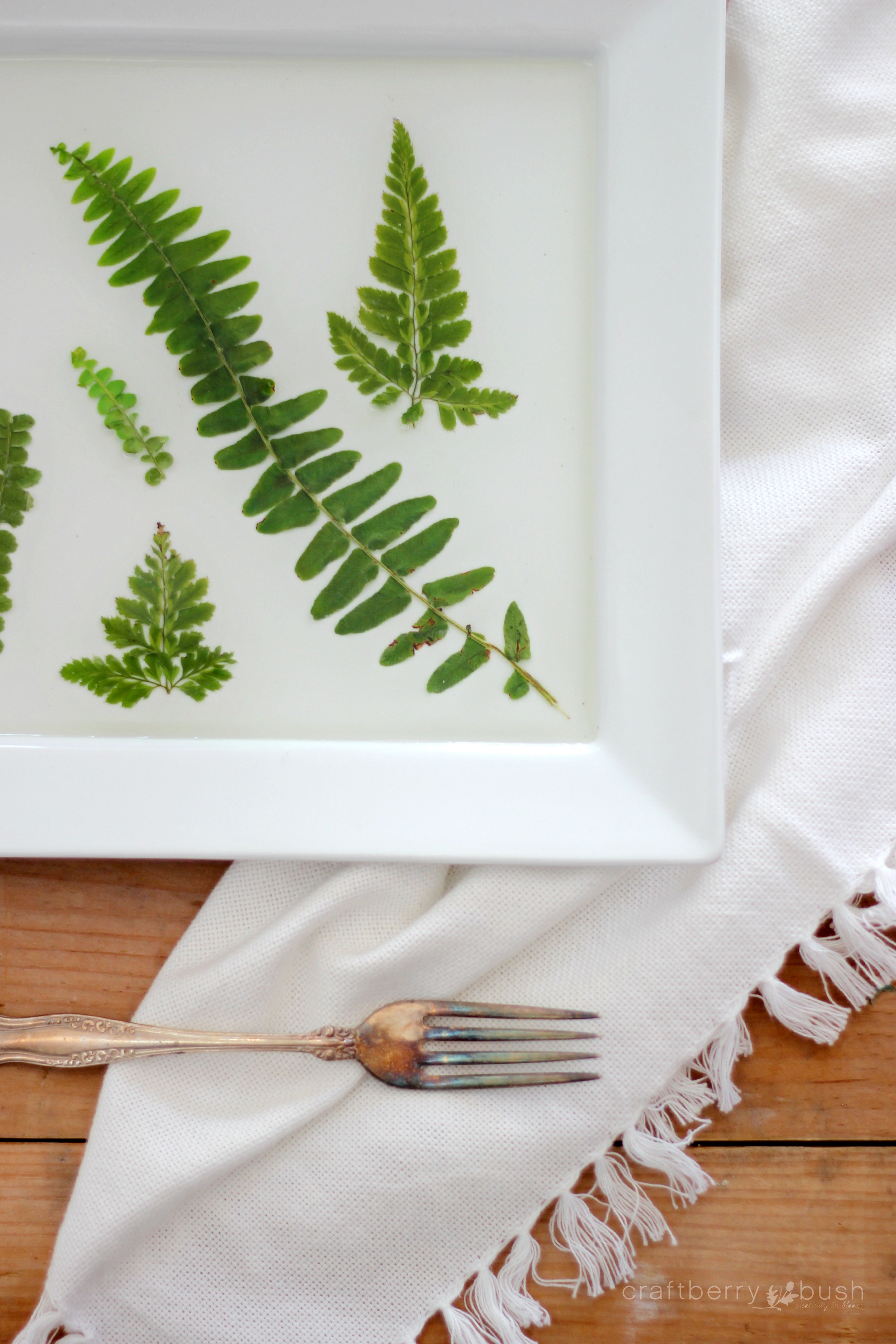 I love, love the way the fern looks under the glossy resin. The possibilities for these are endless. Picture herbs, or petals etc.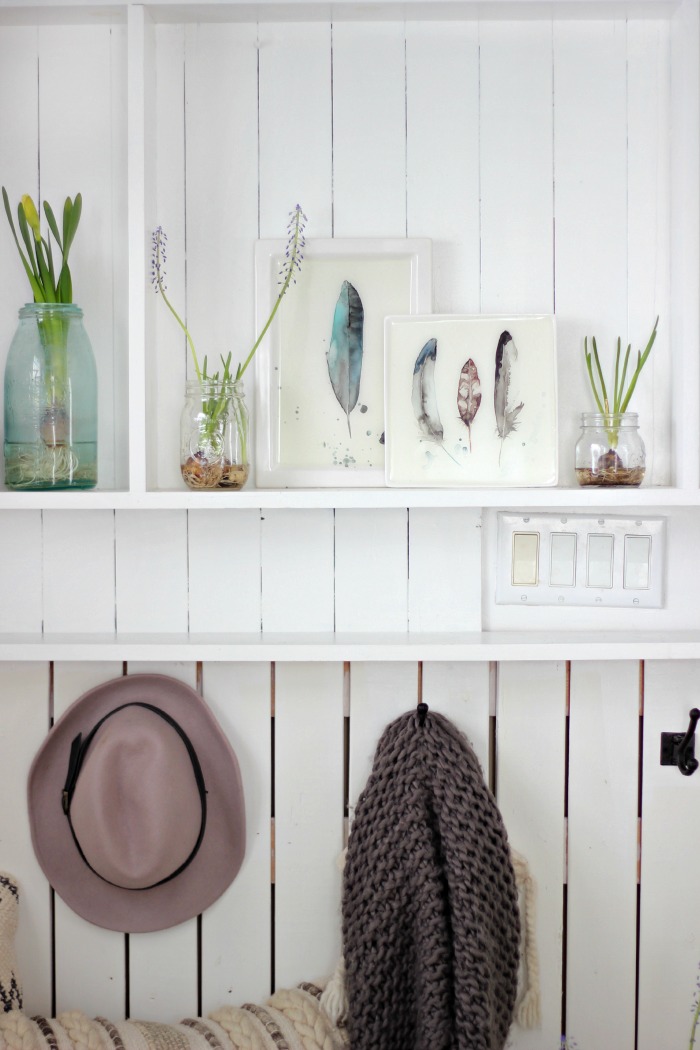 As a matter of fact, I experimented with painting these feather with watercolor onto similar trays,
allowing the paint to dry and pouring resin over it. They turned out so cool don't you think?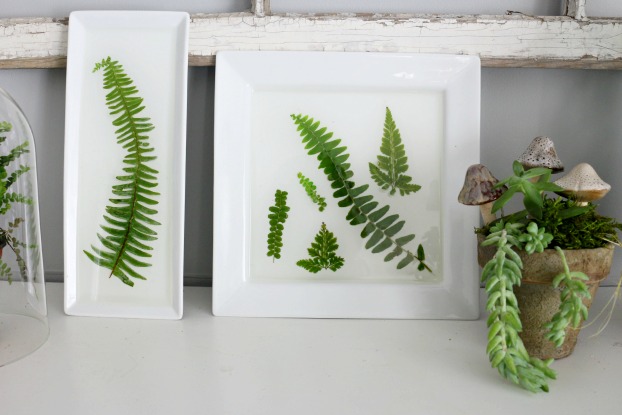 These can also make beautiful wall art. Just place an adhesive plate hook on the back.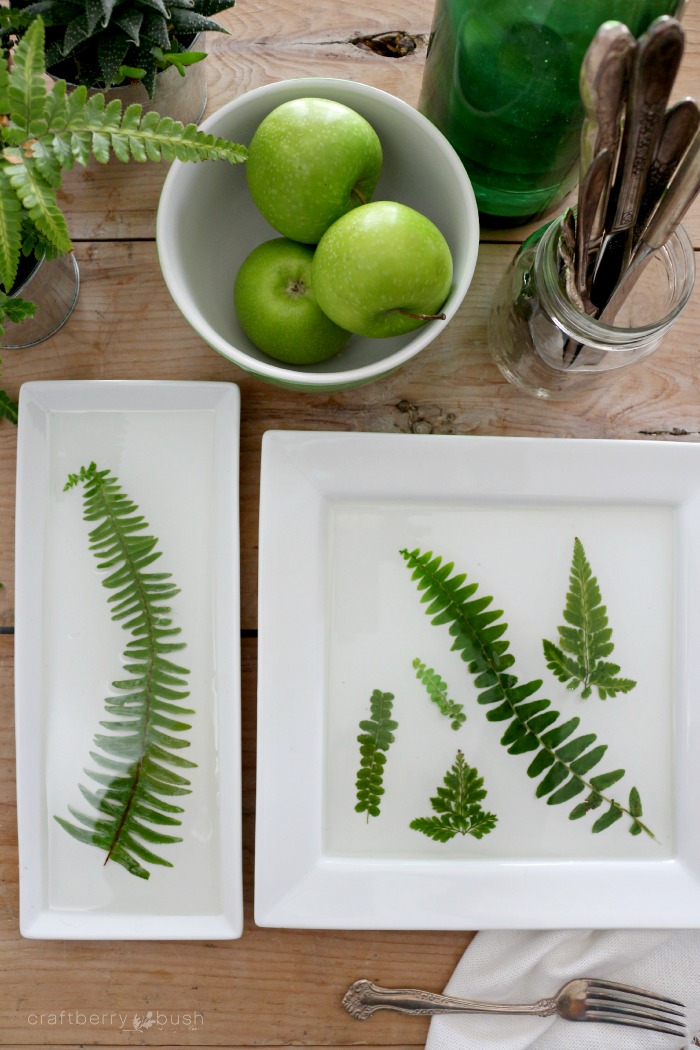 I like the look of the fresh fern, but you can press them ahead of time to make them look a little less 'fresh'.
As mentioned, here are some of the other beautiful handmade gift ideas.
and don't forget to enter the generous giveaway by our friends at Breville.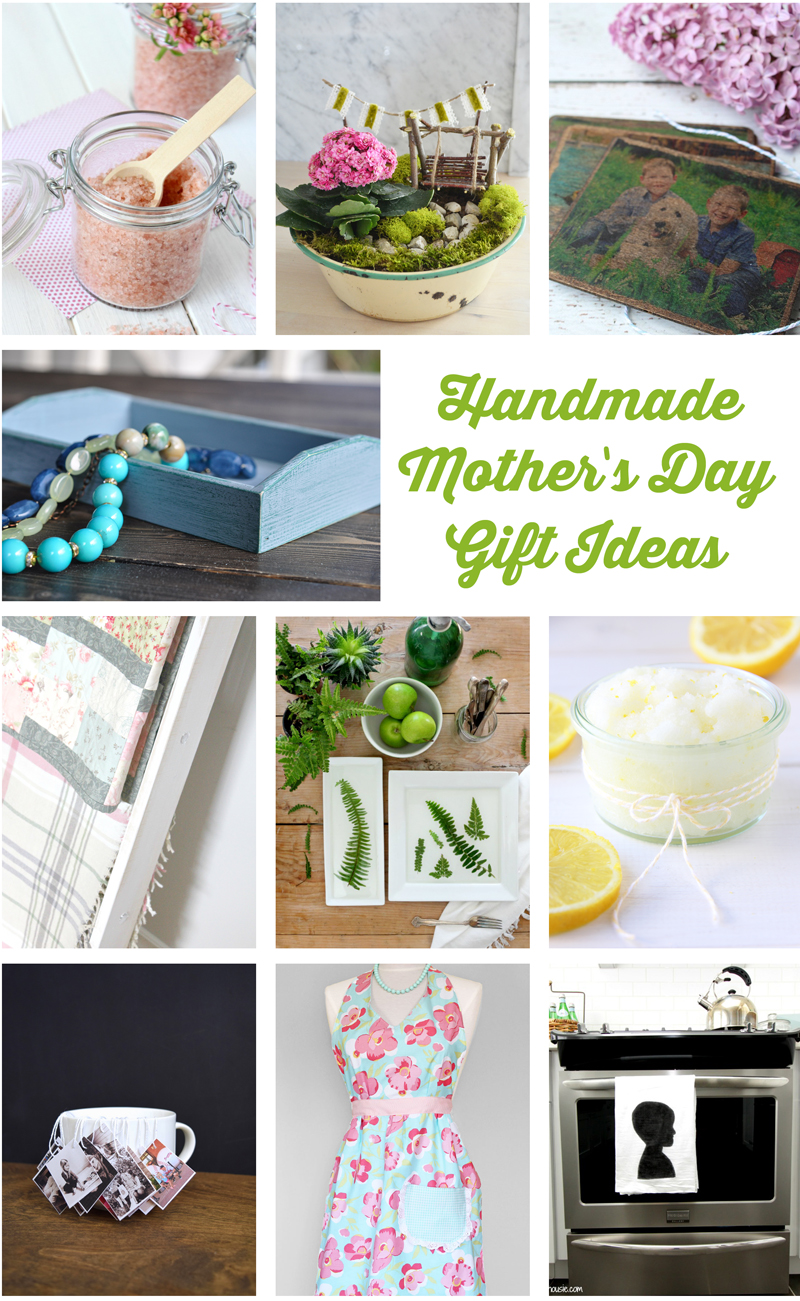 Shauna of Satori Design for Living made a Pink Grapefruit Salt Soak
Christina of The DIY Mommy shows you how to make a Mini Fairy Garden in a Tin
Jenn of Clean & Scentsible made Vintage Wood Transfer Photo Coasters
Tara of Suburble put together a Weathered Gift Tray Tutorial
Kristi of Making it in the Mountains shows you how to make a DIY Blanket Ladder
Lucy of Craftberry Bush shows you how to make this Press Fern Resin Tray
Jo-Anna from A Pretty Life in the Suburbs has a recipe for a Lemon Coconut Sugar Scrub
Alex of Northstory made these fantastic Photo Tea Bags
Virginia of Fynes Designs has a free Apron Sewing Pattern
Krista of Happy Housie made a DIY Silhouette Image Tea Towels