Today I have the pleasure to introduce you to my friend Susan from Kindred Vintage.
Susan is brand new to the blogging world and I am so honoured that she agreed to guest post here for us.
Susan has a beautiful home which she shares on Instagram and her beautiful soul inspires me everyday.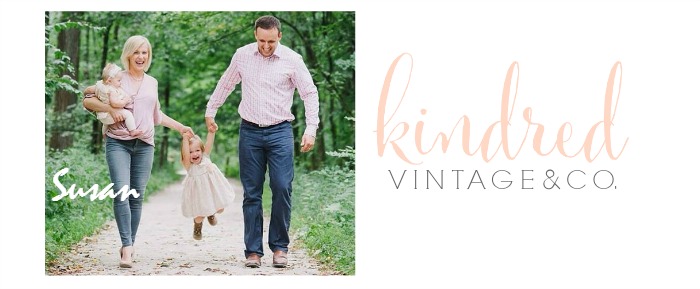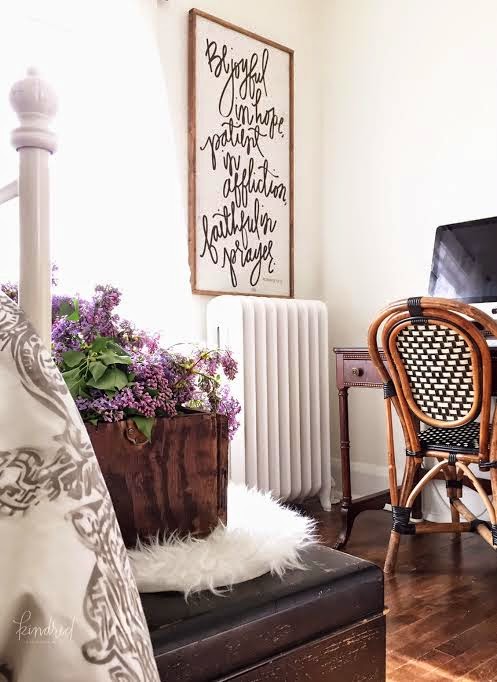 Hello friends!
I am so thrilled to be guest posting here at Craft Berry Bush today!  I was beyond humbled when Lucy reached out to me and I am very excited to take on my very first guest post since starting my blog last month!  Since day one of finding Lucy on Instagram I have been absolutely awed by her talent, inspired by her art, and at home with her words. I am so blessed to have her not only an inspiration, but as a dear friend and mentor as well!
A short bit about myself some
 of you may know me through the Instagram community, some of you may not but nonetheless, my name is Susan from Kindred Vintage & Co. 
I am a stay at home momma, a wife to one of the most wonderful men in the world and a mother to two of the most darling little girls.  I adore my family, good friends, coffee, vintage goods, decorating, red wine and being surrounded by beautiful spaces.  The thrill of the thrifting hunt, finding that imperfectly perfect piece and giving unloved gems beautiful new life has always been a passion of mine.  I enjoy adding character to spaces through unique furniture and mixing the old with the new.  The motto I live by; fill your home with only the things that you absolutely adore, because in my opinion, those things represent you and that is what  truly makes just any old house a home.  
Today I am going to share with you my latest, trash turned treasure diy.  If you know me you know I have a very hard time leaving anything wooden, rustic and vintage behind. So when I saw this old toolbox for a couple dollars at a garage sale I just knew I had to have it! (Now if you asked me what it was I planned to do with it, well that was a different story.) After a few months of it collecting dust in our garage I finally came up with the perfect little diy project for the old guy using stuff I had around the house and I love the way it turned out.  This wooden toolbox is now a charming flower box and a gal can never have enough flowers so it's perfect!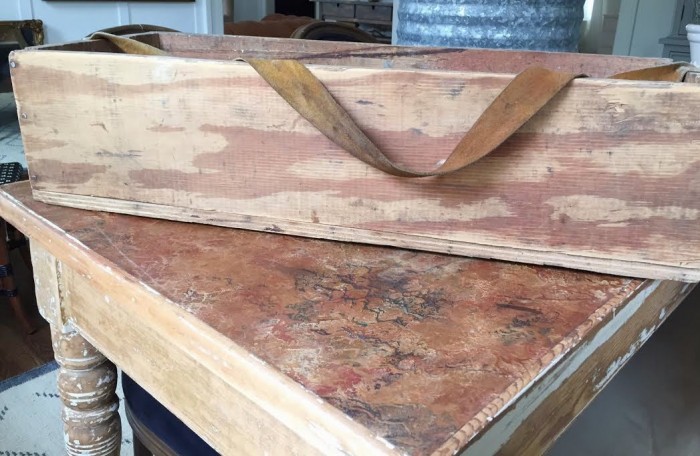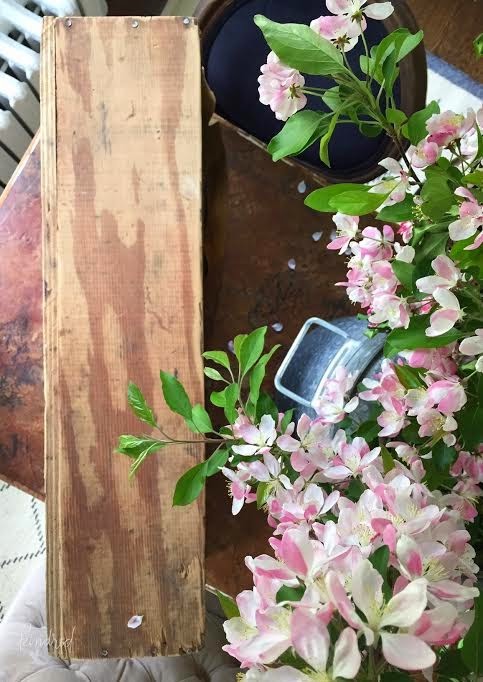 The process was fun and easy and can be done on any wooden box or crate you have.
If  you are looking to recreate something similar just follow these simple steps and have fun!
SUPPLIES YOU WILL NEED:
1. Hand sander or sand paper
2. Varthane wood stain in weathered gray
3. Miniwax wood finish in dark walnut
4. White paint (I used behr premium plus in snowfall but any paint will do)
5. Cotton rag to apply stain
6. Paper towels
7. Chalk marker
8. Small paint brush for lettering
LET'S GET STARTED:
Step 1-
Sand down wood to get off any old stain or finish in order to make the surface smooth.
Step 2-
Apply dark walnut stain with your cotton rag making sure to coat the entire surface. Wipe off excess with paper towels. Wait two to three minutes for stain to settle in.
Step 3- 
Apply weathered gray stain with your rag, on top of the dark walnut stain you just applied. As little or as much as you would like, depending on how weathered of a look you are going for. When you have achieved your preferred look, let the stain dry for about twenty minutes.
Step 4-
Once the stain has dried free hand whatever saying your heart desires onto your flower box.   I did this with a white chalk marker so that I could clearly see the outline to make painting easier but a sharpie would do the trick as well. 
Step 5- 
Fill in your lettering with a very small paint brush and your white paint of choice. Once complete let dry for about thirty minutes. 
Step 6-
Bring that beauty inside and stuff it to the brim with pretty flowers!  As you can see, lilacs were my flower of choice!
Here in Chicago throughout the spring and summer months I cannot seem to get enough of the pretty blooms popping up everywhere! We were so blessed to discover that the home we moved into eight months ago has all sorts of gorgeous perennials popping up throughout the yard! Spring has just started waking up the gorgeous plants and trees and I can't wait to see all the beauty that will continue to appear around our yard!
A big grateful thank you again to Lucy for having me and thank you to each and everyone of you for reading along!  It was so nice to meet you and if you'd like to join my journey as well, I would
LOVE
to have you:
Thank you so much Susan for sharing a little bit of you with us.  We can't wait to see your beautiful journey unfold. xo