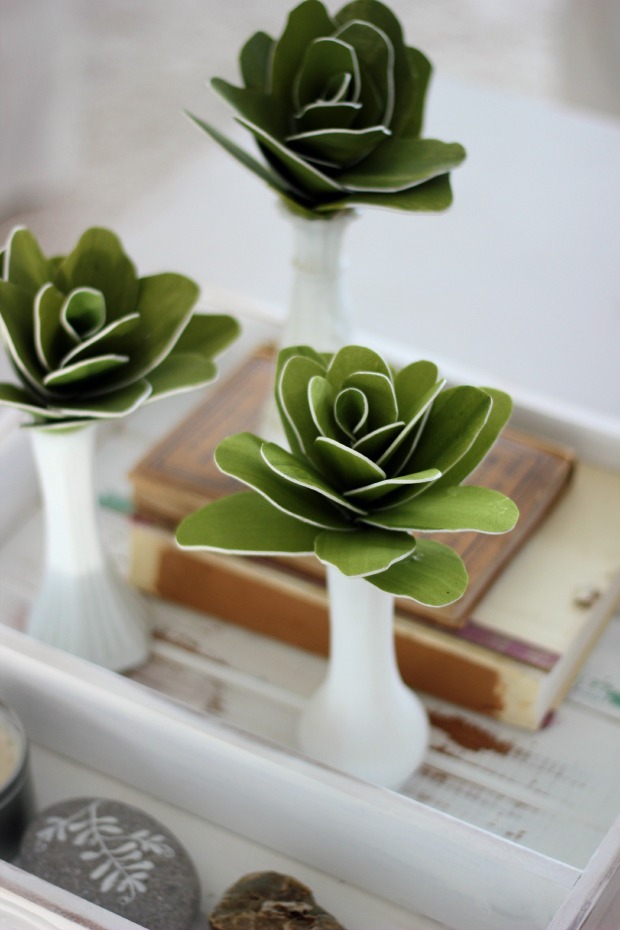 Those of you who blog may relate to the slight 'hoarding' that can occur in ones garage, basement and/or craft rooms. While I don't consider myself a hoarder by any stretch of the imagination, I will admit to sometimes struggling to throw materials out. After all, you never know if the opportunity to possibly…maybe…perhaps one day use said item will present itself. Hubby pokes fun at me about my 'hoarding', but as much as he will hate reading this, I have a feeling my 'hoarding' is rubbing off on him…and I have proof.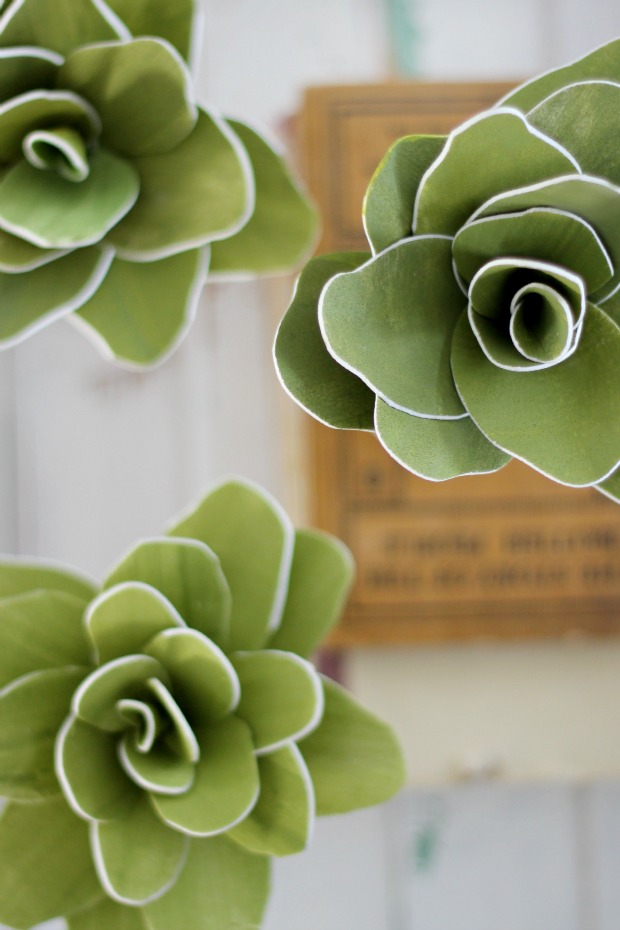 Let me take you back to last summer when while driving home from work, he stops at the side of the road to load weathered wood planks someone was throwing out as they were replacing their fence of 30 years. Keep in mind, hubby would have been dressed all dapper in dress shoes, slacks and a nicely pressed shirt when stopping at the side of the road in the sweltering heat to load several – and by several, I really mean 25+ – pieces of discarded planks into the trunk/backseat/front seat of his car. Needless to say, we have used them in several projects and I love him so much for doing that.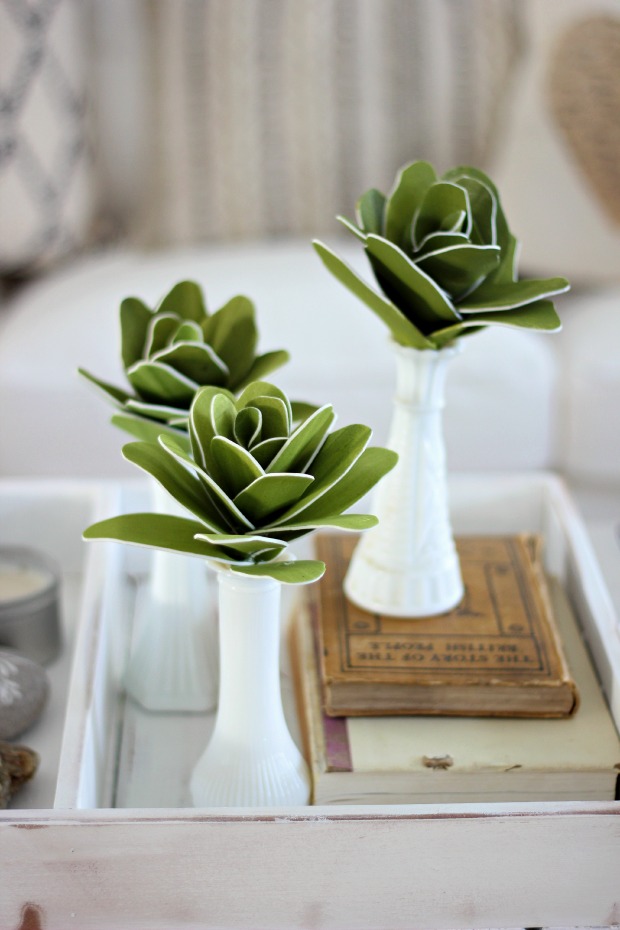 Then there was the time when a work colleague had tiles imported from Brazil and the 15 empty (albeit charming) wooden crates they were delivered in ended up in our garage because "I'm sure we can do something with them". And most recently, when his office was doing an early Spring cleaning and he ended up bringing me lots and lots of white foam sheets that were otherwise destined for the garbage.
I kindly accept these thoughtful 'gifts' and think to myself, I will never use this, but then…
Materials:
White foam sheet (apparently, soon-to-be discarded ones work just fine)
Paint – Green avocado and yellow (DecoArt)
Hot glue
Skewer
Scissors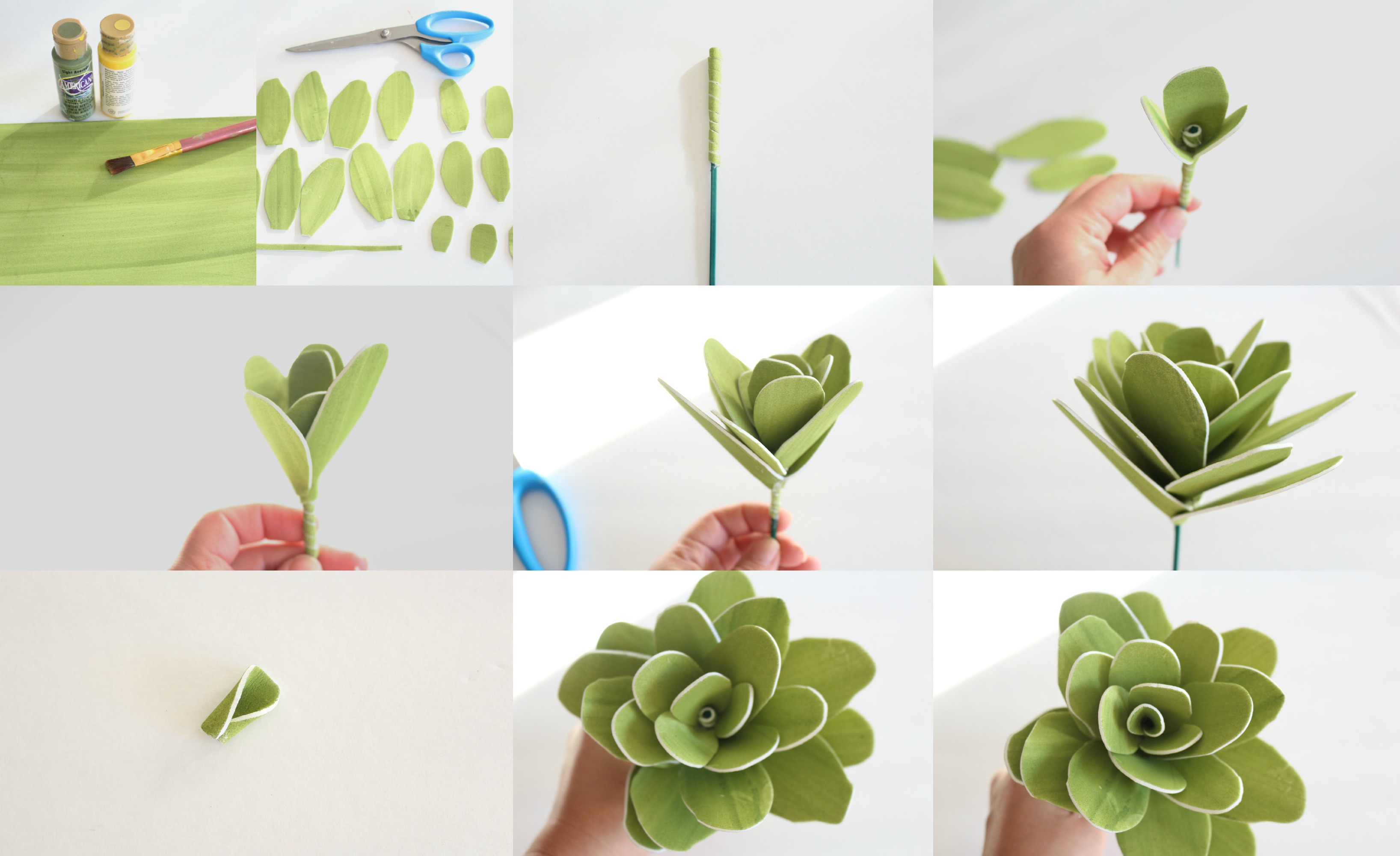 1. Paint both sides of the white foam sheet with a mixture of light avocado green and yellow with a 2:1 ratio; allow to dry.
2. Cut several petal shapes (approx  1 very small, 3 small, 7 medium, 7 large. 1 long and thin strip to wrap around skewer).
3. Wrap strip and wrap around skewer all the way down.
4. Glue smaller petals around skewer.
5. Glue medium petals around the smaller petals, making sure you alternate them.
6. Proceed to glue larger petals.
7. Take the smallest petal and fold as shown.
8. Place some glue in centre of succulent and glue folded petal inside.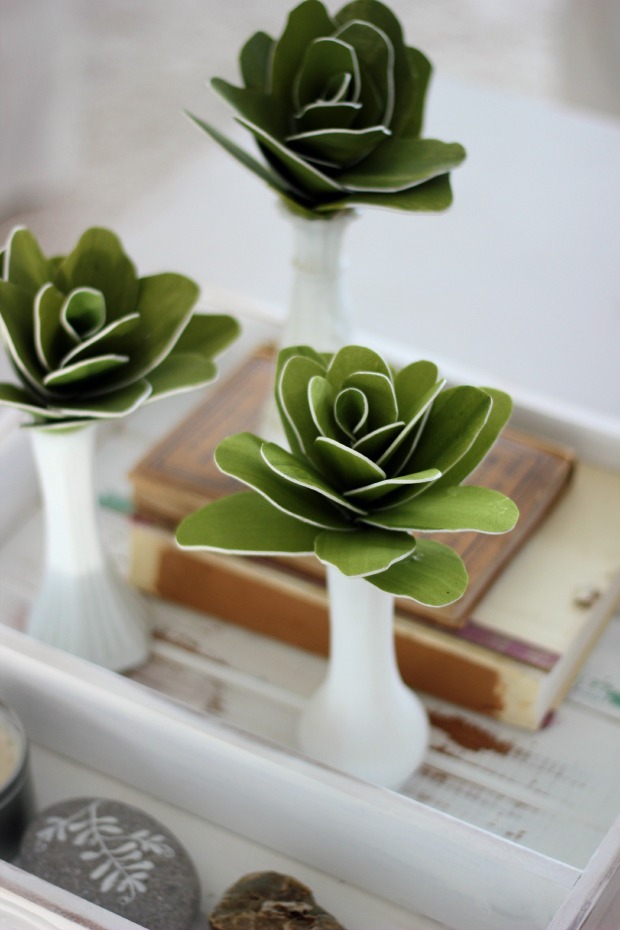 And there you go. What do you think? I placed them in some milk vases and I think they add a nice little touch of green.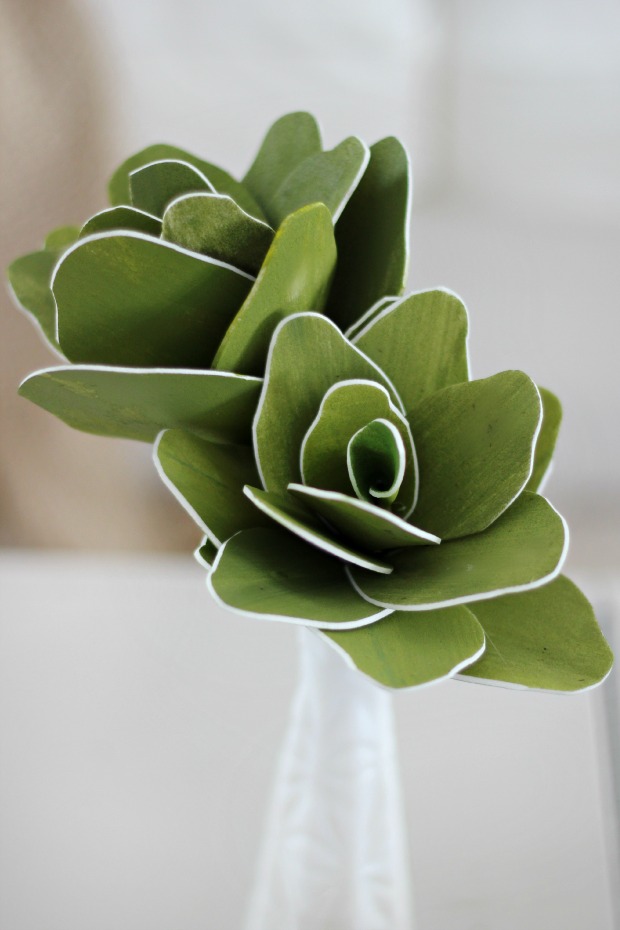 I knew I kept things for a reason…ha.
Thank you so much for dropping by!  Wishing you a great start of your week.
much love,