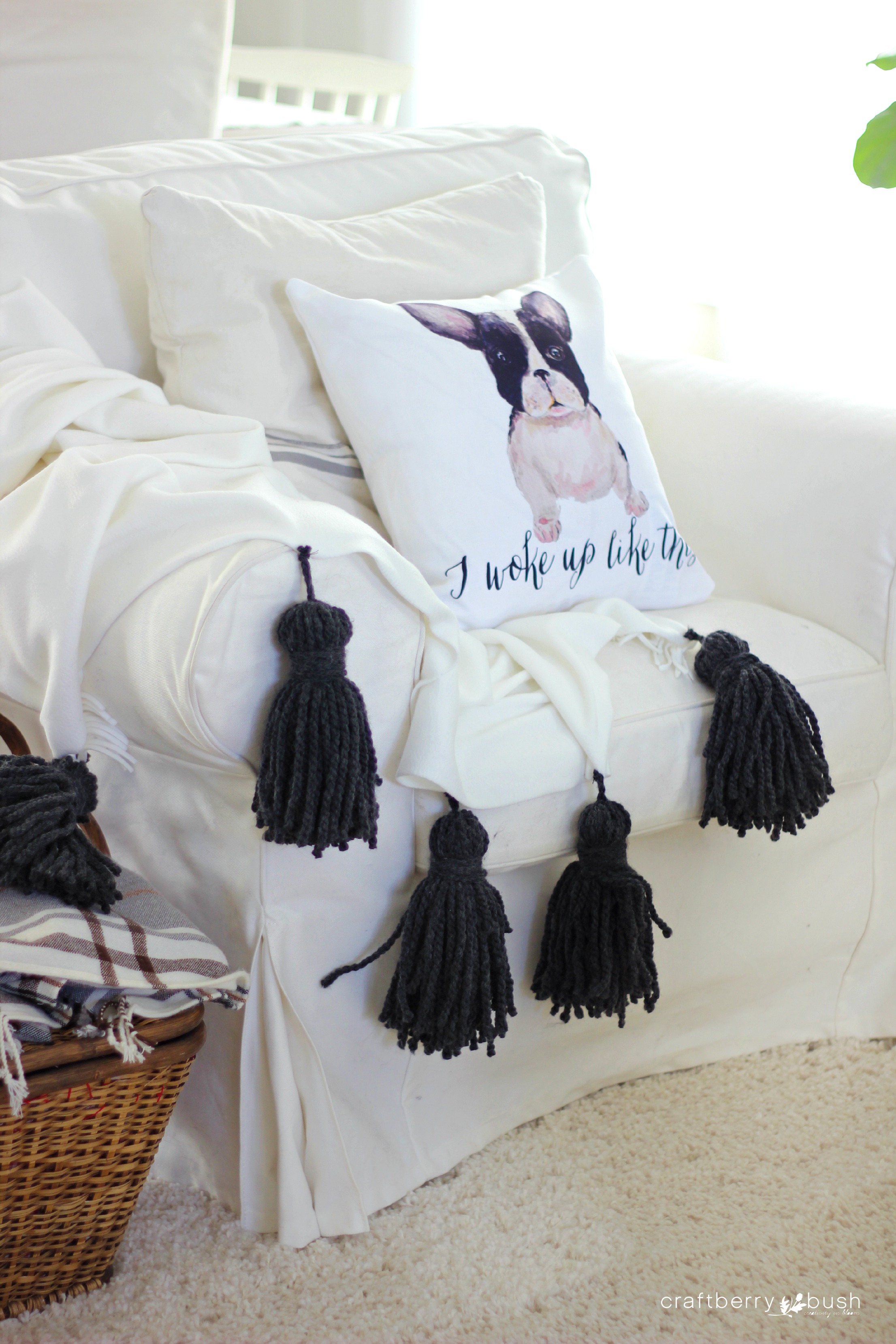 It was another bitterly cold one here in The Great White North. But, I don't mind this weather altogether as it sets the perfect stage for snuggling, big comfy sweaters, chunky scarves and roaring fires. Each season has its own beauty and as I get older, I'm able to appreciate that and for that, I'm grateful.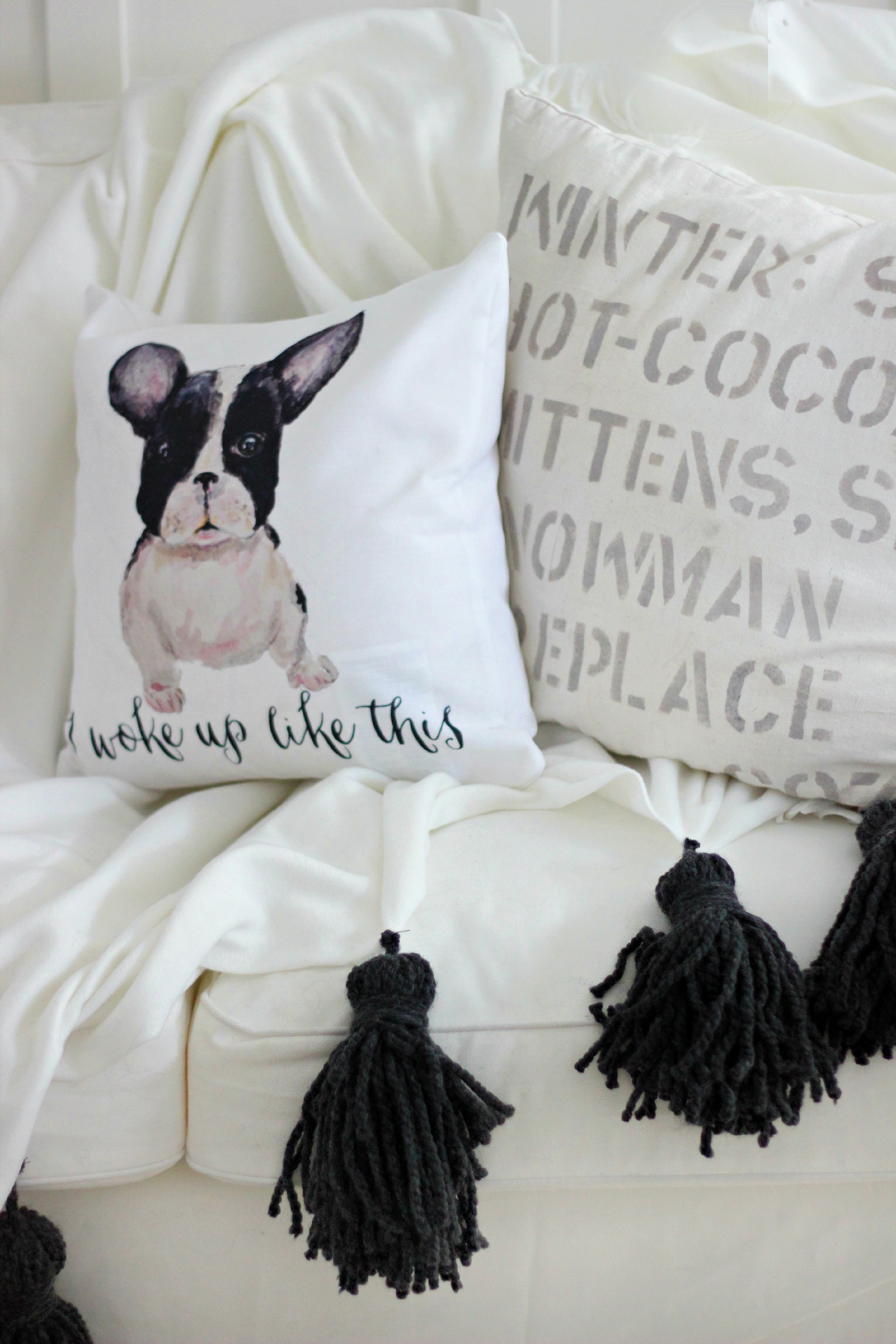 The other day while visiting some of my favourite blogs, I came across this post from my friend Liz. I immediately fell in love with her newly purchased H&M blanket. Unfortunately for me, certain companies won't ship to Canada or if they do, the shipping costs are almost as much as the item, so it's often not worth it. Thankfully, I knew that making a knockoff version would not be very difficult.
Materials:
Yarn of desired colored
Cardboard (approx 7″ x 4″) note: The height of the cardboard equals the height of the tassel
Scissors
Blanket
Yarn needle
Needle and thread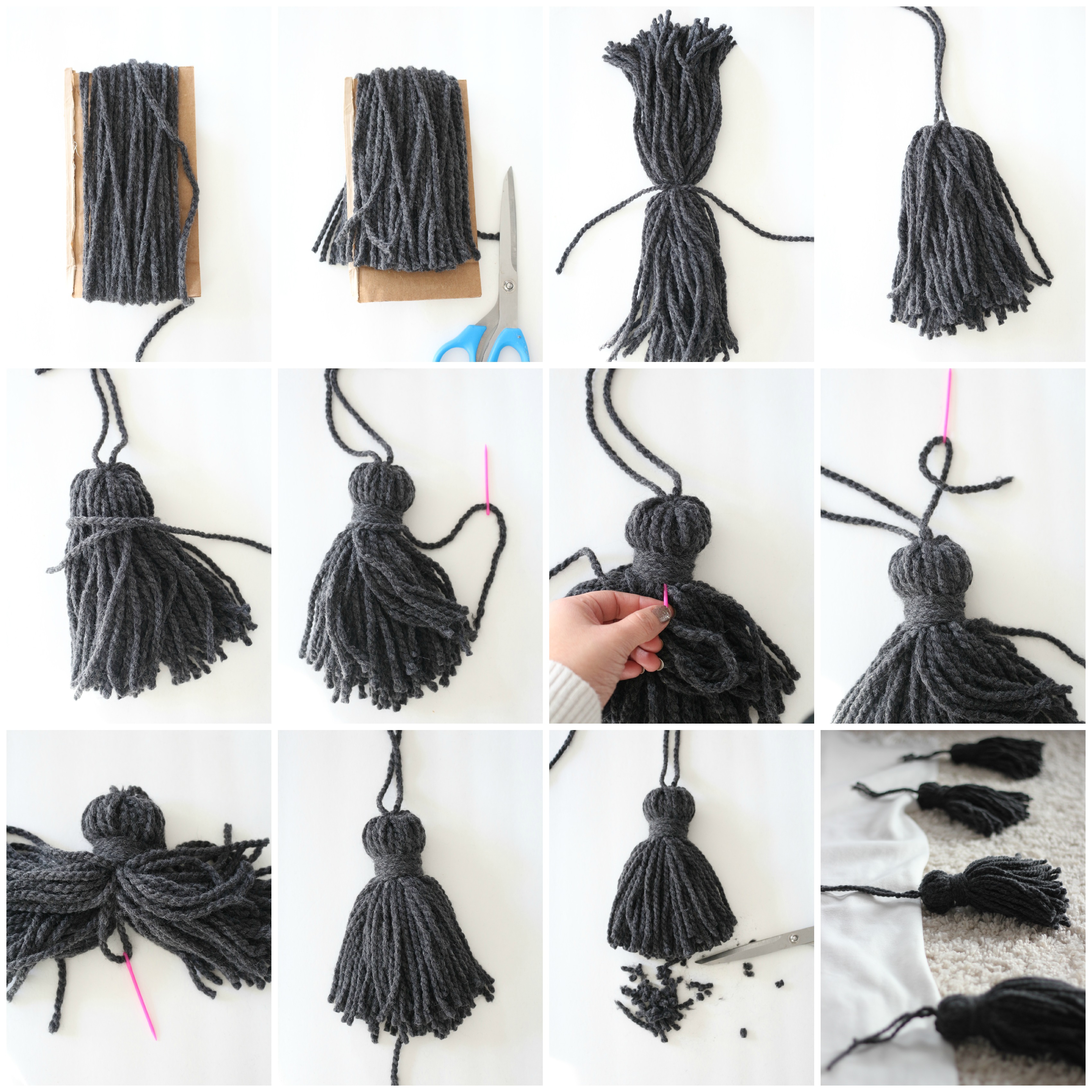 1. Wrap the yarn around the length of the cardboard. The amount of times you wrap the yarn around  will determine the thickness of the tassel.
2. Carefully cut through the bottom of the yarn, making sure you keep it all together.
3. Carefully unfold the yarn and tightly tie a piece of yarn around the centre.
4. Fold tassel in half.
5. Take separate piece of yarn (approx 2′) and tie it around the top of the tassel, leaving approximately 6″ at the end.
6. Take a yarn needle and thread the remaining yarn into the needle. Thread the yarn through the tassel upwards and again back through the tassel downwards. Repeat this process twice.
7. Trim excess yarn to make the tassel even.
8. Take the two pieces of yarn at the top of the tassel and tie a small loop (not pictured).
9. Sew tassels onto blanket with thick floss, and…you are now done!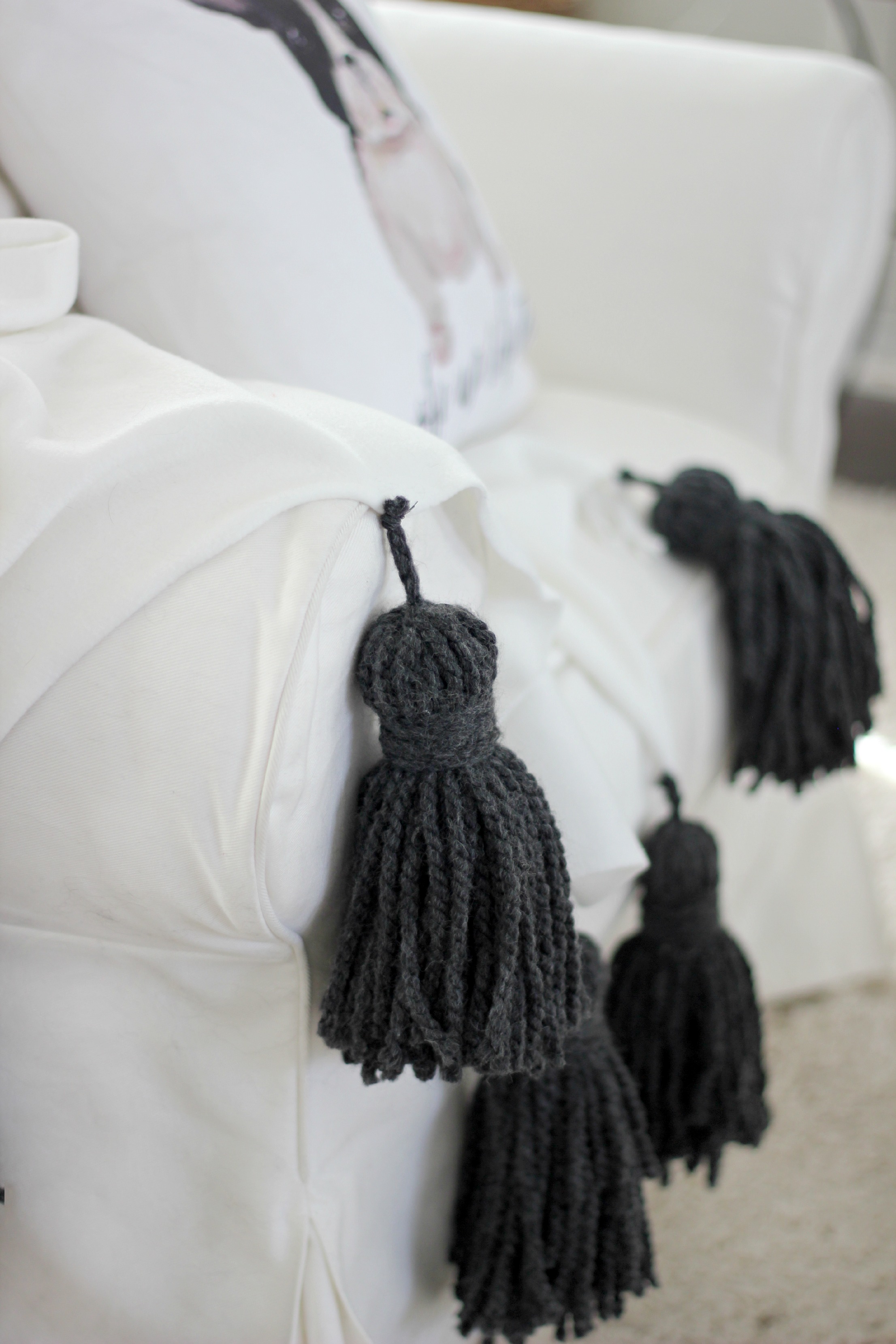 I knew I wanted these to be chunky, so not only did I purchase a chunkier yarn, but I also wrapped it several times to achieve a good thickness.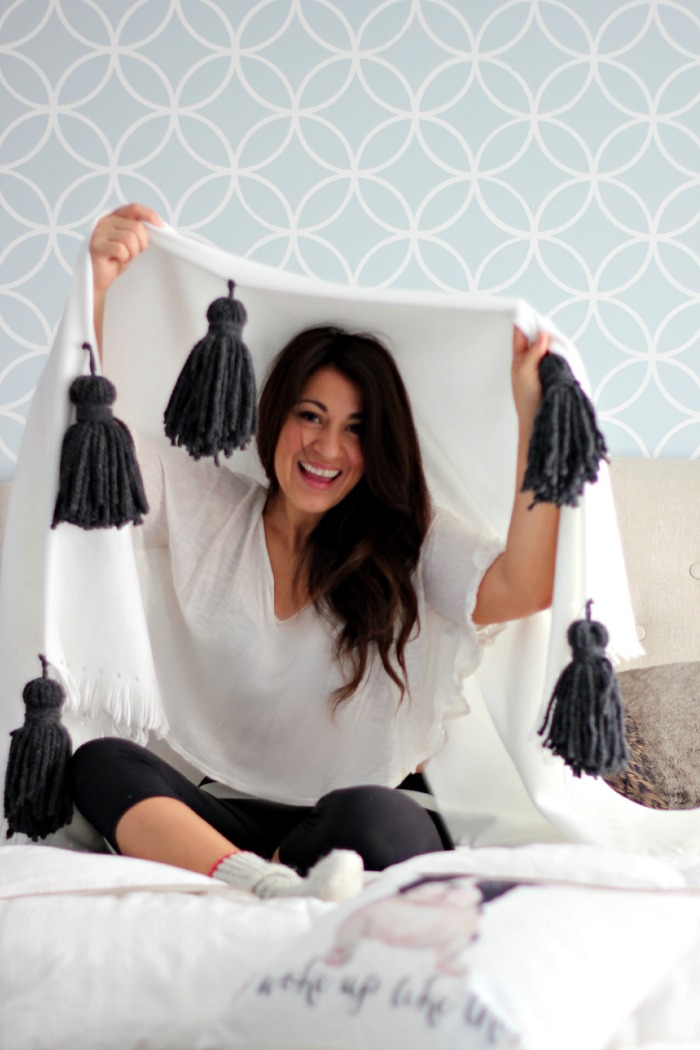 These were so much fun to make and I'm pretty sure I will be making the matching pillow to go with it. Or maybe some cute tassels for our door knobs…or just a colourful tassel bunting…oh the possibilities.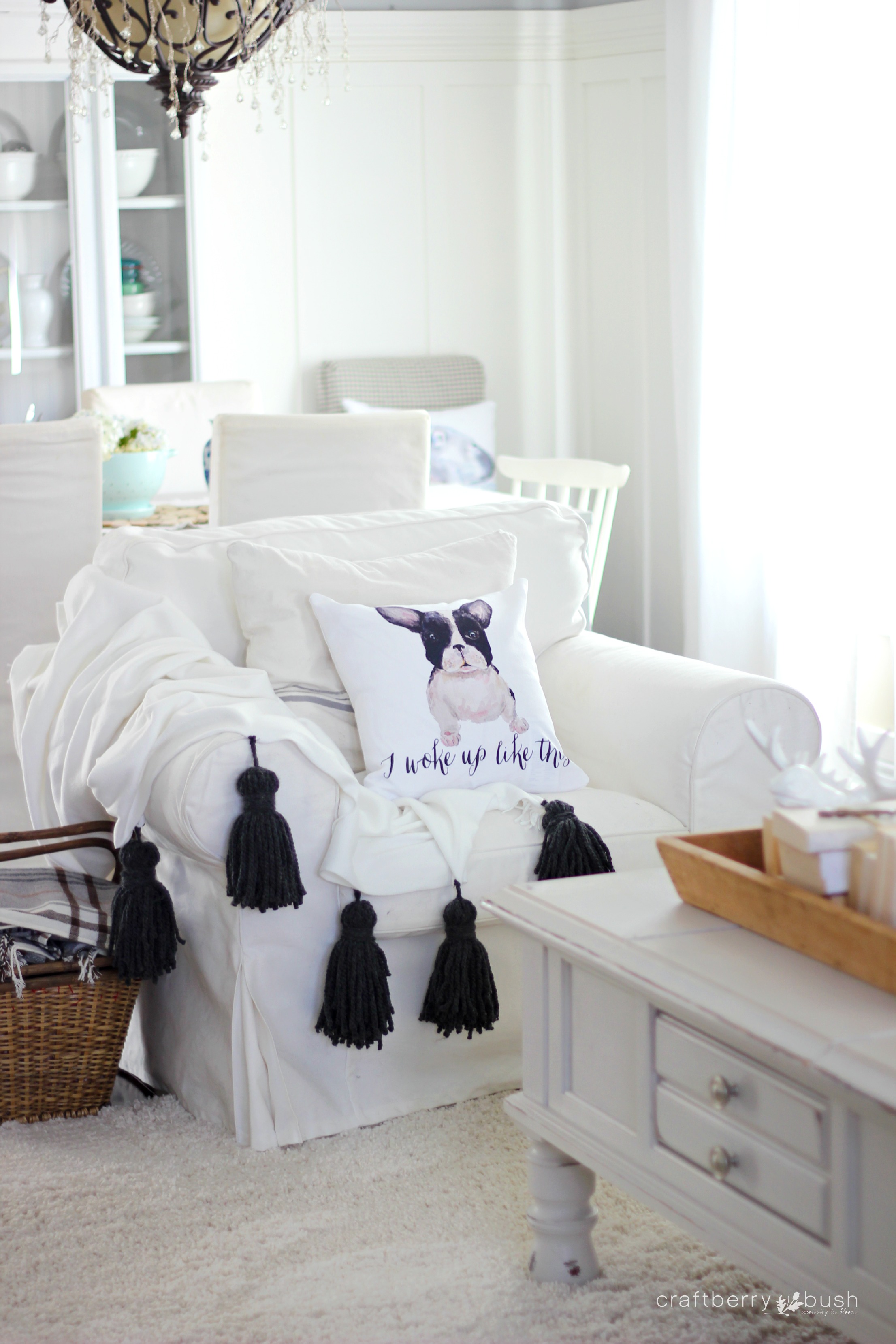 I think my Frenchie pillow looks so adorable sitting there  (you can purchase it here).
I hope you have a beautiful day!
much love,