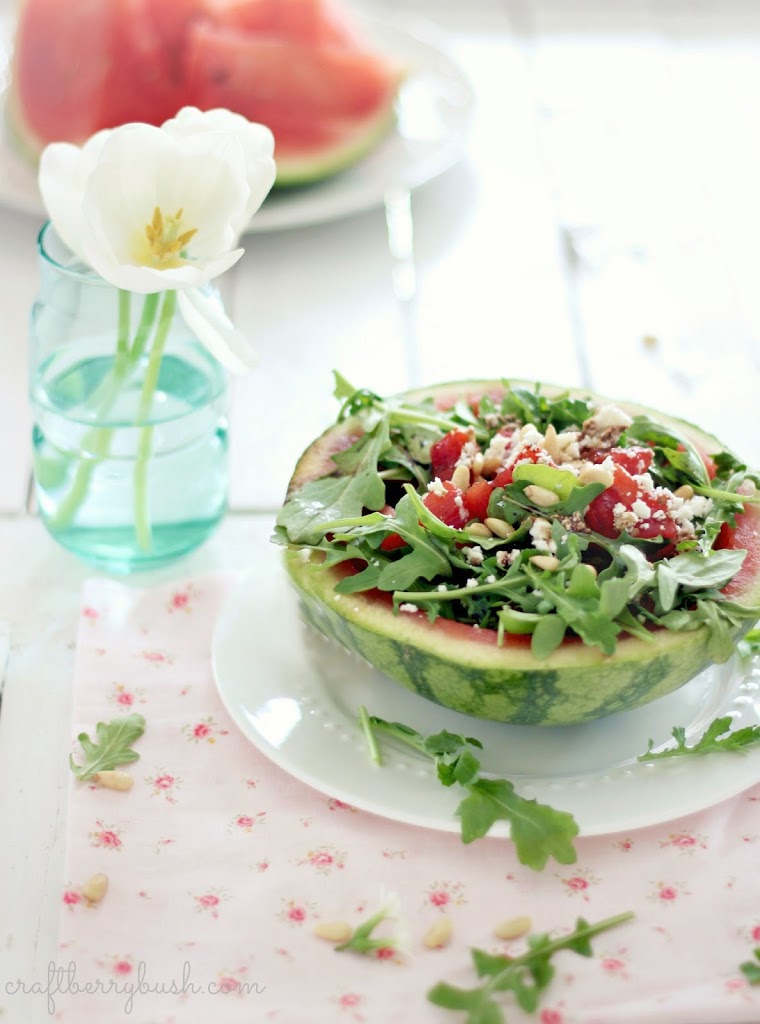 Happy Tuesday everyone! The sun is shining today and I'm being serenaded by young birds asking for food. In the distance, I can hear the gentle sound of mourning doves serving as background melody. And the breeze – that felt so refreshing when I first opened the door – has managed to make me feel a little cool and I now find refuge in a sweater. I love this time of year, when everything seems a little brighter, a little more happy.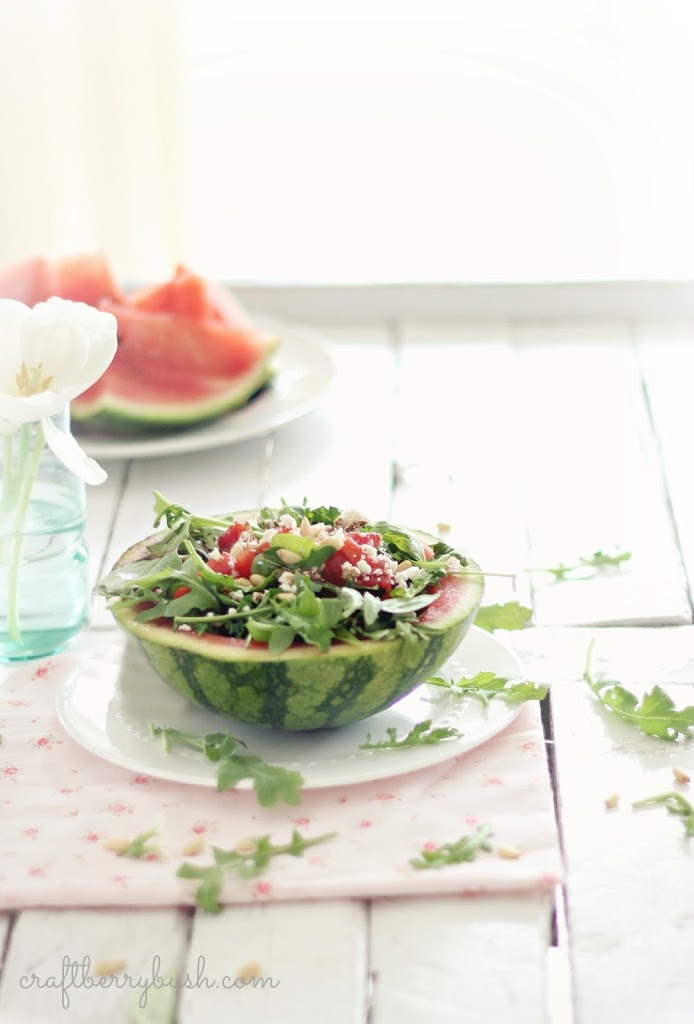 There is a certain freedom that comes with Spring; a release of layers and layers that have weighed you down over the winter and even within the walls of our home, we de-clutter and the palette becomes light and airy.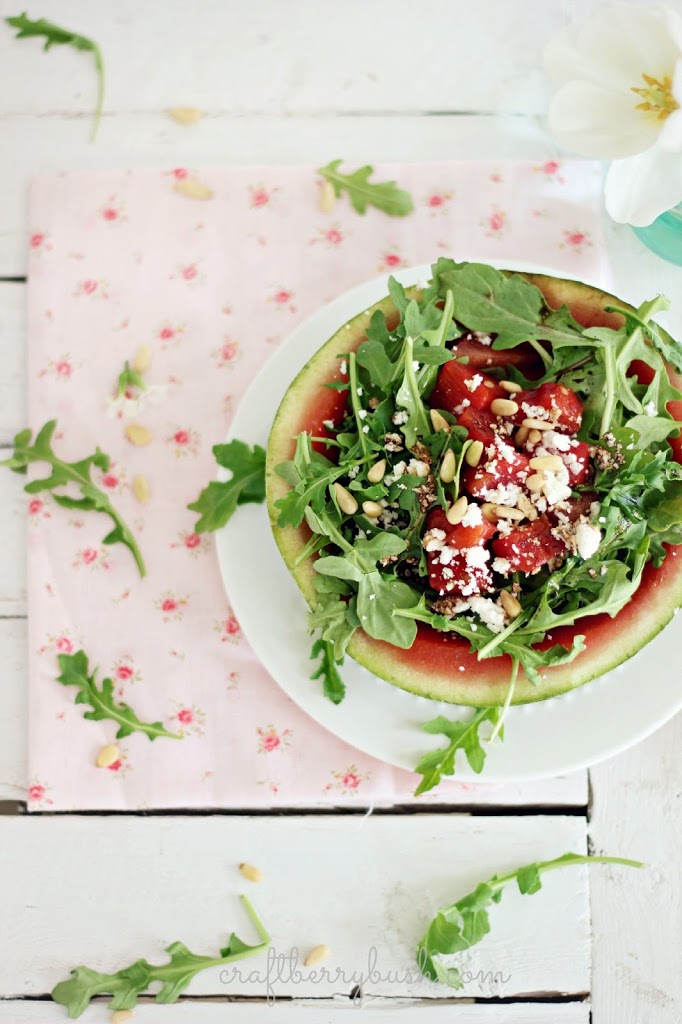 Eating light and easy meals is also part of this season as we get to enjoy all of the fresh fruits and herbs that grow in our own garden. Today I'm sharing a delicious and super refreshing salad.

Grilled Watermelon Salad
1 mini seedless watermelon or
2 cups of baby arugula or spinach
1/3 cup of crumbled feta or goat cheese
1 tablespoon of olive oil
2 tablespoons of balsamic vinager
freshly ground pepper to taste
handful of pinenuts, or walnuts

Directions – cut the watermelon in half lengthwise, then cut each half in half.
– cut one half into 2-inch-thick slices
– brush the slices lightly with olive oil and set aside until ready to grill
– scoop flesh from other half if you wish to use as a bowl and place in the fridge
– brush a little olive oil over watermelon slices and set aside
– combine olive oil and balsamic vinegar along with salt and pepper and whisk until emulsified (thickened)
– just before serving, place the oiled watermelon slices on a clean BBQ grill; grill until marked and just warmed through but still crunchy; allow to cool
– place arugula in chilled watermelon bowl
– cut off the rinds and discard
– cut the watermelon into chunks and place in a serving bowl
– pour the dressing over the top and toss gently
– top with the feta, if desired, and sprinkle nuts over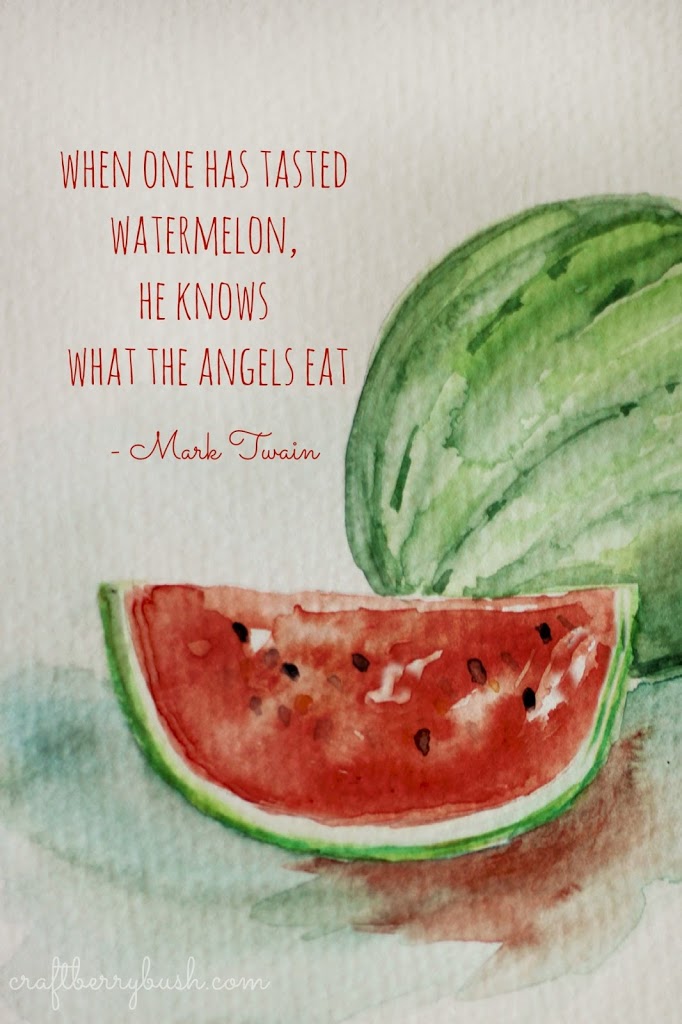 In my opinion, watermelons are truly one of the most delicious fruits we have been blessed with.

Do you like watermelons, or are you one of the few that doesn't enjoy them?

Thank you so much for keeping me company. Hope you have a beautiful day!

much love,