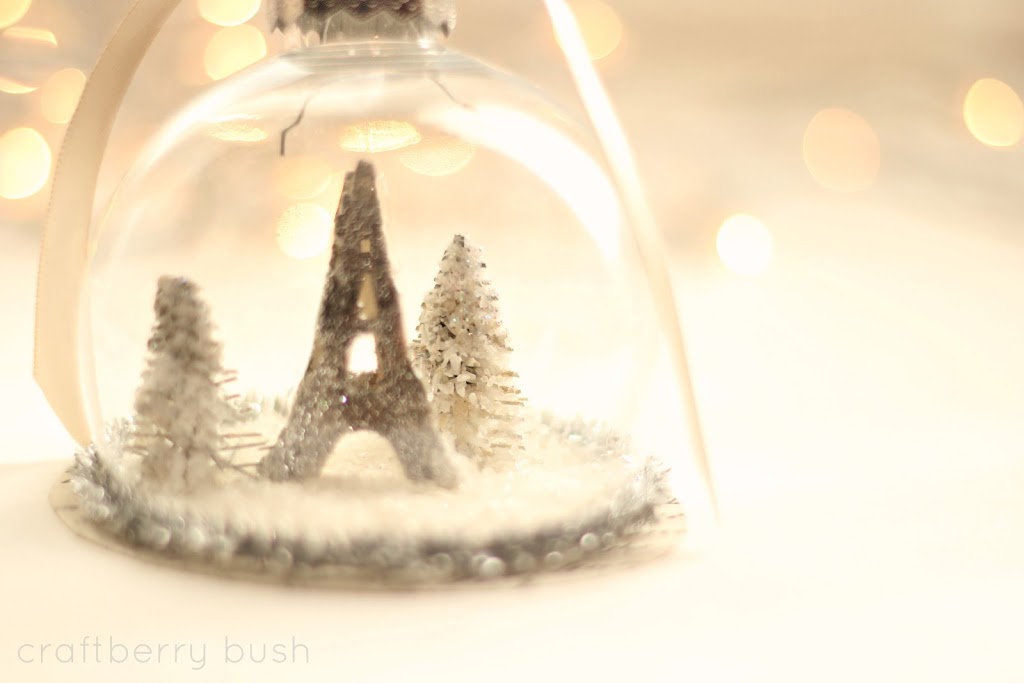 Hello all! I hope you had a fantastic Thanksgiving long weekend.
As I was unpacking our Christmas ornaments this year, I realized the ornaments that bring the most comfort and beautiful memories are those that are imperfectly handmade by either our children or myself. Each one evokes a different memory or stage in our lives, but they all fill me with happiness. A
s a child, I was always encouraged by my parents to create and so m
aking things has always been part of who I am.
It is why I do so with such passion, love and care each and every year.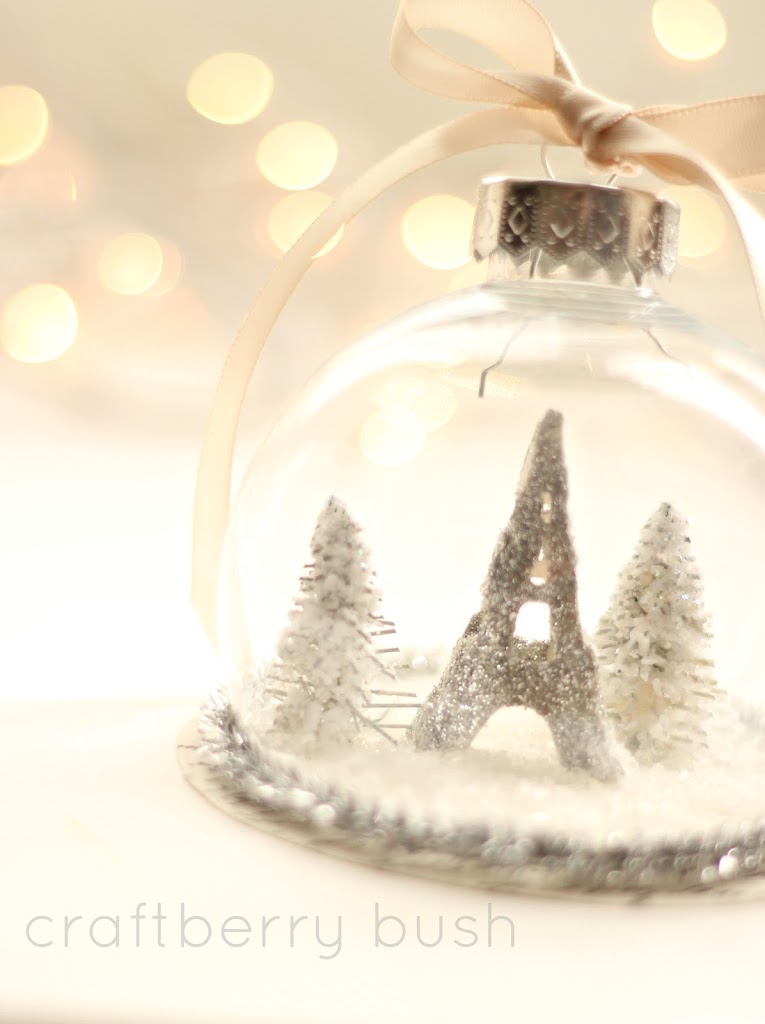 This year, I decided to expand on my little winter wonderland ornament and make romantic French scene to go with my new old white Christmas tree.
This is what you'll need to make your own:
Thick cardboard or white bristol board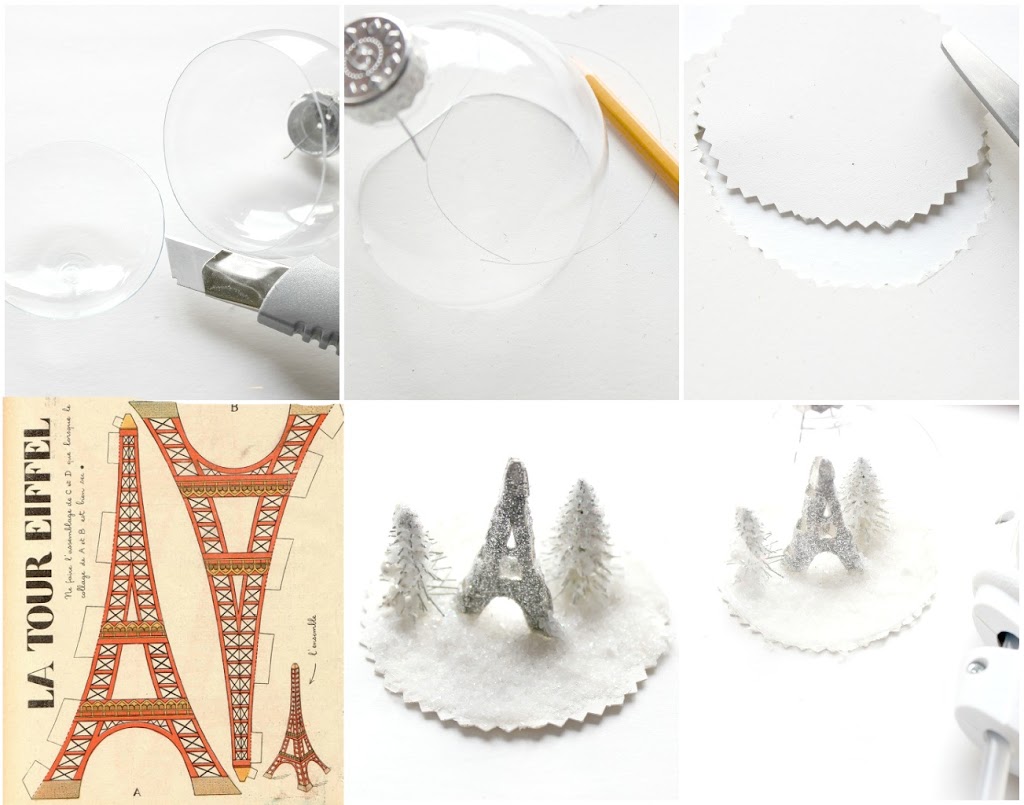 1. With a sharp Exacto knife, cut bottom of the bulb, ensuring you cut gently and slowly so to avoid an uneven cut
2. Using the cut bottom of bulb, t
race a circle
onto cardboard or thick white card stock paper
3. Cut out circle (I used scalloped scissors for a bit of flare)
4. Reduce image at the bottom of the page
small enough to fit into bulb and print onto thick paper NOTE: I did not print a template, but hand drew the tower, so mine is not perfect (as hubby graciously pointed out)
5. Cut out image and assemble as shown
6. Apply glue or ModPodge and cover with glitter; allow to dry completely
7. While tower is drying, apply glue to mini trees and cover with Epson salt; allow to dry
8. Hot glue tower and trees onto cardboard (or desired scene)
(The picture above shows snow on the 'ground' prior to placing the bulb on. But for the next ones, I found it was easier to FIRST glue the bulb onto the cardboard and then apply the Epson salt through the opening of the bulb)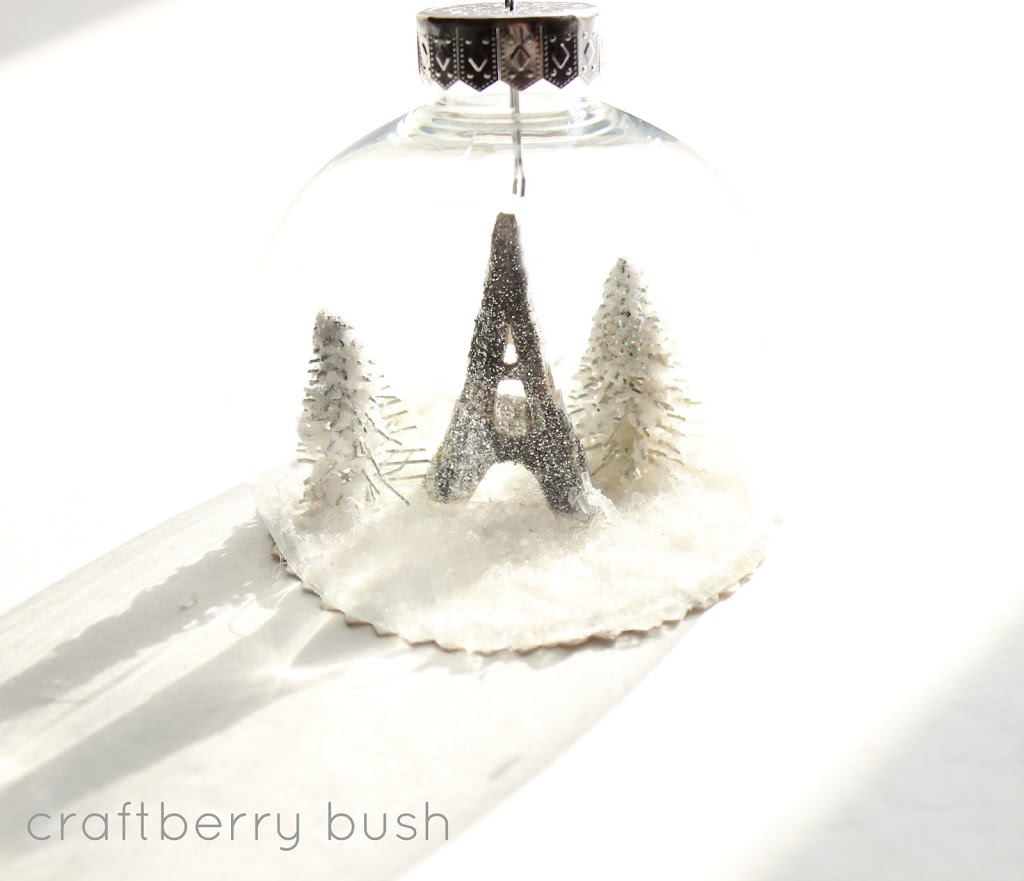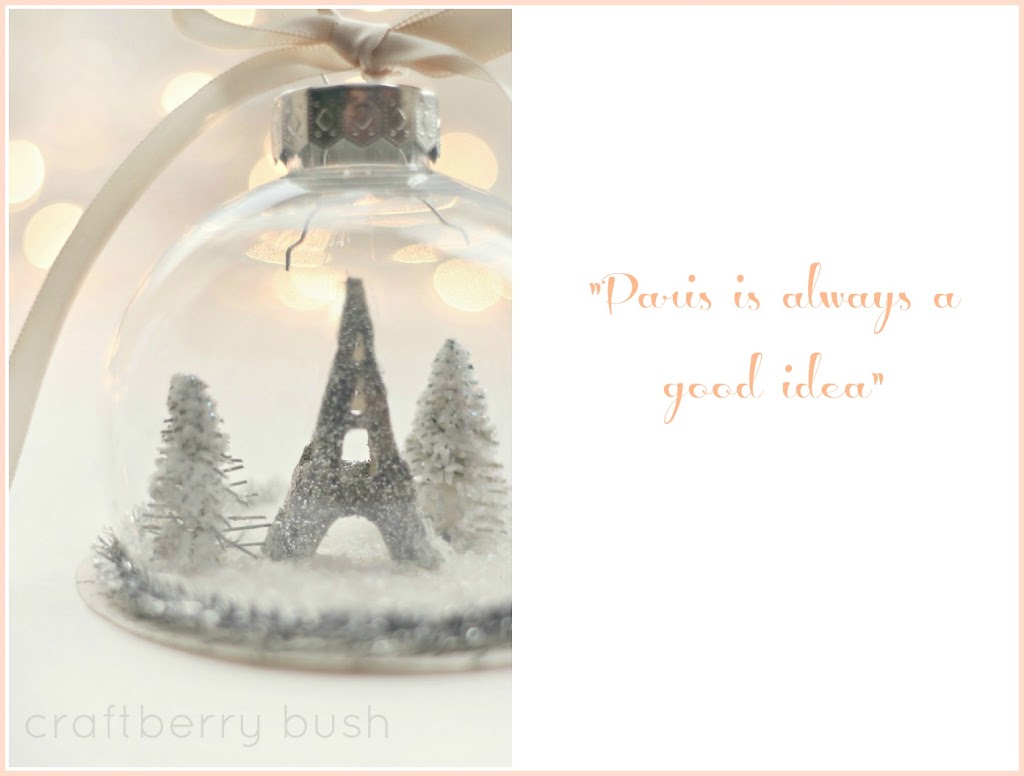 I really love how they look in the tree.
Since making this one, I have had so many ideas of what to put inside these snow globes and can't wait to get the kiddies involved in this project.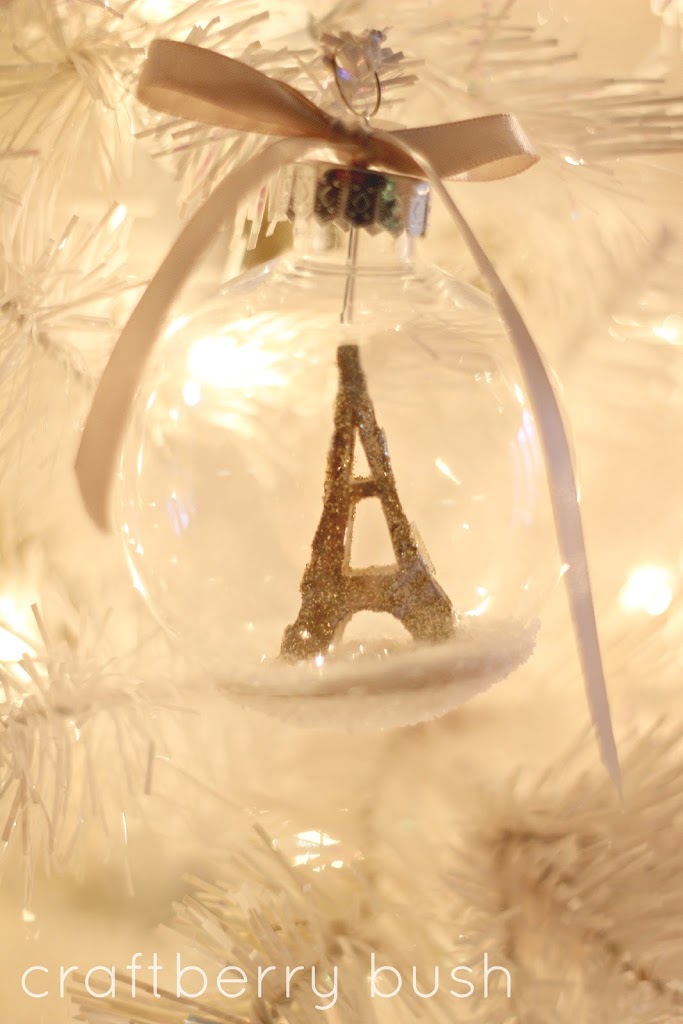 Tomorrow, I'll share how to make this guy…:)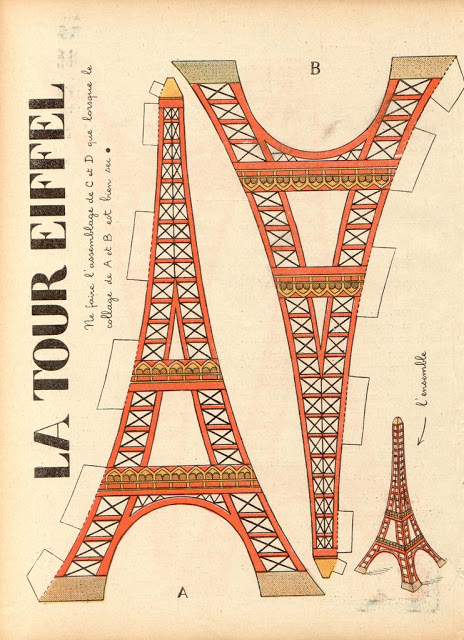 Right click and save onto your desktop.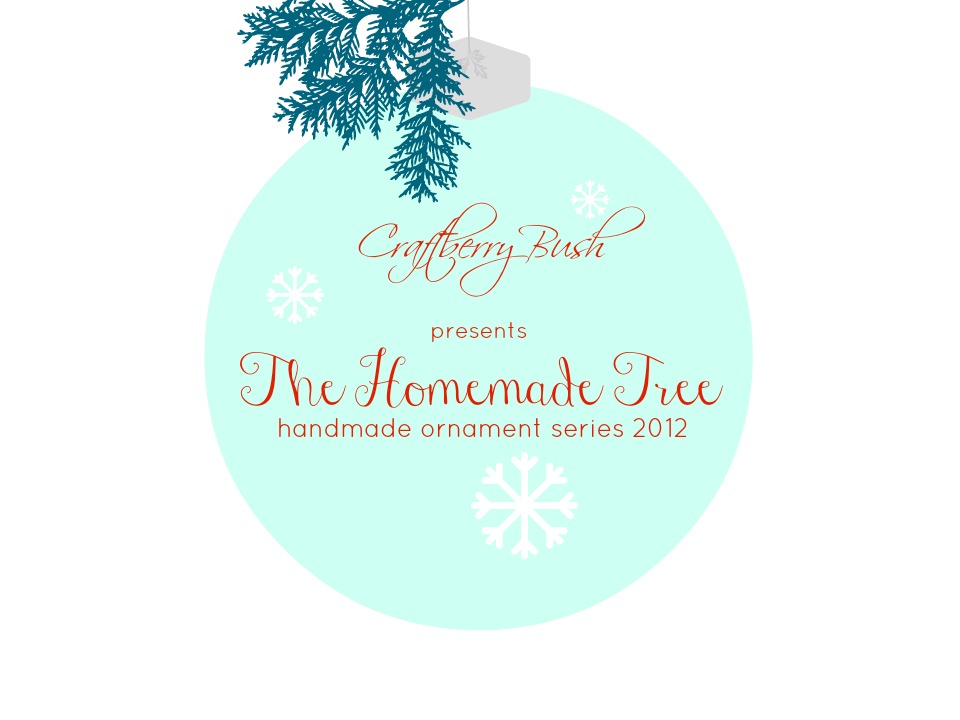 See you again tomorrow?