Hello everyone! I wanted to share an idea from last year that I've refreshed – the Thankful Walnut. But this time, they're all jazzed up and gilded.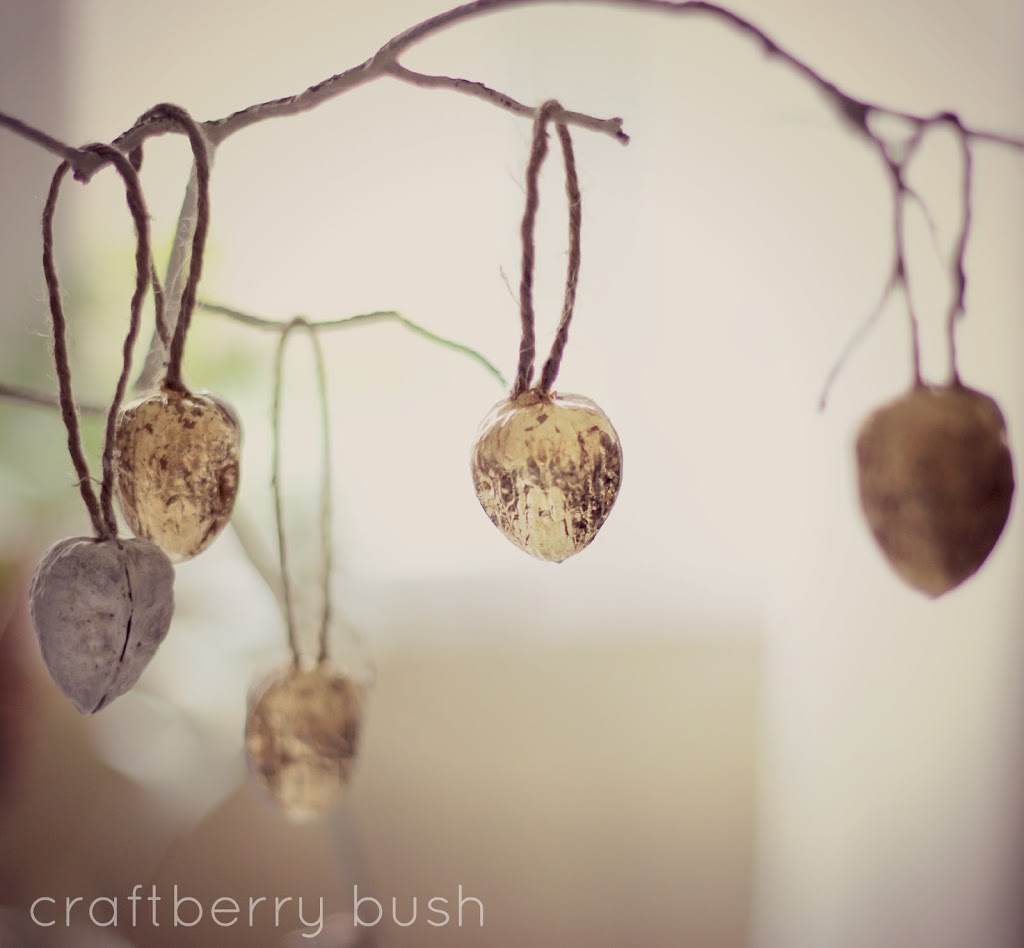 Gold paint or Goldleaf sheet
Paper to print or write messages on
Spray adhesive or low tack glue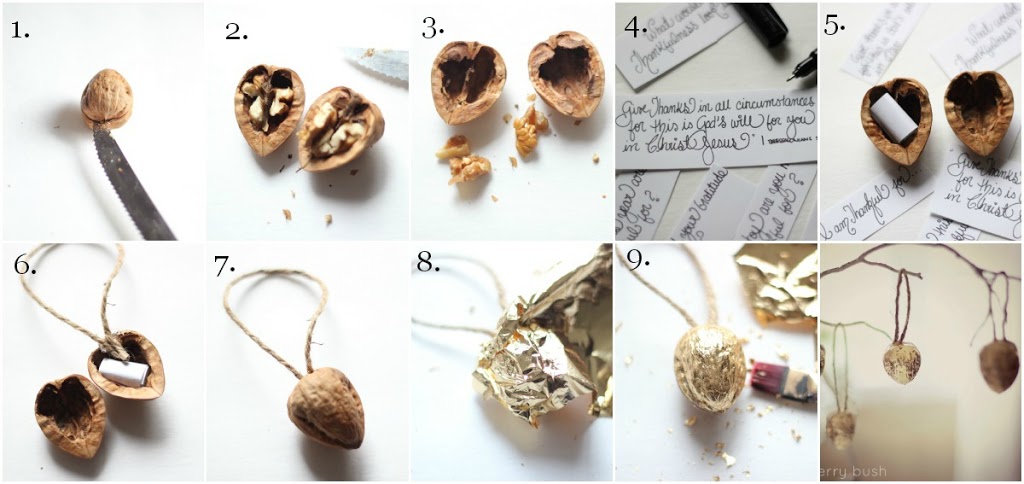 1. With the tip of your knife, find the small opening on the top of
the walnut
2. Gently wedge your knife in and slowly crack open
3. Empty the contents of the walnut
4. Print or write a question or statement which will evoke an answer that your guests are thankful for
5. Fold it small enough so that it fits inside the walnut
6. Insert paper in walnut and with hot glue, glue twine or ribbon to top of walnut
7. Using your hot glue, place three dots of glue along the top bottom and sides (you want to seal the walnut, but not seal it completely)
8. Apply a thin layer of spray adhesive and place gold leaf onto walnut
9. With a brush, start to press down and brush leaf onto walnut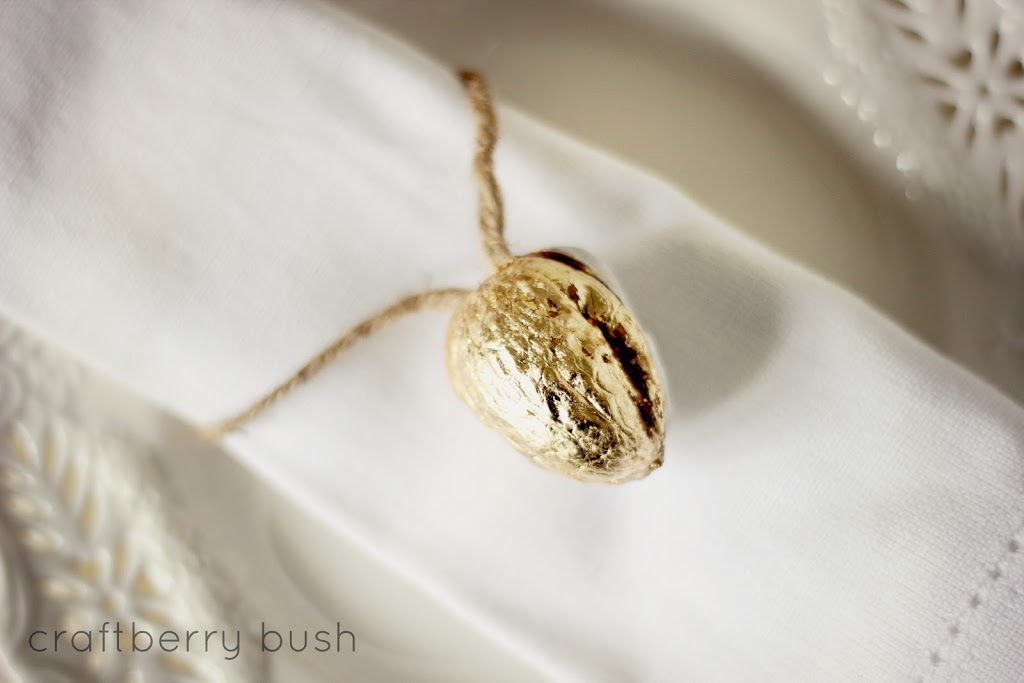 The price of goldleaf can range from $40-$80+, depending on the karat, thickness and weight. There are also several finishes that you can purchase.

But there is also faux or imitation goldleaf which you can purchase for craft projects such as this one. I bought a book of imitation Japanese goldleaf for $7.95 and it had approx 20 sheets (I used 1 sheet for 5 walnuts).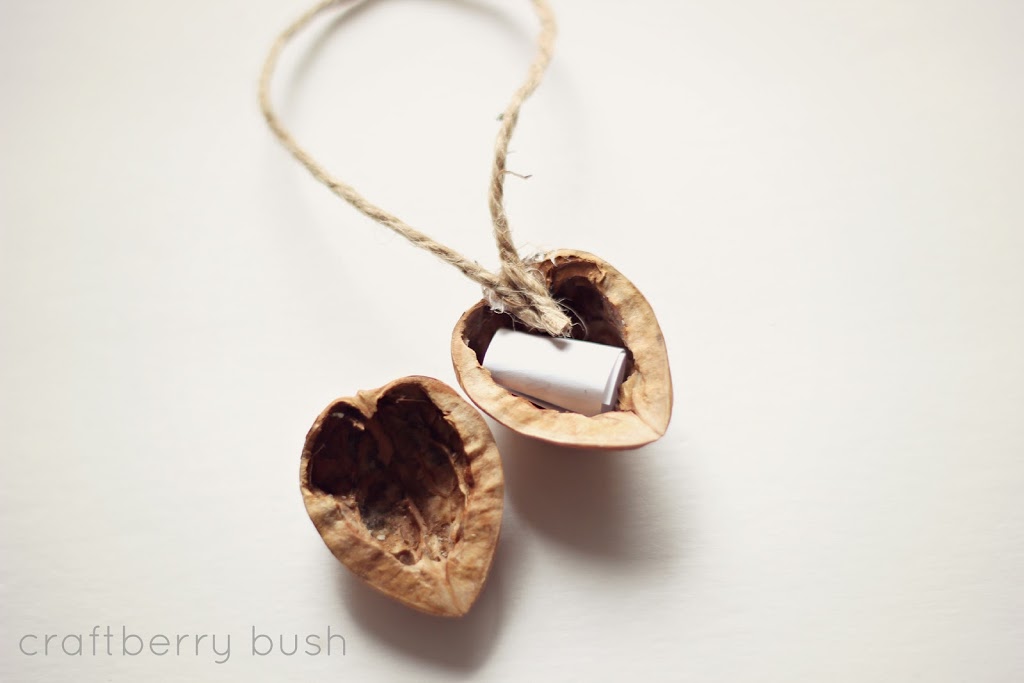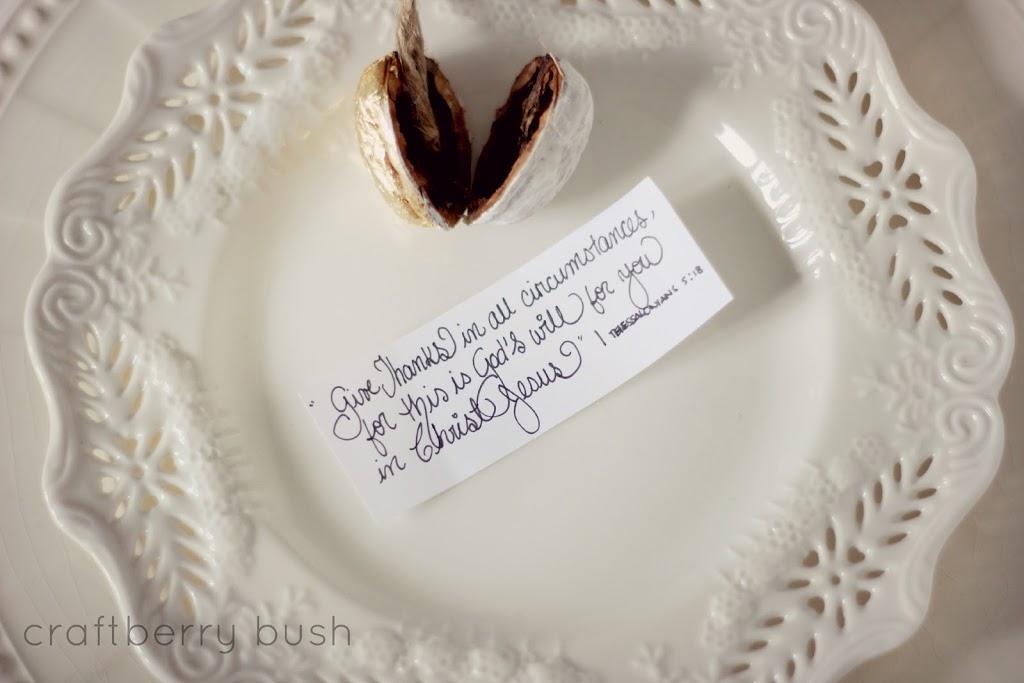 It had been a while since I last used goldleaf and it seemed
easier than I remembered. But still messy,
so work over newspaper or a covered surface area.
You can use these guys as napkin rings, hang them on
a thankful tree or simply place on your guests plate.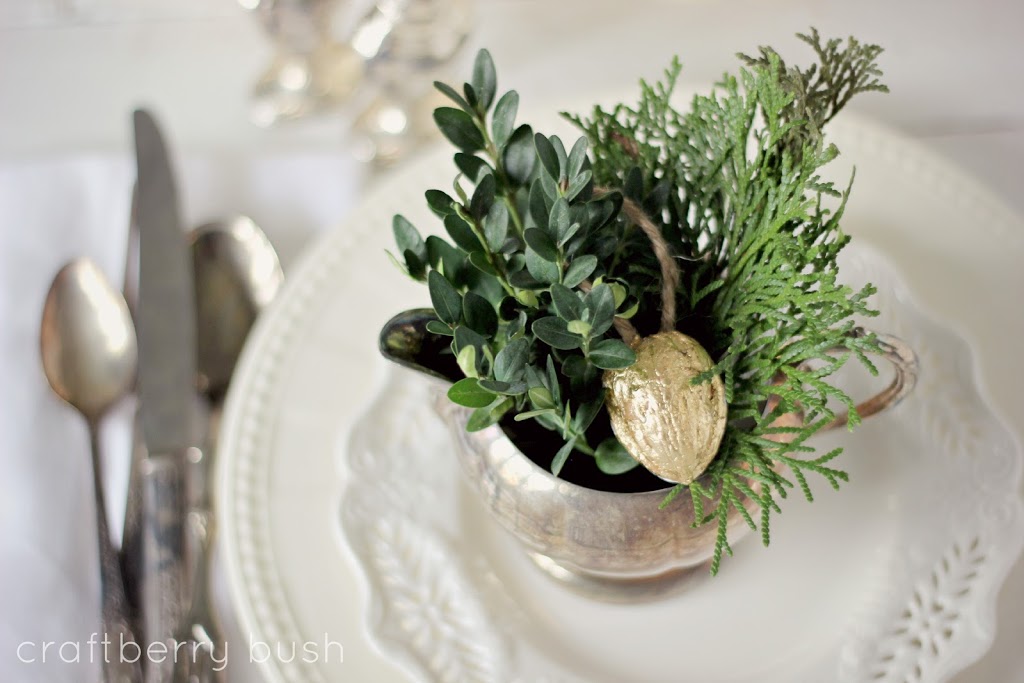 I painted one half with white paint, thinking of the transition between fall and Christmas. These could easily be used as ornaments, don't you think? Doesn't the gold look so elegant against the green of the boxwood?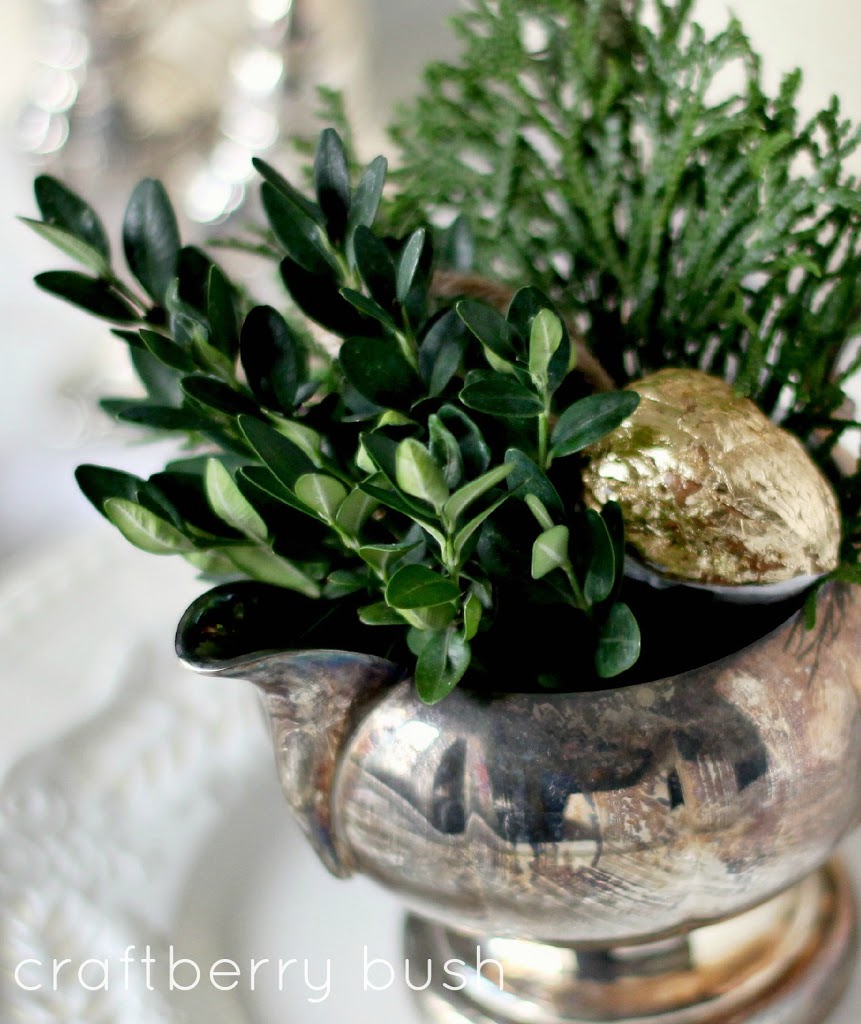 I love the look of gold leaf and you will probably see it in several upcoming projects.
Speaking of projects, my Christmas project list is growing and I'm looking forward to next week when I will start to reveal some of them.
Thank you so much for visiting me today, I hope you have a beautiful day.
Here are some other question ideas to place inside your thankful walnuts:
1. What event from this year are you most thankful for?
2. What personal ability are you thankful for?
3. What has the person sitting to your left/right/across from you done for you that you are thankful for?
4. What material possessions am I thankful for?
5. What challenge/s that I have or are experiencing am I thankful for (ie. what have you learned from them, how have I grown from them?)
6. What opportunities have I had that I am grateful for?
7. What about my surroundings am I grateful for? (ie. neighbourhood, city, country, etc)
8. What relationship am I thankful for?
9. What personal trait are you thankful for?
10. What would your thankfulness look like?
Count down to fall
Funky Junk Interiors
Carolyn's homework
Home stories A to Z
Primp
The 36th avenue
Someday Crafts
French Country Cottage
2805
Crafty,Scrappy,Happy
Whipperberry
Tatertots and Jello
The girl creative
Chic on a Shoestring decorating
Finding fabulous
My Romantic Home
Simply designing
The Shabby Nest
I heart naptime
Today's creative blog
It's overflowing..
Ask Anna
a.k.a design
Thrifty Decor Chick
Cedar Hill Ranch
Coastal charm
C.R.A.F.T
Savvy Southern Style
Setting for Four