Hello! It's
party time
again and I am so glad that you are here.
I honestly cannot convey how much I appreciate having you join us.
Last week was such a blast and it was truthfully so inspiring.
I kept
clicking on that Pin button over and over again…:)
I discovered so many new blogs that I can't believe
I had not seen before. T
hank you so much!
Alright, let me share with you what I've been up to this week…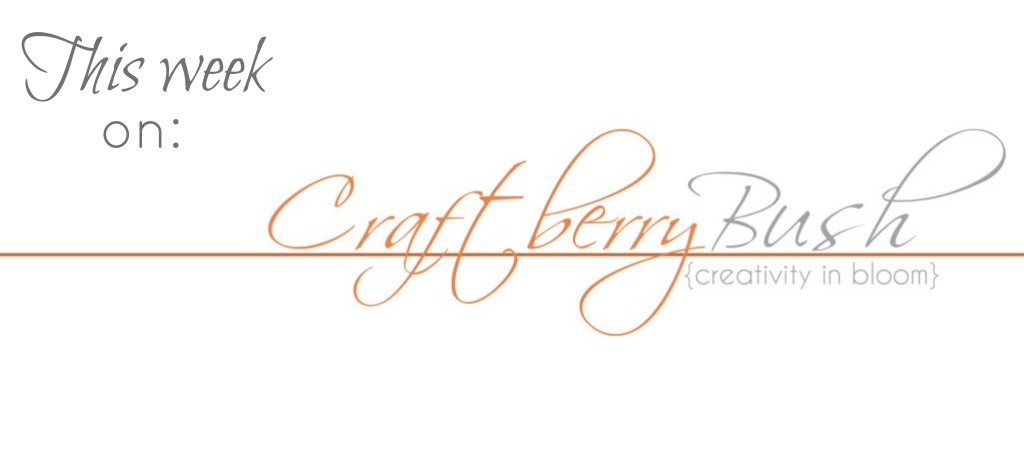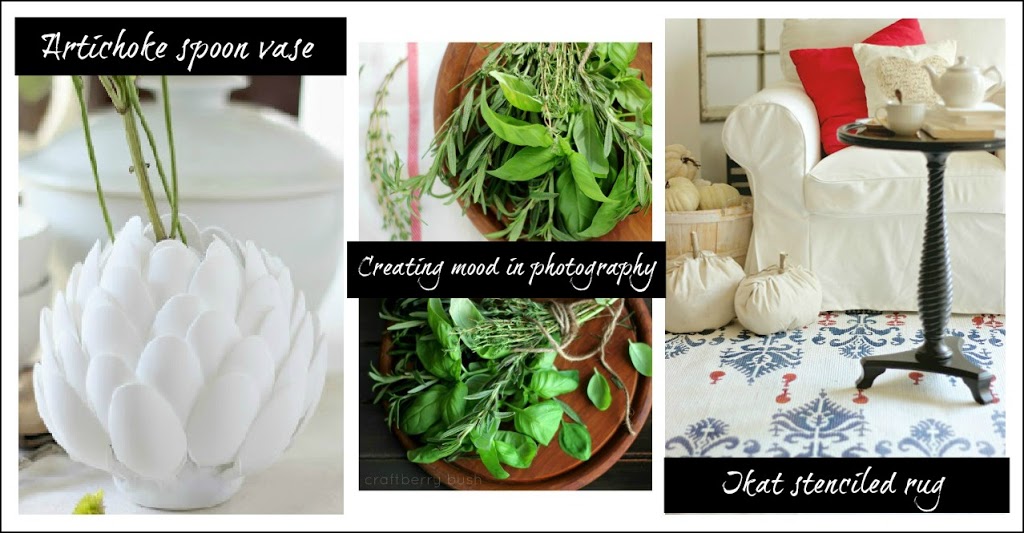 I mentioned last week that I had experienced a couple of 'fails' and then my little
spoon artichoke vase/sculpture
happened, making it all better. I
also shared another photography 'tip' where I showed how to
create 'mood' in your
photos
by changing your background . Lastly, I spent my Saturday morning stenciling an ordinary IKEA rug and transforming it into a
focal point Ikat rug
using a Cutting Edge stencil (which you could also win…so click over and enter if you haven't done so yet).
I've definitely gone to the other side, leaving summer behind and decking the house for fall. I have some cute little projects to share with you next week, including a few pictures of our dining room table; you can take a peek
here

,
or I also share it on my Instagram. Yep, I'm on that train my friends…(user name: craftberrybush).
If you follow me on
FB
, you'll know that on the home front, the kiddies and I made sushi this week.
I had bought the ingredients for it and then
coincidentally
saw
this
tutorial linked to our party last week! So a big thank you to Sarah and Lisa for helping me out on this one!
Which gave me another idea, but it's top secret for now. I will share next week though 🙂
Oh, and we also bought a couple of apple trees last week which hubby planted in the corners of our backyard. They're still small, but are looking so pretty while their leaves wave at me from outside.
Now let's see what Taryn has been up to….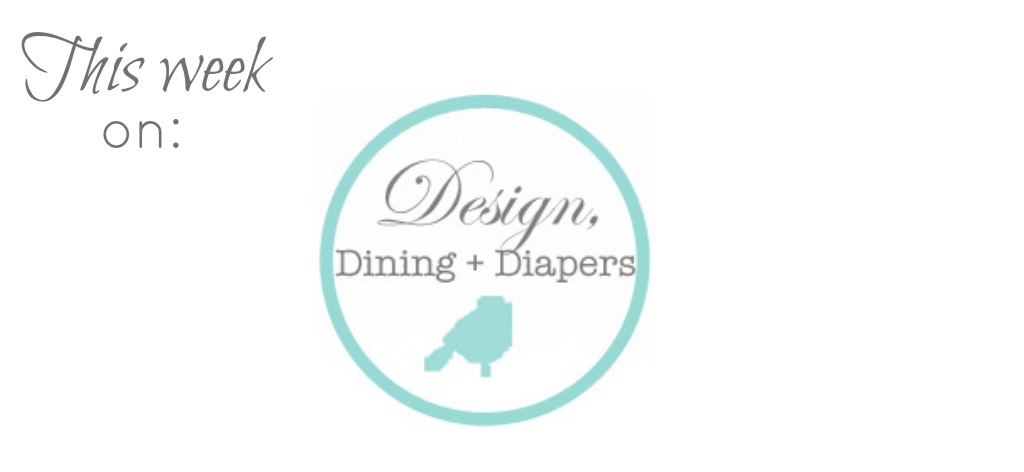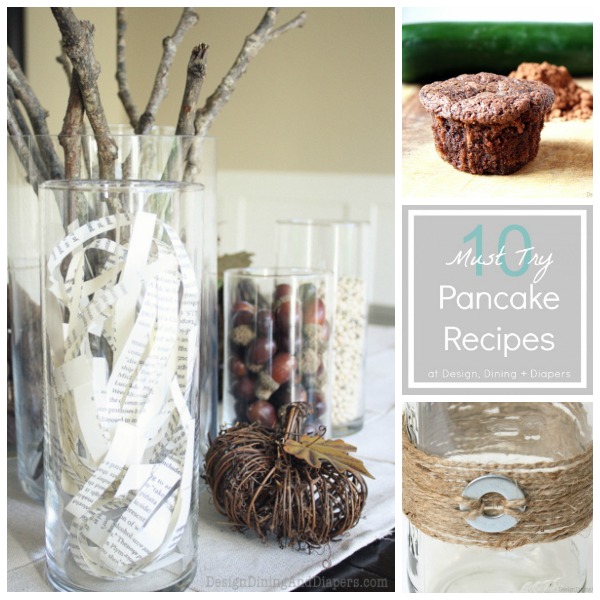 This time of year is perfect to take a walk outside and bring the outside in, just like Taryn did by putting together a great and super easy rustic fall centrepiece for her dining room. Showing us once again that a little creativity can be so beautiful. Last week I mentioned how much I enjoy going through her 'top 10' lists, and this week she didn't disappoint when she shared 10 must try pancake recipes. There's something there for everyone including a taco pancake? Sounds good to me. My girl Taryn loves to bake and this week she made some oh so yummy chocolate zucchini muffins,..yum. And lastly, she showed us how to make a super cute arrangement of mason jars embellished with jute…so pretty. On top of all that, she gave me a sneak peak at some other amazing projects she's been hard at work on. Just wait…you're going to love them.


And finally, sweet Jaime…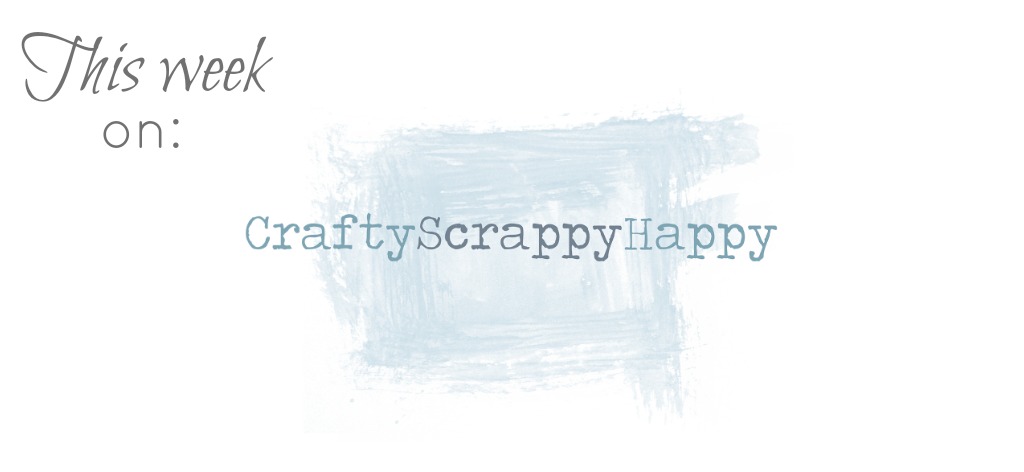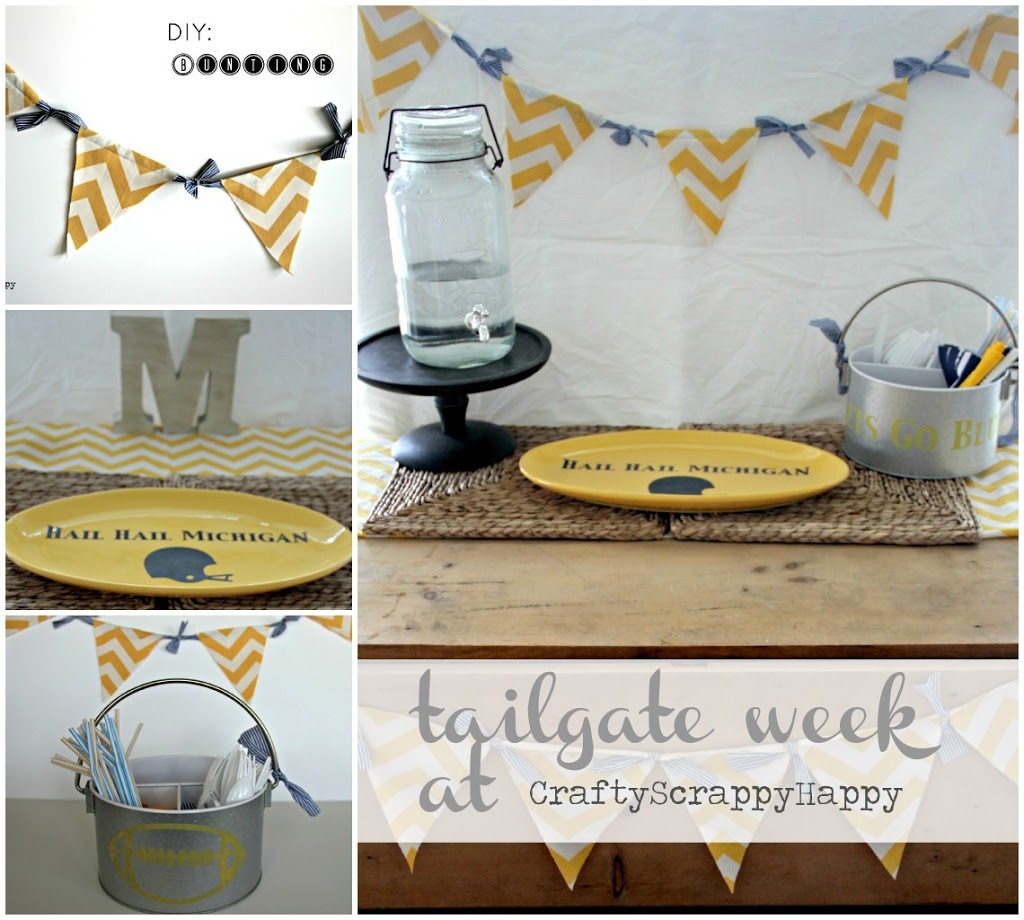 Jaime has been busy decorating and crafting for a tailgating week over at her blog. Her team is Michigan and she shows some serious team spirit with her adorable blue and yellow. Sorry, that's 'maize' not yellow bunting. She also shared how to customize your tailgate decor with some great DIY's, including a platter and utensil container.


So that's it for us…now it's
your turn
.
What have you been up to this week?
I am really looking forward to visiting you again!
Here are some suggestions you might want to consider…