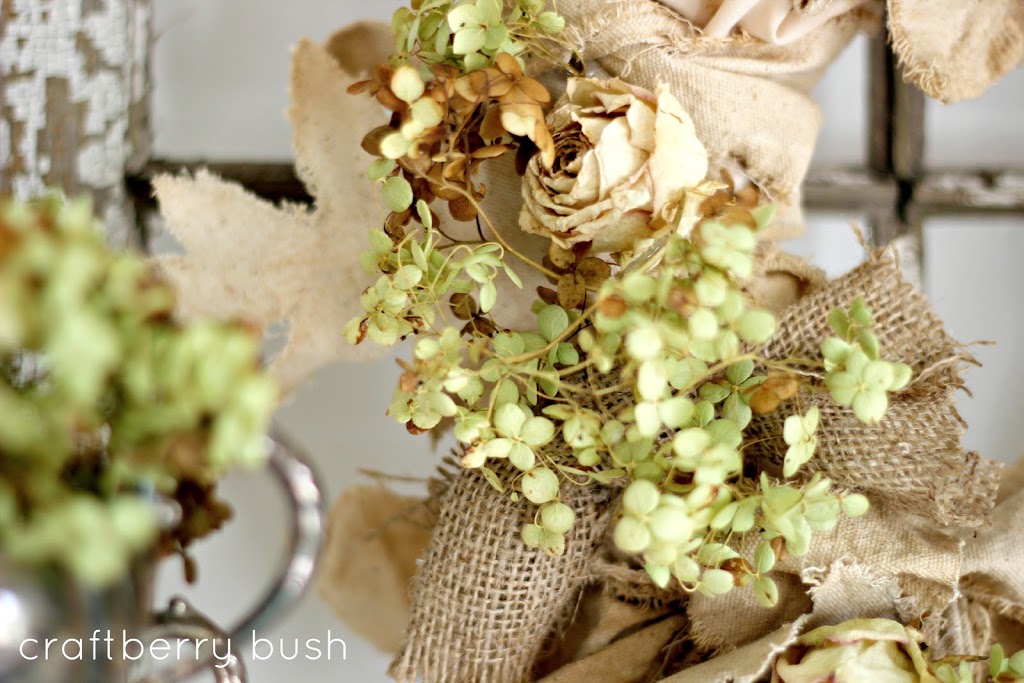 Hello my sweet friends. I hope you are enjoying your Labour Day weekend. Being that this weekend marks the unofficial end of summer, we are trying to slow right down and enjoy the last weekend before the kiddies go back to school on Tuesday.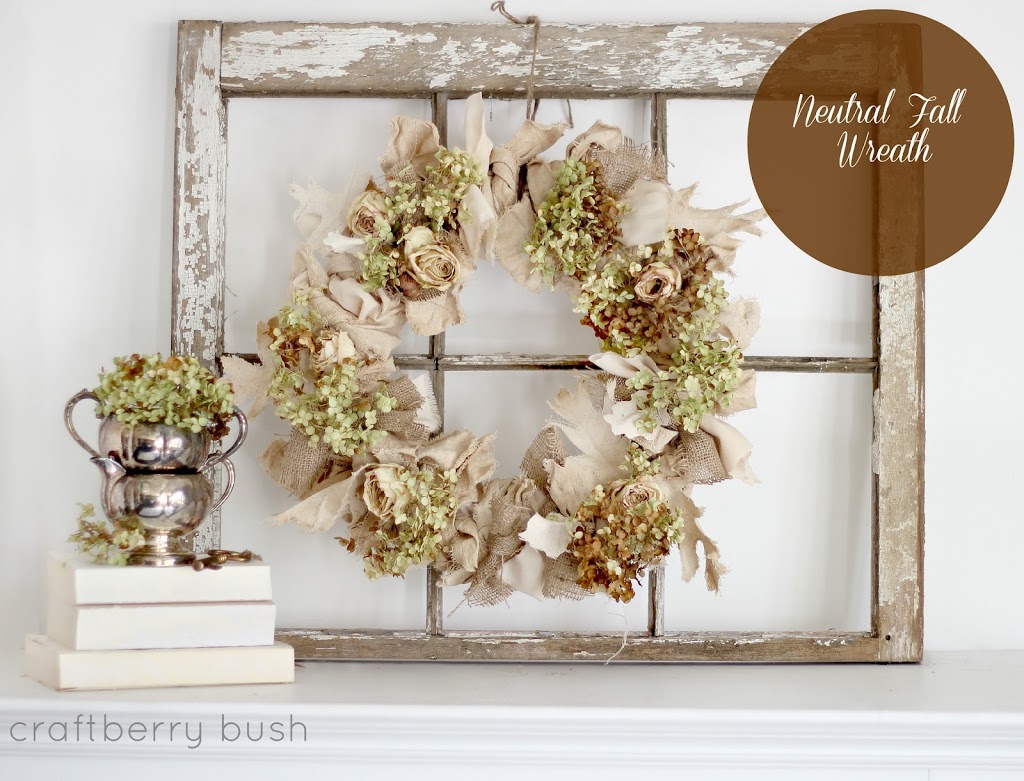 Last week I was able to spend some time doing a little crafting as the kiddies were away for the day. While
I wanted to take advantage of a quiet house and do a little painting, I instead decided to make this wreath and begin making the transition into Fall. I showed you a little peek of this wreath on my
FB
last week.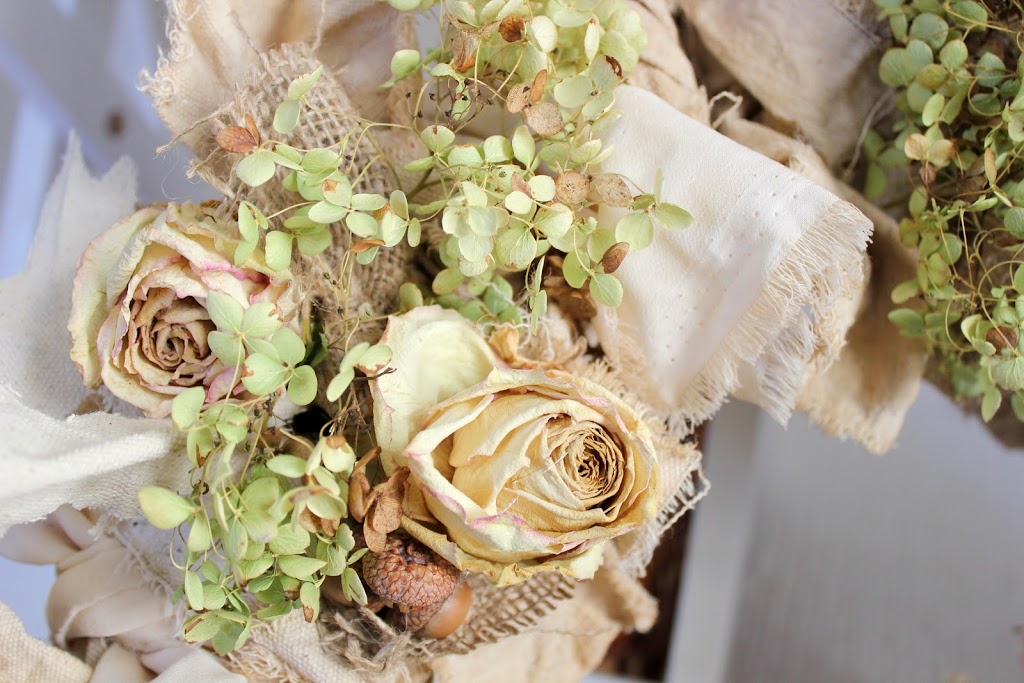 I used some dried blossoms of Hydrangeas and roses. The kiddies brought me some tiny little acorns they found on the road and were happy to see me glue them onto the wreath (it's the little things that make kids happy).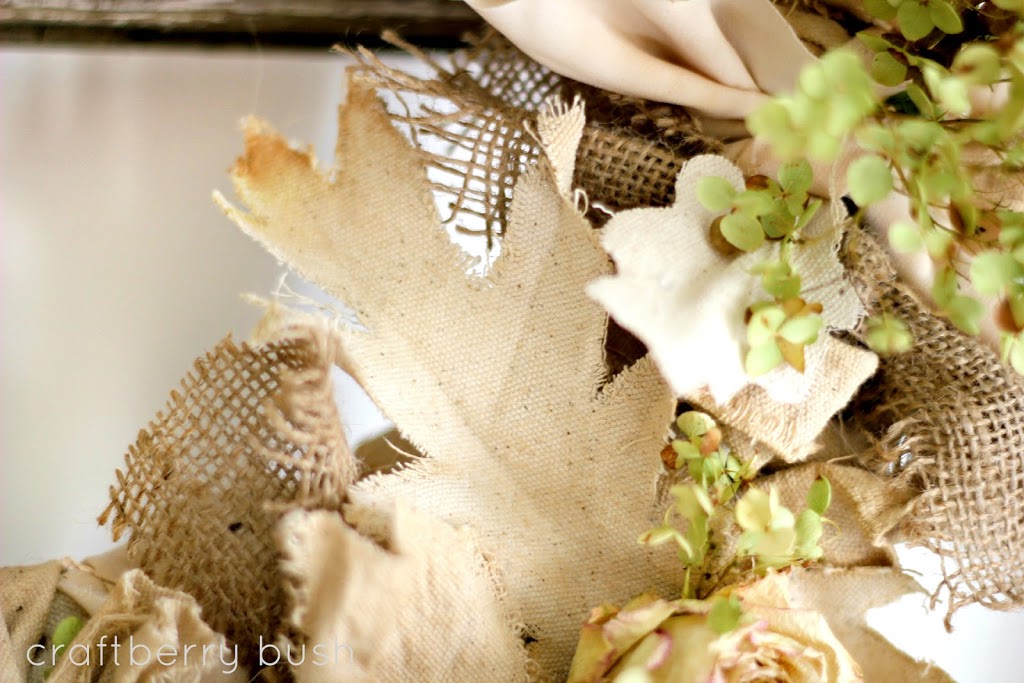 I used some burlap from
Canvas Corp
as well as canvas sheets to make these oak leaves.
You can see how I make them
here

.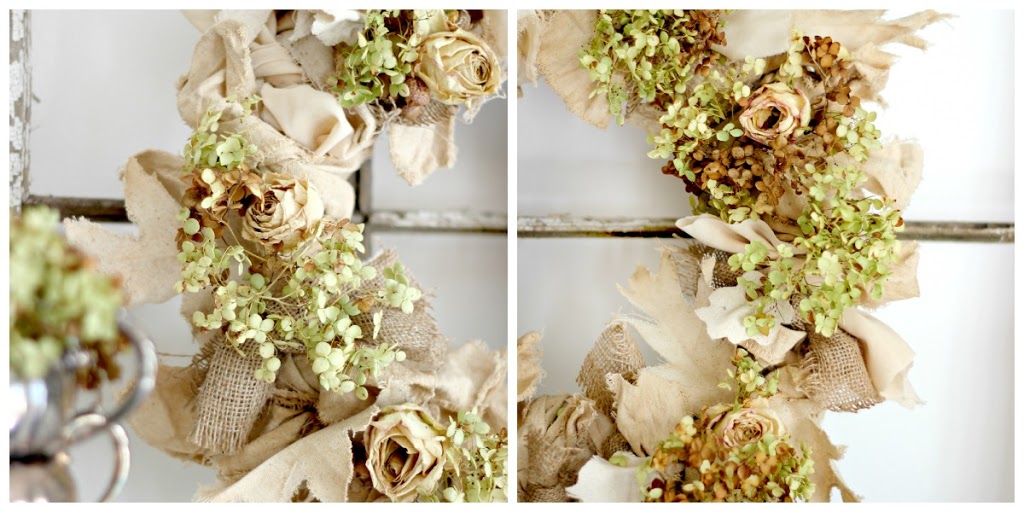 I thought of making a tutorial for the wreath, but it's really very simple.
1. Rip long strips of drop cloth about 3″ wide. I ripped them the length of the drop cloth which I think it's 8′.
2. Dip in tea or coffee to stain (if desired)
3. Hang to dry
4. Wrap foam wreath with the cloth, making sure you cover the entire wreath and pin in place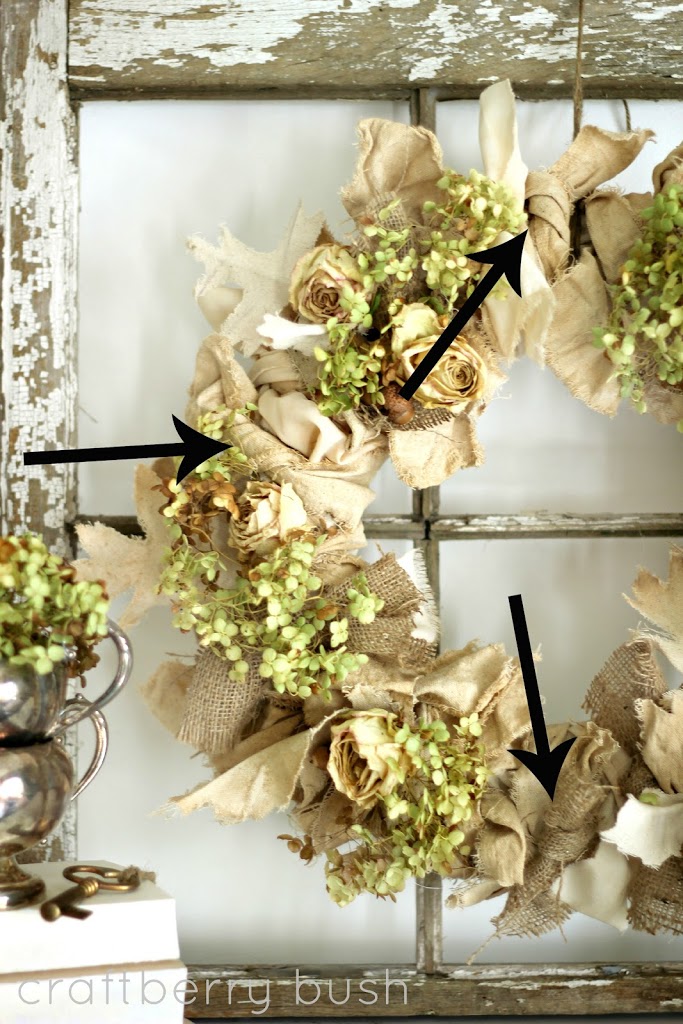 5. Tie a lose knot around the wreath and cut excess cloth
6. Untie the knot and use as measurement for the rest of the strips
7. The picture above shows you how I tied the knots of both burlap and drop cloth around the wreath until entire wreath was covered
8. Embellish with flowers, leaves, etc.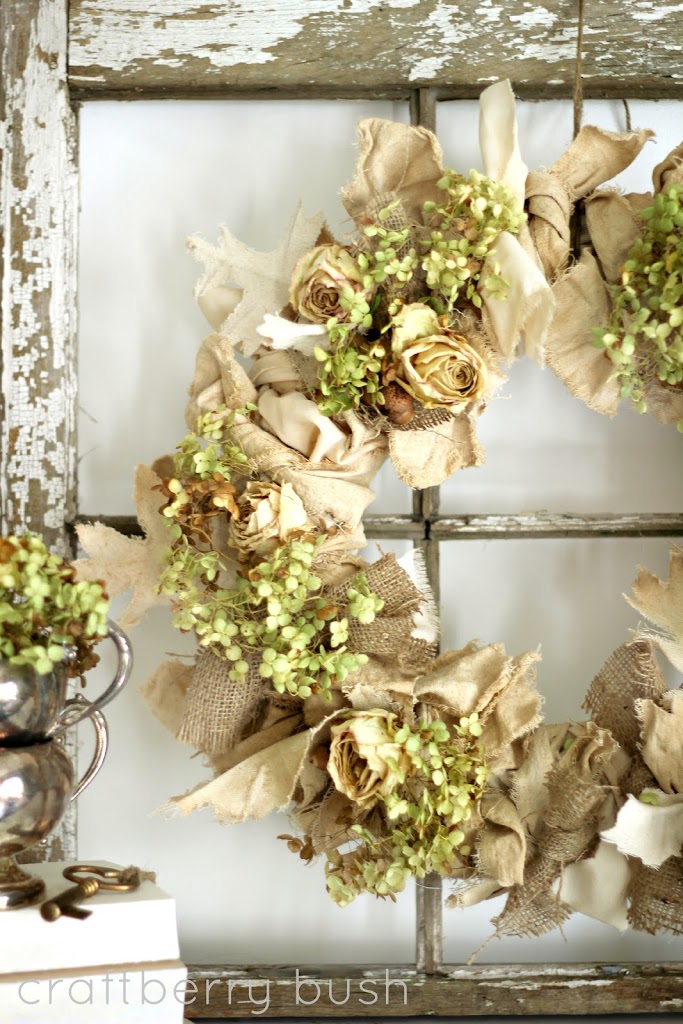 Note: Because of my impatience I decided to dry the drop cloth in the drier, which unfortunately turned into a huge mess as the strips became extremely tangled and frayed. Will I ever learn?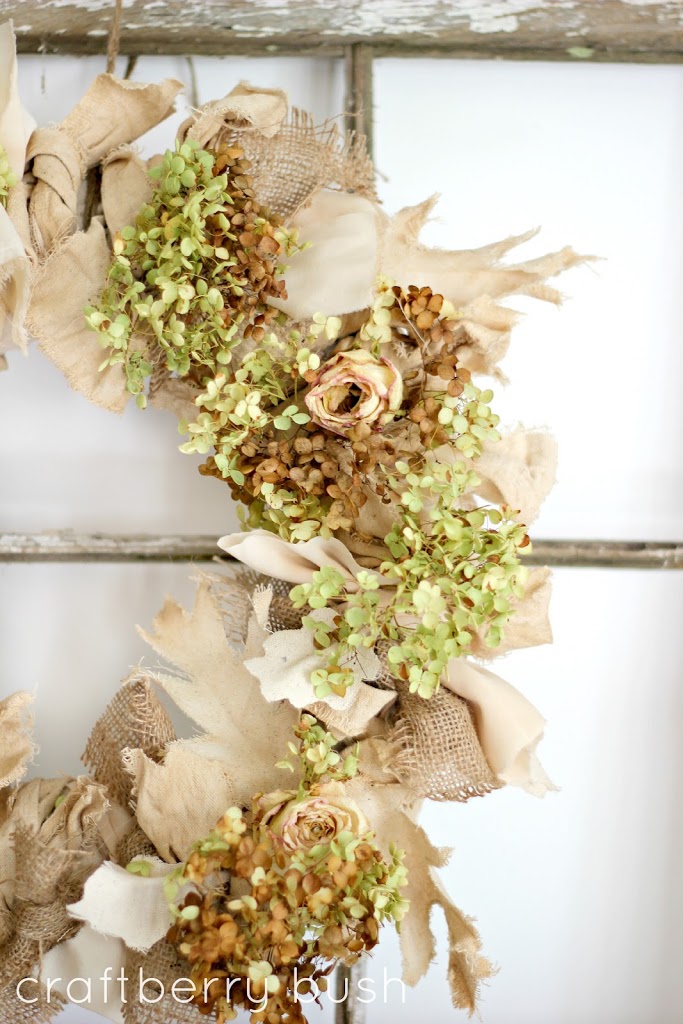 I really like the softness of the wreath, yet the various textures of the dried hydrangeas and of course the burlap scream Fall to me.

I love summer, but during the Fall months is when my creativity seems to take a little bit of a spike as I always feel more inspired. I am not really sure what it is about Fall that makes me feel like a 'real' artist.

During mt recent time off, I had time to think about what I want for this little Craftberry Bush. I am not sure how things will unfold, but I do know I want you to be a part of it. Be it through a linky party, Q&A sessions, New Blogger highlights…basically all those little things that were helpful to me when I first started.

My journal is overflowing with ideas and I can't wait to start sharing!

As usual, thank you for being here!

much love,
Lucy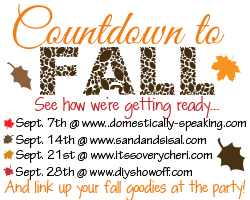 Jennifer RizzoFunky Junk Interiors
Carolyn's homework
Home stories A to Z
Primp
The 36th avenue
Someday Crafts
French Country Cottage
2805
Crafty,Scrappy,Happy
Whipperberry
Tatertots and Jello
The girl creative
Chic on a Shoestring decorating
Finding fabulous
My Romantic Home
Simply designing
The Shabby Nest
I heart naptime
Today's creative blog
It's overflowing..
Ask Anna
a.k.a design
Thrifty Decor Chick
Cedar Hill Ranch
Coastal charm
C.R.A.F.T
Savvy Southern Style