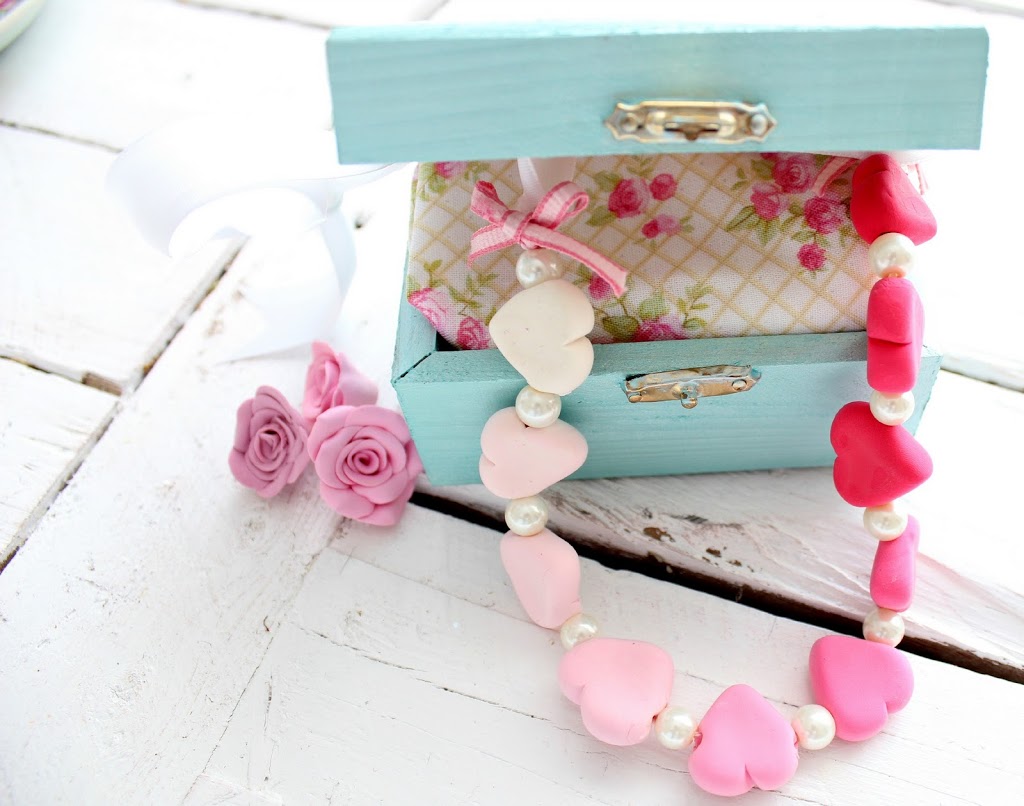 Hello everyone, I hope you had a great Monday. This morning when the alarm went off, I made the executive decision to stay in bed and not wake the rest of the house. Have you ever had one of those 'irresponsible parent' moments, when you keep the kiddies home from school, just because?


I have always wanted to home school our kids and I have dreams of traveling the world with them, teaching our kids life lessons through experiencing the world and all its diversity….
My husband and I have a common goal in raising our kids and that's to provide them with not only quality time but, quantity time and fortunately we have been able to do both. So today we walked around in our pj's all day long, we 'clayed' a little, read a little and then I took them out to a restaurant where kids eat free on Mondays. Don't you love those? Unfortunately hubby had to stay home with his Dad but it'll be his turn next time.
In preparation for Valentine's day, Isabella and I have started working on cute little gifts for her friends.


To make the beads, simply follow the instructions pictured above. Allow clay to air dry (approximately 24hrs) and pierce with a toothpick or thread with a needle.
note: this method of piercing after the clay is dry only works with this type of 'puffy' clay as it dries to resemble foam. If you are using a hard curing clay such as porcelain or polymer, pierce the holes prior to it drying.
I used a molding clay AMACO had graciously provided called Cloud Clay and I can honestly say it is probably the best 'puffy' clay I have ever used (I am not being compensated to write this, it's just my honest opinion).
I painted my version of a Tiffany box – from a wooden box bought at the DS – using
10 parts of Oyster Pearl to 1 part of Sea Breeze by DecoArt.
The Oyster pearl has a beautiful shimmery finish.
Isabella wanted me to photograph her working on her school project. I am bias to her artistic talent but believe she is an incredible sculptor for a (just turned) 8 year old.
Tip: The clay can be tinted by simply marking it with regular markers and kneading the colour into the clay or it can be tinted with paint.
Who wouldn't want to receive a little blue box like this?


If you visit my FB page then you might have seen a little peek at what I have been working on. Do you prefer the sneak peeks or to be surprised? Either way, I hope to see you again very soon. Thank you so much for all you do for me…:)


much love,
Lucy
Linking at
Carolyn's homework
Home stories A to Z
Primp
The 36th avenue
Someday Crafts
French Country Cottage
2805
Crafty,Scrappy,Happy
Whipperberry
Tatertots and Jello
The girl creative
Chic on a Shoestring decorating
Finding fabulous
My Romantic Home
Simply designing
The Shabby Nest
I heart naptime
Today's creative blog
It's overflowing..
Ask Anna
Thrifty Decor Chick