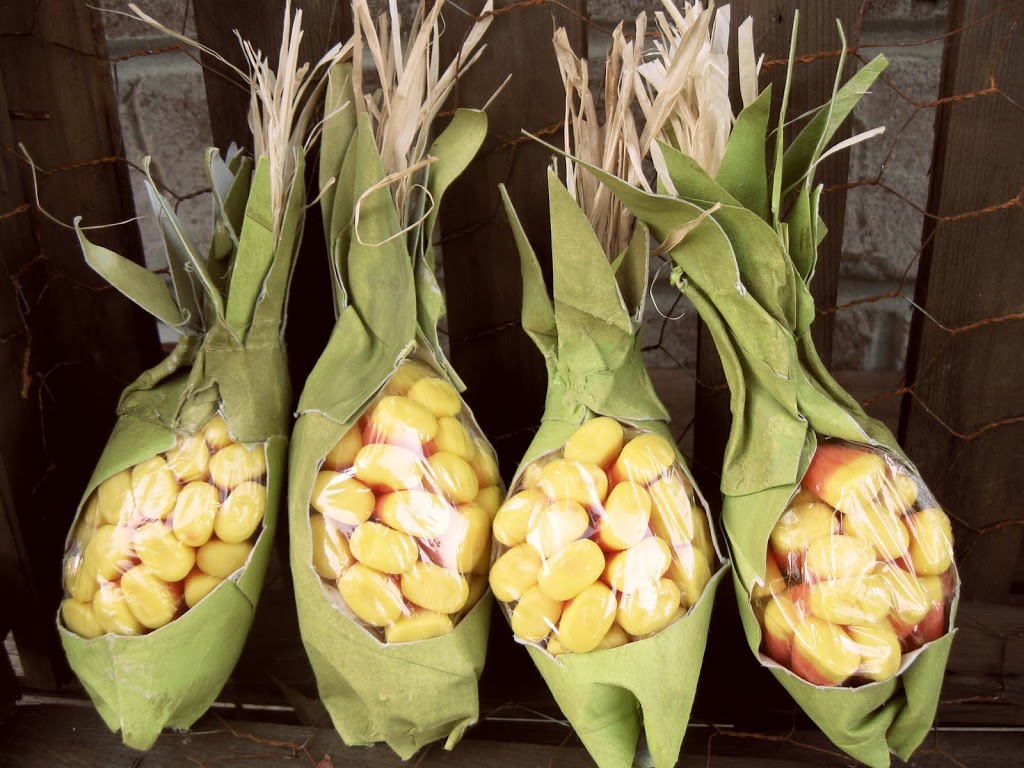 Hello everyone! Happy midweek. I feel as though I have a million and one things to talk to you about and yet the words do not want to line up in a tidy queue. Perhaps it's because while I type this, I'm trying to ignore the fact that hubby is packing for a long business trip and along with him, he takes a big chunk of my heart.
It's times like these when you realize how much you take companionship for granted. Whether its the company of a spouse, a friend or even a pet. Not that I'm comparing hubby to a pet, but he is nice to have around. 🙂
But trying to put all of those feelings aside, may I show you a little something I worked on this week?
With Halloween a few short weeks away and our Canadian Thanksgiving coming up this Monday, I thought it would be appropriate to make some little candy corn favor boxes.
Here is a quick tutorial of how I made them…
1. Paint paper towel roll with two different shades of green
3. Cut a tear shape opening in the middle
4. I painted a bit of the inside
5. This part is optional – stand up the candy corn on a piece of plastic wrap or you can just place them as you wish. I decided to stand them up so the yellow would face out and therefore look more realistic.
6. Wrap them up tightly and tie with some raffia
7. Tie several strands of raffia around the top
8. Tape around the bottom of the raffia so they stay close together
9. Scallop the top of the paper towel and place candy corn bag inside.
10. Scallop a small piece of paper towel roll, cut in the centre and open it up.
11. Tightly squeeze top of paper towel roll and tie with a piece of raffia
12. With a glue gun, glue the smaller piece of paper roll to the other paper roll. This will add volume and hide the raffia.
This picture better depicts the last step. Notice how I squeezed and glued the top of the corn to give it shape. I also glued the bottom of the roll (not pictured)
It was pure coincidence that I was wearing the appropriate attire for the occasion.
Isabella took this photo so it's a little blurry.
What do you think? I wish you could see them in person…I think they look so cute!
I also have some good news and some bad news…
BAD – the quality is not very good
GOOD – I will be trying a different method to see if it works better
GOOD/BAD – if I am not successful, I will be doing a giveaway, which I had planned on doing anyway, but it means not everyone will be able to enjoy them. So sorry 🙁
I welcome any suggestions you may have!
And finally, I have started a Facebook page, so if you are ever around, please come by and say hello.
I will use the Craftberry Bush page so we may get to know each other in a more personal level.
There, you will get to know the different sides of me…:)
Well sweet friends, I hope I didn't bore you with all that talk, and if I seemed preoccupied, you can read me very well!
Have a beautiful day and please come back soon…I am going to need your companionship during these next few days!
PS. in case you didn't catch the title of the post, 'maiz' is corn
in Spanish…:)