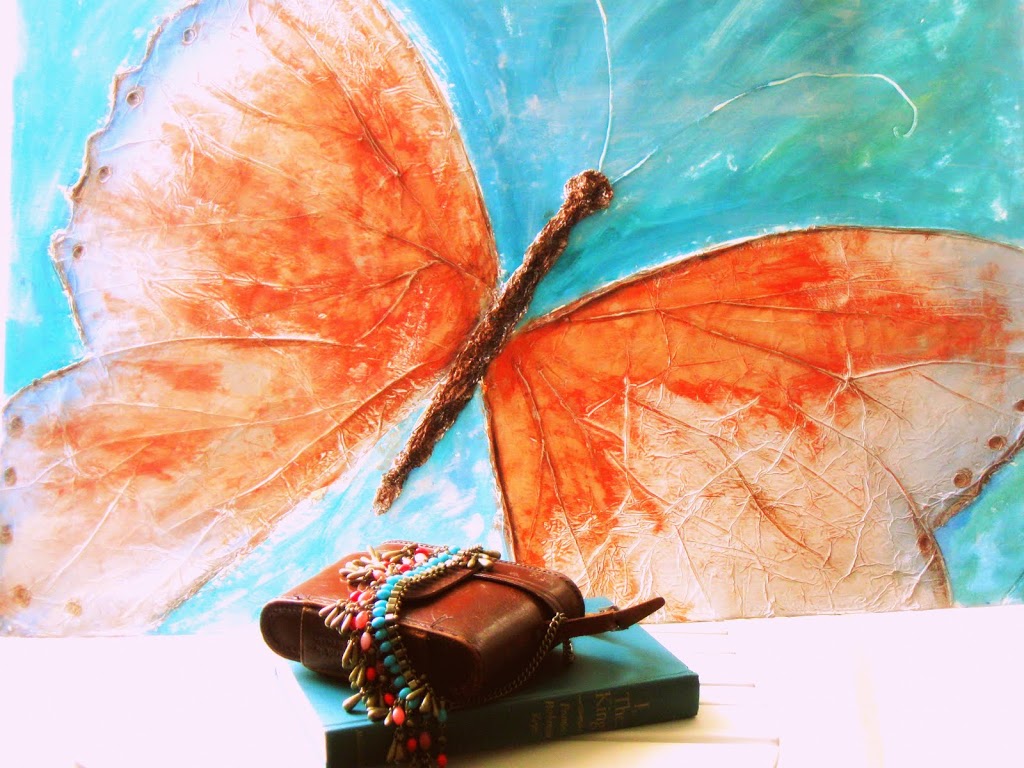 Today the sun heats the earth as if enraged.
Its mighty rays penetrate deep through my skin and
I cannot find comfort or escape from its powerful heat.
We are having a heat wave here in Toronto (48 C, or 118 F) that will be beating records, so the ki
ddies and I stayed in today, safe from the sun and this extreme heat.
I knew today would be a little busier than usual as we had company coming over for a weekday BBQ followed by a movie in the park, so
I woke up early so that I may finish a little project I began a couple of days back (hubby would suggest 8:30 is not 'early' as he is long gone to work by then).
I want to share an embossing technique I have been using for a few years.
It's really very simple because the imperfections on your art is what makes it more appealing.
1. Sketch, trace or print out an image (if printing, glue to surface; I used an inexpensive foam board for this project)
2. With a hot glue gun, outline the image that you would like to emboss
3. Apply Mod Podge or glue over image
4. Gently adhere tin foil to glue and press gently against surface
5. Gently rub outlines (you should see them 'pop' up)
7. Choose desired paint colours
8. Using a brush, apply paint to areas not covered by foil
9. You can see the various colours showing through (there are no rules when applying the paint)
10. With your hand, apply desired paint colour to the foiled image
11. I like to use my hand because it eliminates brush strokes and the colours blend easier
12. This process needs to be done gently to avoid foil from ripping.
13. I made the body of the butterfly with foil and painted it
14. Dip straight brush in paint and dab most of the paint off until brush is almost dry
15. With the edge, dab paint into the crevices
16. If you like the foil to show through gently rub off paint once dried
note: you will need to apply a coat of varnish or protective coating to seal the paint.
The inspiration for the colours came from this old Bo-kay tin we had found over the weekend.
It looks so old, yet it still has its contents. I wish I knew more about it and had tried to Google it,
but didn't find much. Any ideas?
The colour combination of the turquoise and the coral is one of my favourites. I bought this necklace a couple of years back and if I could, I would wear it every day.
The colours – in my opinion – are so refreshing and exotic and fits perfectly with this heat wave.
I do however wish I was being cooled off by a Caribbean breeze (insert sigh here).
The artistic know how for this project is minimal.
As mentioned, the image can be traced or photocopied and then glued onto the surface. You are also not limited to using foil as you can use regular paper, book pages or magazine paper – the possibilities are endless. And when painting or choosing colours, anything goes…you need only let your creativity be free.
I hope you enjoyed this little post and thank you for your sweet company.
I will be sharing
here
, thank you for hosting!