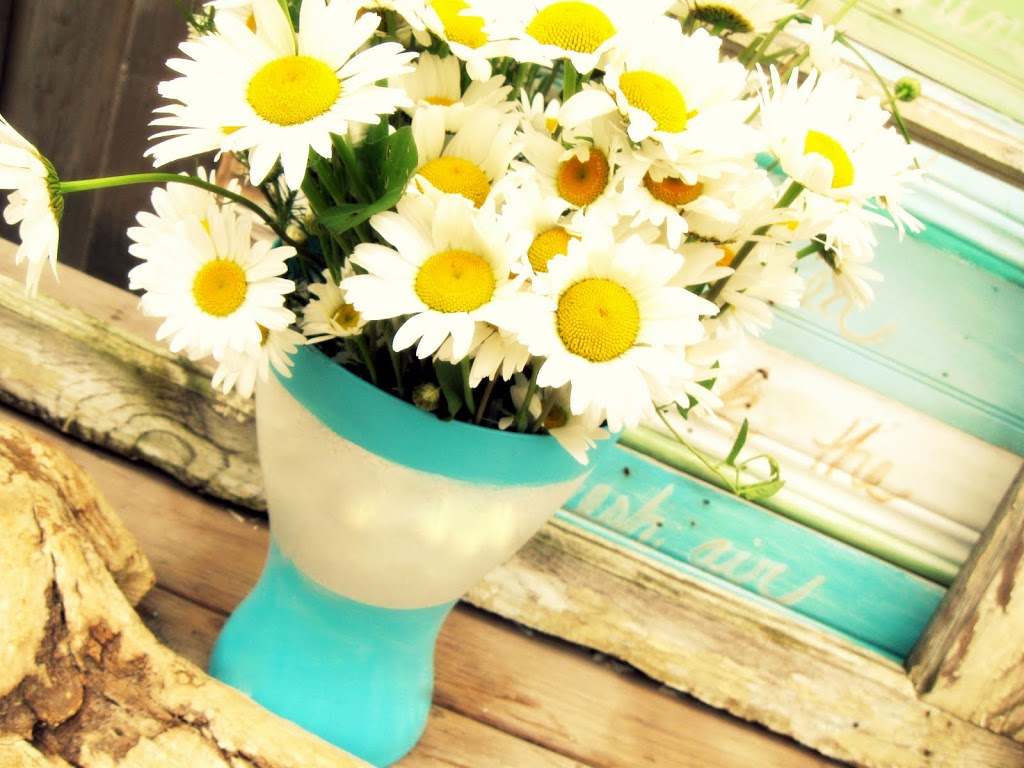 Hi beautiful friends! I hope you're all having a great weekend.
I wanted to give you a little peek into my weekend world so far…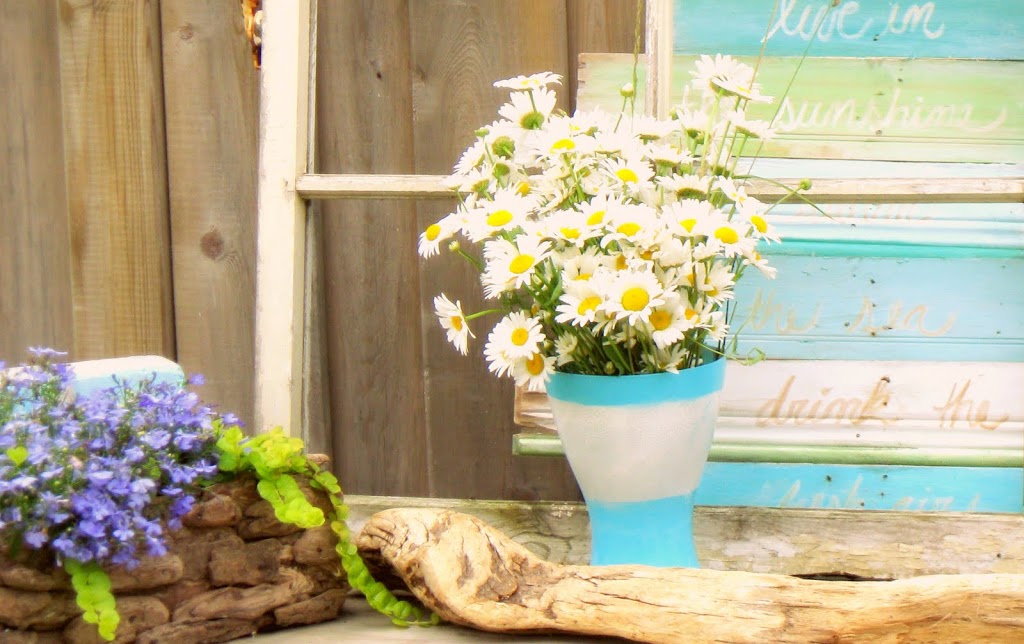 During my morning run on Friday, I picked some more

wild daisies

and wished I had a nice contrasting coloured vase to put them in.
So this morning, I sprayed painted this dollar store vase to coordinate with my beachy sign. S
uch an easy way to makeover an inexpensive and plain vase.
And speaking of makeovers, would you please come along with me as I show you the next little makeover; well HUGE makeover?
Our youngest son had been growing his hair for over a year as he wanted to donate it to
Locks of Love
.

A beautiful organization that makes hair pieces for children undergoing cancer treatment and other medical diagnosis.
Over the last several months, he was constantly being mistaken for a girl. Even though I know deep down it bothered him a little, he didn't budge until he knew he had reached his goal of 10″. We are so proud of him…
I was so sad to see his hair being cut off; he had these beautiful red and blonde natural highlights, but at the same time, I am so happy to know that someone will benefit from his gorgeous hair. Tristan has such a beautiful soul and the way you see him pictured here is his every day being. Always a smile on his face, ready to help anyone with anything.
My three boys; the apple doesn't fall far from the tree does it?
I'm also about to get extremely busy with a project for church camp. I'm looking forward to sharing some pictures and some really exciting news with you about this particular project. Let's just say God's works are amazing!
I started painting one of 5 panels, each of which will measure 11'X3 '. It's going to be a lot of work, especially with the kiddies finishing up school this week. I'll try and post updates and sneak in the occasional craft if I can.
The theme for this year is a bamboo forest. I made several of these bamboo canes out of tons of paper roll tubes, with some measuring up to 11′ or so….
Before I get too deep into my bamboo forest adventure, I hope I can finish this little project I stared last week. Here's a hint….
…and another hint…this old window frame.
And finally, I'll leave you with the mural I painted last year.
I hope to show you many more pictures next week.
Hope you're all enjoying your weekend.
Thank you so much for stopping by and saying hello…
luv y'all bunches!
Lucy