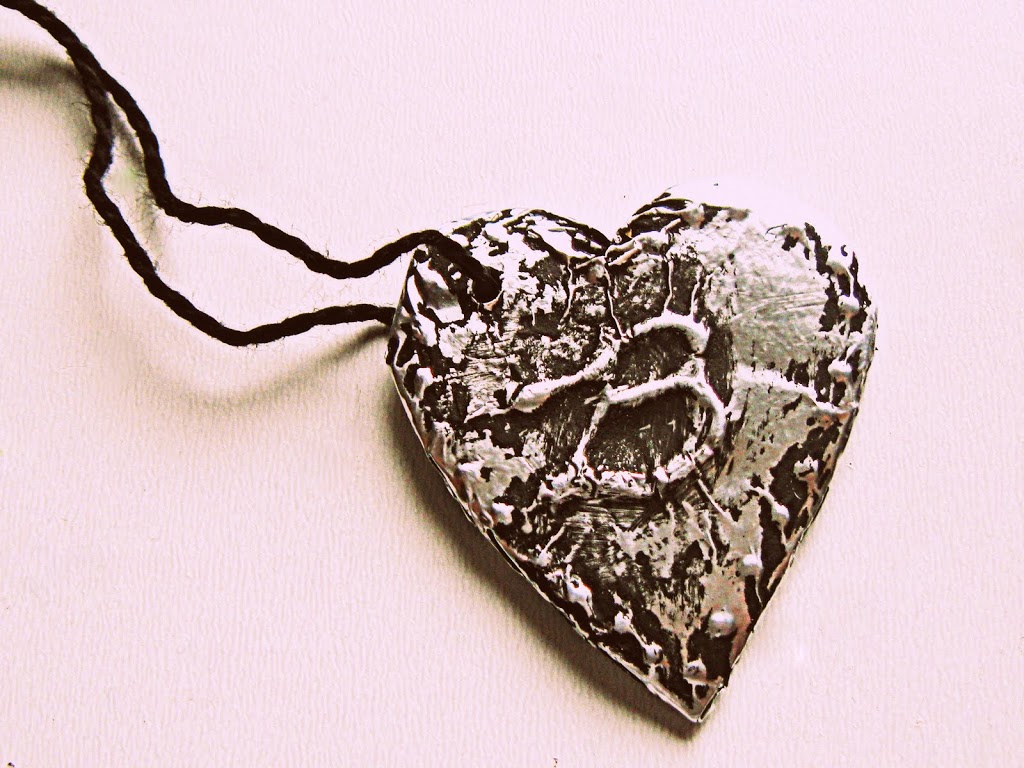 "Free the child's potential, and you will transform him into the world"
One of my favourite things about being a Mother is seeing the excitement and anticipation in my kiddies faces just prior to me unveiling their precious homemade gifts. They put so much effort into their little creations and beam with pride when I tell them how much I love it.
On my

previous post

, I shared how to make sweet charms from pop (soda) cans and today, I wanted to share the child friendly method of creating these pretty little charms.
Let's get right to it…..
You will need:
Puff paint
thick cardboard
foil paper
glue
black or brown paint
tack
string or chain
1. Cut desired shape and draw a design.
2. Carefully trace with puff paint and allow to dry
3. With a tack, pierce a hole on top of charm
4. Cut a piece of foil big enough to wrap around entire shape
5. Add some glue to charm (sorry not pictured)
6. Wrap foil around shape and lightly smooth foil onto cardboard
7. Add light pressure to design so puff paint embosses foil paper
8. Gently rub charm until you see details
9. Pierce foil paper with tack to expose hole
10. Paint entire charm with black paint and allow to dry
11. With finger tips or paper towel, rub of as much paint as you desire, allowing the dark paint to remain around details. You will need to add varnish to the charm to protect the paint from rubbing off.
12. Once varnish is dry, thread string or add a jump ring with chain
I have made large tiles using this method
(this is one of the projects I speak of

here

)
It looks like embossed metal, doesn't it?
And that's how easy it is to give Mom or Nan a special gift.
As always, thank you for walking through this creative journey with me.
A big 'hearty' hug to you,