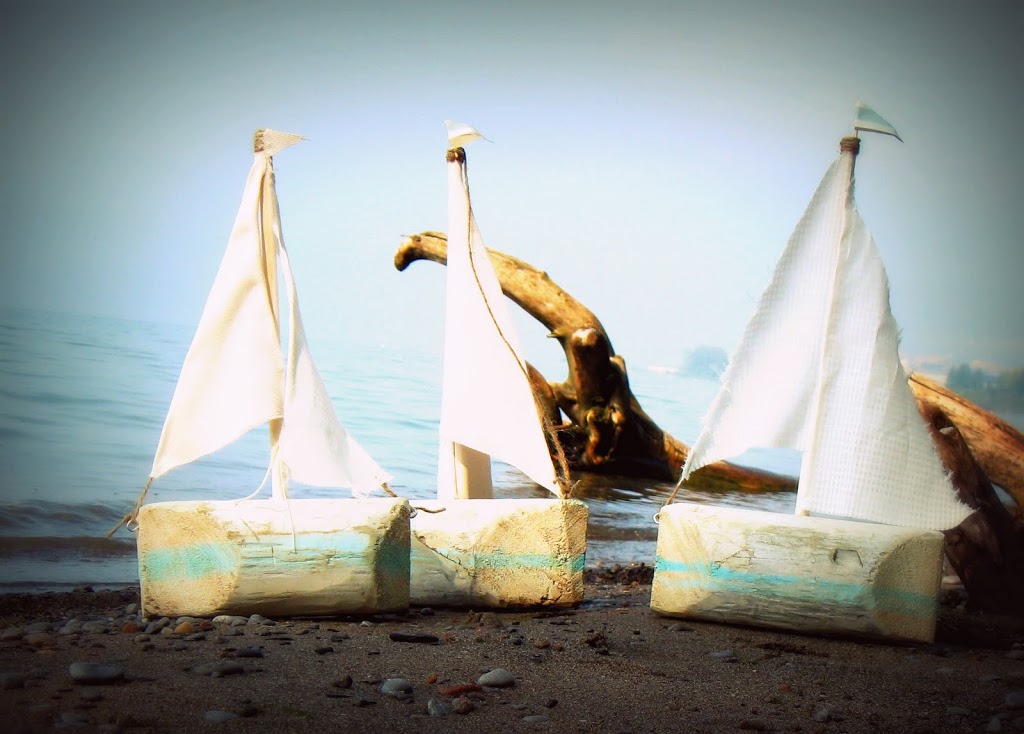 I hope you are all having a great day. After what seemed like weeks of wet weather, we're finally experiencing some glorious weather here today and I am overdosing on vitamin D. I also started the Master Cleanse lemonade diet today. Not sure if you've heard of it, but I will tell you all about this detoxification diet in a later post. So far so good…
I took a little drive to the lake shore this morning after dropping the kiddies at school.
The air felt fresh and the morning sun warmed my soul…
We had a rain storm last night so the ground was still wet, which provided a perfect background to my little sail boats…
There are no starfish in Lake Ontario, so I decided to bring mine along (although I don't think it's too convincing)…
I have seen many little sail boats made from driftwood and think they look darling, but I wanted to make mine a little different.
I had a 2.5′ log laying in our garage (Honey, I told you I was going to use that one day) which
I cut into three different sizes, carved a little, sanded a little…
I carved it a little more until I was happy with the shape and then drilled a hole big enough for a dowel.
I applied some Gorilla wood glue and gave them a white wash.
I made some masts from scrap fabric and set them off to sail…
They would actually probably sink, but they look so perfect sitting on the sand. It's like they've been sitting there for a long time, just rocking with the waves…
I think they also look pretty sitting along side some shells in a blue jar…..It screams out of a beachy summer cottage. Do you remember my garland? I made another one…
While I was typing this post, my kiddies were filling water balloons and one of them burst all over the kitchen floor. I scolded them, only to regret shattering their fun over a dry floor.
In this world full of fast this, fast that, perfect this, perfect that, we sometimes overlook the beauty of this journey called our life.
These moments are what makes my journey interesting, these moments are the ones our kiddies will remember on their own personal journey and I want to make each and every moment count. So an apology was in order and I ended up filling the rest of the balloons and rejoicing in their fun. I would have felt hypocritical if I had not shared that with you as the intent of my posts are to always inspire you not only creatively but also spiritually.
Thank you so much for your company on my creative journey.