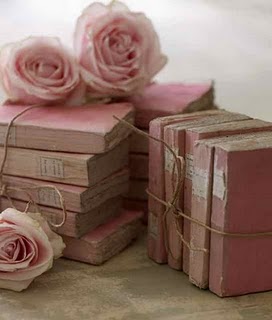 For the last few weekends, I have posted
some
beautiful images from around the web.
I hope you are enjoying them….
This week, I have collected book bundles…
There's something so comforting yet
intriguing about an old book…
Each tells a different story; not only literally
written
within their
pages,
but also by
the many hands that have held them…
The tattered covers holding fingerprints of the past…
…and each page whispering a secret to those who listen closely.
With so much technology around us, will these
beautiful treasure holders become a thing of the past?
I hope not as there is nothing like the scent of book pages and getting lost within them.
As I wish you a peaceful weekend, please keep those in Japan close to your heart.
Sources:pink books
vintage bookmarks
two books pink ribbon
tattered and beautiful
on a chair
pink ribbon romance
pb