Over the weekend I shared this tutorial at New Nostalgia,
I was honoured when Amy asked me to do a tutorial on this flower.
What I hadn't realized however was that I had no idea how to do a tutorial for this specific project.
You see, I often times just let my creativity take me away and I am a true believer that there are no rules when it comes to creating.
So I sat down and tried to put together a tutorial to the best of my 'structured' ability.
To those of you who are truly paper artists, I apologize if my techniques are unorthodox to your craft.
Nevertheless, I hope that you get the gist of it and that you enjoy it!
Paper (I used pages of a book)

1. Cut or rip 5 strips of paper of approx. 3″ long by 1″ wide (these will form the middle of the flower, I believe it is called the stigma…please correct me if you know the right name)
2. Wrap each piece of paper around the toothpick to help you get started on the quilling process.
3. Gather all the little tubes

5. Cut 15 petals in total (5 each of large (4″), medium (3″) and small (2″)). These are the sizes that I used but please feel free to alter as you wish.
6. With your scissors, gently curl each petal just as you would curl ribbon.
8. Start assembling your flower by placing the smallest petals around the stigmas (?) overlapping them as you go around.

9. Continue this process all around
10. I secured it with tape after every layer, making sure I squeezed the paper together tightly. Don't worry about the petals being perfect at this point; you can mold them after (paper is very forgiving to work with)
11. Continue to attach the petals until you have placed all 15 (from smallest to largest)
12. Squeeze the 'stem' tightly one last time and secure with tape
Trim the excess paper and you're all done !! ( that was easy)
If you would like a stem, follow steps 13-16…

13. Tightly wrap the floral wire ( my wire measure approx 12″) around the flower a couple of times and bend it downwards to form stem.
14. Wrap masking tape around the wire all the way down to the end.
15. Cut several long, thin pieces of paper and apply glue to them.
16. Wrap the strips of paper, one at a time, around the masking tape covered wired
And you now have a lovely paper flower…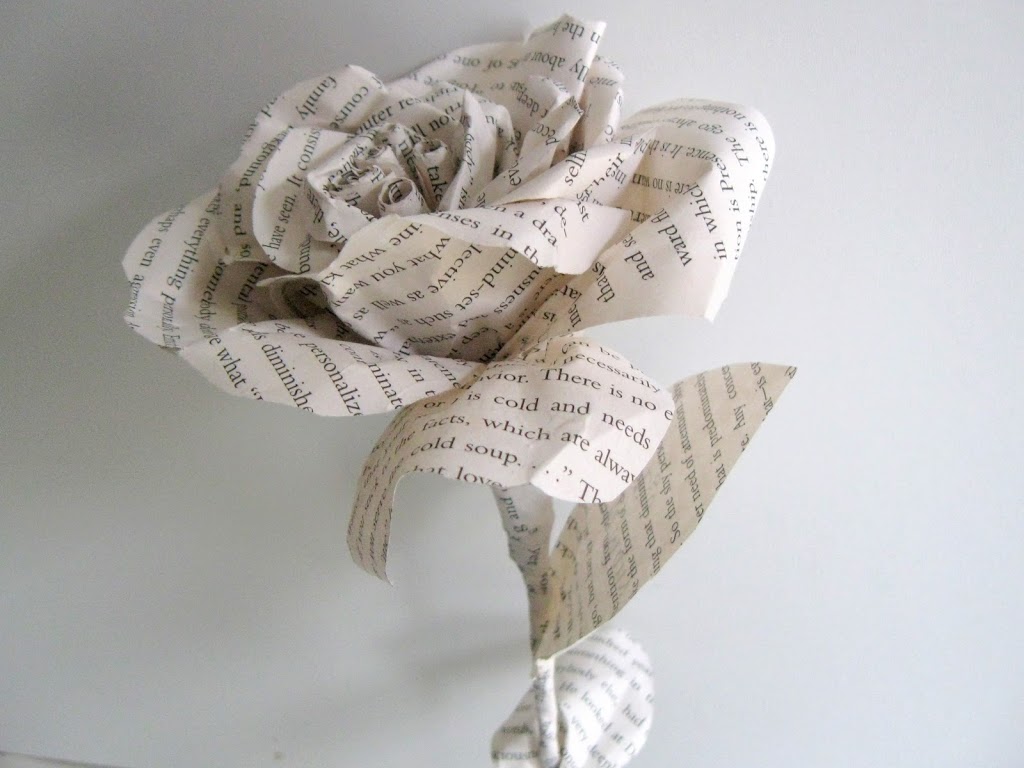 I truly hope this tutorial was helpful and you give it a go!
Thanks so much for reading and thank you Amy for allowing me to share this with your lovely readers!
attending this lovely party
http://shabbynest.blogspot.com/2010/10/frugal-round-up.html