If you're anything like me, you've probably looked at a number of fall pictures out there in Blogland. Mantels, wreaths, garlands and of course, pumpkins. Pumpkins of all sizes, shapes and colour – white, polka dot, striped, stenciled, felt, etc.
Well, sorry to say but here is another one for you.
Meet Frankie. This is an old photo from last year when he had been sitting on our front porch for almost a month (so forgive him if he is looking a little tired).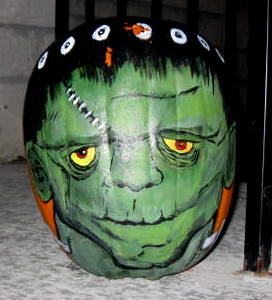 I'm not sure what we'll be doing this year, but you'll be the first to know. I'm not a huge fan of Halloween but I've been working on some things to share with you………much love.