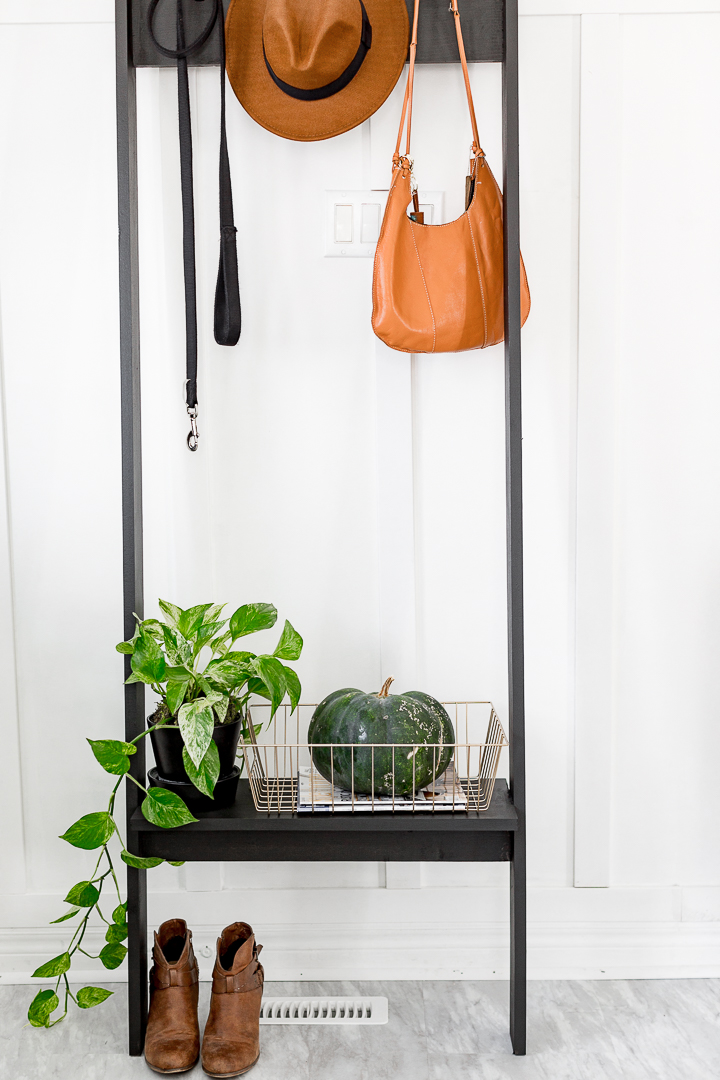 Hello friends, and Happy Wednesday!
We're at the halfway point of the week and I can't wait for the weekend to arrive as it's Thanksgiving here in Canada. I'm looking forward to spending time with family, being thankful, and enjoying each other's company.
Last week I shared our front entry refresh and as promised, today I want to share this really cool portable coat rack hubby made for me. The materials are inexpensive, it's easy to make, and being lightweight allows me to move it to different parts of the entryway with ease.

It also serves as the perfect place to hang Brody's leash which hubby loves. Why? Because when I'd return from taking Brody for a walk, I had a bad habit of leaving it here and there throughout the house and as hubby has yet to figure out how to read my mind (which he's remarkably good at most of the time), he wouldn't always know where I left it and he'd have to go searching. oops. The first notch on the left has officially become Brody's spot which I've gotten into the habit of using all (well, most) of the time.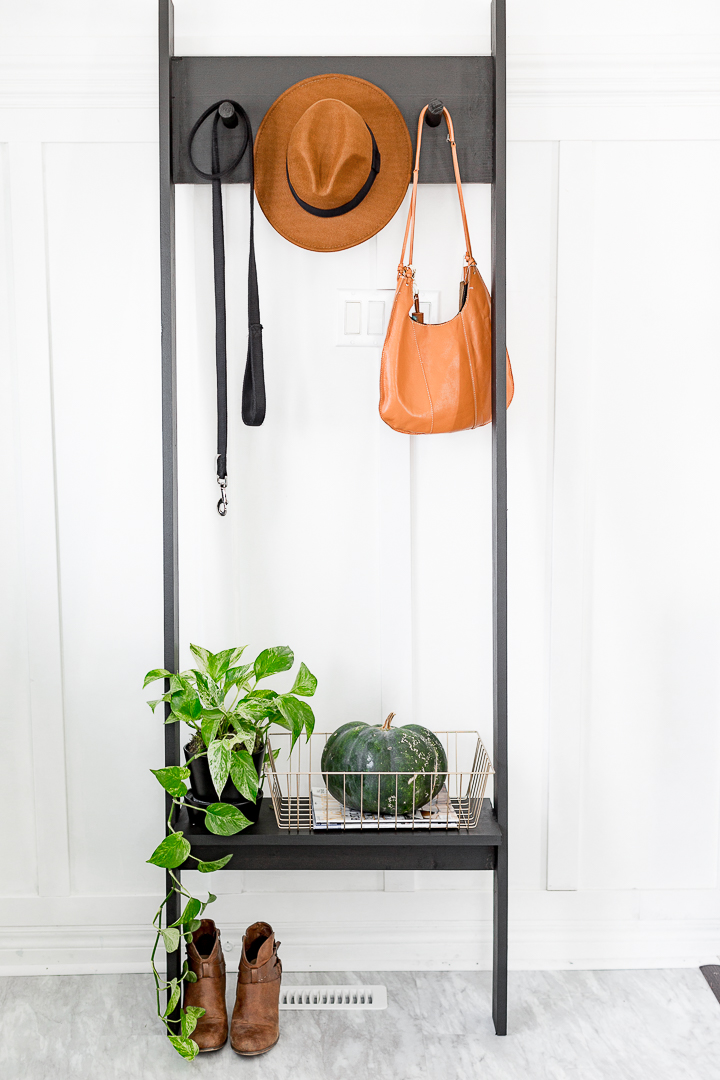 To make this coat rack, you will need:
Two 7′ long pieces of  3 1/2″ x 3/4″ pine
Two 2′ long pieces of 9″ x 3/4″ pine
One 2′ long piece of 2″ x 3″
One 12″ long 1″ dowel cut into 3 (4″) lengths
Miter saw
Drill
Screws
Wood glue
Paint or Wood Stain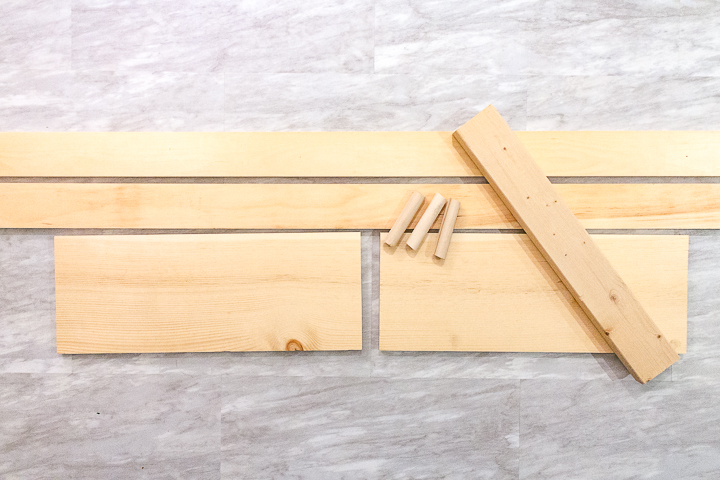 Step 1: Using your miter saw, cut one end of the two 7′ long pieces of pine on an angle of your choice making them the "bottom" such that when you lean the coat rack against the wall, the bottom of the pieces will sit flush on the floor.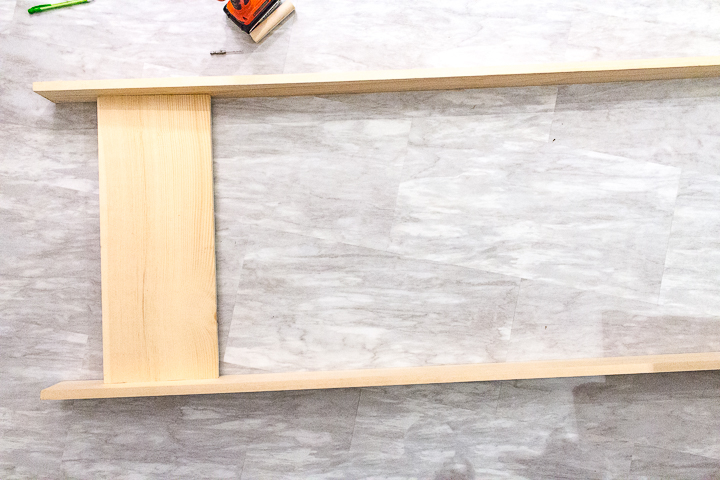 Step 2: Lay the two 7′ long pieces on their sides and parallel to each other approximately 2′ apart. On the other ("top") end of the 7′ long pieces, place a 2′ long piece (9″ x 3/4″) flat in between them and drill/screw on the outside of the two 7′ long pieces to attach them all together.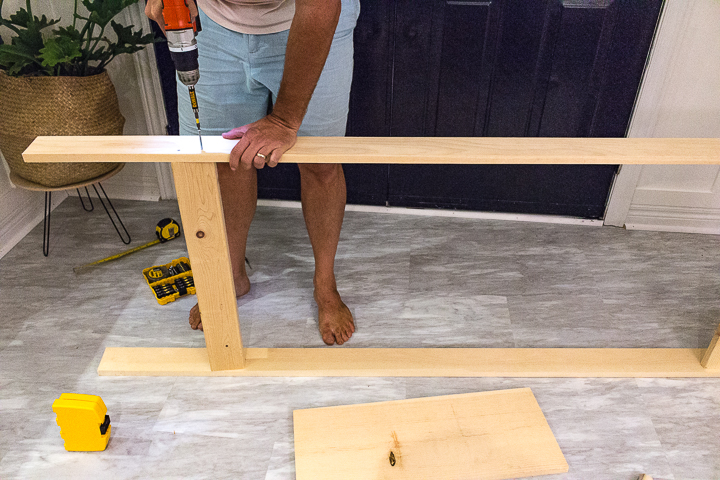 Step 3: Turn the coat rack on it's side and insert the 2′ long piece of 2″ x 3″ in-between the two 7′ long pieces approximately 16″ from the bottom to serve as support for Step 4. Drill/screw to secure.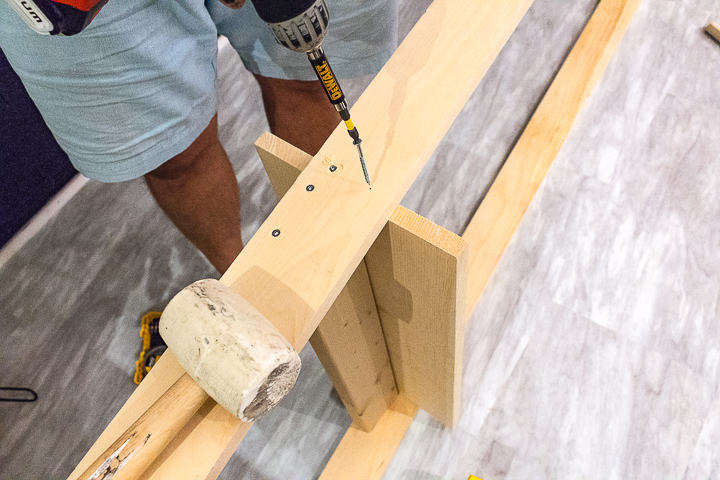 Step 4: Place the second 2′ long (9″ x 3/4″) piece on top of the 2″ x 3″ support (from Step 3) and drill/screw to secure. This will serve as a bottom shelf and/or ledge.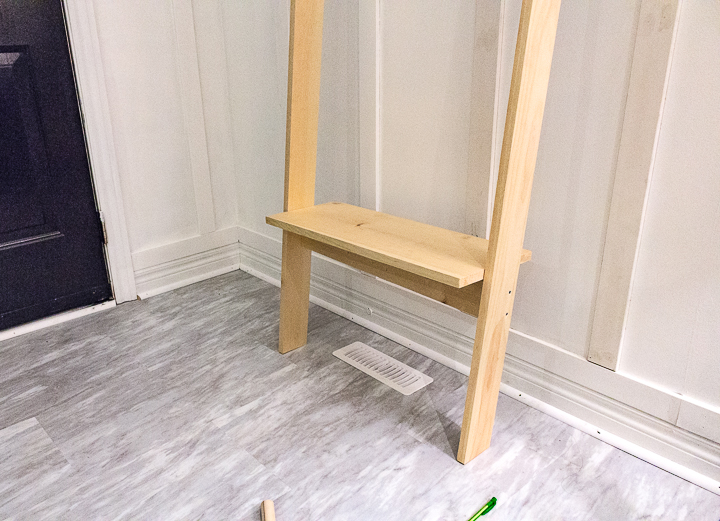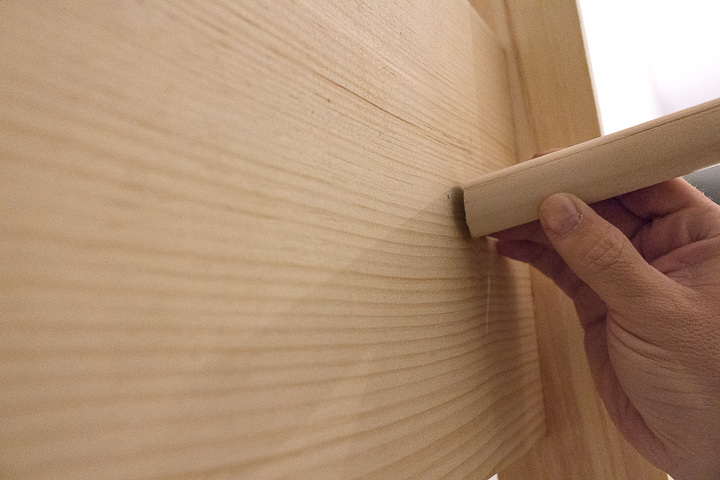 Step 5: Measure where along the top board you want to place the three 4″ dowels. Use wood glue to attach them and provide additional support (optional) by drilling/screwing to secure in place.
Step 6 (optional): Paint or use your favourite wood stain on the entire coat rack and you're done!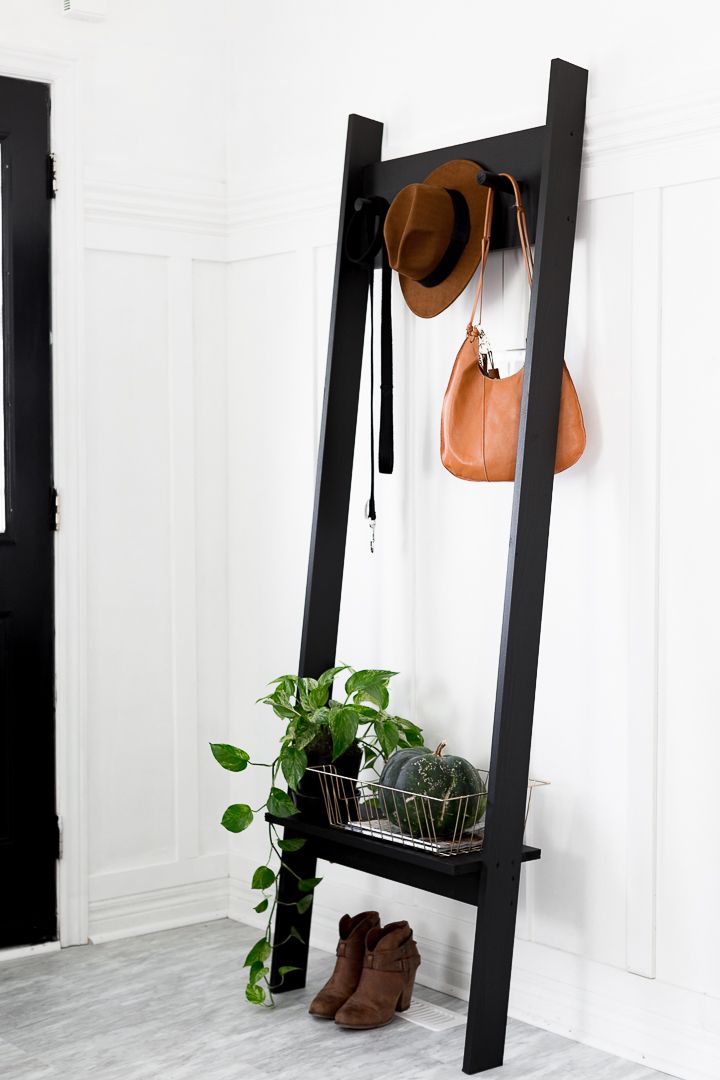 I placed a little wire basket on the shelf/ledge for mail (or pumpkins?…lol).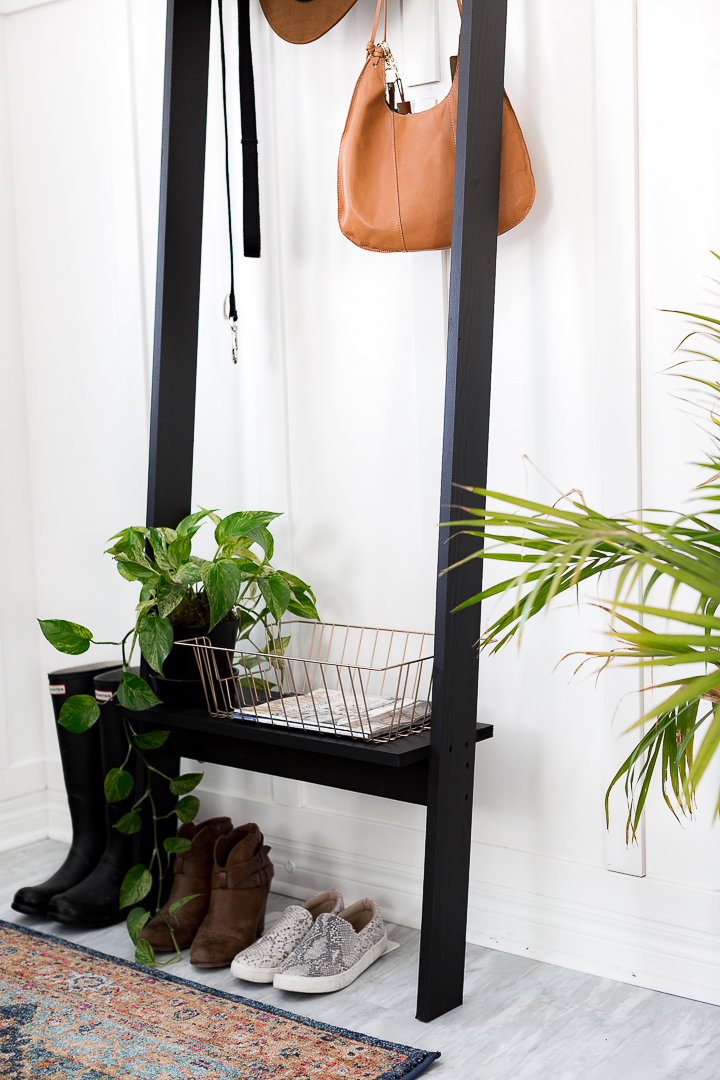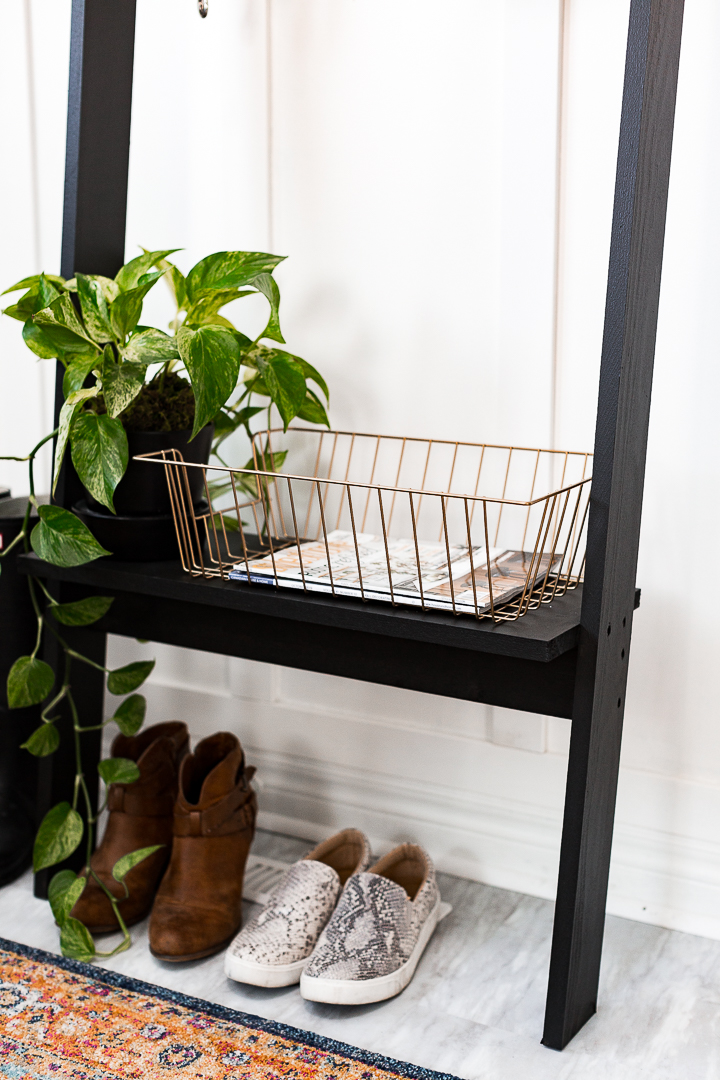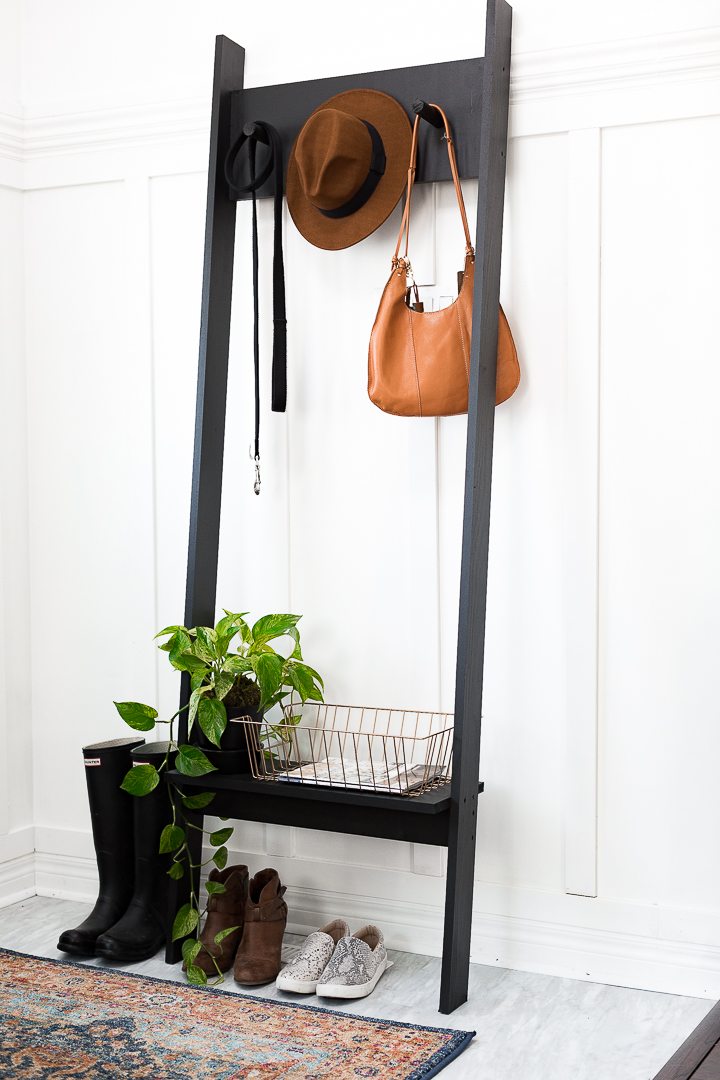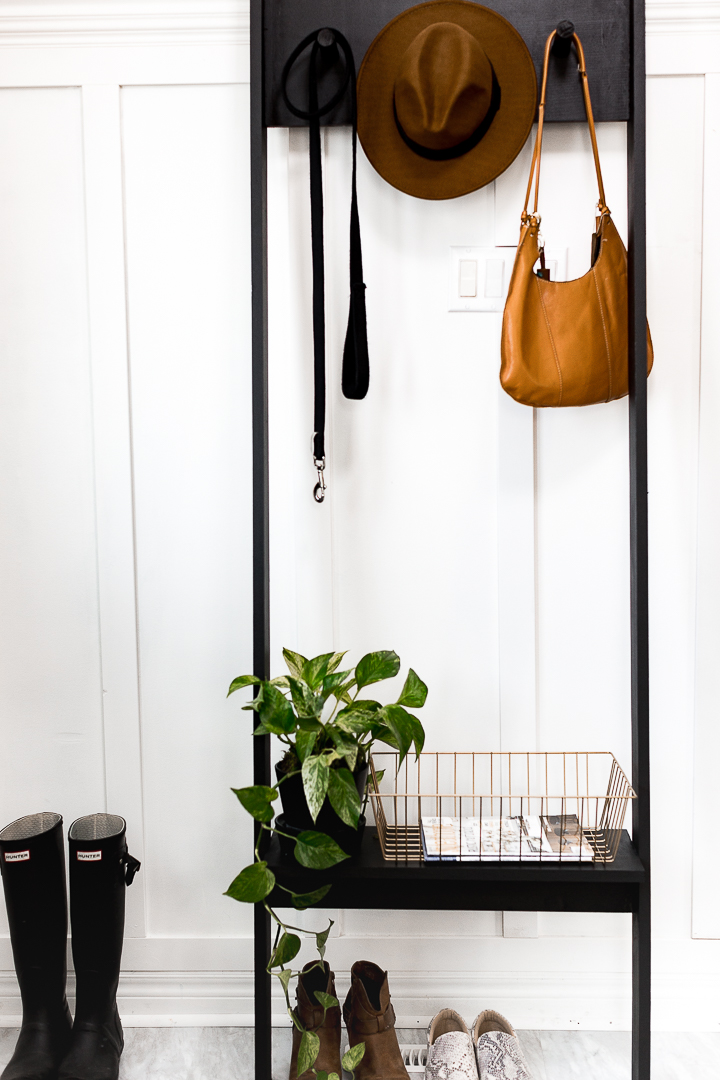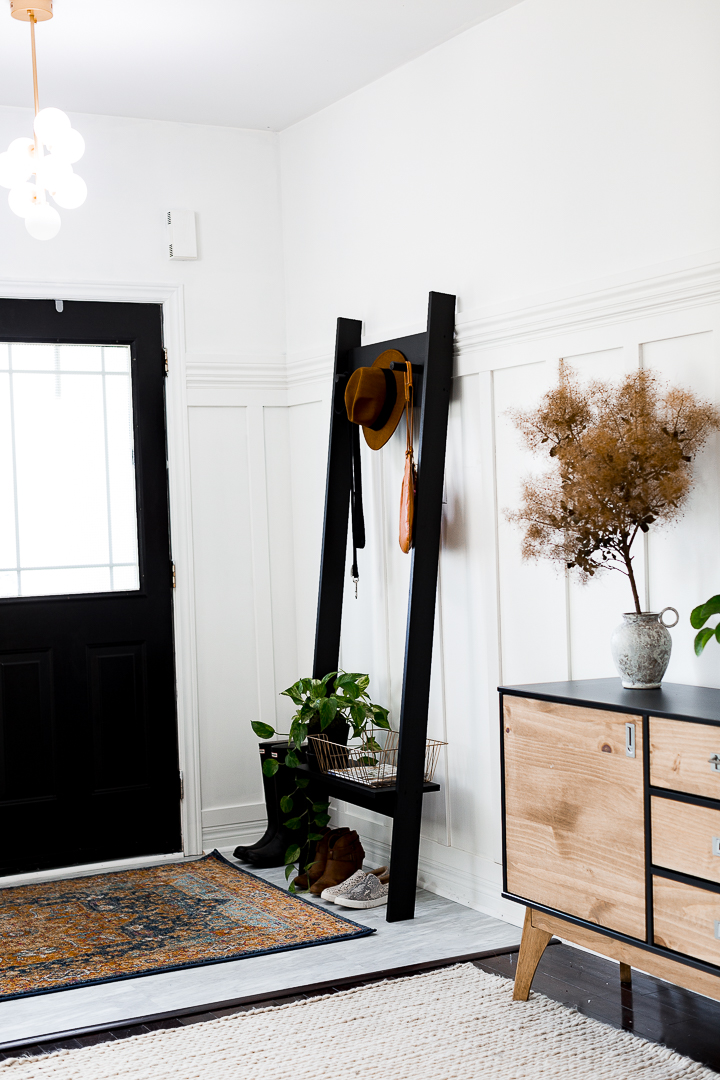 Inexpensive, relatively easy to make, and pretty cute, right? I love how it turned out!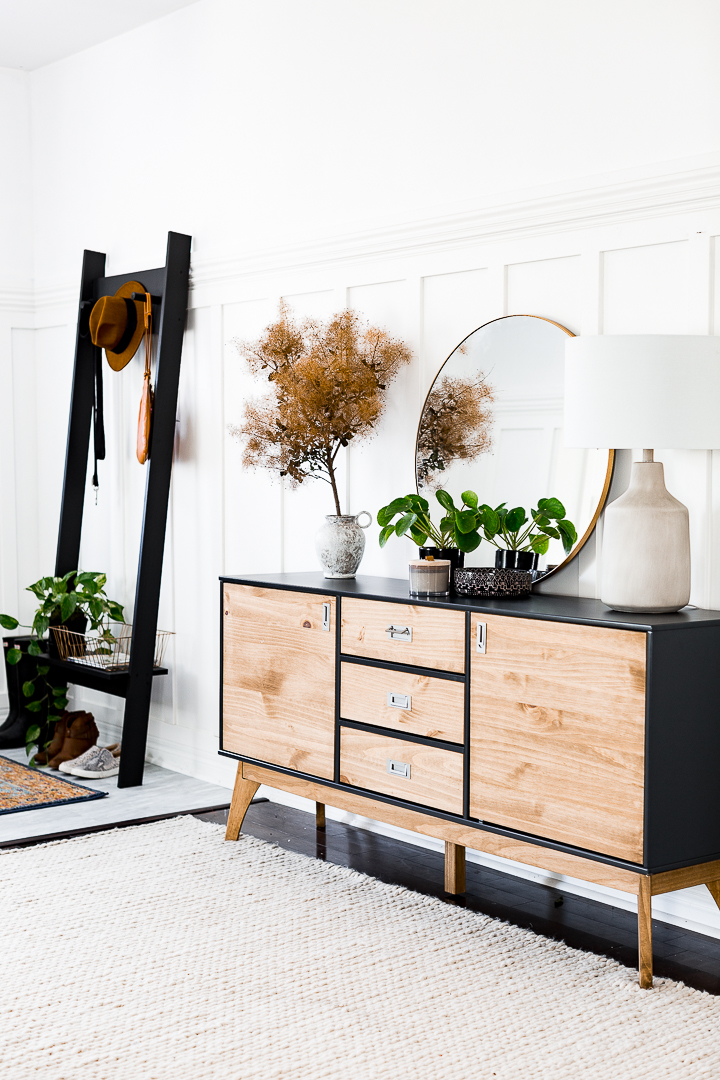 Thank you so much for stopping by. If you have any questions or want to let me know what you think of this little DIY, please use the comment section below as I'd love to hear from you.
much love,
Lucy