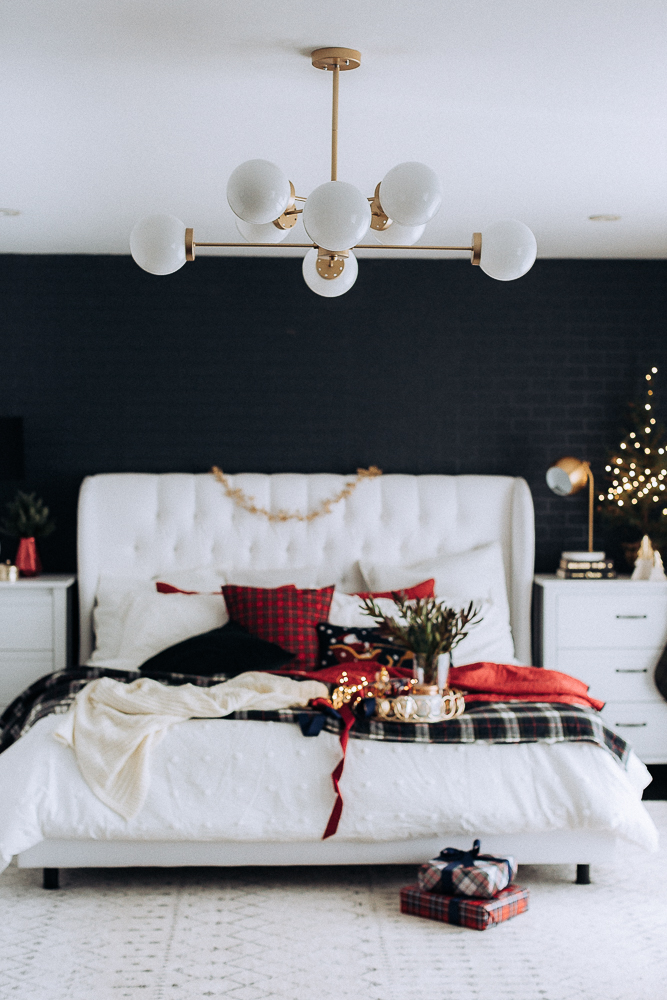 Hello friends. I hope your week is going well so far. It's already Wednesday. I also can't believe that this is the last post on our Seasons of Home series. I truly hope that you have found some inspiration along the way.
A huge thank you to my dear friend  Kristen for putting this all together because if you're not a blogger, you might not know that it actually takes a lot of work and effort to coordinate these home tours.
Today we will be sharing some Christmas bedroom decor .
You have probably already noticed that I painted another dark wall. I  might have gone a little nuts last month and painted all these dark walls because I had paint left over in the tray. But I'm enjoying the change.
(For now)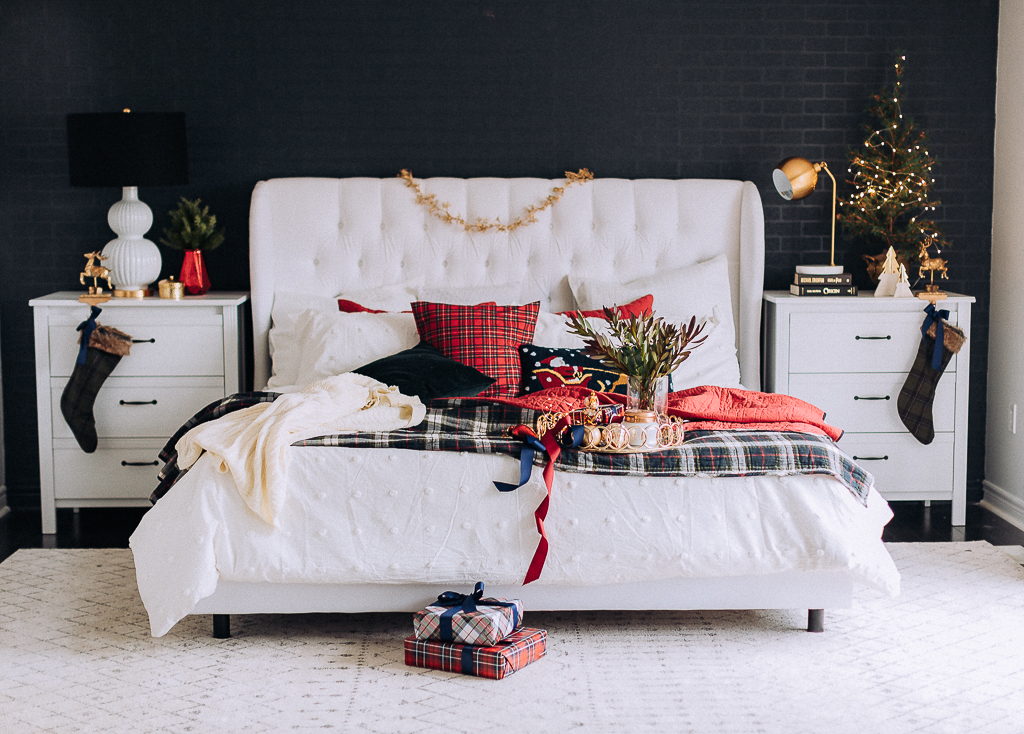 I do love the way the white and red pop against the dark walls. It has such a cozy feel. The color on the wall is called Midnight and even though it looks a little blue, it's actually a very dark gray. I wanted the room to feel a little more modern and I'm still working on some changes.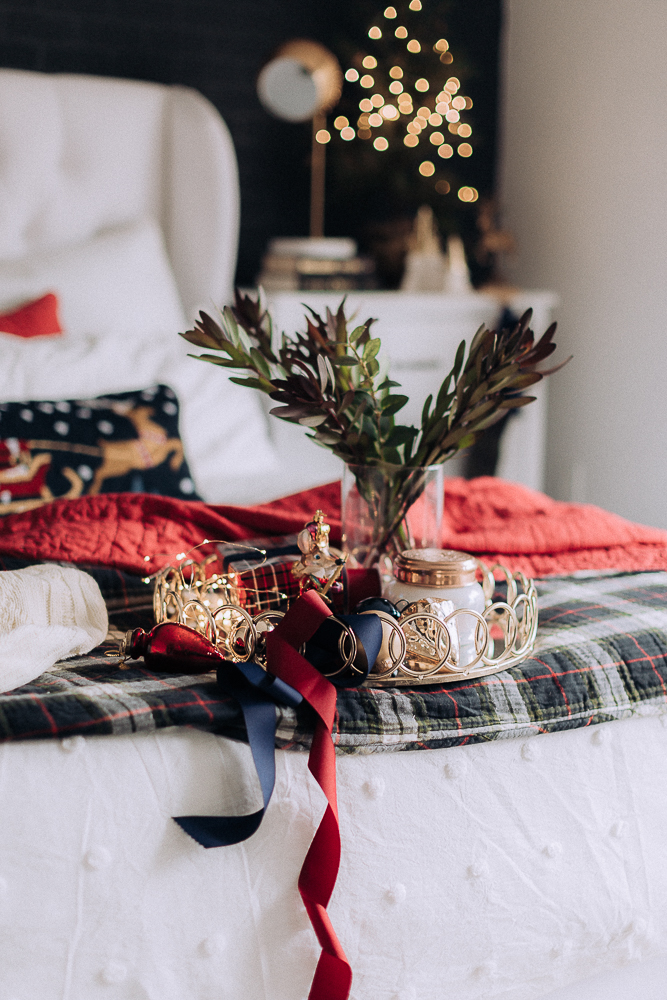 I continued this year's theme with blues and reds upstairs. Dug out some old items and ordered some new ones.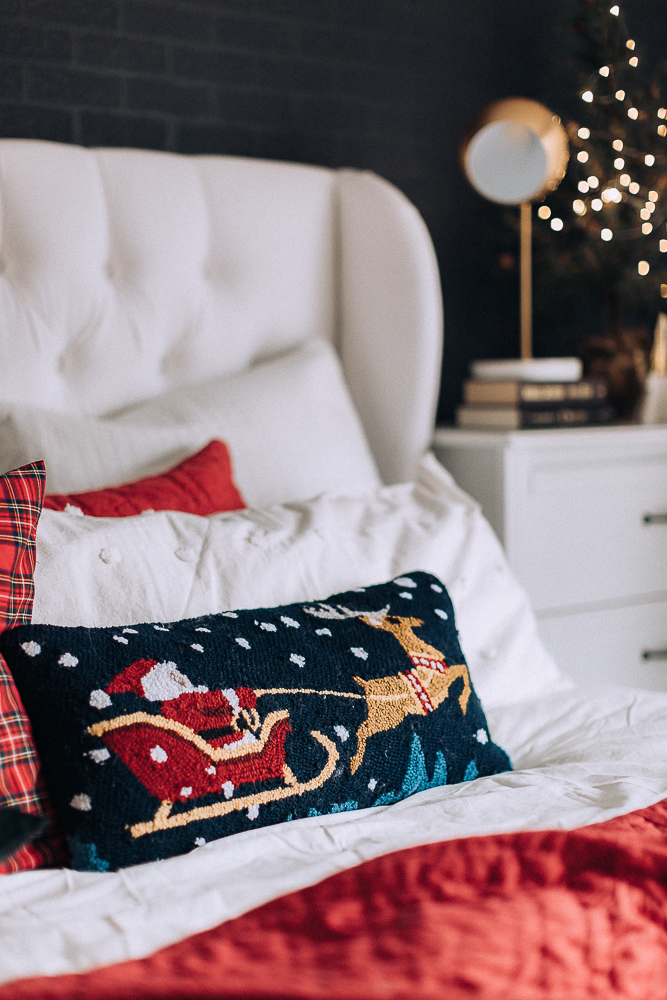 How cute is this Santa pillow I ordered from Joss & Main. I love it.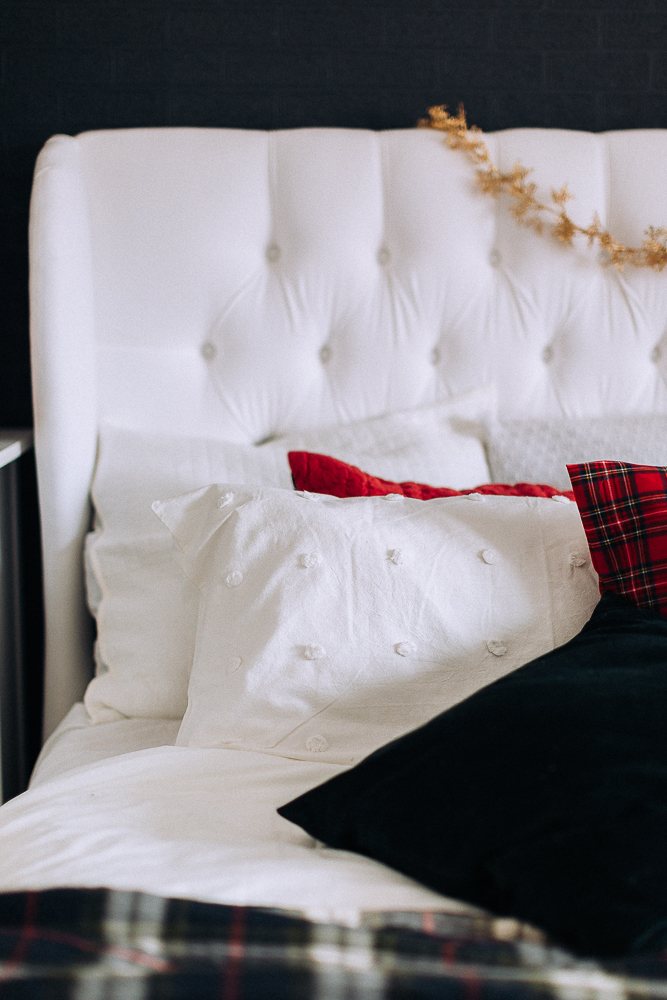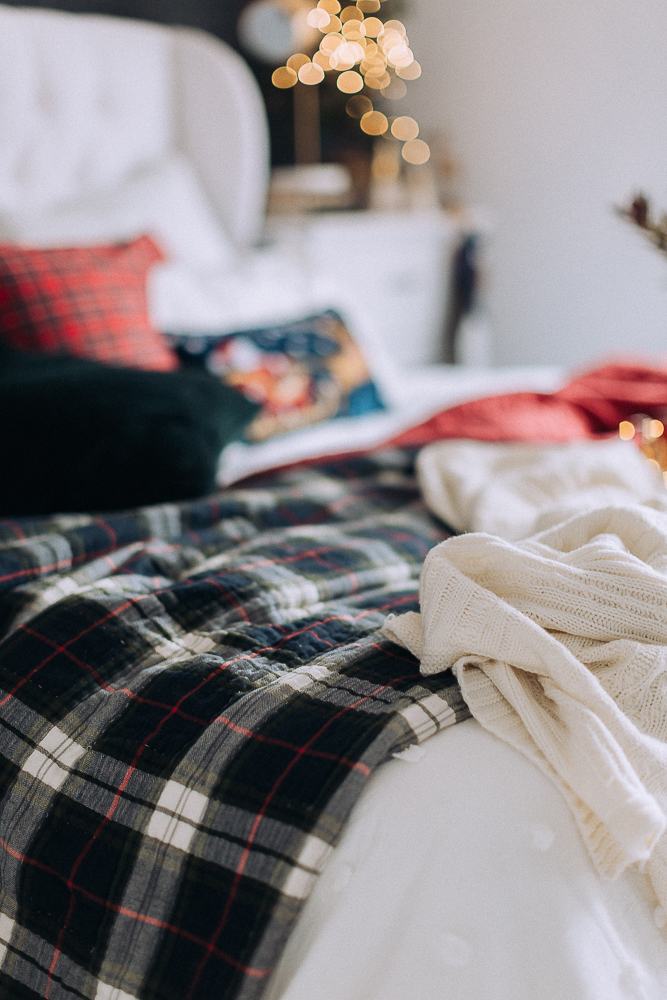 This plaid quilt I got last year and I adore it.  I also love that it's reversible to a rich red.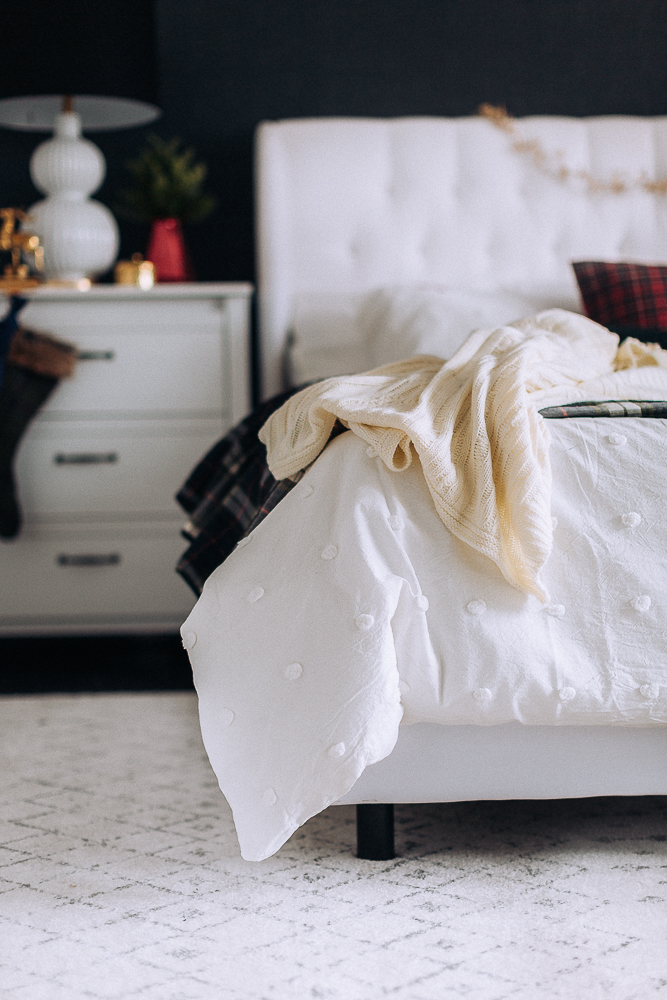 I have learned that unfortunately most washing machines can't wash king size comforters and I have ruined both the comforter and the washing machine when I have  tried.
I even tried a laundromat and though I didn't break the machine, the comforter didn't rinse or wash well. It was a mess. So I gave up on buying comforters and now exclusively buy duvet covers. I just ordered this adorable cotton one.  I love the little pompom details on it.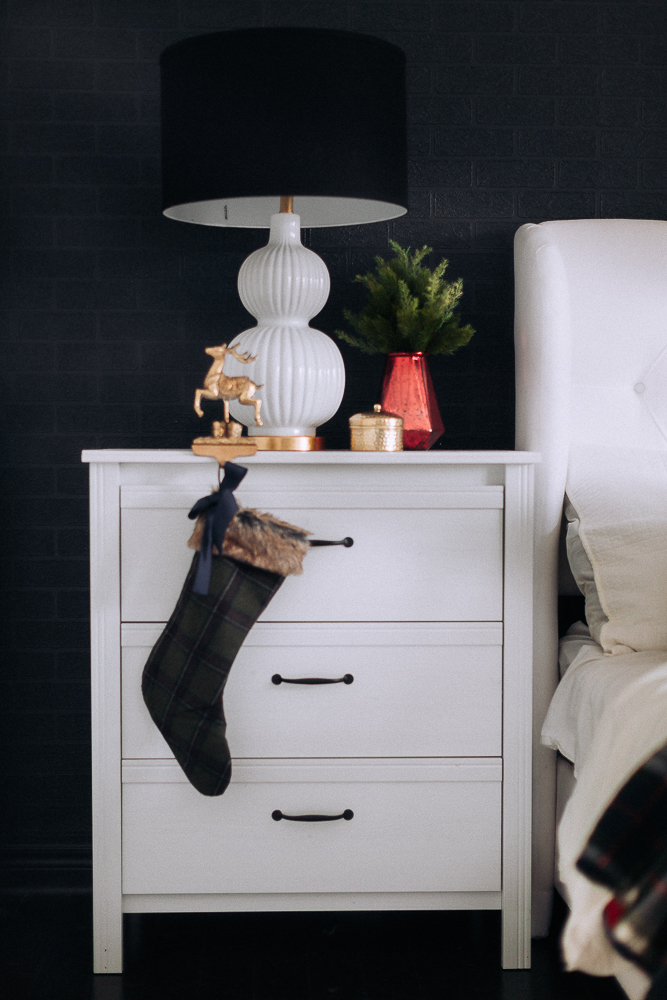 A really easy way to change up your space is to change your lampshades and so I changed out the lampshades to THESE black ones.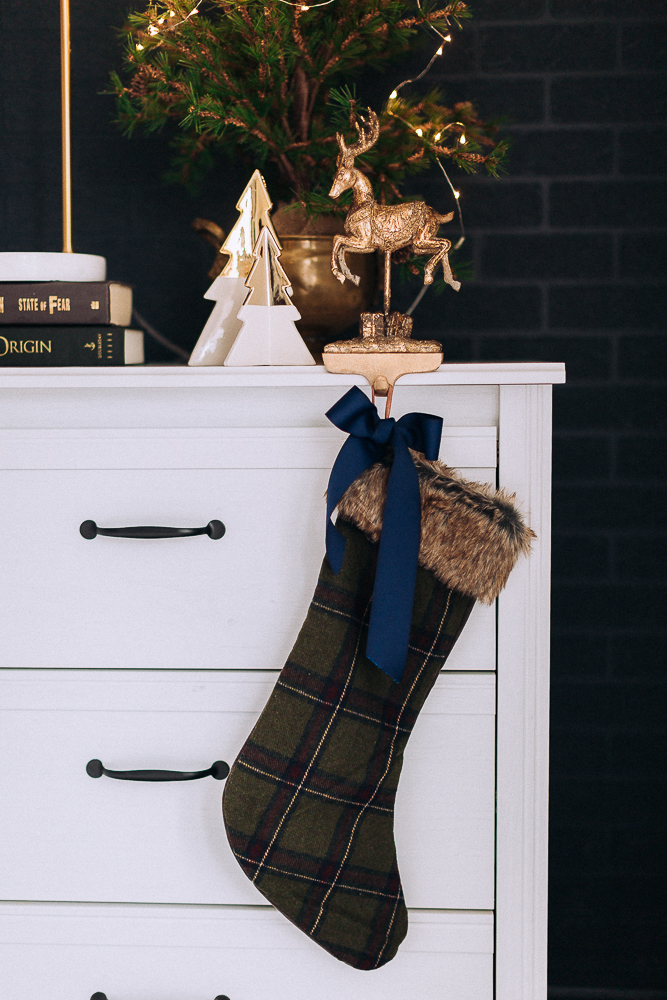 You have probably seen similar stockings on the mantel downstairs before.  Can you believe that we've never had stocking holders before? I fell in love with these.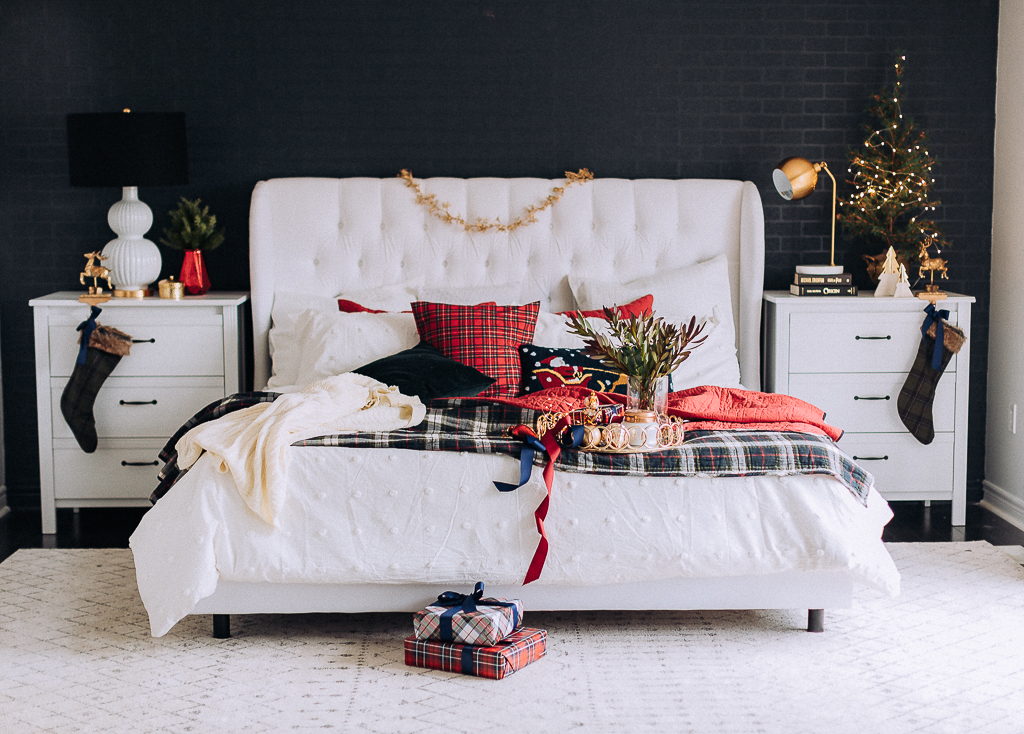 My mom made the red plaid pillow for me last year.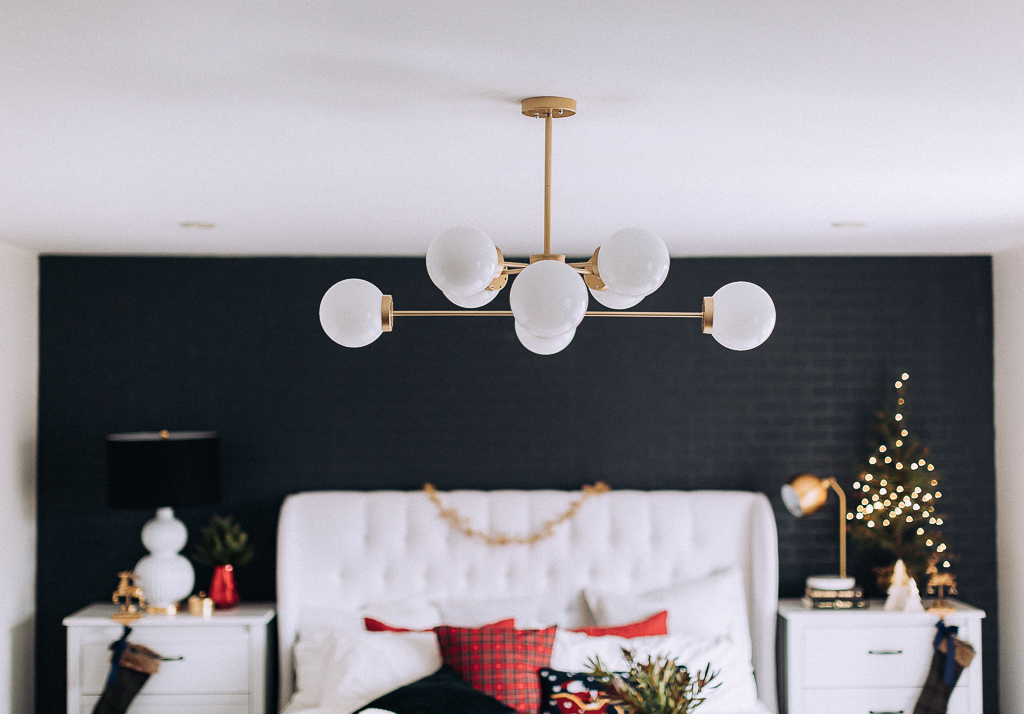 Do you remember a while back when I told you that I was excited that I was going to have my own craft/office space? And then remember how much I struggled doing it because the new office space was my son's old room? Well, I ordered this light for my 'office' but to be honest, changing his room didn't feel right in my heart so the light ended up here. I like it so much.  His room still remains the same.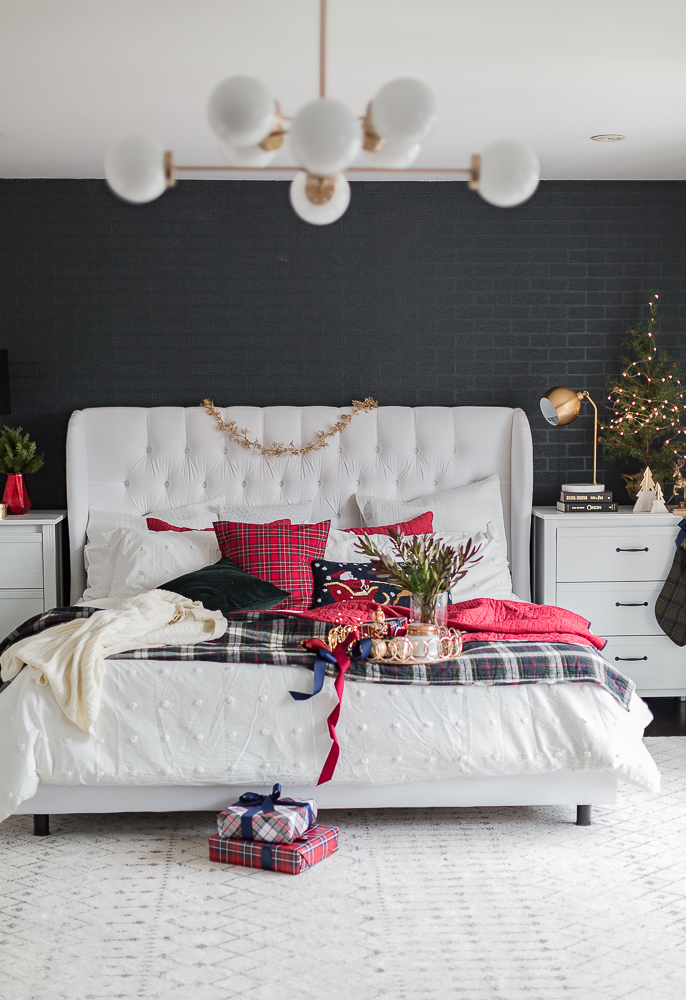 I also changed out the rug from the old shag rug which was looking pretty shaggy but not in a good way.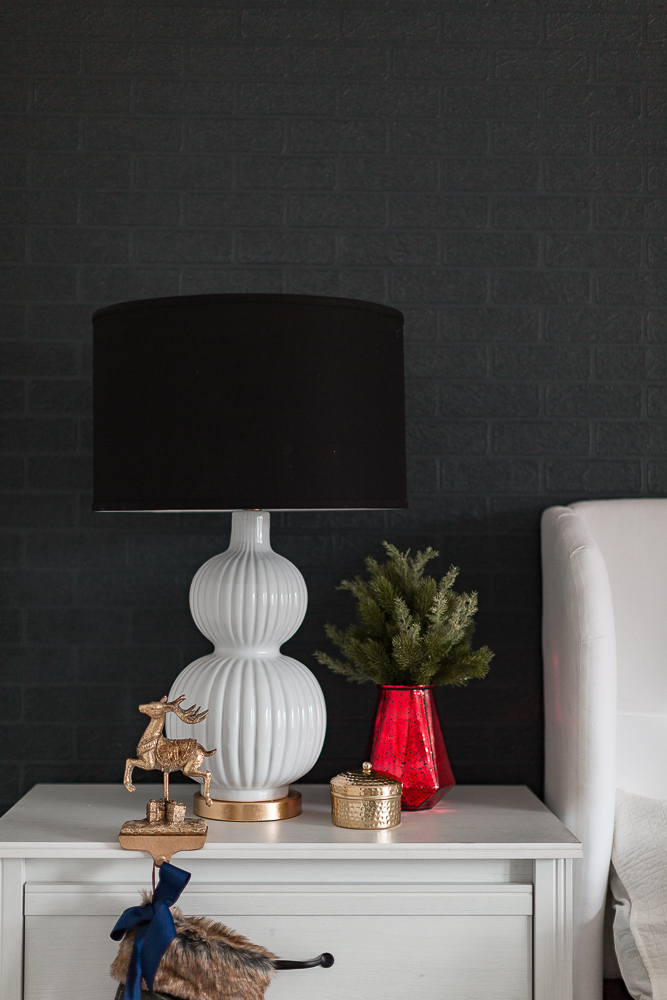 I want to change these dressers to actual nightstands but I have to save some money first. ha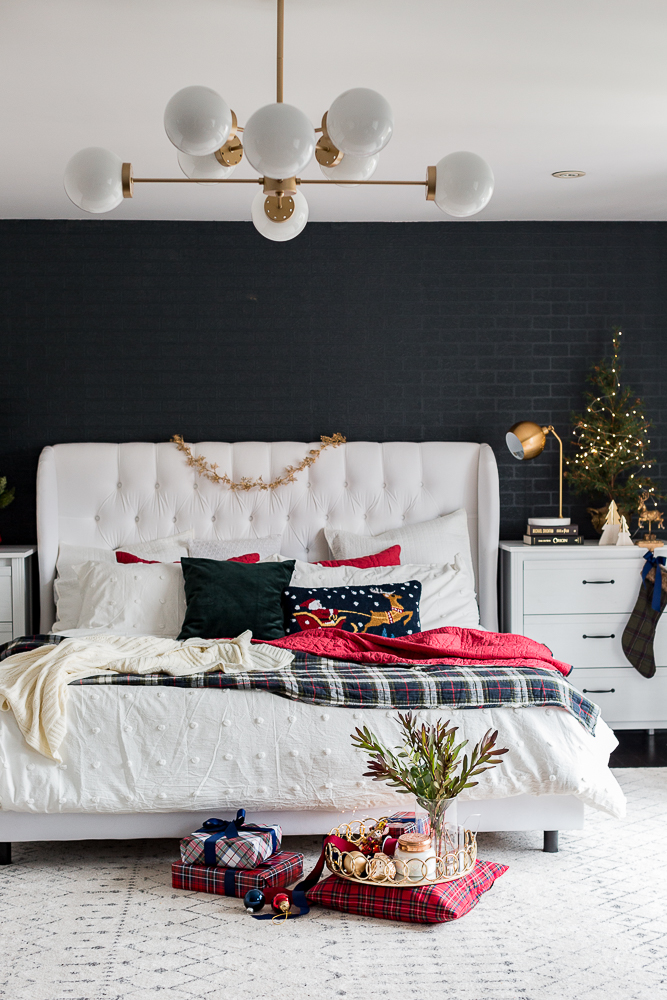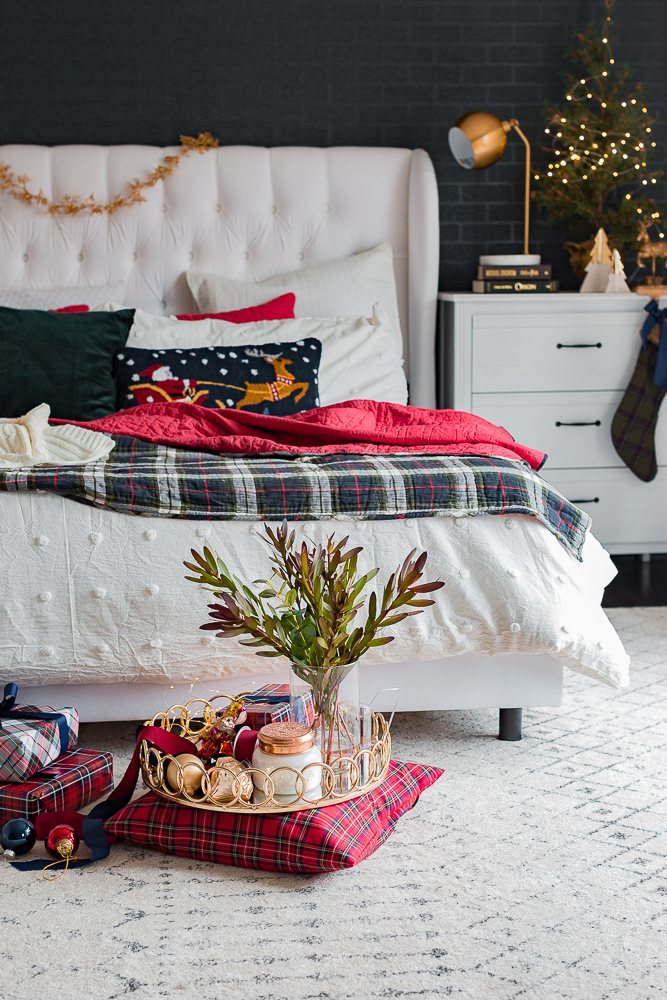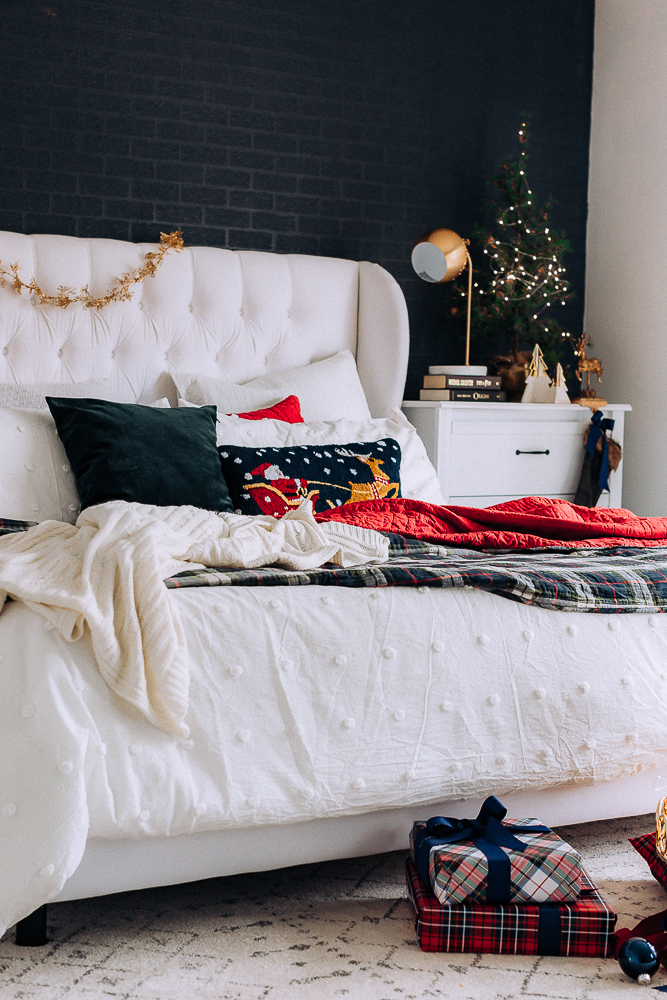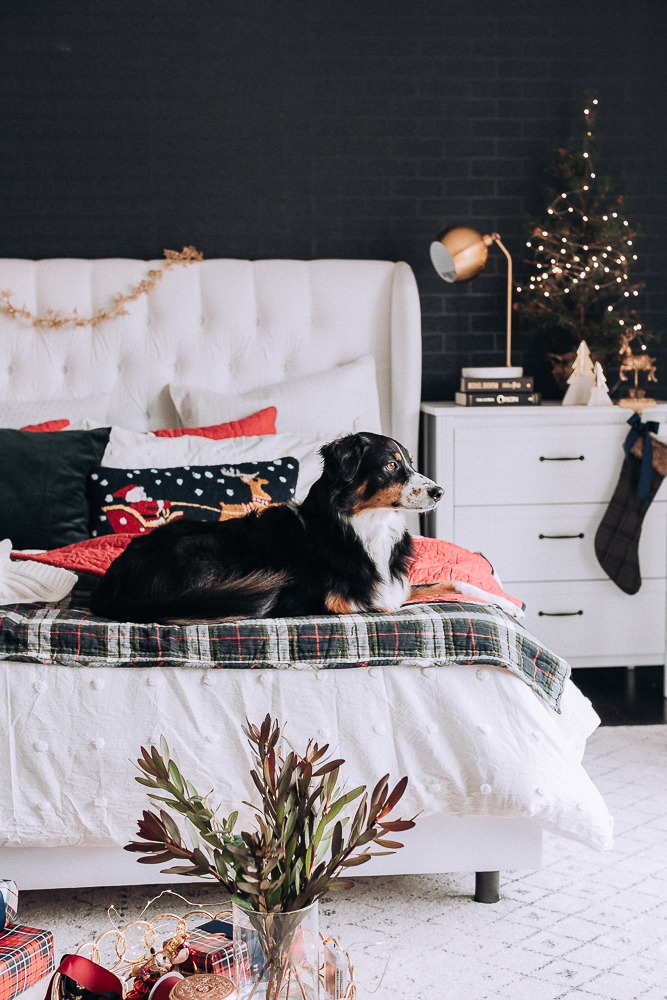 My boy always with me. Probably super bored wanting to be outside.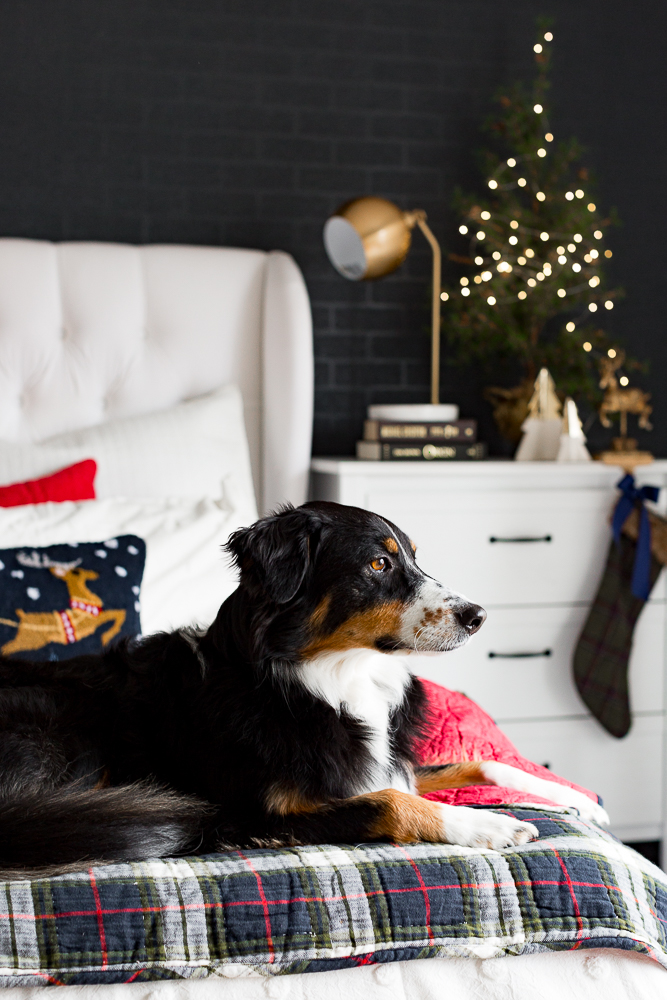 Look at those sweet little eyes. He brings us so much joy. 🙂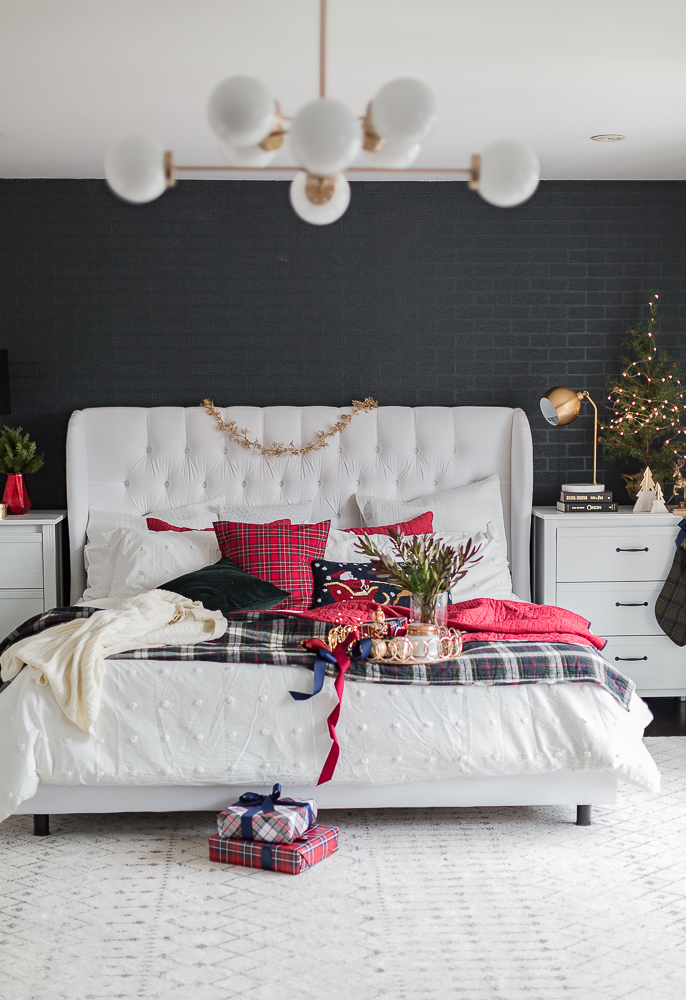 So there you have it ! Christmas in the bedroom.
I took these photos a while back so some things have changed. I'll share more tomorrow as well a fun announcement from my friends at Joss & Main that you want to make sure you come back to read. 🙂
In the meantime, please take a moment to visit my sweet friends gorgeous spaces below.
Thank you so much for stopping by .
much love,
Lucy

Ella Claire | Julie Blanner | Craftberry Bush | French Country Cottage
Beneath My Heart | Dear Lillie | Liz Marie Blog | Rooms for Rent
Boxwood Avenue | Nesting with Grace | Zevy Joy | My Sweet Savannah
Love Grows Wild | Nest of Posies | Home Stories A to Z | Nina Hendrick Design Co.