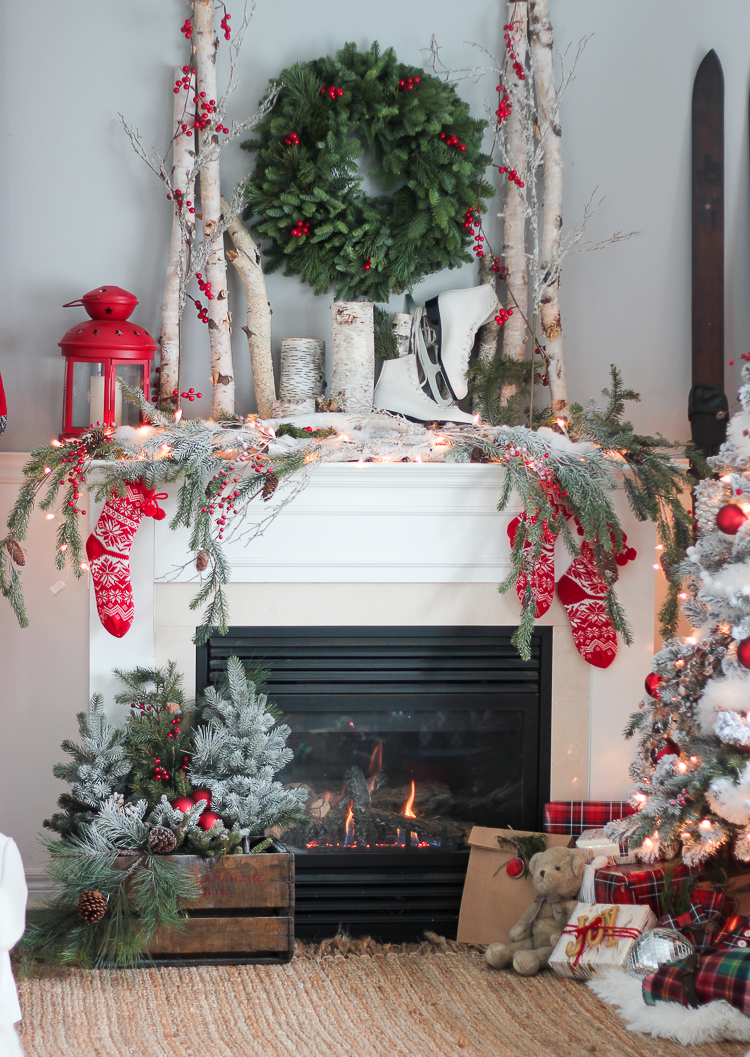 Hello friends…I hope you've had a great week. I'm so excited to join my sweet friend Jen from the House of Wood and a group of other amazingly talented friends to bring you 'deck the halls diy-style'.
See full link list at the bottom of the post.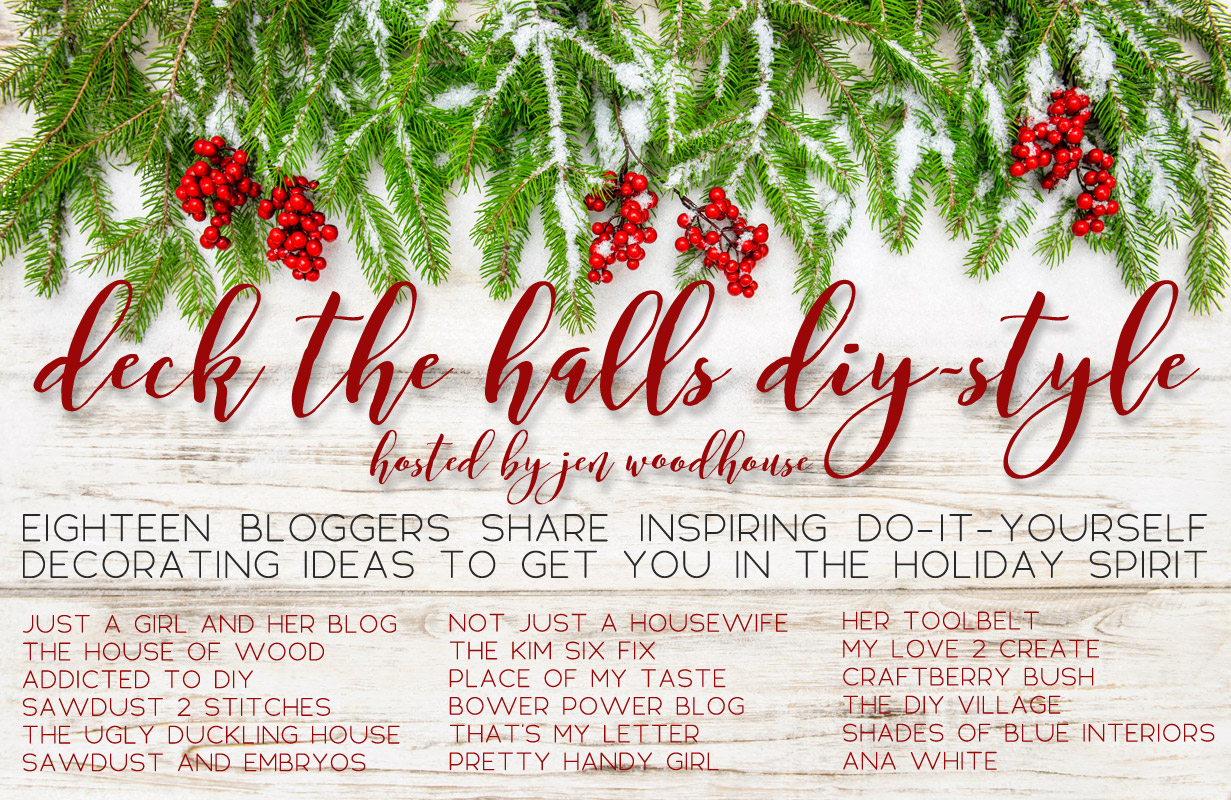 Decking the halls DIY style is nothing new around here and it's pretty much a given at every season. I'm going to make this short and sweet as we're off to see Cinderella in the theater in a few minutes…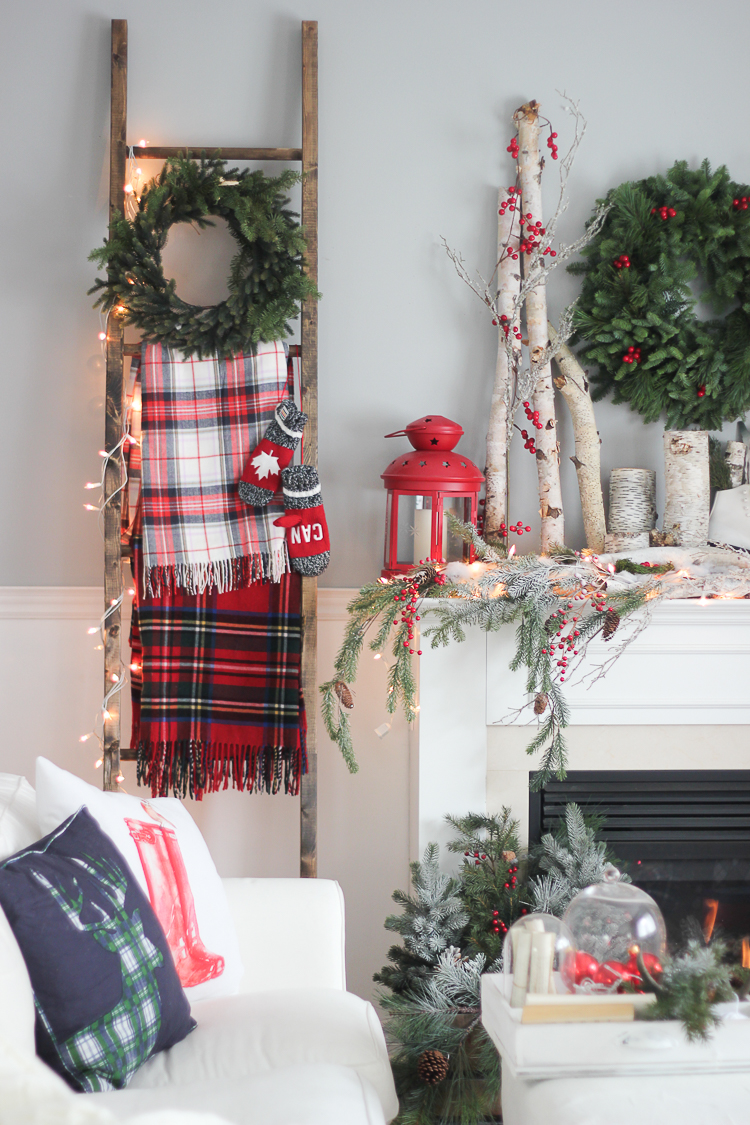 For my DIY, we made that cute little ladder blanket. They are so easy to make that hubby made two of them for me.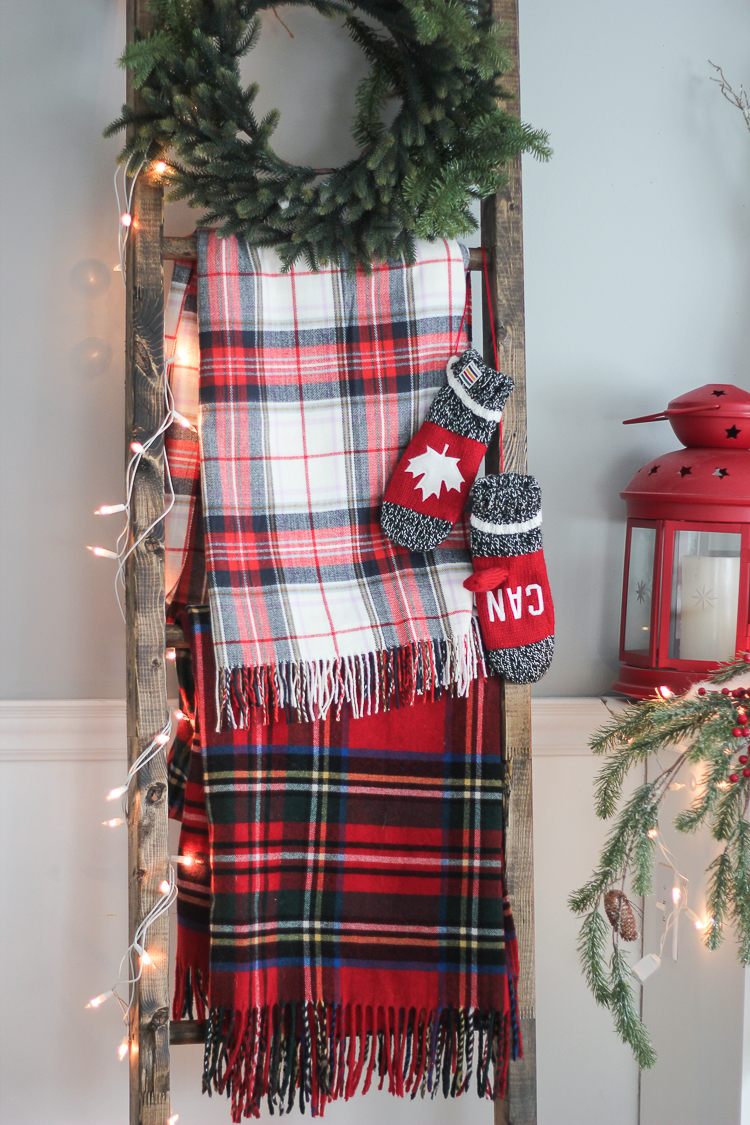 I love how it can fill in an empty wall,  it's functional and can also be used to help tie in a color in the room.
Here's what you'll need:
2  – 2″x3″x8′ planks
3 – 1 1/8″ x 48″ dowels
Wood Stain
1 1/8″ paddle drill bit

Directions:
1. Lay the planks on their side and use a tape measure to mark where you will drill your holes; these were marked 12″ from the top and bottom and then 18″ apart.
2. Use a t-square to find the middle point of the plank to draw your drill points, ensuring all of the holes will be drilled precisely in the right spot.
3. Using a 1 1/8″ paddle bit, drill a shallow round in the 2″x3″ planks. You only need to make a small groove for the dowel rod to set in.
4. Cut the 1 1/8″ dowels into 5 pieces, measuring 17″ each.
5. Place dowels inside grooves and assemble ladder.
6. Drill long screws through the outside of the planks and into the dowels to secure in place.
7. Sand any rough areas in the wood and wipe thoroughly.
8. Use your favorite wood stain and follow manufacturer's instructions to stain ladder. We used "dark walnut".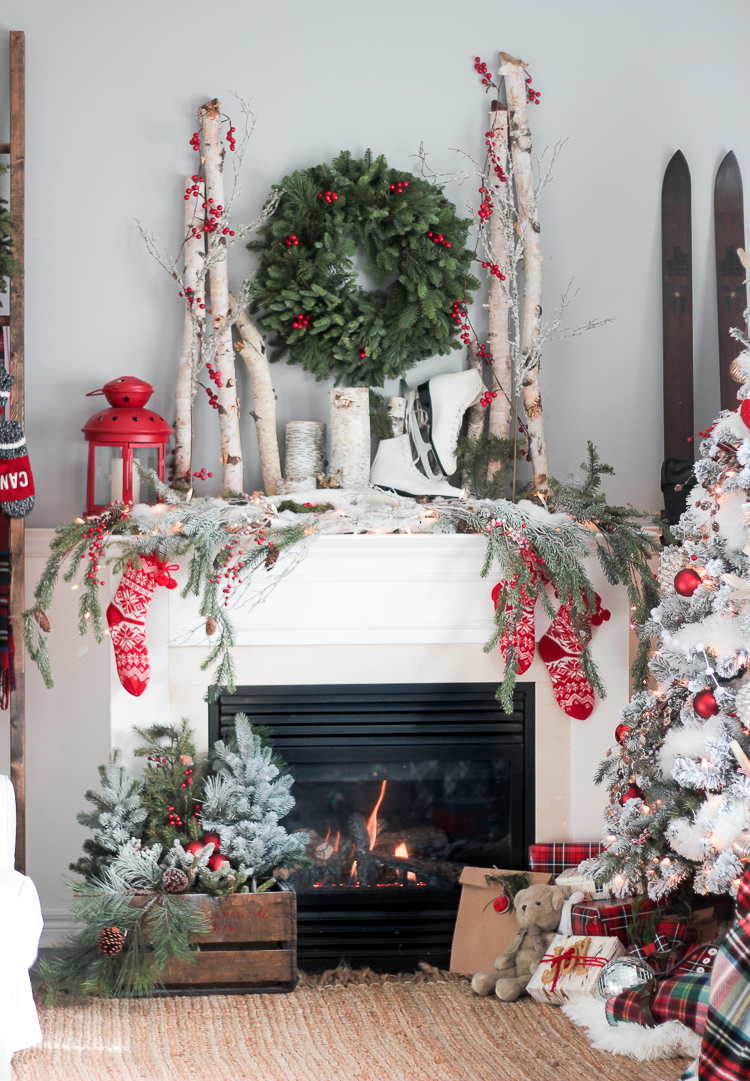 The ladder is a nice compliment to our fireplace, as we don't have builtins yet. 'Yet' being the key  word as hubby has some time off over the holidays…;)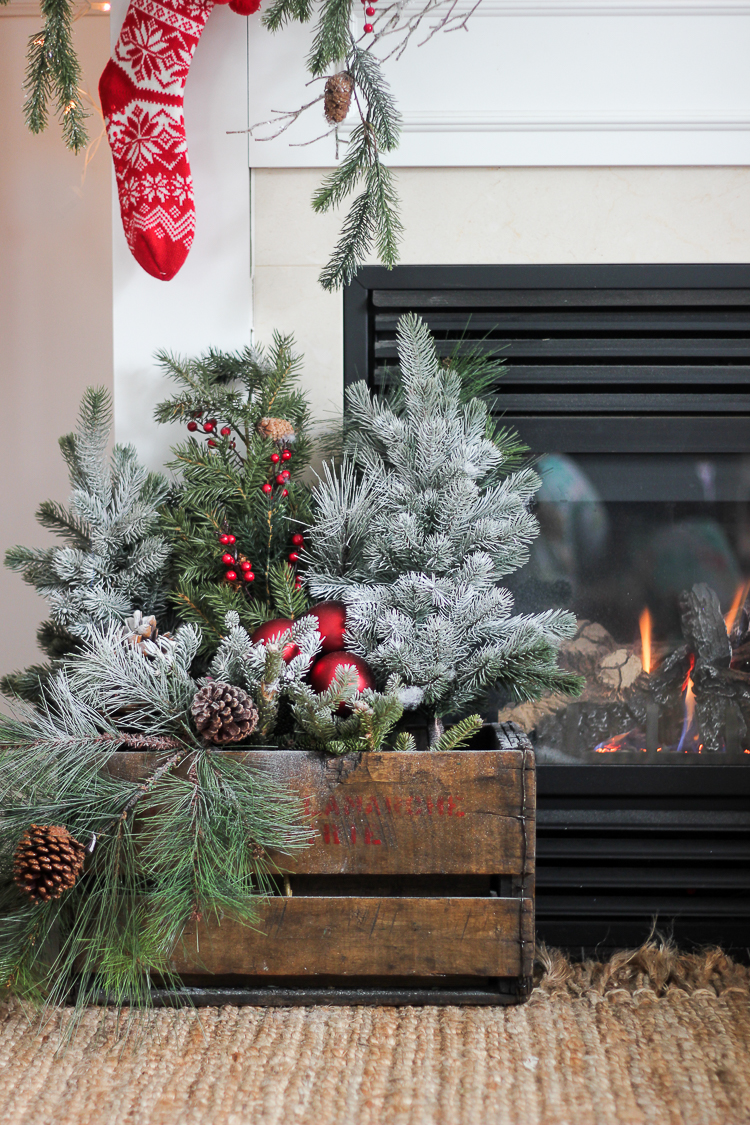 Placing an arrangement at the bottom of the fireplace adds balance to the display.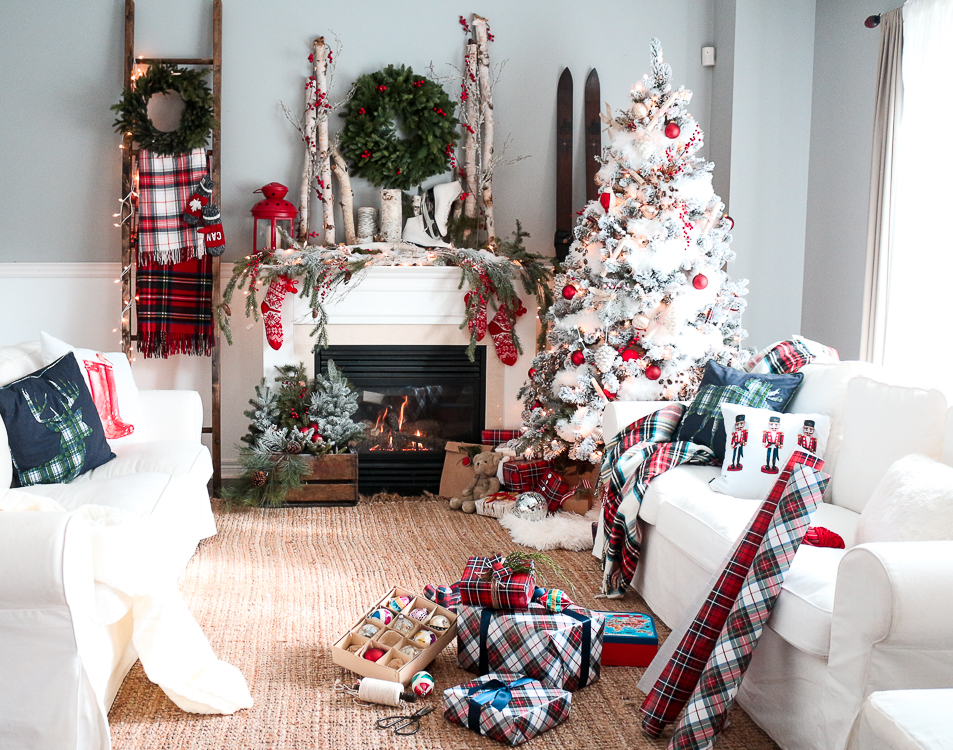 This is a typical Christmas scene, but this year, I'm happy to say, we're ahead of the game and most of our presents are wrapped.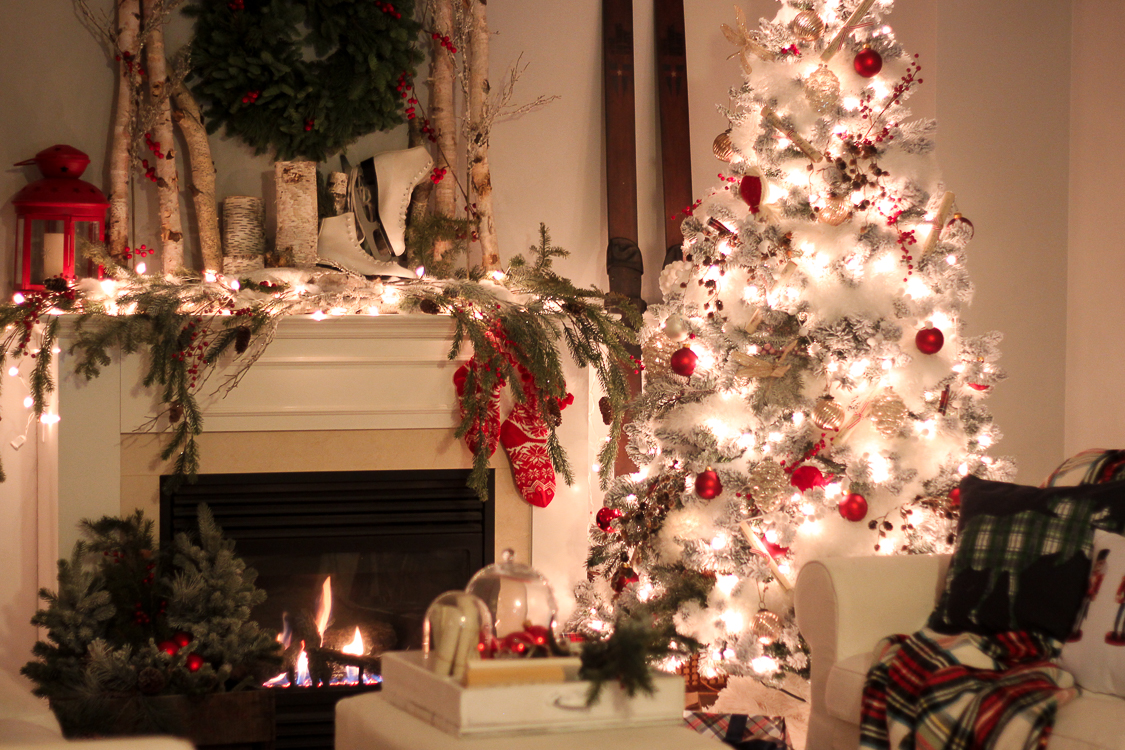 The beautiful glow of Christmas at night…
Thank you so much for dropping by. Please don't forget to visit my friends and I hope you will come back tomorrow for a night time home tour…xo
12/1 – Just A Girl and Her Blog
12/2 – Addicted 2 DIY
12/3 – The House of Wood (you're here!)
12/4 – Sawdust 2 Stitches
12/7 – The Ugly Duckling House
12/8 – Sawdust and Embryos
12/9 –Pretty Handy Girl
12/10 – Not Just a Housewife
12/11 – Place Of My Taste
12/14 – Bower Power Blog
12/15 – That's My Letter
12/16 –The Kim Six Fix
12/17 – Her Toolbelt
12/18 – My Love 2 Create
12/21 – Craftberry Bush
12/22 – The DIY Village
12/23 – Shades Of Blue Interiors
12/24 – Ana White