Probably the most well-known Hungarian dish – goulash is hearty, warming and so delicious.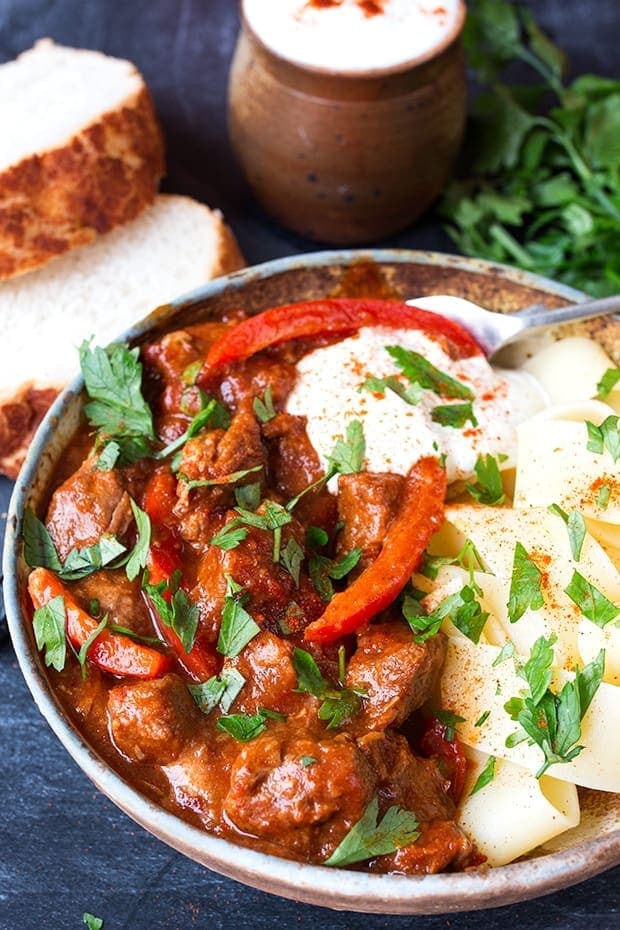 Tender chunks of beef in a thick tomato & beef stock sauce – spiced with beautiful smoky paprika (don't go easy on the paprika now – this stew can take plenty). I like to add slices of bell pepper to my version, then serve with pappardelle pasta and lots of sour cream. However, this dish also works really well served with rice, egg noodles or creamy mashed potato (if serving with mash then swap out the peppers for mushrooms).
So versatile, it's worth making a double batch and serving it with different accompaniments two days running.
I've been making this for years, and I'm usually clamouring to get my dutch oven out as soon as the first leaves start to turn golden on the trees.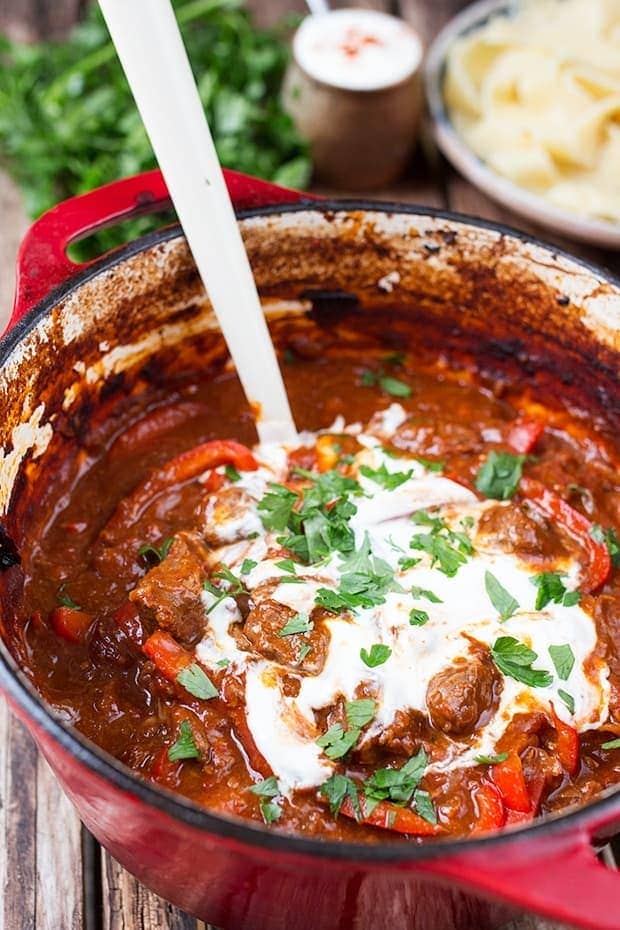 I love making stews in a dutch oven as I find they seem to thicken a little better. Also, the initial browning of the beef means the base of the pan gets covered in a dark brown crispy bits. It might seem a bit alarming at first (as it looks like it's sticking), but a few minutes after pouring the stock and canned tomatoes in and you'll find you can stir all of those bits into the goulash – which results in a richer flavour.
I love how the sauce bubbles away and splashes the sides of the pan as it's cooking in the oven. It WILL look dark and covered in well-cooked sauce when it comes out, but you've got to admit – it does look pretty inviting: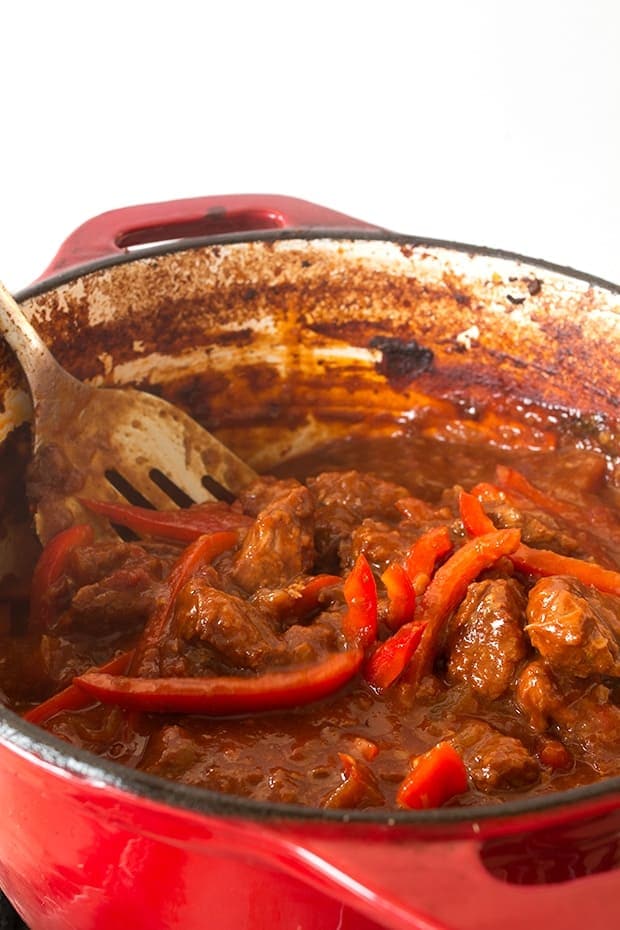 Although I used my dutch cooker for this, you can also use a slow cooker. Simply fry everything off up to step 3, reduce the amount of stock by half a cup, and cook on medium for 4-5 hours or low for 5-7 hours.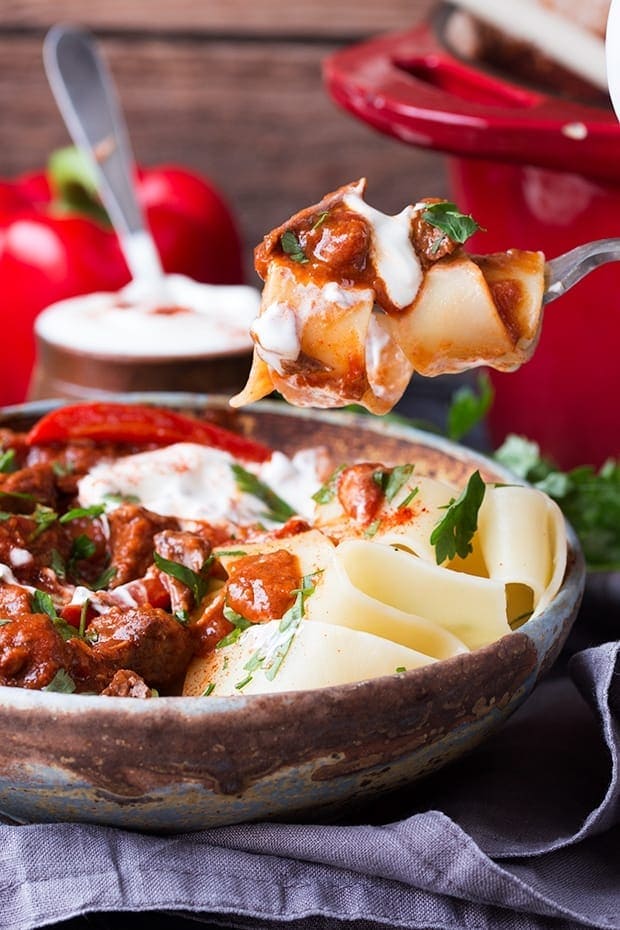 Ingredients:
serves 8
3tbsp vegetable oil
2lbs beef braising steak, cut into bite-size chunks
2tbsp all-purpose flour seasoned with 1/4 tsp salt and 1/2 tsp ground black pepper
2 brown onions, peeled and diced
2 fat cloves garlic, peeled and minced
2 tbsp tomato puree
2 tbsp paprika
1 tbsp smoked paprika (just use regular if you don't have smoked)
large pinch of salt and pepper
2 x 14oz cans chopped tomatoes in juice
2 1/2 cups hot beef stock (water plus 2 stock cubes is fine)
1 tbsp honey (optional – this is just to neutralize some of the acidity from the tomatoes)
2 red bell peppers, deseeded and sliced
1 cup sour cream
To Serve:
Cooked pasta – such as pappardelle, tagliatelle or penne
handful of chopped parsley
Extra sour cream
Directions:
Preheat the oven to 325f. Heat up the oil in your dutch oven or cooker-friendly casserole dish. Dredge the beef in the seasoned flour and fry in 2-3 batches until well-browned. Once browned, remove from the pan and place in a bowl.
Turn down the heat and place the onions in the pan and cook for 2-3 minutes, stirring (try to scrape up a some of the brown bits that may have stuck to the bottom of the pan. Keep the heat low to ensure it doesn't burn). Add in the garlic and tomato puree, stir, then add the beef back in.
Sprinkle the beef with the paprika, salt and pepper and stir to coat, then pour in the canned tomatoes, beef stock and honey. Stir and bring to a simmer. Once simmering, scrape up any bits from the bottom of the pan and stir. Then place a lid on and place in the oven to cook for 3 hours 30 minutes.
Check and stir 2 or 3 times during cooking to ensure nothing is sticking and that there is still plenty of liquid (you can add a splash of water if needed).
After 3 and 1/2 hours, add in the peppers, stir and put back in the oven for 30 minutes.
Take out of the oven, stir, then swirl the soured cream on top, sprinkle with parsley and serve with pasta and extra sour cream.