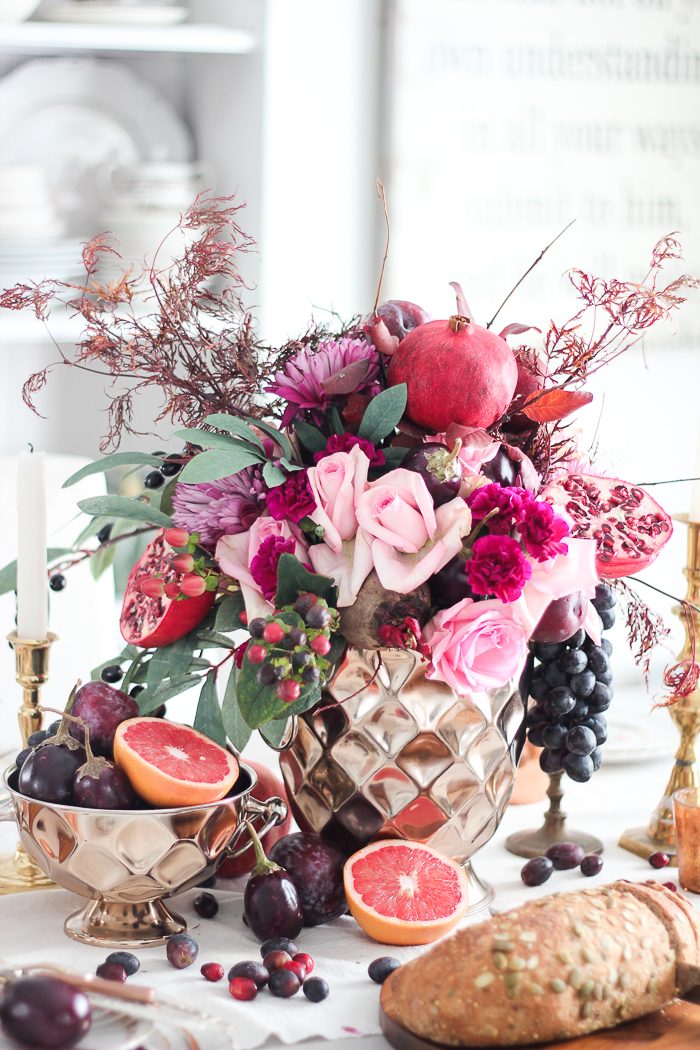 Hello friends…I hope you've had a great week so far. I am super excited to be joining my dear friend Lindsay from The White Buffalo Styling Co. and 30 other bloggers on the annual Blogger Styling Thanksgiving Tablescape tour 2015. Though we celebrated Thanksgiving almost three weeks ago here in Canada, I will never turn down the opportunity to play with flowers and create a pretty tablescape. This table is a little less traditional, but I love that it could easily be adapted for various seasons.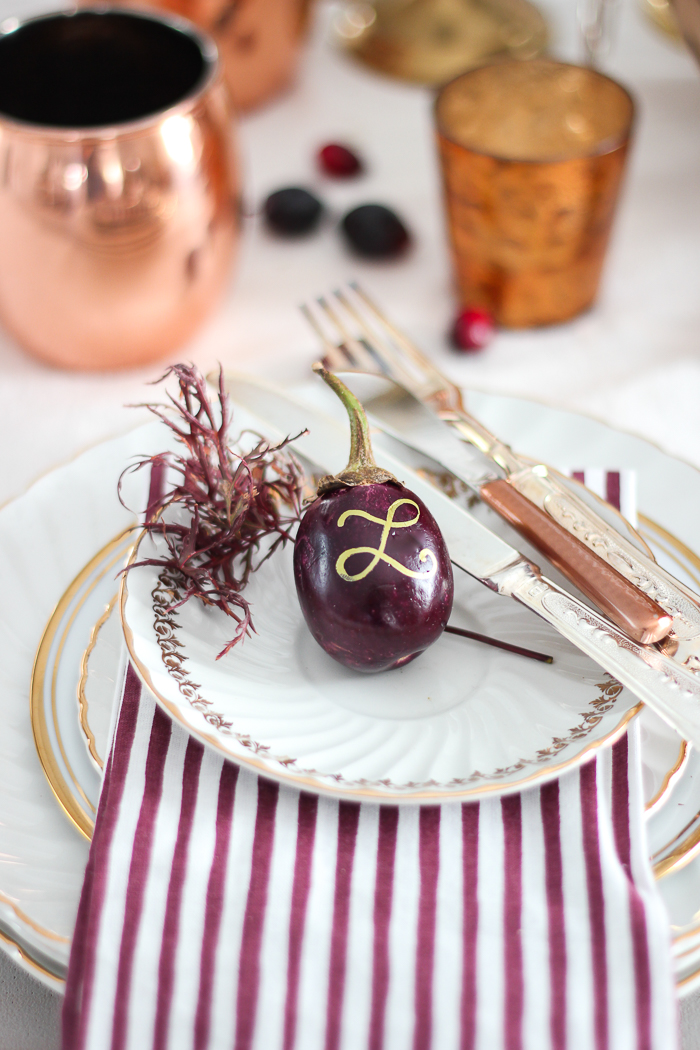 I was inspired by the beautiful color of this Indian eggplant and drew my inspiration from its hues.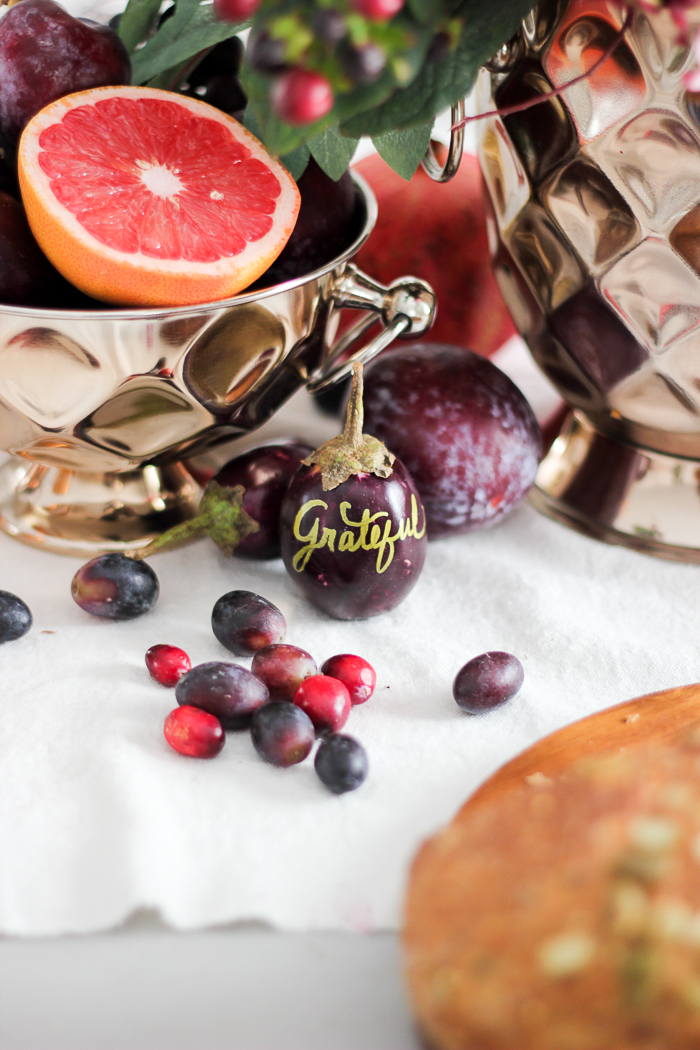 I went about creating this fun centerpiece by looking for any produce at the grocery store that contained these pretty purples, burgundies and reds…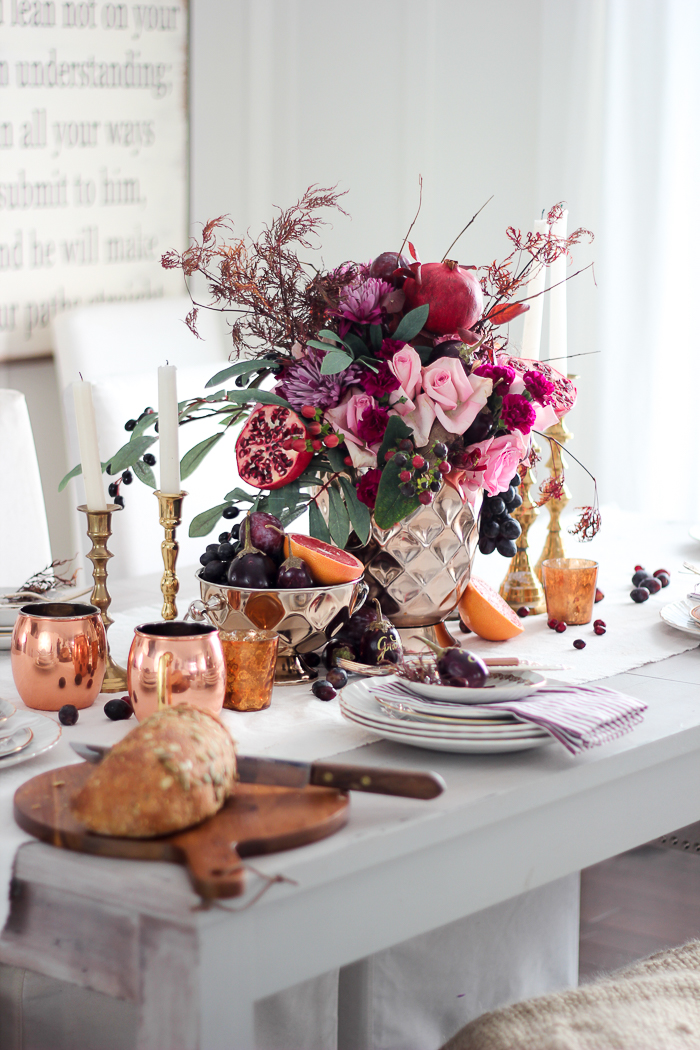 and coordinated it with rose gold and copper.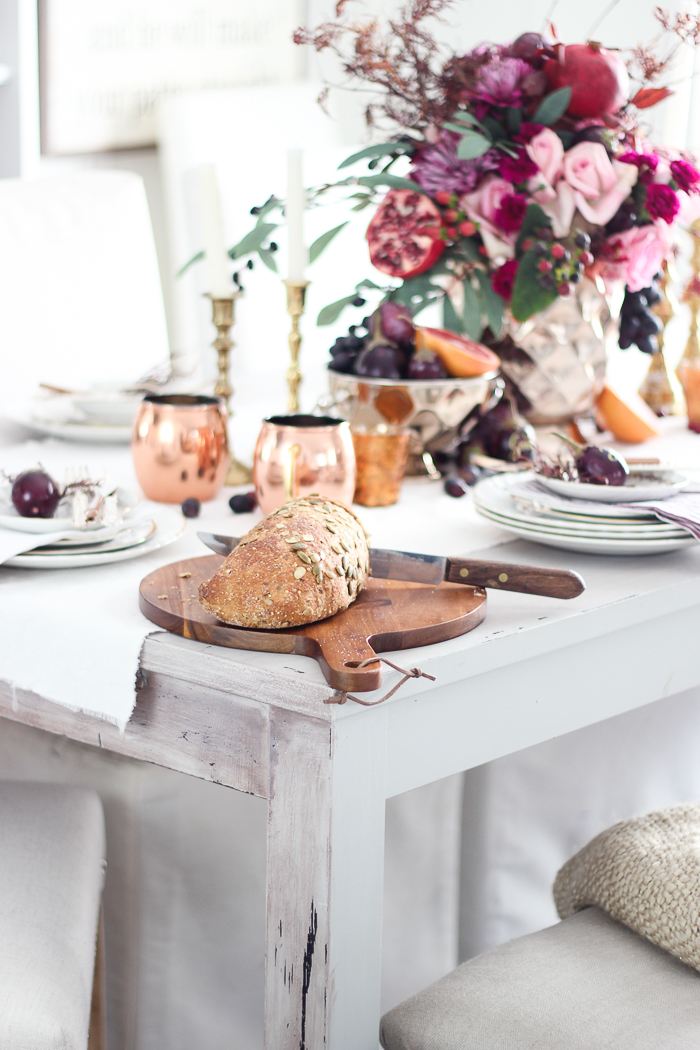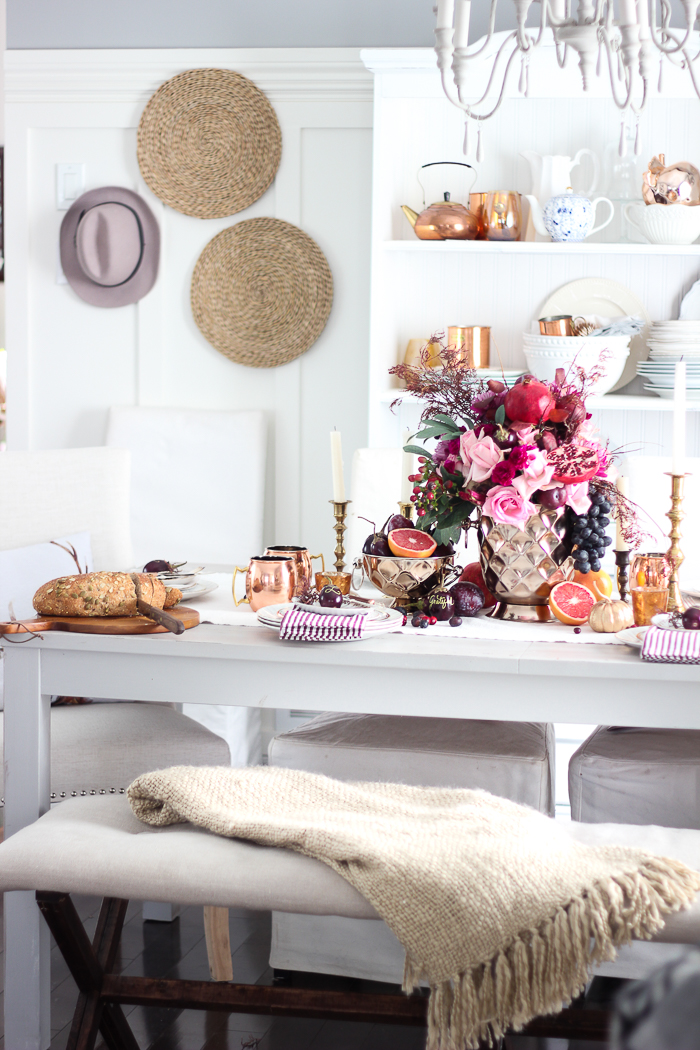 I really enjoy the process of creating tablescapes, although admittedly, I never know how things will evolve. I usually have a vision in mind, but don't constrict the process to such.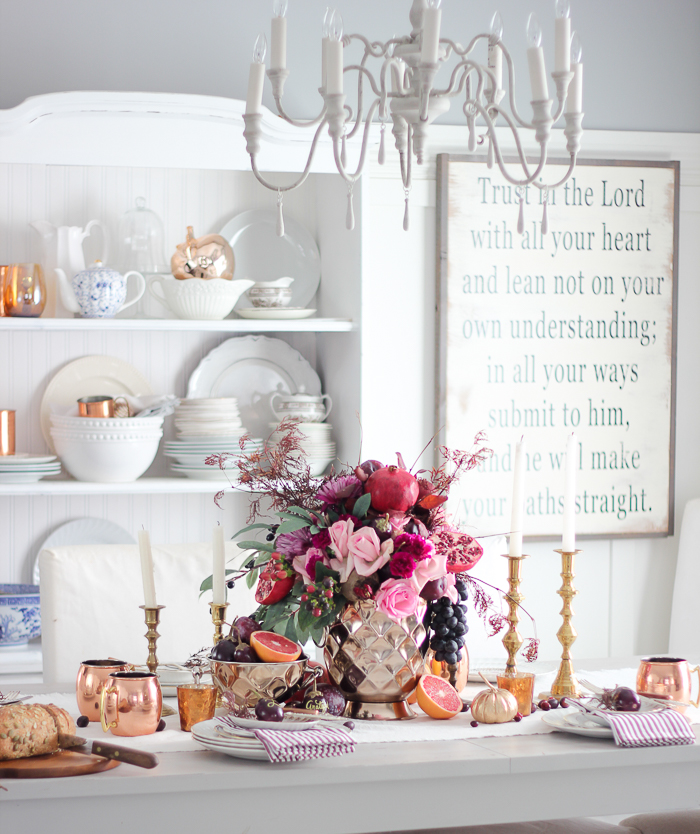 For example, as I was taking photos, I thought it would be a cute idea to write a little message on the pomegranate.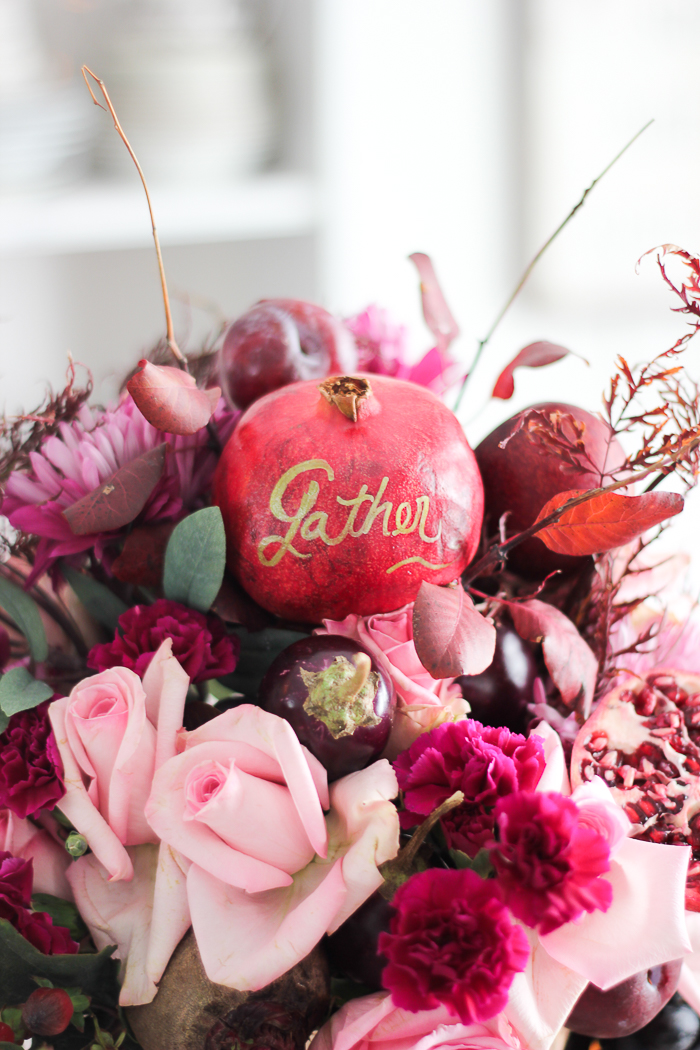 I think it makes for fun conversation at the table.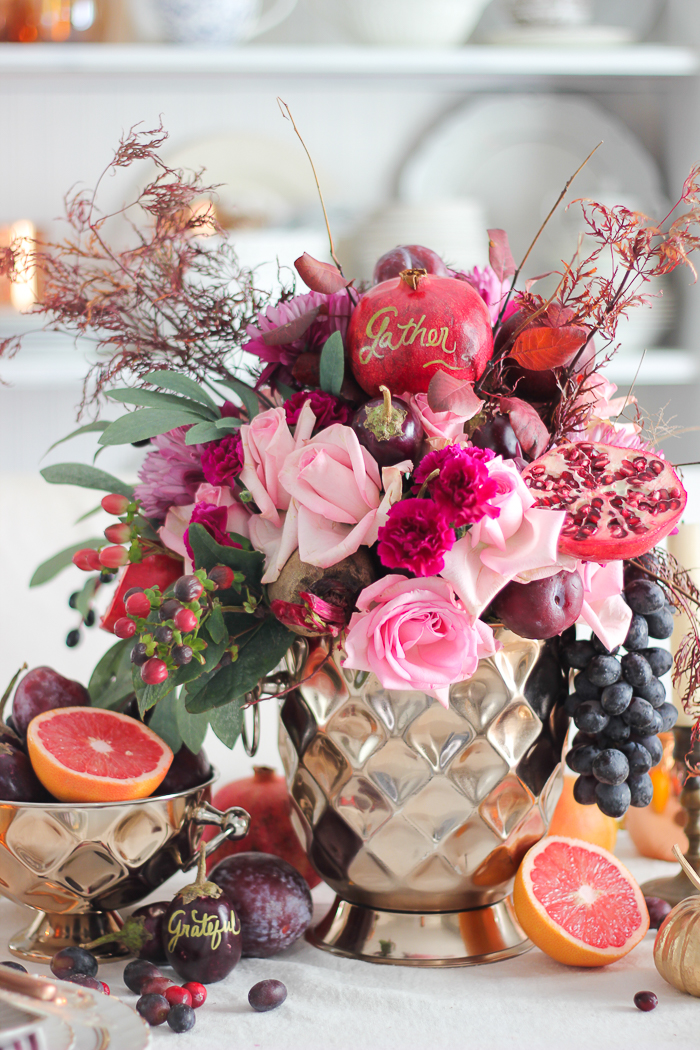 I have also noticed several florists using cut fruits in their arrangements lately and decided to give it a go. I think it adds yet another fun and interesting touch.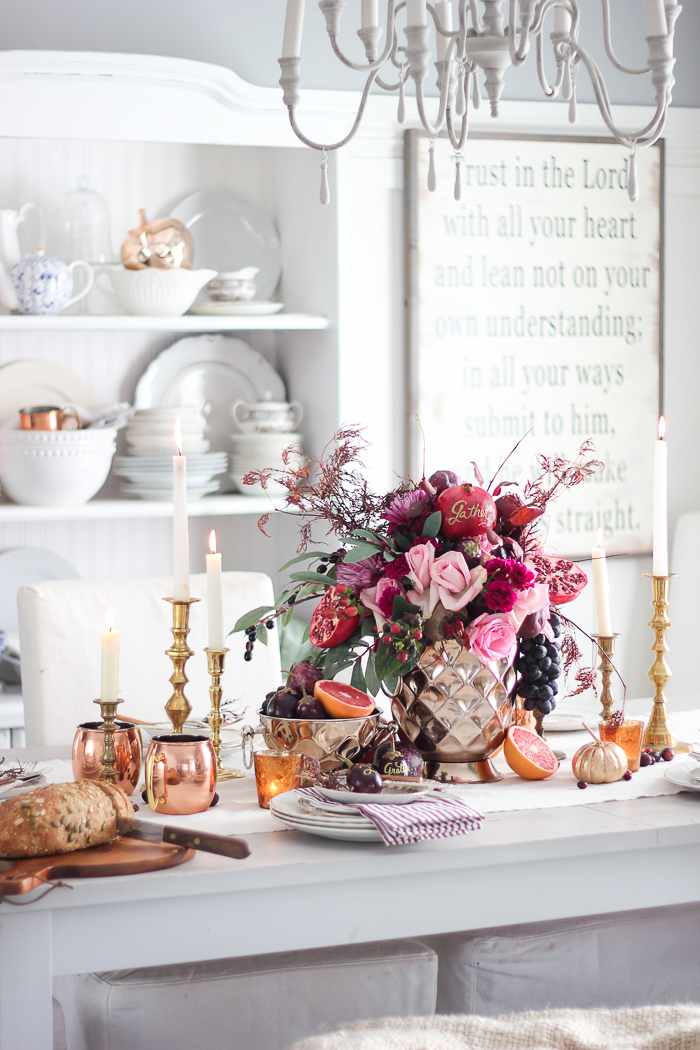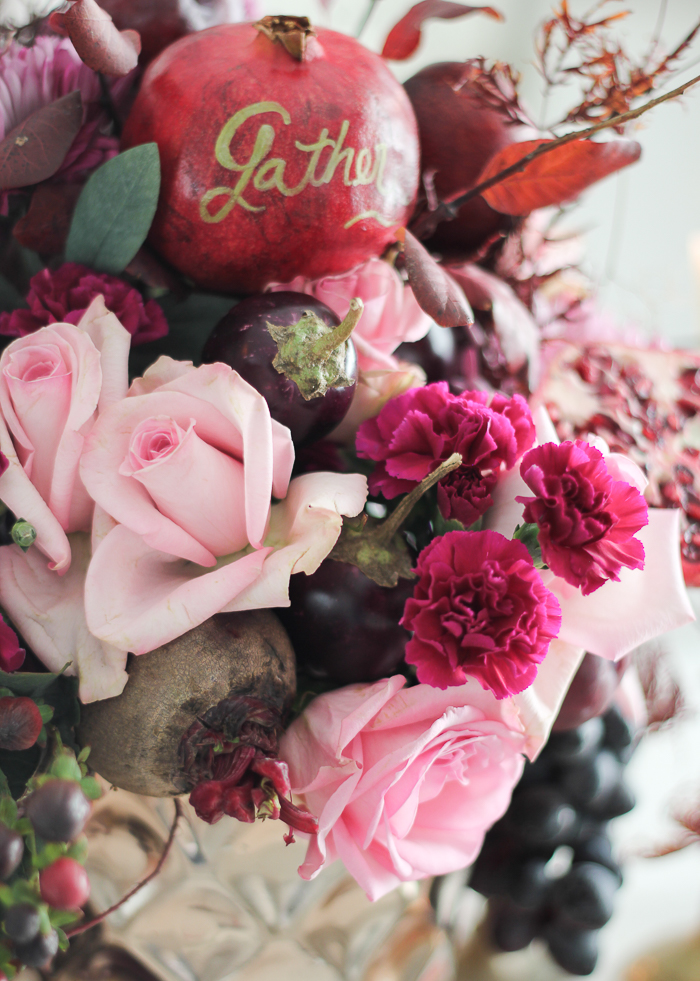 I used beets, Indian eggplants, plums and discounted flowers, all from the grocery store.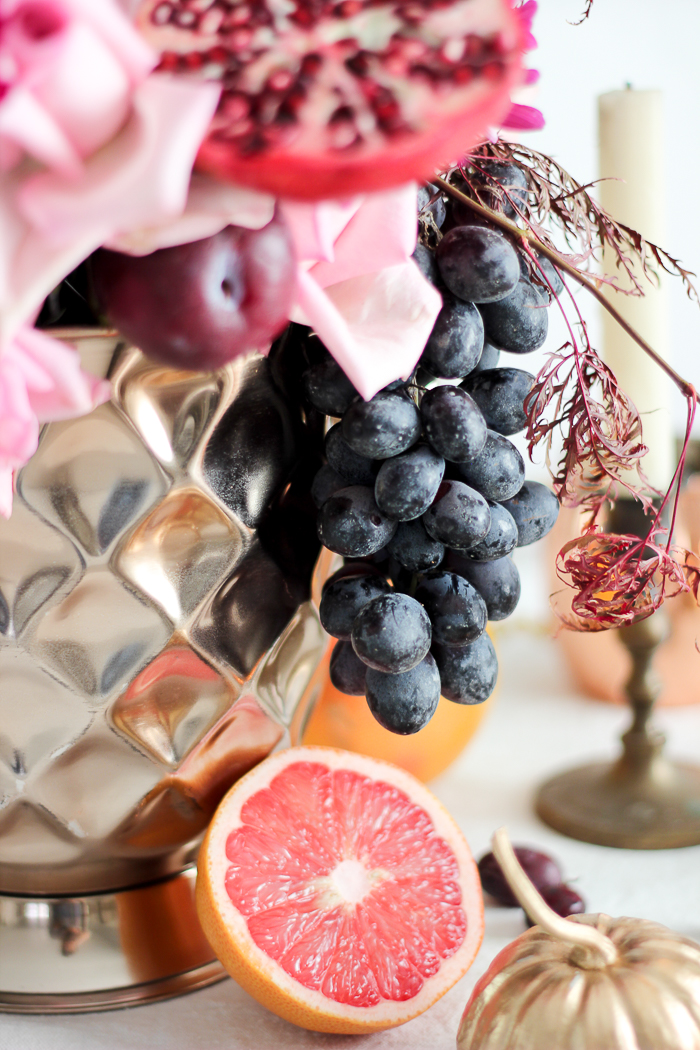 I also used bunches of purple grapes for some contrast.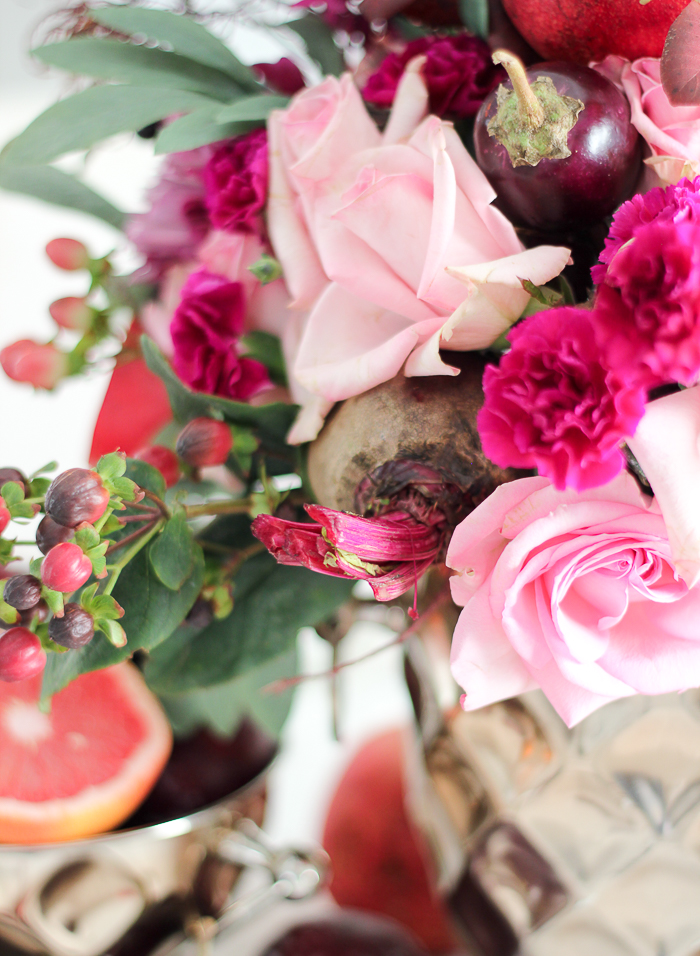 I love the color of beet stems…so vibrant and pretty.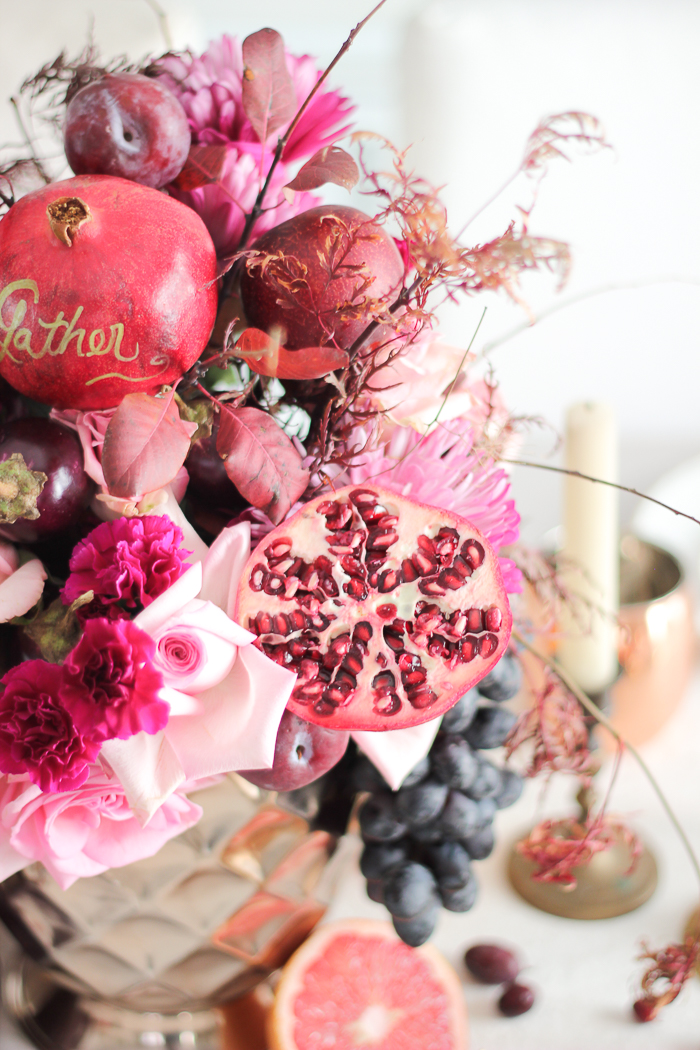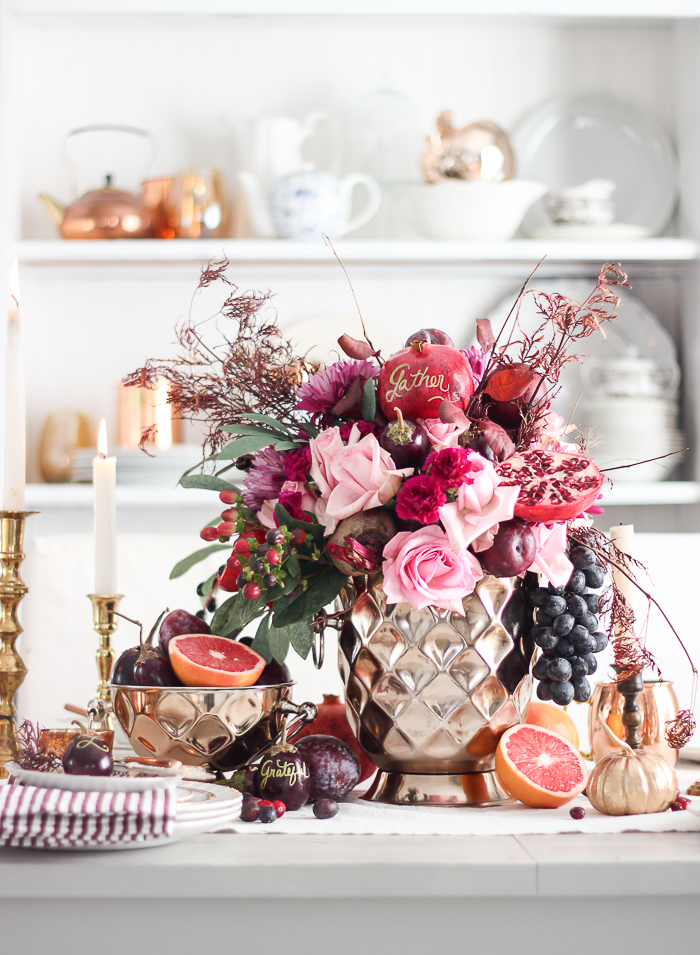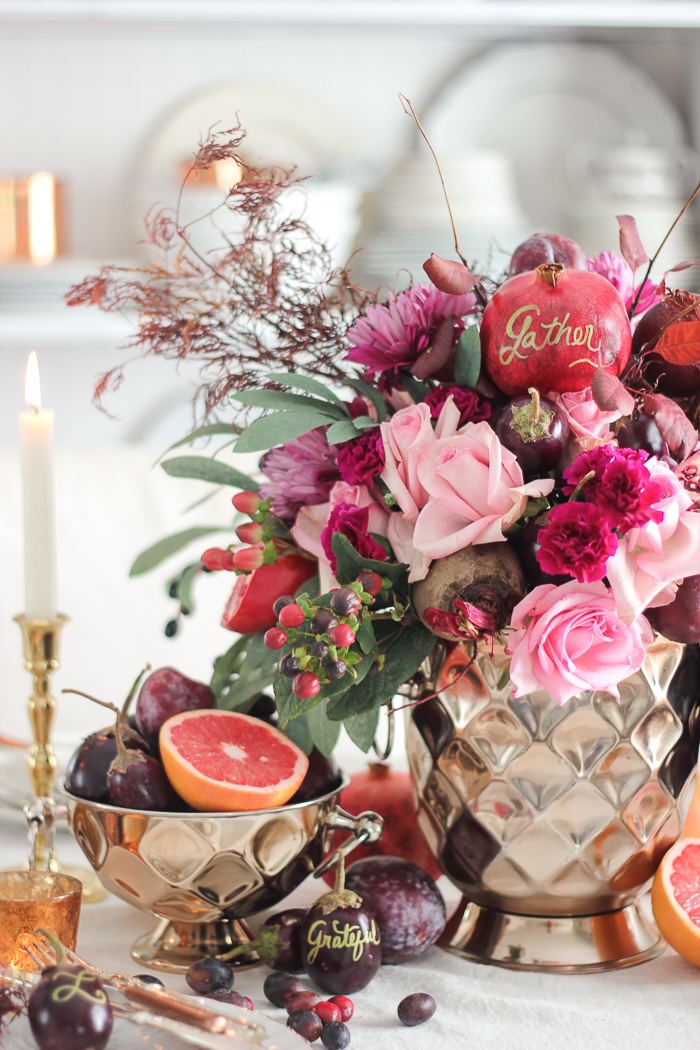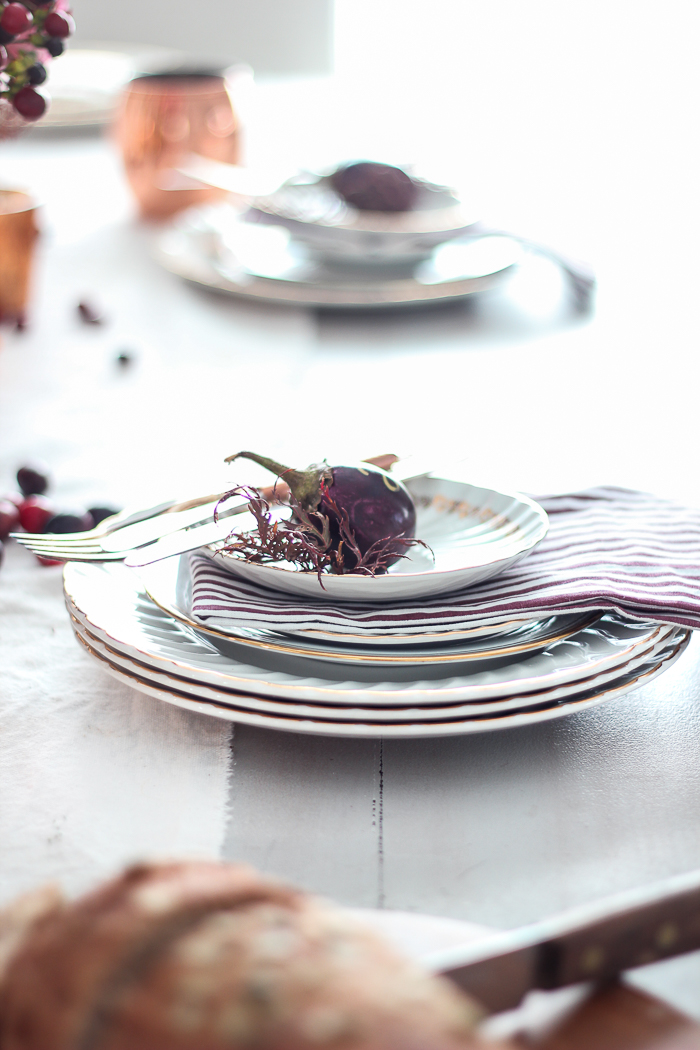 Ranging from bright reds and oranges, to the burgundies and purples to very neutral browns and greens…fall is full of beautiful colors, isn't it? Speaking of neutrals, tomorrow I'm coming back with a more toned down tablescape, so I hope you come back to see.
I'll leave you with this – whether you're celebrating Thanksgiving or just having a gathering with friends, what's most important is not the way you set the table or the fancy dinnerware you use, but the conversation and the memories being made.
Here is the list of my talented friends sharing their tablescapes.
Monday:
The White Buffalo Styling Co.
Tuesday:
Wednesday : 
Craftberry Bush (me)