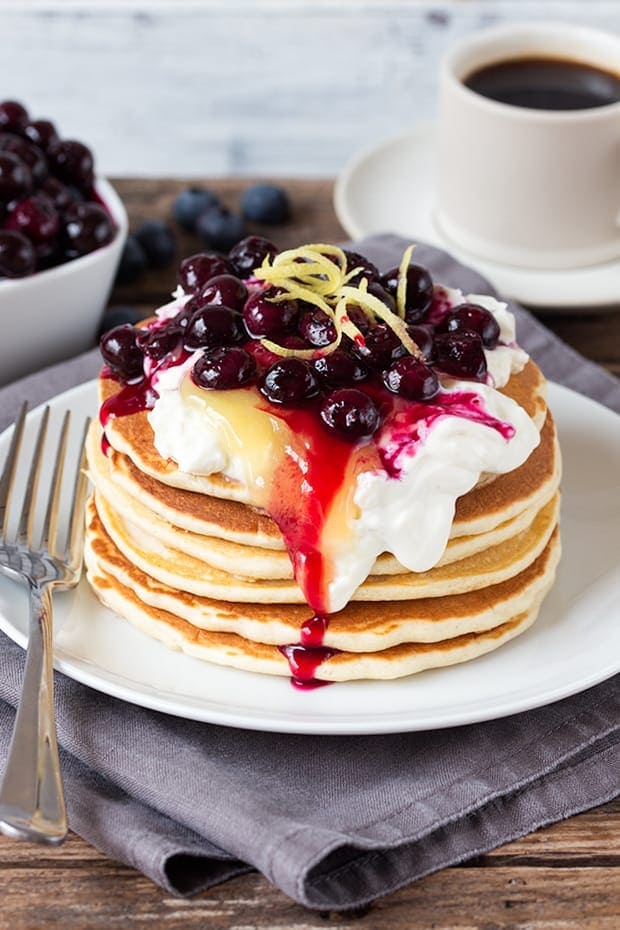 There's really nothing like taking a dessert and turning it into a breakfast. In my eyes, it's a perfectly socially acceptable way to get your sweet fix without the guilt you'd have if you ate a slice of chocolate cake before the school run.
These light and fluffy pancakes taste amazing with the addition of creamy mascarpone (you can replace with Greek yogurt if you like), lemon curd and some ultra-quick blueberry compote.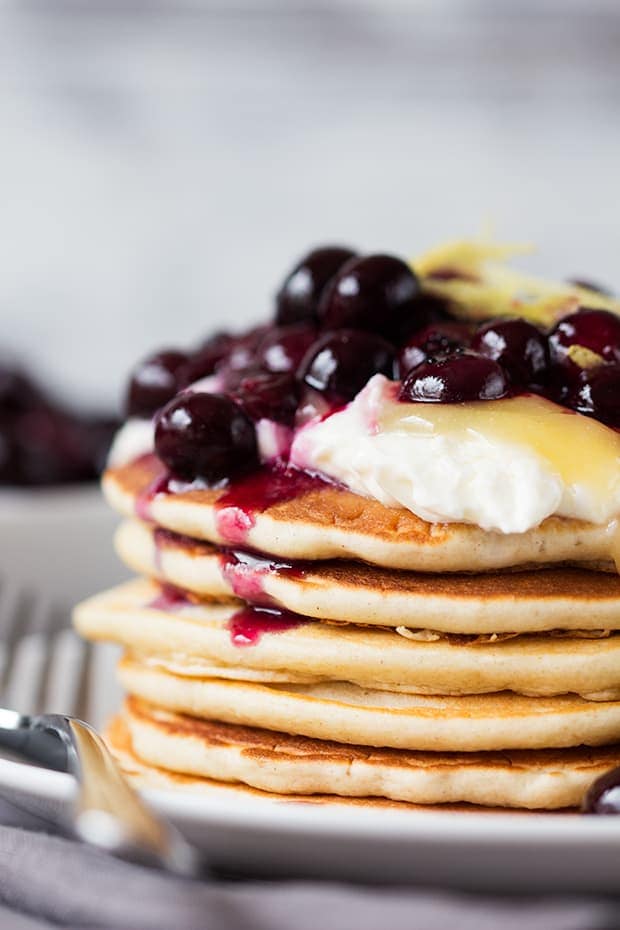 My kids love it when I photograph pancake recipes.
I know there's no way on earth I'd be able to make and photograph them first thing (so they could have them for breakfast). I'd just have two whiney kids, standing at the edge of the frame with bellys rumbling and Oliver Twist eyes.
So instead I give them breakfast as normal, and then make the pancakes mid-morning.
No-one in my house is ever going to say no to pancakes for lunch. Especially these pancakes!!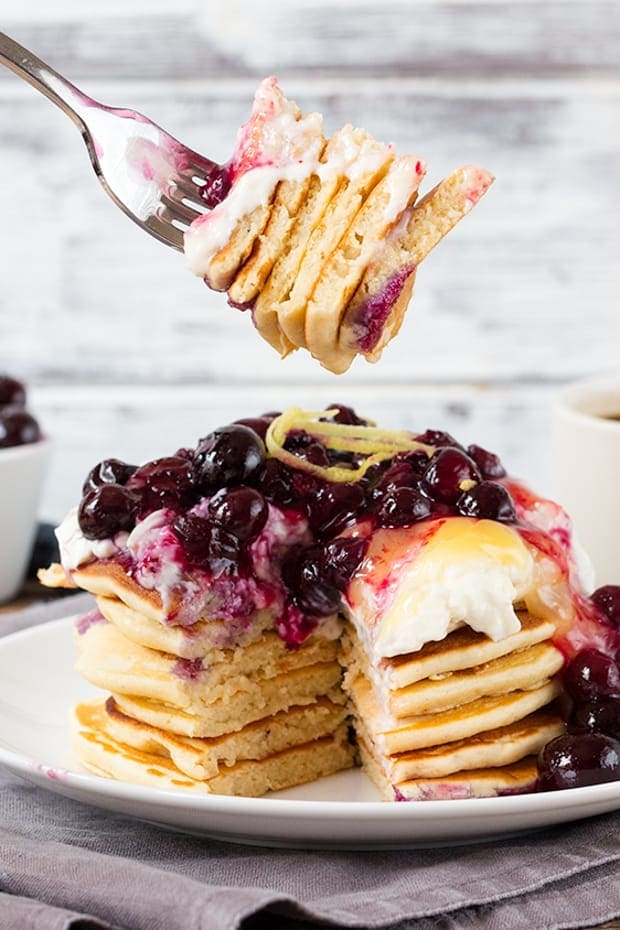 The recipe makes 12, so if you have some mix leftover, make the pancakes anyway. Then let them cool and layer between pieces of baking parchment. You can then store in the fridge for the next day, or pop them in a bag and freeze them (defrost them the night before you need them). Then pop them in the toaster to heat through for a speedy pancake fix.
Ingredients:
Makes 12 Pancakes (serves 4)
1 + 3/4 cup all-purpose flour
1 tbsp baking powder
3 tbsp light brown (muscovado) sugar
1 egg
1 tsp vanilla extract
Pinch of salt
Zest of 2 lemons
1 + 1/4 cup milk (half fat or full fat)
1 tbsp vegetable oil (or coconut oil)
8 tbsp mascarpone
4 tbsp good quality lemon curd
Blueberry compote:
2 cups fresh blueberries
2 tbsp water
1/4 cup sugar (granulated or superfine)
Directions:
Place the flour, baking powder, sugar, egg, vanilla extract, salt, zest of one of the lemons, and milk in a large bowl. Use a balloon whisk to mix until combined.
Pour ¼ tbsp. oil in a large skillet, then wipe around with a kitchen towel to cover the pan. Heat the pan on a medium heat until hot. Pour in enough mixture to make three pancakes (approx. ¼ cup of mix per pancake). Turn the pancakes over when bubbles form on top and then burst, and the edges start to look firm (about 1-2 minutes). Cook on the other side for another 1-2 minutes. Repeat with the rest of the mixture – oiling the pan each time – until all the pancakes are cooked (you can keep the pancakes warm in a very low oven whilst you're making each batch).
Whilst the pancakes are cooking, place the blueberries, water and granulated sugar in a pan and heat for about 5 minutes until the blueberries release their colour and the sugar dissolves. Turn off the heat and put to one side to cool slightly.
To assemble, stack 3 pancakes on each plate. Top each stack with 2 tbsp mascarpone, 1 tbsp of lemon curd and 2-3 tbsp of the blueberry compote. Sprinkle with the remaining lemon zest and serve.