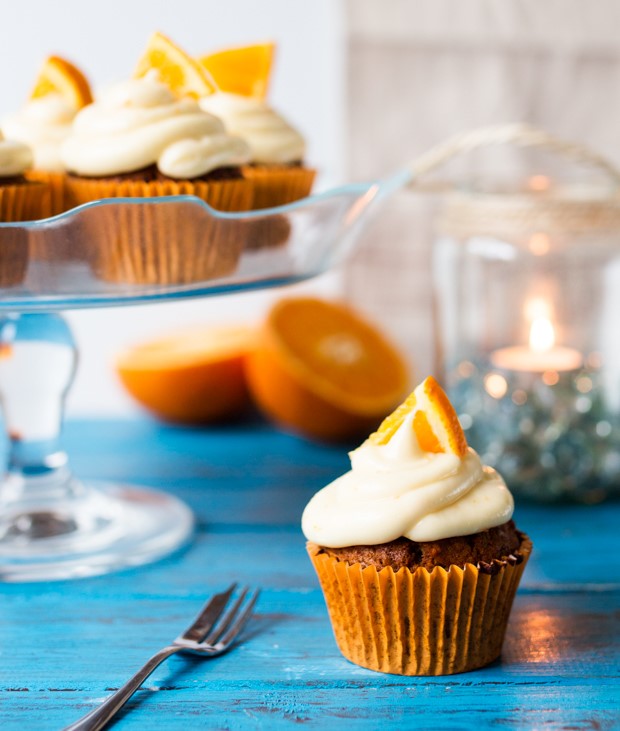 Hi everyone, Nicky calling in from Kitchen Sanctuary with a recipe for some light and fluffy carrot and orange cupcakes.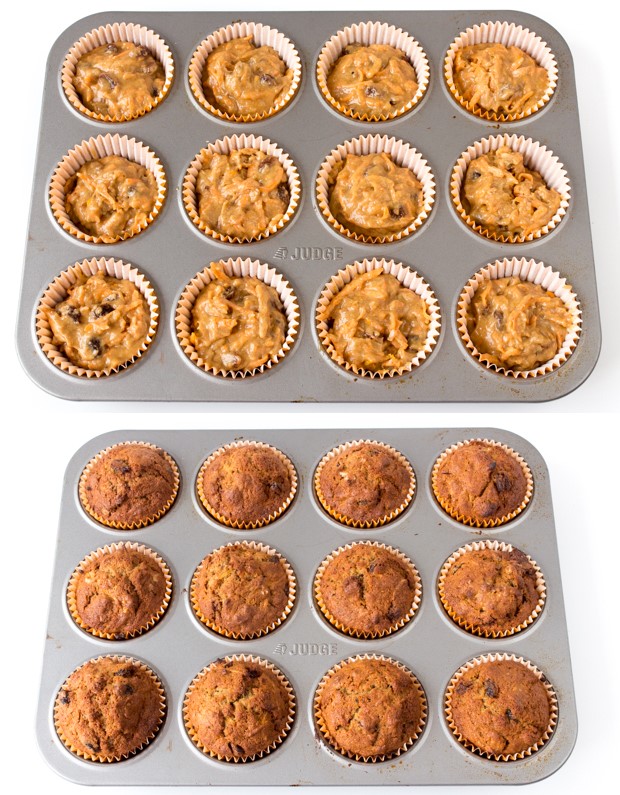 I had to send the rest of these into the office with Chris today as I simply can't be trusted with a batch of them in the house.  Chris told me they were devoured in no time (and in fact one of his office buddies even said they're the best cupcakes she's ever tasted! Love it when that happens).
We're talking orange-infused raisins, a hint of spice, 3 whole carrots (which technically means these cupcakes are good for you – if you ignore the butter, cream cheese and sugar…..) and a creamy, sweet frosting, flecked with orange zest.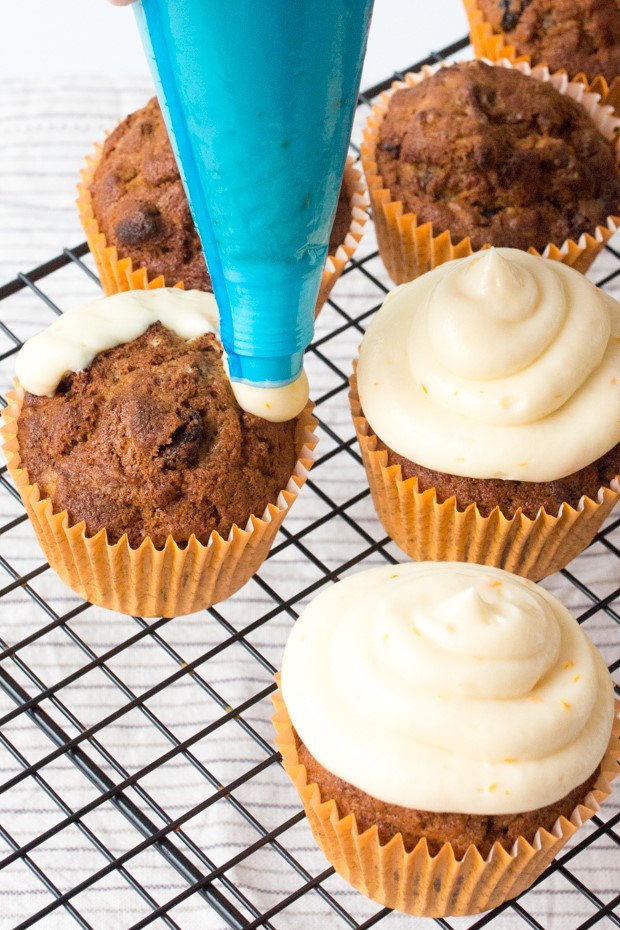 I hope you enjoy them.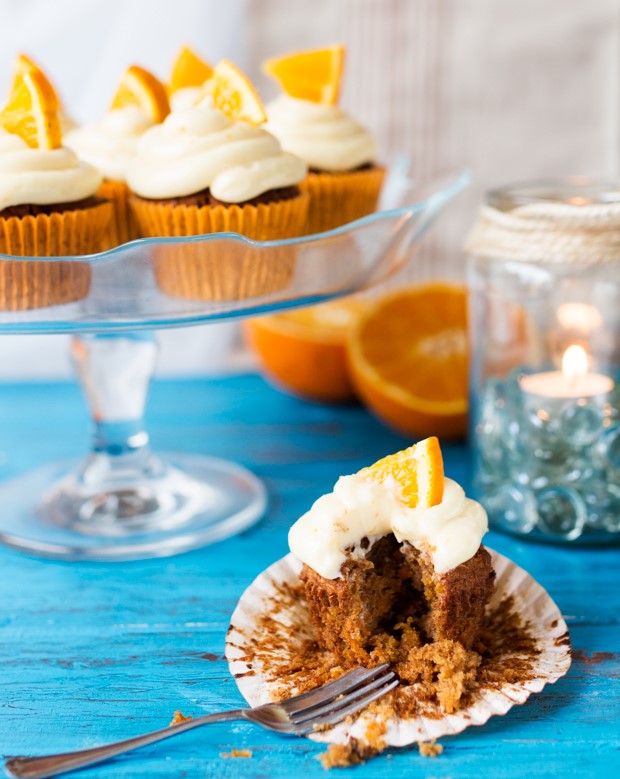 Oh, and check out my glass lantern in the photos.  I was inspired by this latest post to do something useful with an extra-large coffee jar and it turned out great!
Makes 12 cupcakes
Ingredients:
1/4 cup + 2 tbps (90ml) orange juice
3/4 cup (113g) raisins
2 cups (230g) all-purpose flour (you can replace with whole wheat flour if preferred)
1 1/2 tsp baking soda
1 tsp ground cinnamon
1 ½ tsp pumpkin pie spice (or mixed spice)
1/4 teaspoon salt
2 large eggs, mixed with a fork
3/4 cup (150g) packed light brown sugar
1/2 cup (120ml) coconut oil (melted) or vegetable oil
Zest of 1 orange
1 teaspoon vanilla extract
1 ½ cups (195g) peeled and grated carrots (about 3 medium carrots)
Frosting
3/4 cup + 1 tbsp (195g) butter, softened
1 ¼ cups (300g) cream cheese
1 1/2 cups (150g) powdered/icing sugar, sifted
1 tsp vanilla extract
Zest of 1 orange, chopped very finely (so it won't clog up the piping bag)
Slices of orange
Directions:
Place the orange juice and raisins in a small bowl and leave them to soak for 1-2 hours (up to overnight).
Preheat oven to 425f (220c). Line a 12-hole muffin tray with cupcake cases.
In a large bowl add the flour, baking soda, cinnamon, pumpkin pie spice mix, and salt. Give them a mix to combine.
Now add in the eggs, sugar, coconut oil, orange zest, vanilla extract, grated carrots and the raisins in orange juice (add the orange juice in too). Stir everything together using a wooden spoon until just combined.
Divide the cake mix between the cupcake cases and place in the oven. Cook for 5 minutes, then turn the oven down to 350f (180c) and cook for a further 15-17 minutes.  You can check the cupcakes are done by inserting a toothpick.  If it comes out clean, they're done.
Place the cupcakes on a rack to cool completely.
Make the frosting by beating the butter in a mixer or with a whisk until soft. Add in the cream cheese, powdered sugar and vanilla extract and beat until soft and creamy, then stir in the orange zest.
Spoon the frosting into a piping bag with a wide, plain nozzle. Pipe the frosting onto the cupcakes, starting from the outside and working towards the centre.  Top each cupcake with a small wedge of orange and serve!