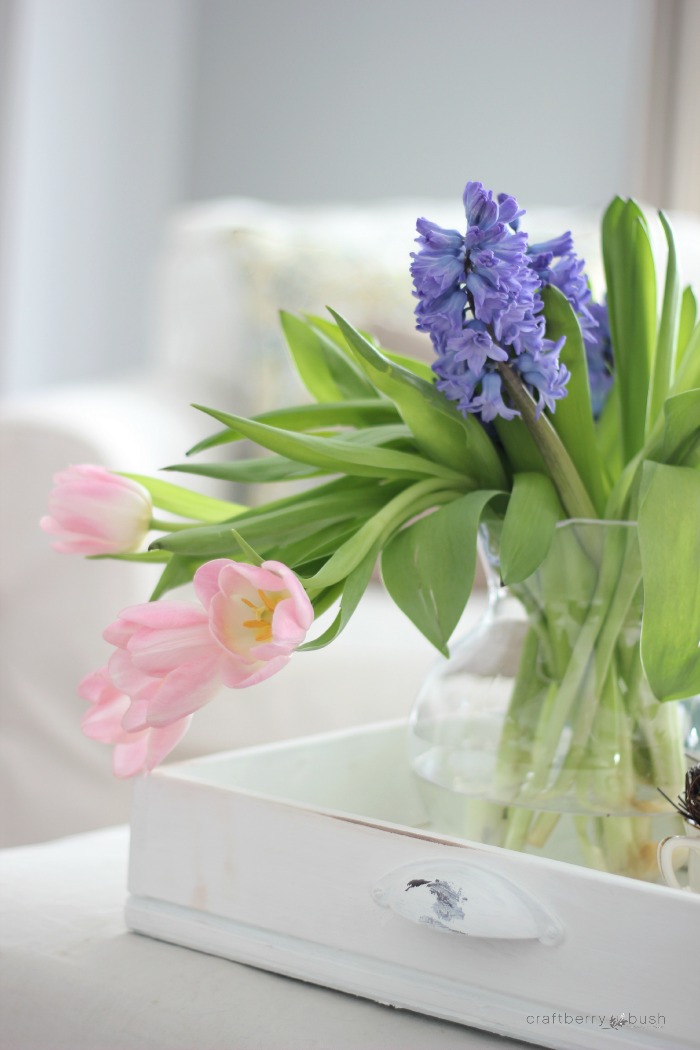 Hello again friends. Hope you're having a great week so far.
We are enjoying our Spring break so far and I'm hoping that this week goes by reeeaaalllly slow.
Not having to turn off the alarm clock in the mornings is always such a treat isn't it?
Today I'm sharing a little bit of our home decorated for Spring.
I have been feeling a little restless with my decor, changing it from day to day and not being completely satisfied with it.
Do you ever feel that way? I'm not one to jump into trends or bring home decor that doesn't feel right.
But I'm feeling like I just can't really figure out which way to go with our decor right now.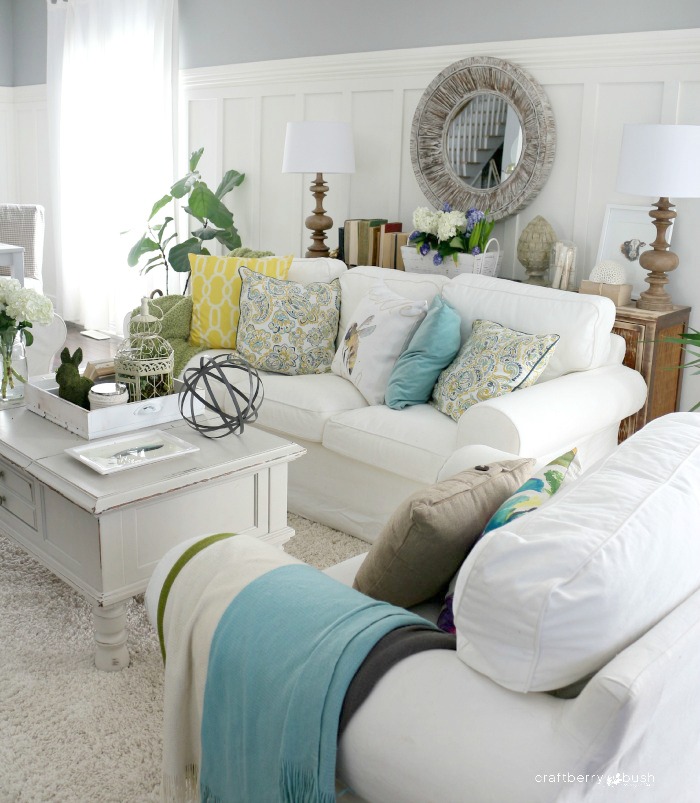 This is what the room currently looks like. I decided to move the couches away from the wall so I could place two lamps at either side.
My original plan was to make a simple table for behind the couch, but I haven't gotten to it yet. So for now, I've just placed two
pieces of furniture behind there which just happen to fit perfectly.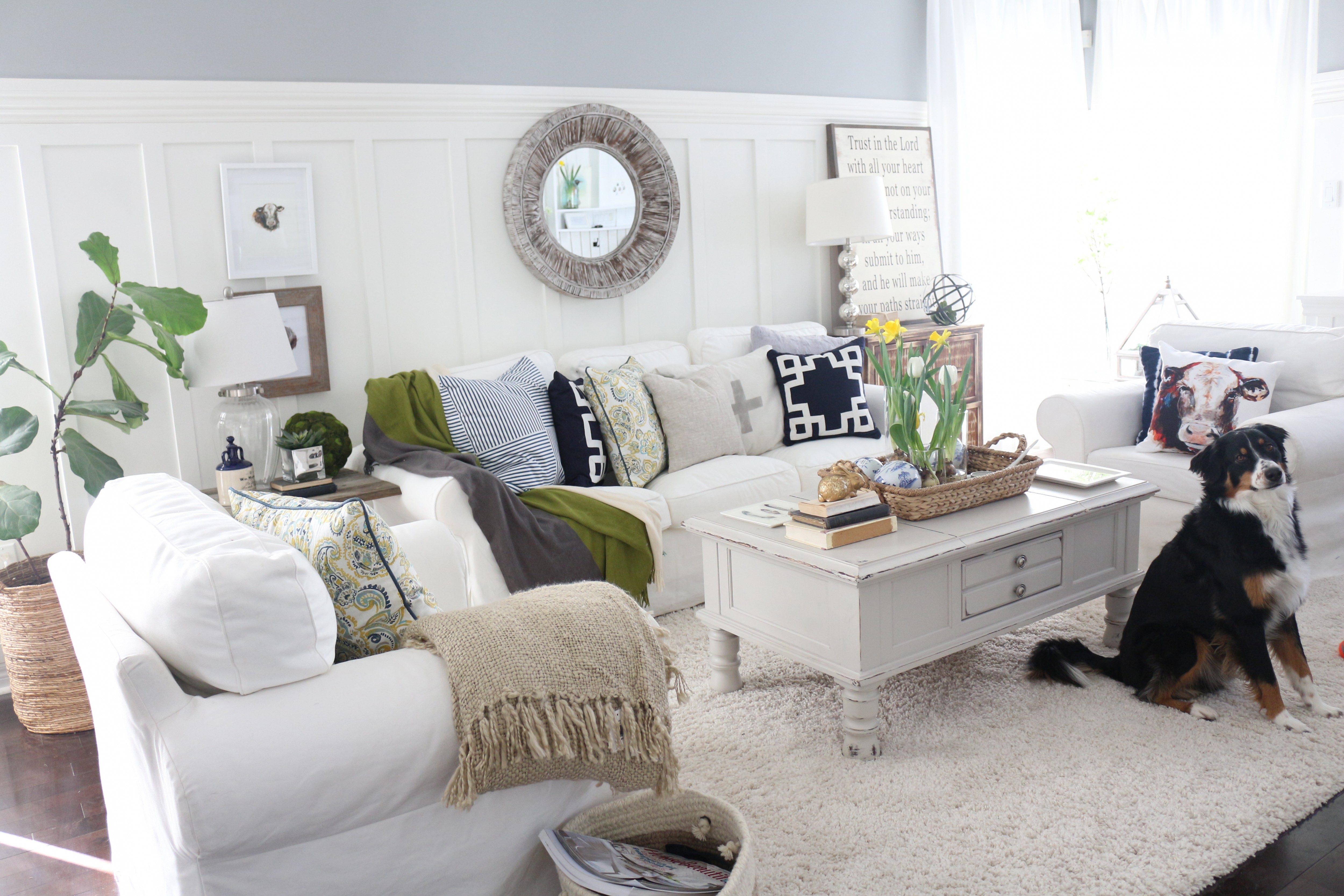 This is what the living room looked just a couple of days ago.Looking back at this now, I guess it looked ok.
Maybe it's just the time of year and the need for a little change.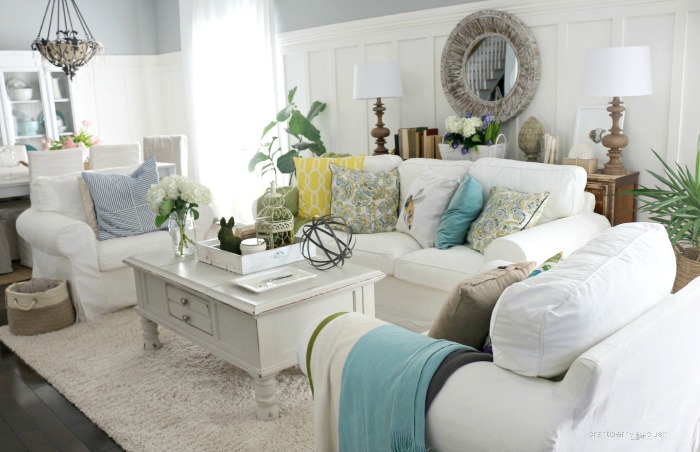 Which set up  do you prefer?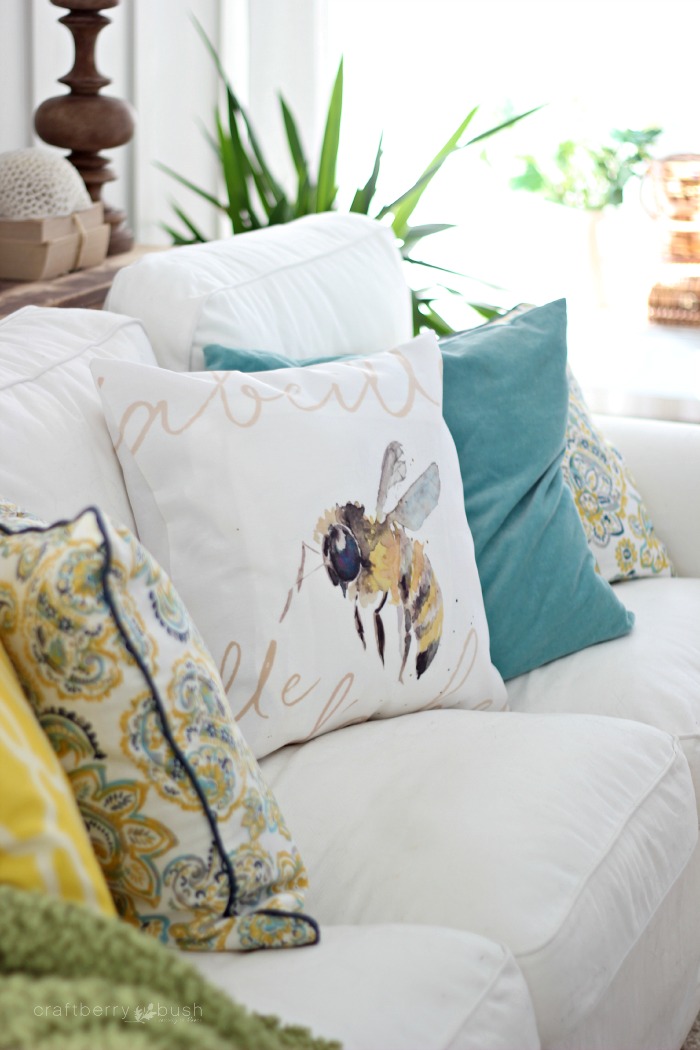 I do love the soft blues and the yellows for Spring. My bee pillow arrived just the other day and it coordinated perfectly with the rest of the pillows.
You can purchase your own here with free shipping right now.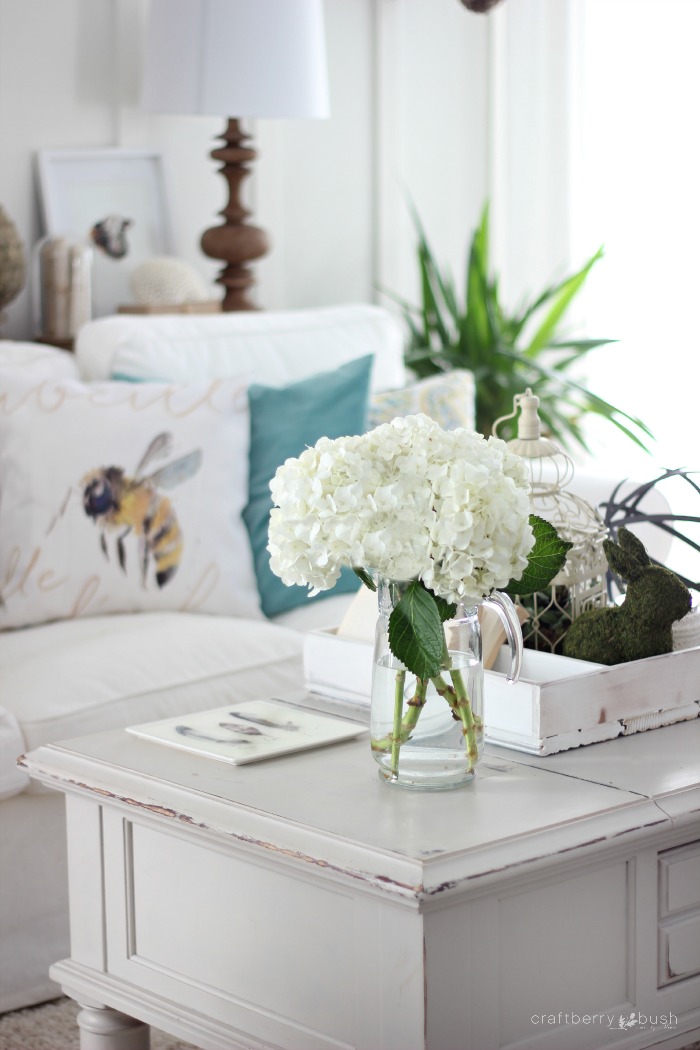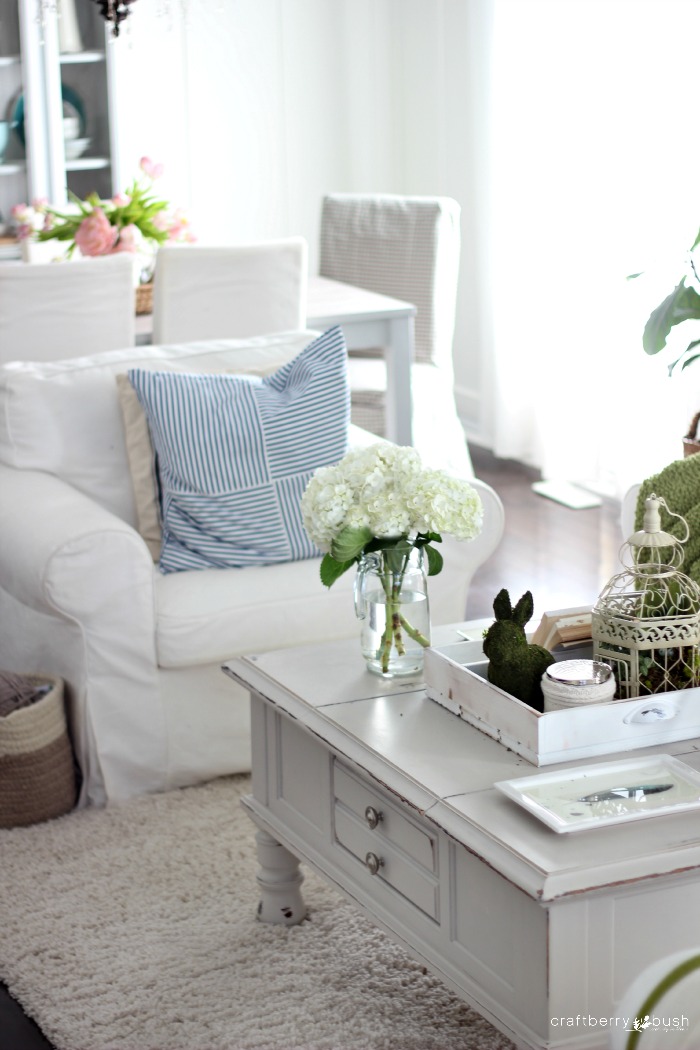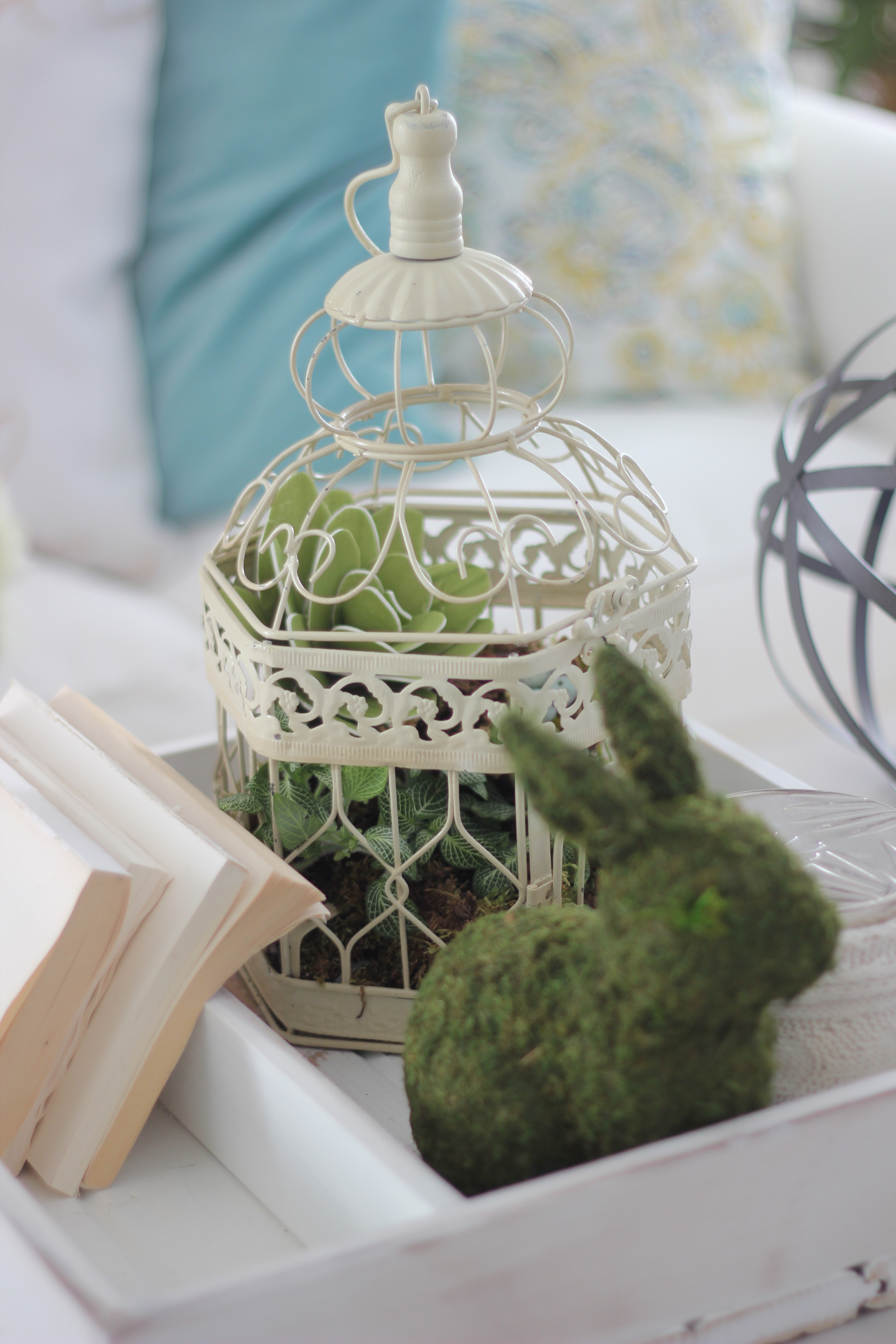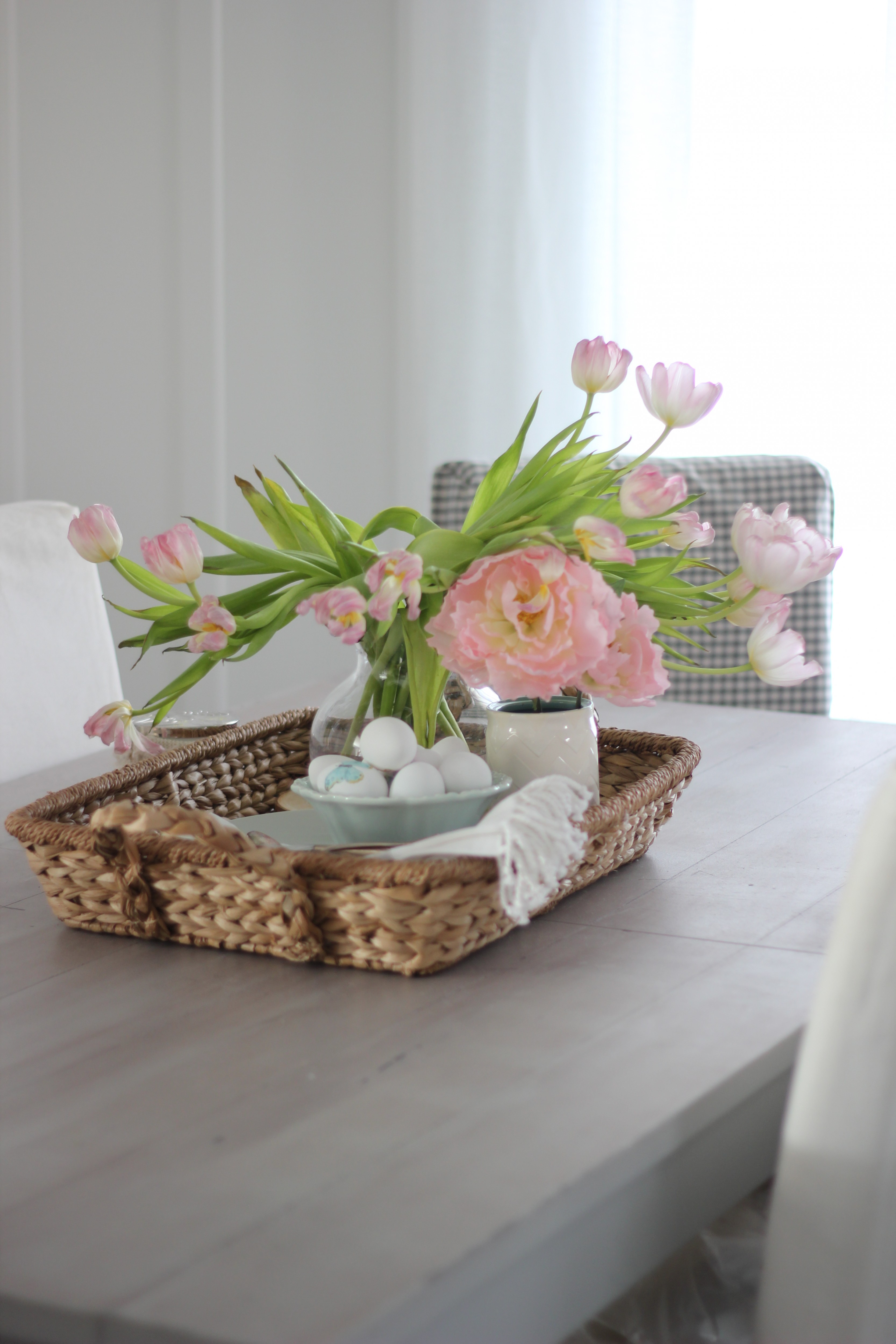 Not much is happening in the dining room yet,but I will share my Spring hutch soon.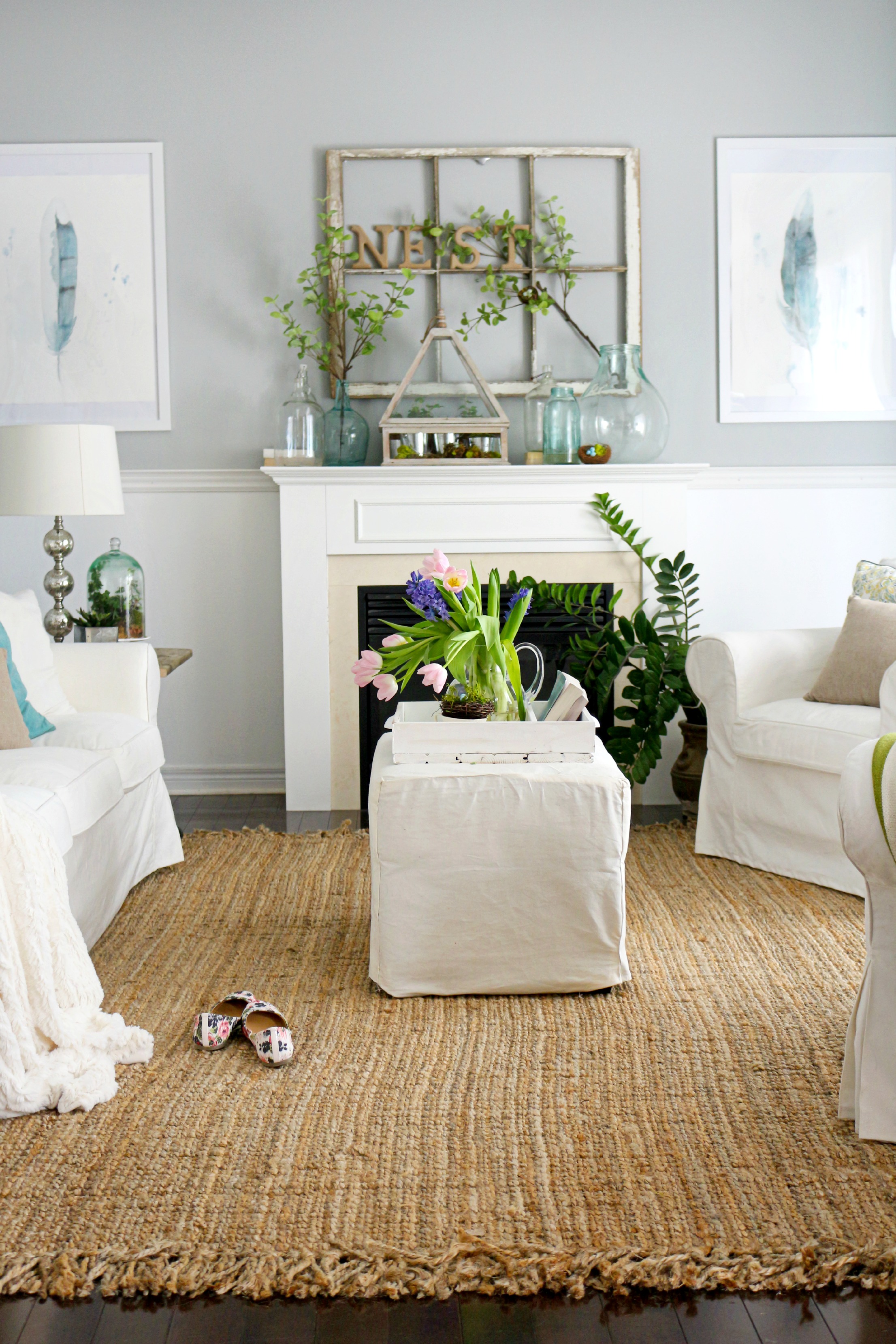 I also changed our family room and added this gorgeous rug from Rugs USA. I love it so much.
This one is called Maui chunky loop and it's perfect for this space during this time of the year. Our sweet dog
Brody  loves to go outside often and due to the thawing ground, he comes in with muddy paws.
Even though I am very diligent at wiping his paws every time,
this rug is a little more forgiving with dirt than our white shag rug is.
I will probably keep it around through the summer and fall.
I really like the casual feel it adds to the space.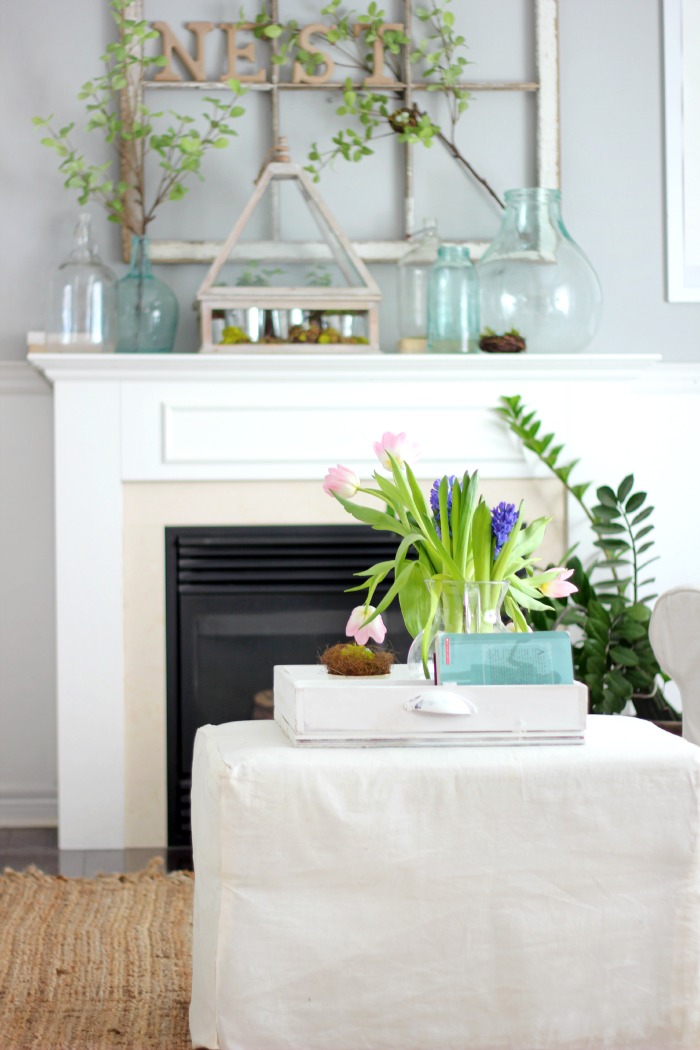 I love tulips and I can't seem to pass them  up while at the grocery store. I usually purchase the discounted bunch and place them in the garage during the evenings.
The coolness of the garage keeps them from drooping and makes them last longer.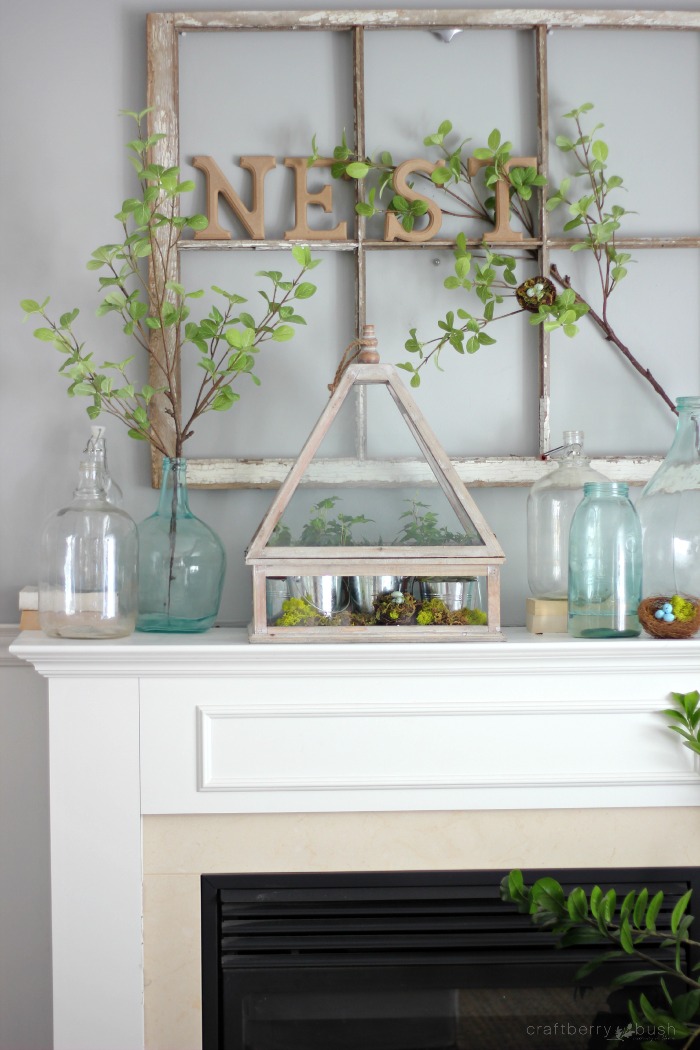 I kept the mantel fairly simple by just adding a few bottles and this adorable little terrarium.
I got it discounted because one of the glass panels had unglued off the wood.
It just needed a little hot glue and it's as good as new.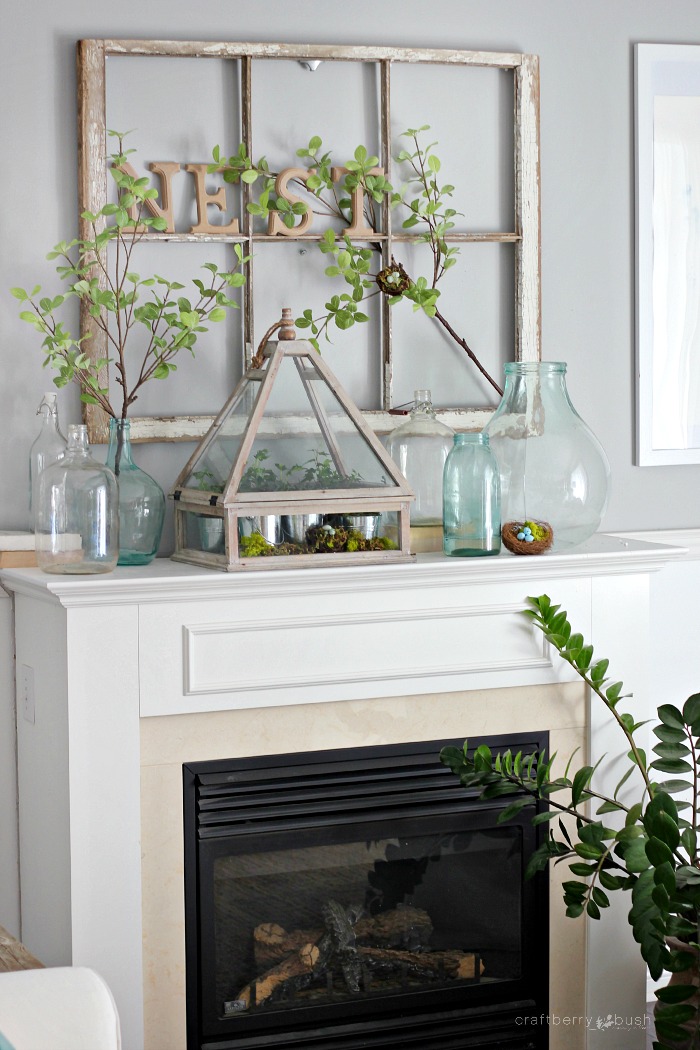 I decided to bring back my old window frame and added a couple of faux branches, a little nest and some wooden letters.
I decided to keep the letters unpainted and raw. I might paint them white, but I felt that the raw color of the wood coordinated well with the browns of the nest.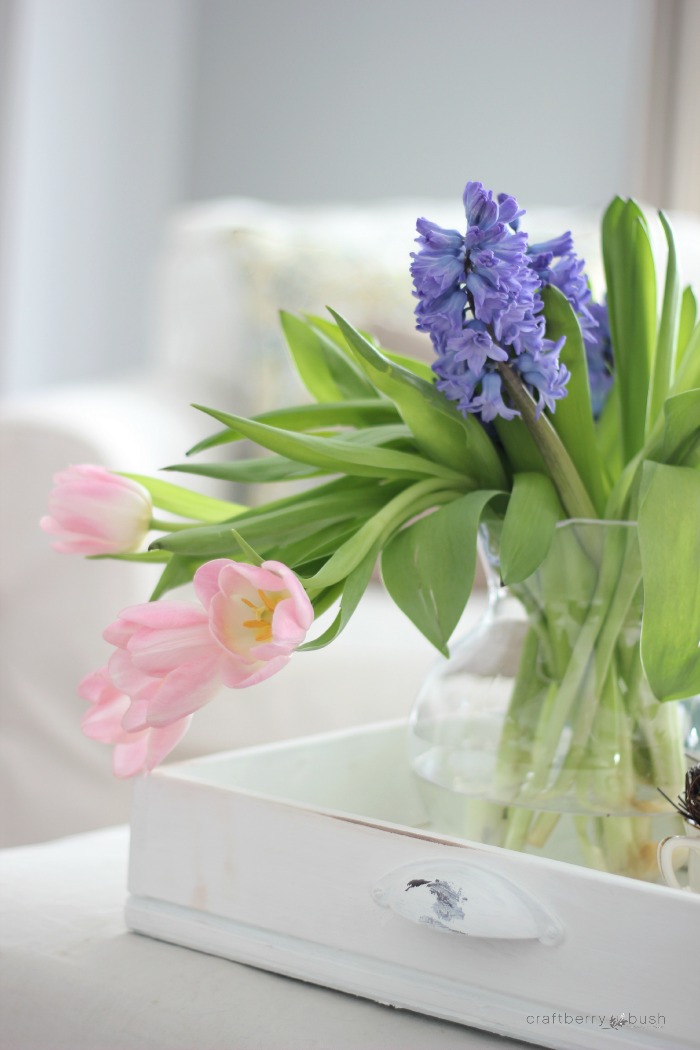 I have really been enjoying the scent of these Hyacinths this year.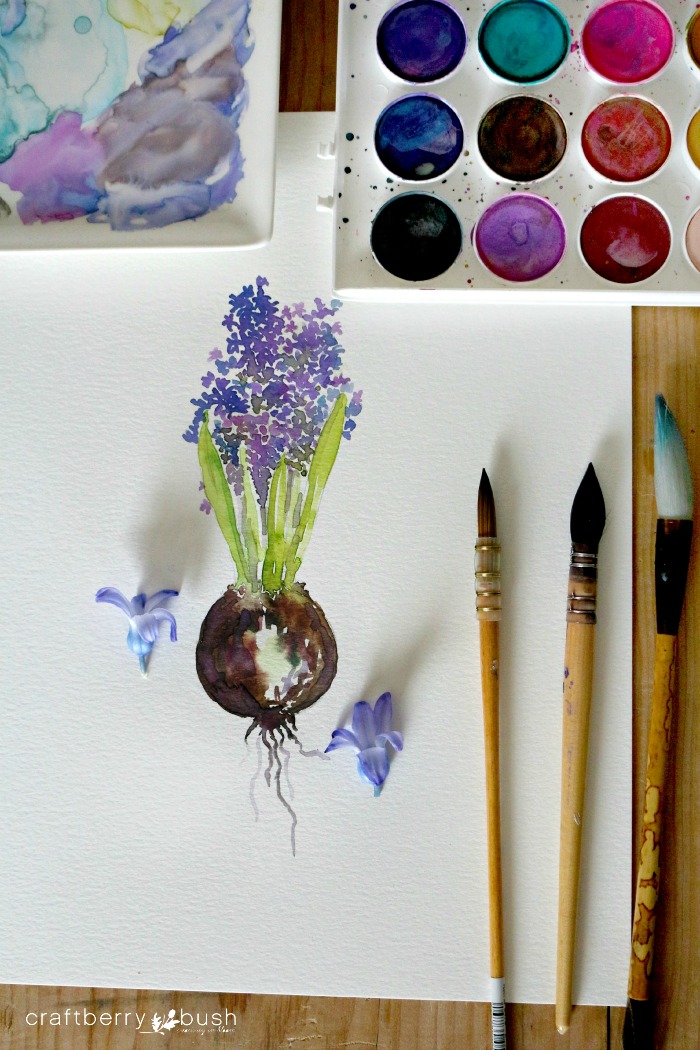 They inspired this little painting. I'm actually working on a fun printable for you, just need to find the time to download the photos.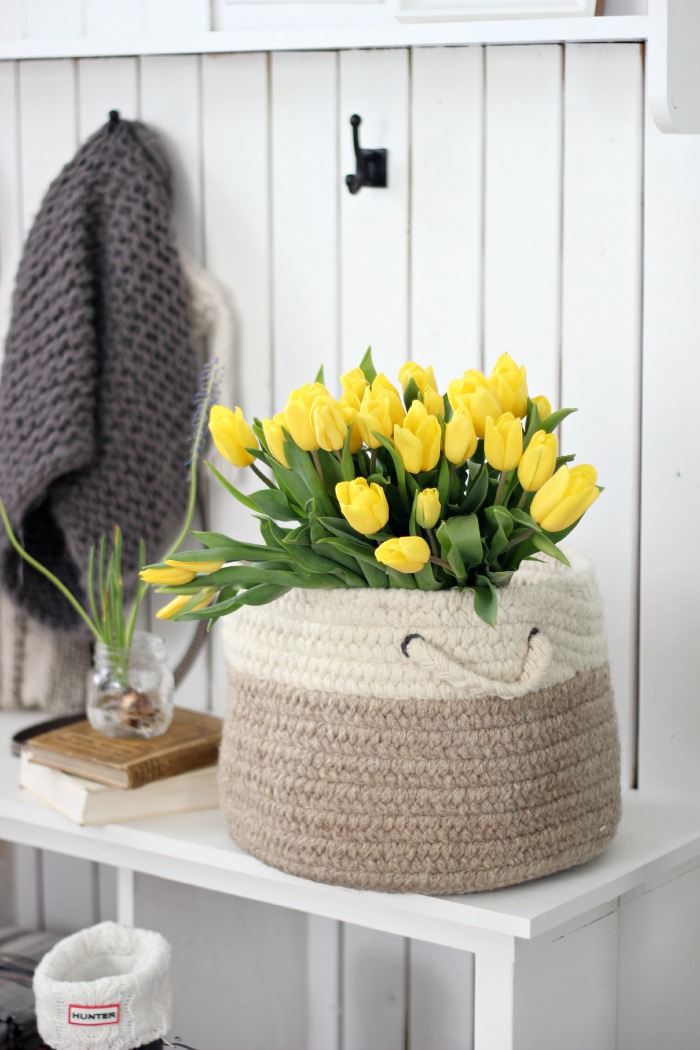 You can see more of the front entry here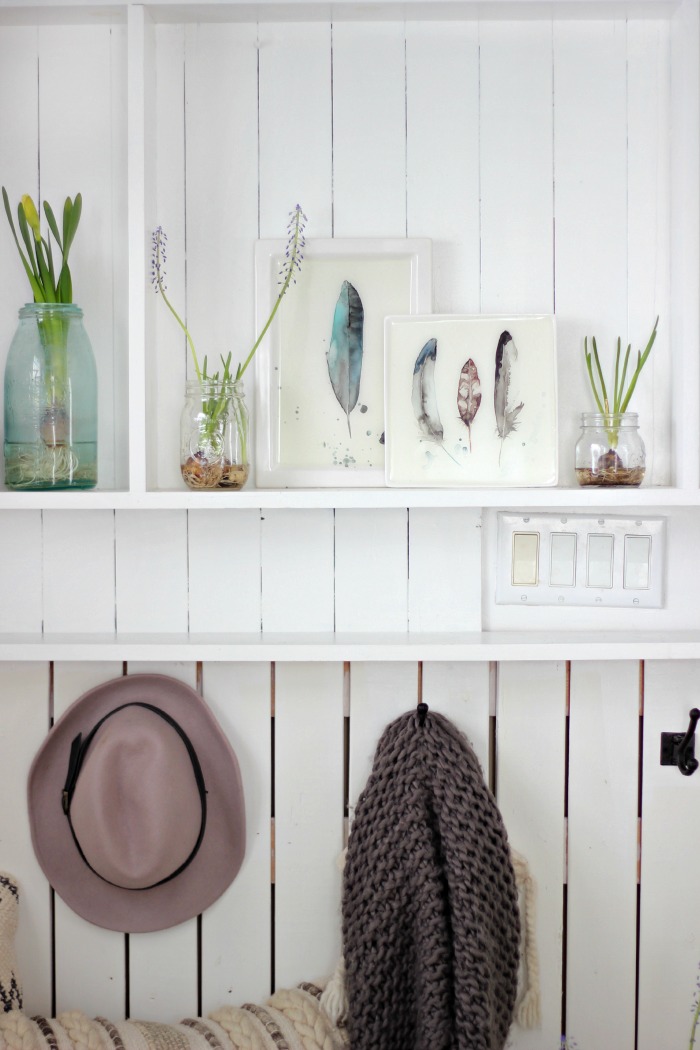 So that's all I have for now. I hope you found some fun ideas to incorporate in your own Spring decor this year.
Don't forget to visit the rest of my friends as they share their beautiful Spring homes as well.
Thank you all so much for being here.
Have a beautiful day.
much love,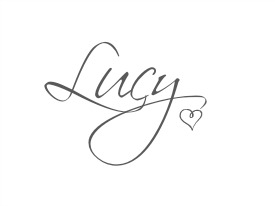 Clockwise from top left: Finding Silver Pennies | Craftberry Bush | Clean and Scentsible | Town and Country Living | Rooms for Rent | Shades of Blue Interiors | AKA Design