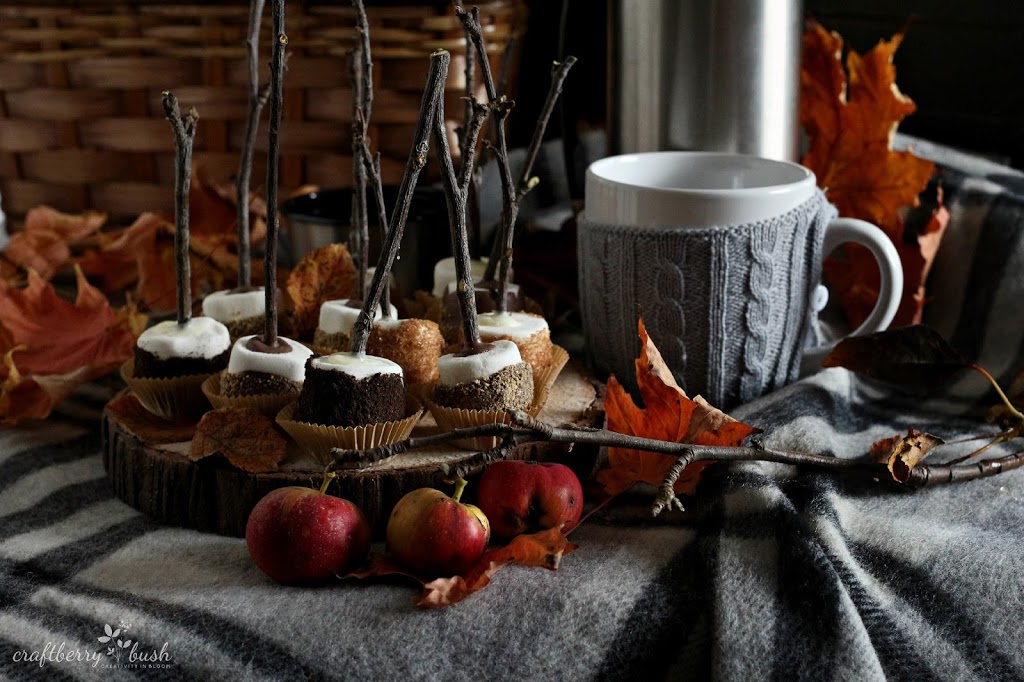 With each passing day, I am in awe at the beauty of Fall's performance.
It embraces us with its fiery blanket while the leaves waltz and learn to fly.
It's cool wind makes us find refuge in cozy sweaters and snuggle a little closer
to our loved ones to find warmth. With its scent of pumpkin spice, cinnamon
and warm apple pies, fall makes me fall in love with nature all over again.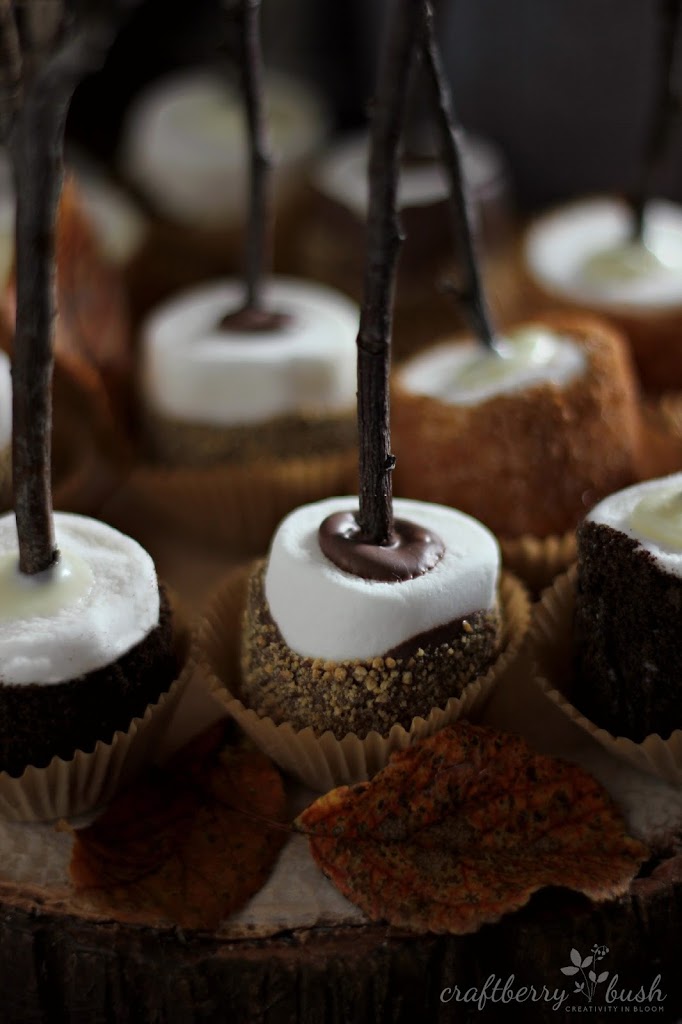 It's hard to believe it has been a year since our first Taste of The Seasons.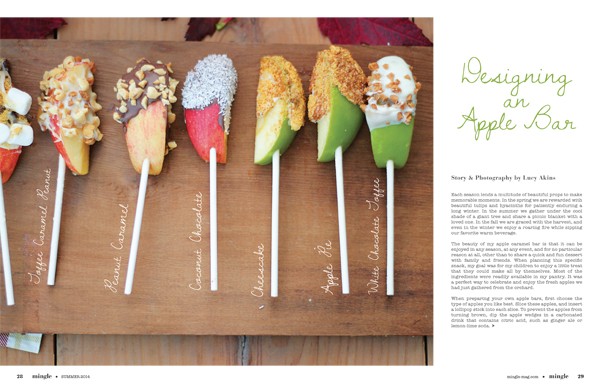 For this year's Tastes of the Seasons, I wanted to combine the
delicious
flavours
of summer night campfires with the sweet spices
of autumn.
So what better way to do so than by making marshmallow
S'more pops, but with a hint of cinnamon and pumpkin spice.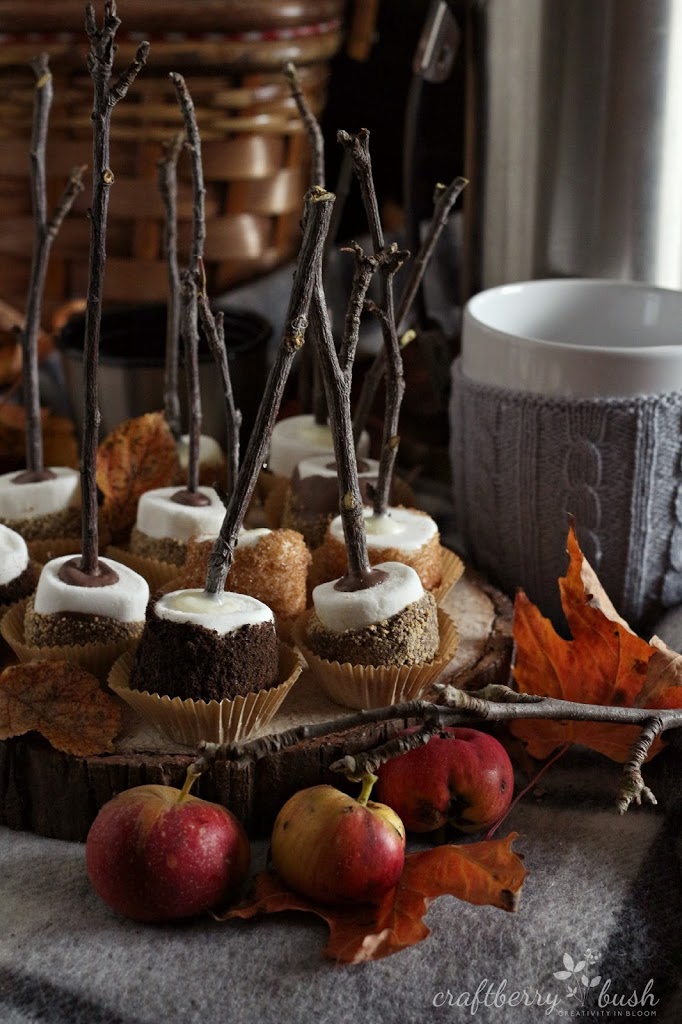 Wooden skewers, lollipop sticks, paper straws or sticks.
3 oz White chocolate melts
1/3 cup Graham cracker crumbs
1/3 cup Chocolate cookie crumbs or Oreo cookie crumbs
1 teaspoon Cinnamon or to taste
1 teaspoon Pumpkin spice or to taste
Directions:
– Mix sugar, brown sugar, cinnamon and pumpkin spice together and set aside
– In a microwave safe bowl, melt chocolate in 15 minute increments, stirring in between
– Dip stick or skewer in chocolate and insert into centre of marshmallow; allow chocolate to set
– Dip marshmallow into chocolate, allow access to drip and quickly sprinkle cookie crumbs with a spoon onto wet chocolate or dip directly onto crumbs
– Repeat step 3 and sprinkle sugar mix and or other desired ingredients
– Place on cookie sheet allow to set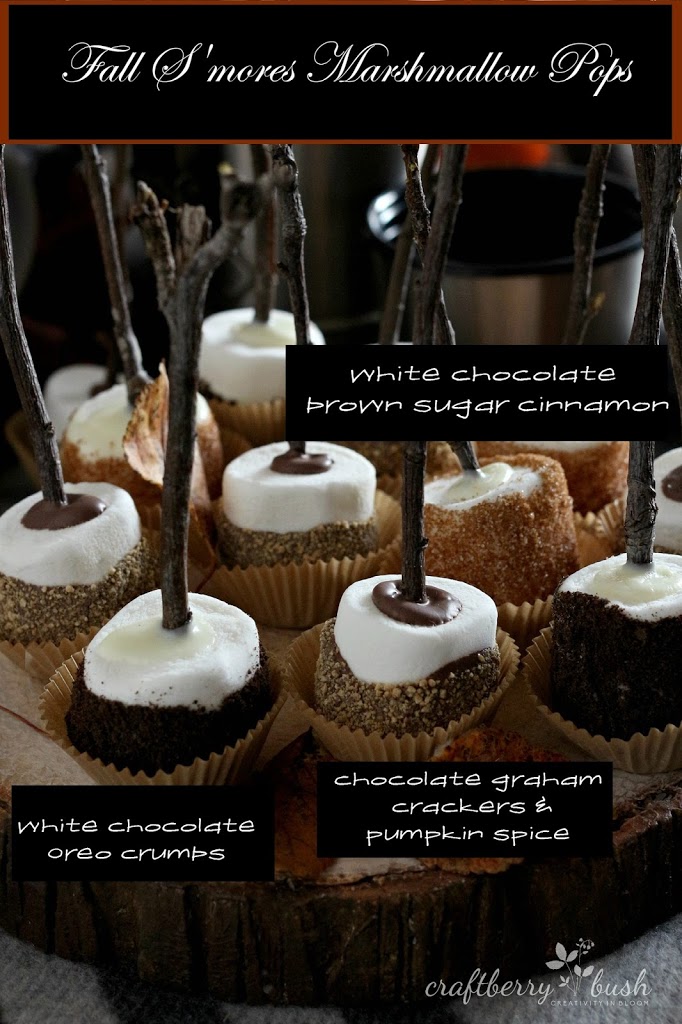 We had fun playing around with the flavours
and came up with some interesting combinations.
These would be perfect for a fall picnic.
You can also toast the marshmallows in the oven prior to
making them,
but they are delicious this way as well.
Want more sugar and spice?
Check out some of the other recipes my
friends put
together just for you…:)