I hope you had a great weekend. The weather is hot, the days are long and I have been rejoicing in the company of my children. 
Spending time with them is so precious to me and though I'm constantly tempted by the need to 'keep up' with other blogs, I quickly realize that I have a choice. I can choose to paint the walls and make my house prettier or I can paint rocks and make my kids happy. I choose the latter.
Motherhood, is not easy and often times you need to sacrifice your own wants, but at the end of the day, I want my kids to remember their summers with their mom being engaged, not behind the screen of a laptop. Mind you I'm still working on putting my phone down, I'm getting better at it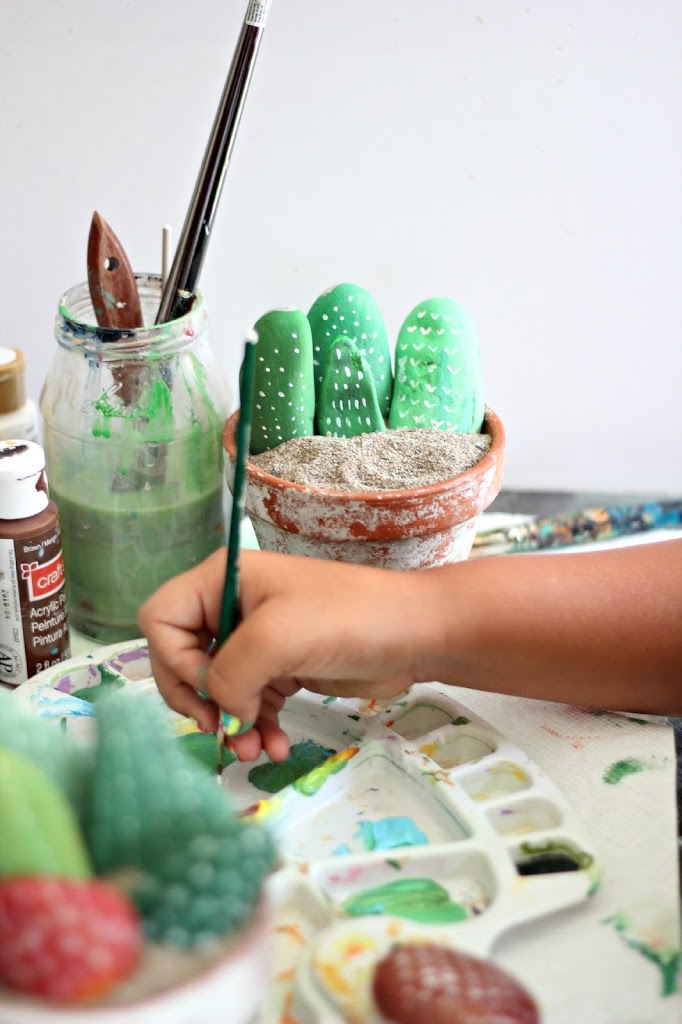 So I'm typing this post, early in the morning while they're still asleep. 
It's actually one of the most peaceful times of 
the day and finding this little time to spend on the blog is also good for my well being.:) 
I love this craft, because not only was it super 
easy to create but it also taught my 
daughter a lesson in creativity and taking an idea as inspiration but creating something new with it . In her own words, 'something better' .
for inspiration. 
Well this particular craft, was a given for us. 
But as usual, we wanted to make it our own. 
So Bella came up with the idea of using hot glue 
and attaching little cactus branches using tiny rocks. 
Which I thought was brilliant! 
 I loved how they turned out. 
I honestly could paint rocks all day long. 
Aren't these just so cute?
This week we'll probably be crafting some more.
 I have been wanting to try 
some Japanese tie-dye, will let you know if it works out! 
Thank you so much for dropping by!