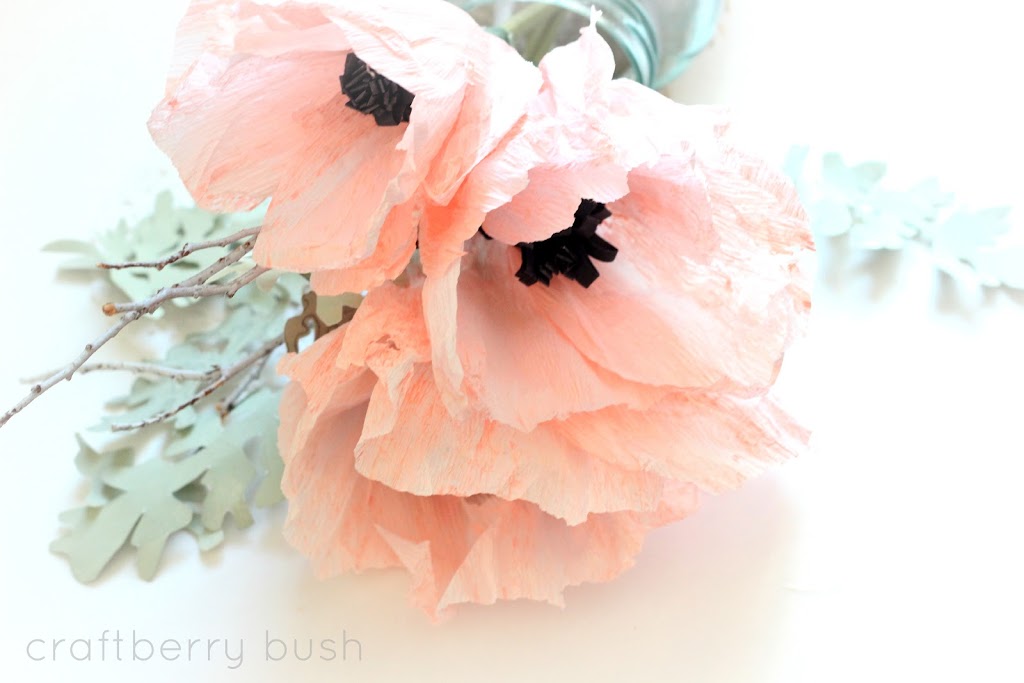 I hope you all enjoyed a great weekend.
Ours was filled with family, friends and good times.
I mentioned I would show you how to make these pretty anemone flowers, but before I do, let me tell you what led me to making them…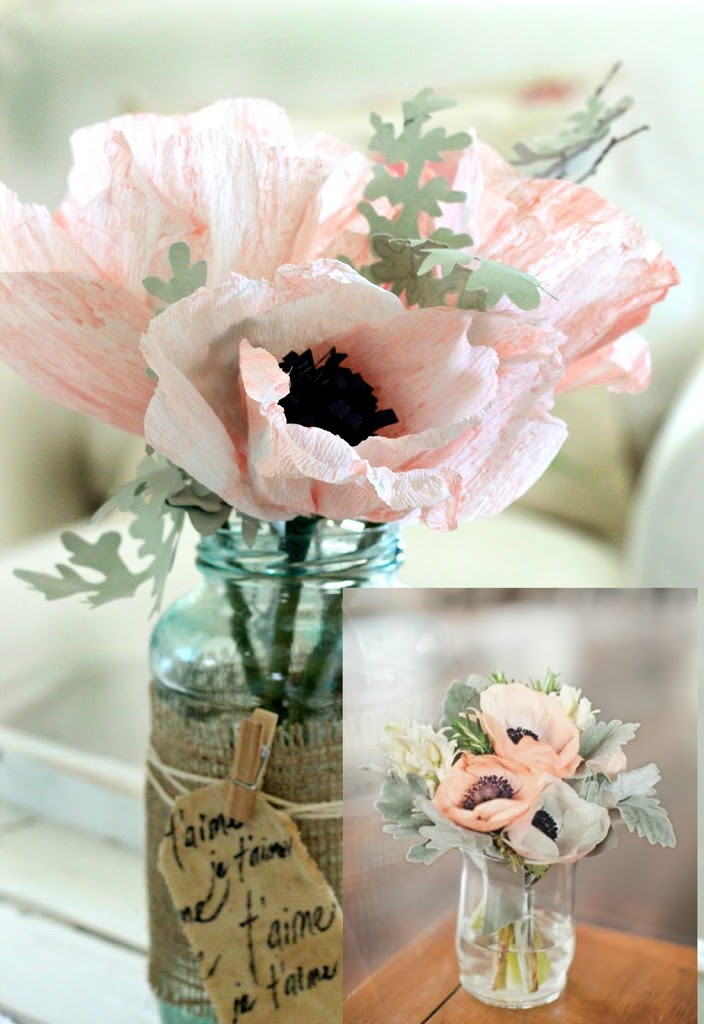 It all started a while back when I saw the insert of the picture above. A Martha Stewart arrangement featured on one of her wedding projects.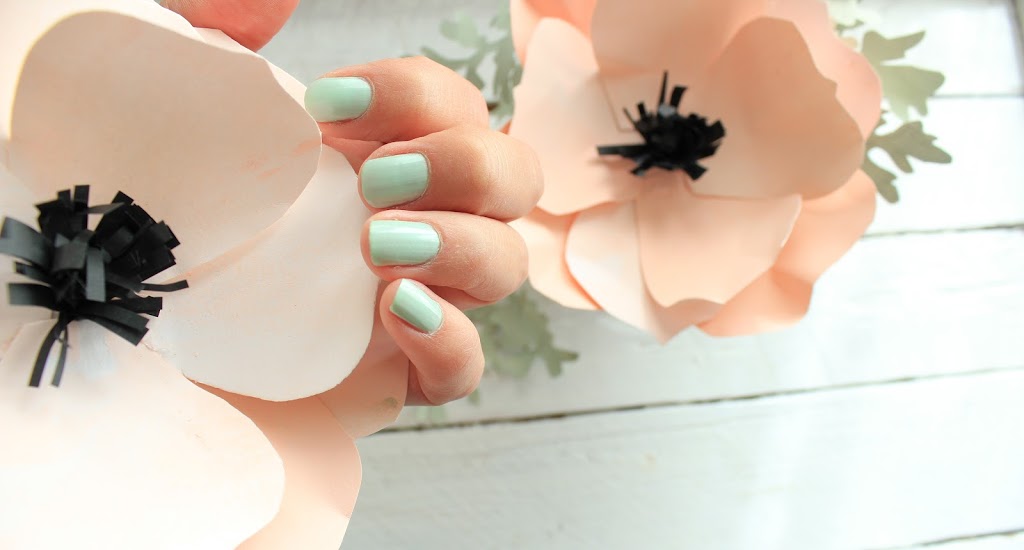 I fell in love with the colour combo, the peach of the anemonies and
the
minty grayish hues of the dusty miller. So I tried to recreate the flower.
This photo is from my first attempt. I was not too happy with the results so I didn't post it.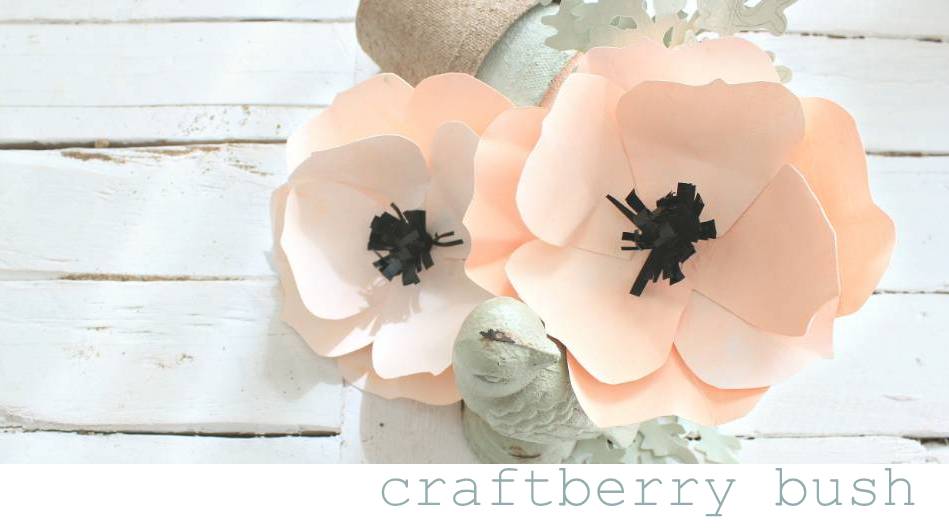 But you might recognize this picture as one of my FB cover photos. I don't know why I thought it was good enough to display on FB but not here..(?)
Fast forward to a couple of weeks ago, when I spotted the same beautiful flowers in one of my neighbour's garden. I immediately wanted to bring it home with me but I don't think they would appreciate me 'borrowing' their flowers.
I even thought about dressing like a ninja and sneaking in the middle of the night to 'borrow' the flowers. But I couldn't find my ninja outfit anywhere, so here we go with my next attempt….
Materials
artificial stem from old silk flower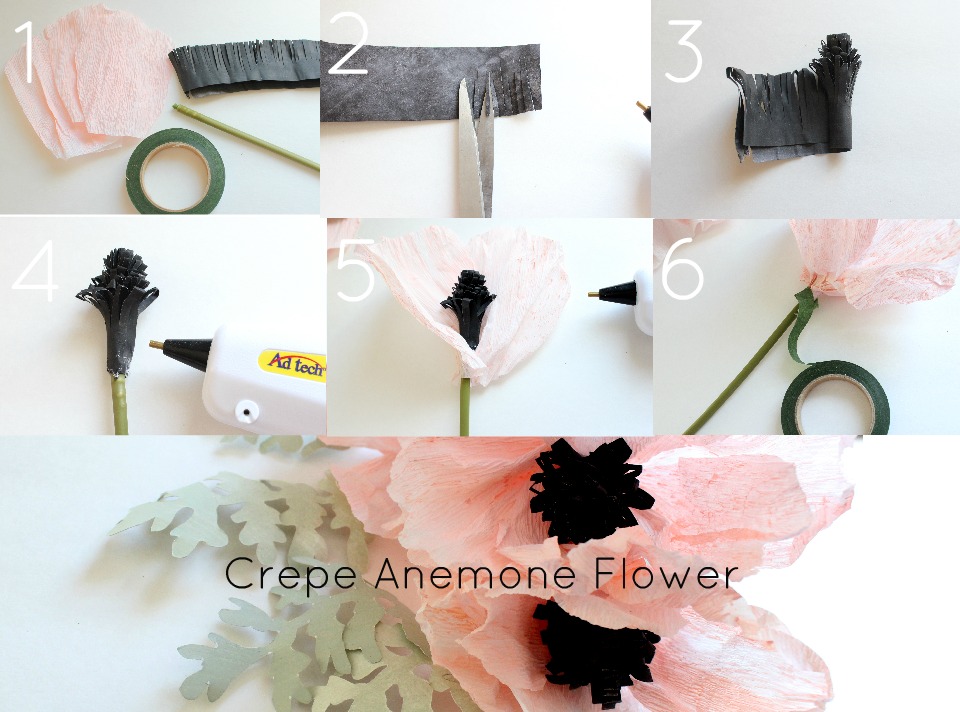 1. Cut 5 large shaped petals out of crepe paper
2. Fold black stock in half (measurement of 6″x2.5″)
3. Cut several slits along folded edge
4. Roll all the way to the end
5. Glue onto stem by using hot glue
6. Hot glue petals one at a time around stem
7. Cover bottom of flower with floral tape
DONE!


Tips: Prior to gluing petals, scrunch the top of each petal to make them a little 'wrinkly'. Cup flower in your hand and bring petals towards the middle to give it the appearance of 'just blooming' flowers.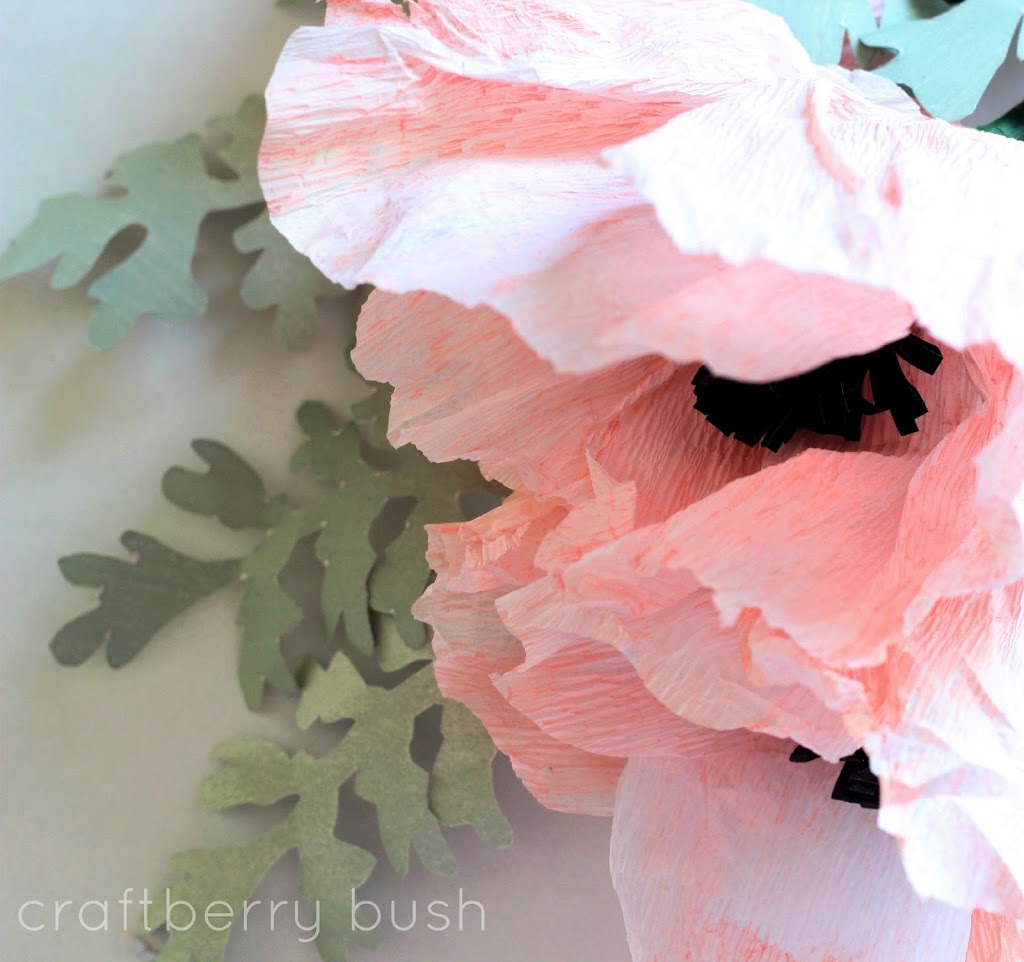 I think they turned out very
pretty and here is another secret…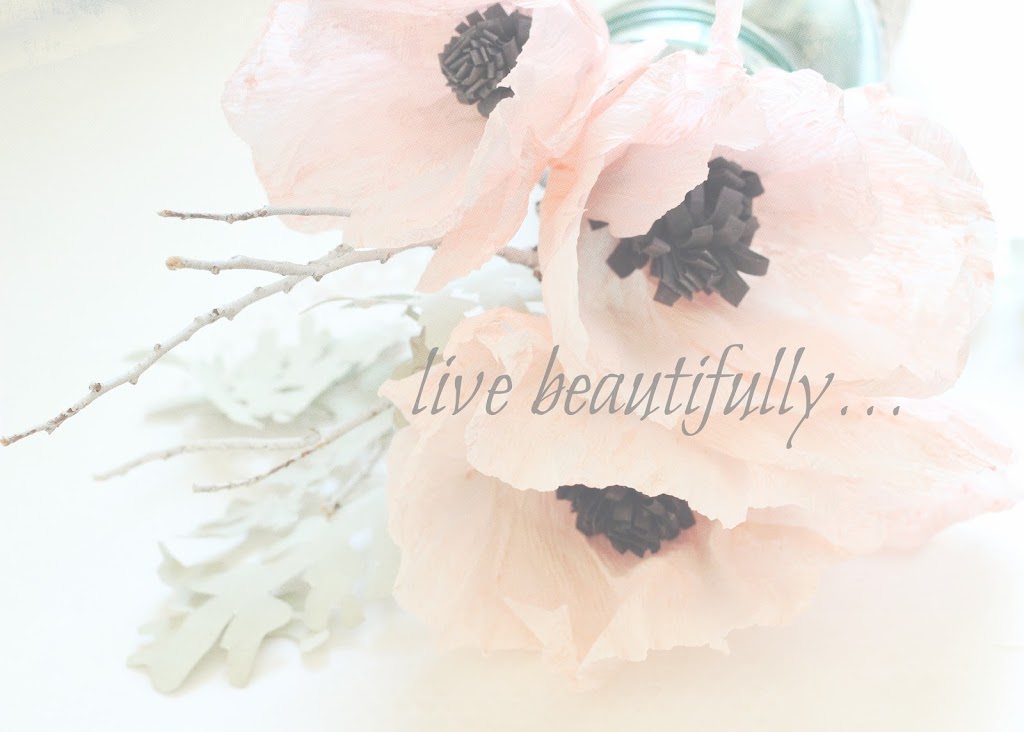 I spotted some crepe paper at the dollar store, but they did not have the colour I wanted, so I bought some in white. I then grabbed my DecoArt paints and mixed some orange, pink and white paint (1:1:8) and painted the crepe paper. The paper gets wrinkly and very fragile, and it's a little messy but when it dries the texture truly resembles that of a flower petal. 🙂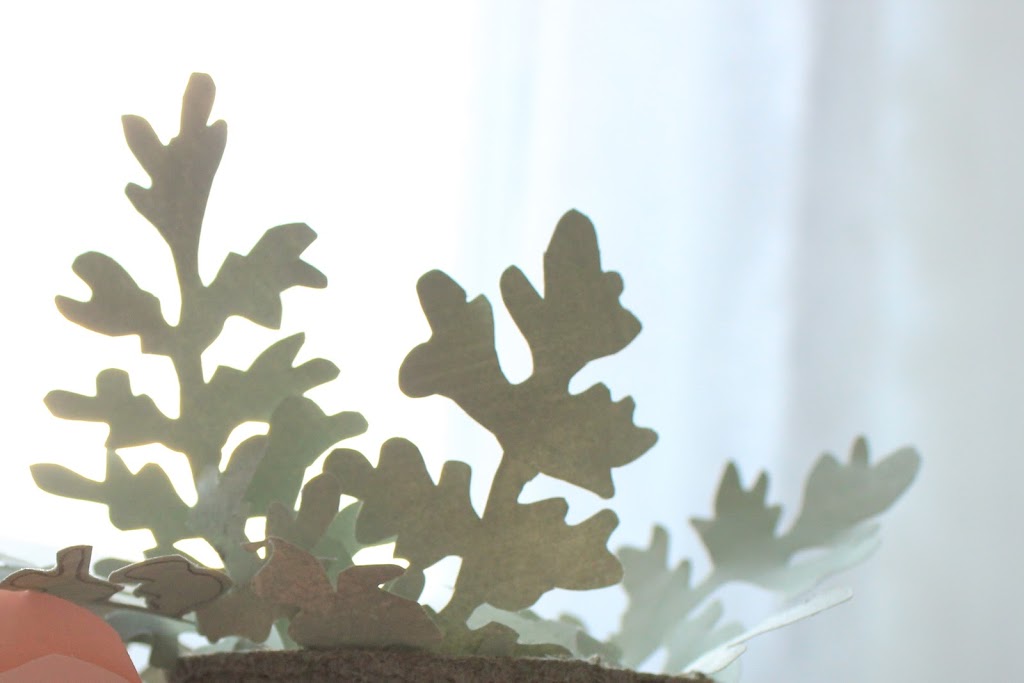 I also painted some white card stock with a mixture of green, white and black to give me that beautiful gray minty colour. I then hand drew the shape of the leaves (you can actually spot the pencil mark on one of the leaves of the bottom left) and cut them.
This craft was one of those five minute crafts I made on a whim. Usually, those are the ones that I like the most…:)
So what do you think? Do you prefer the first attempt, or the second? If you prefer the flowers made out of card stock, follow the same instructions as above, except I did not fold the black paper strip in half; I simply cut the slits and then rolled the paper.
As always, I end by thanking you for keeping me company. If this is your first time here, I want to welcome you and I hope you come back soon.
Funky Junk Interiors
Carolyn's homework
Home stories A to Z
Primp
The 36th avenue
Someday Crafts
French Country Cottage
2805
Crafty,Scrappy,Happy
Whipperberry
Tatertots and Jello
The girl creative
Chic on a Shoestring decorating
Finding fabulous
My Romantic Home
Simply designing
The Shabby Nest
I heart naptime
Today's creative blog
It's overflowing..
Ask Anna
a.k.a design
Thrifty Decor Chick
Cedar Hill Ranch