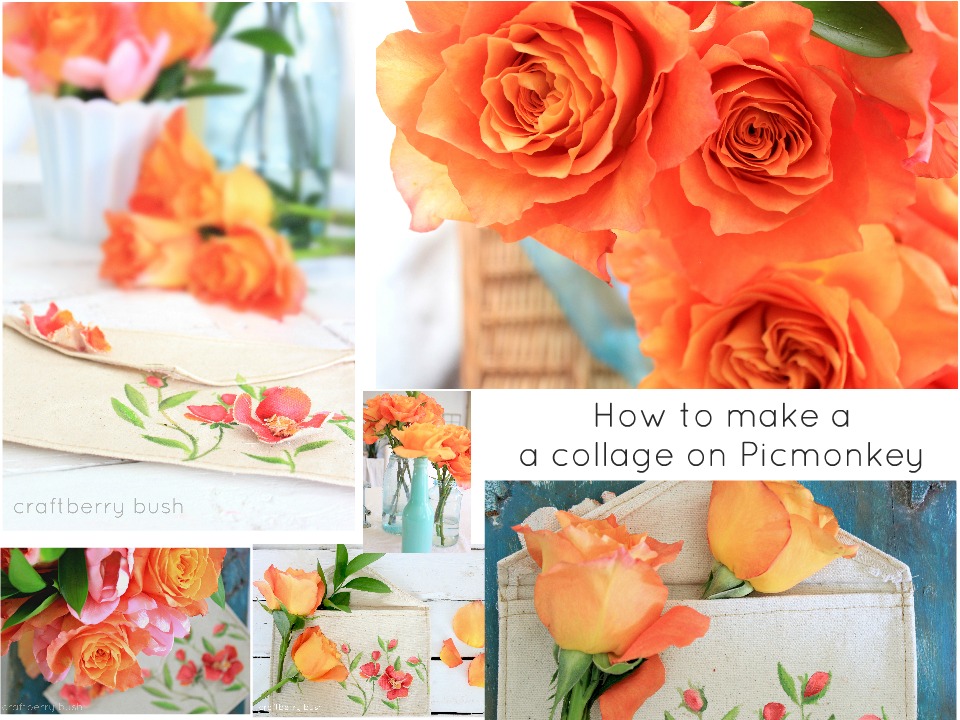 Happy Monday everyone – I hope you enjoyed your weekend.
Today is a bittersweet day for me as hubby goes back to work and I have the house all to myself. While
I'm going to miss him being here, I am so grateful that God has provided him with work so he may provide for us.
Speaking of missing (hubby laughed at my segue while saying,"'are you sure you're going to miss me?" ), do you miss Picnic? I do, but I specifically miss how easy it was to use when making a collage for my tutorials.
Well, I have some good news for you.
Picmonkey
is in the process of introducing a collage feature in the near future. But for now, you can use this super easy tutorial to make your own collage on Picmonkey using these simple steps.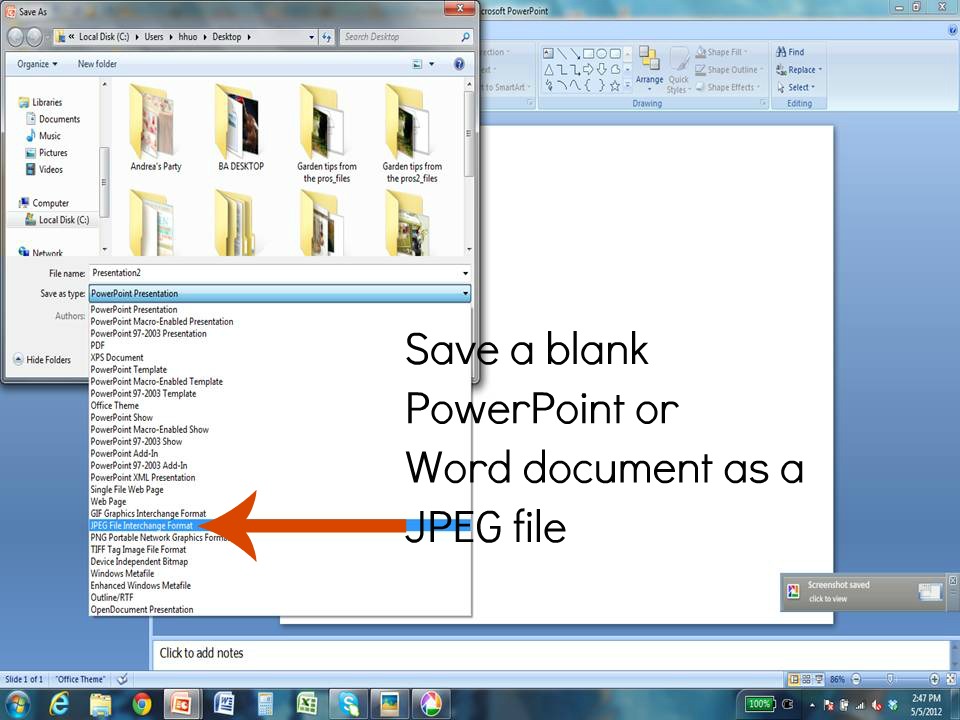 1. Save a blank PowerPoint or Word document as a JPEG file by selecting save as 'other formats'. Name your file whatever you would like (just remember the name, and where you save it).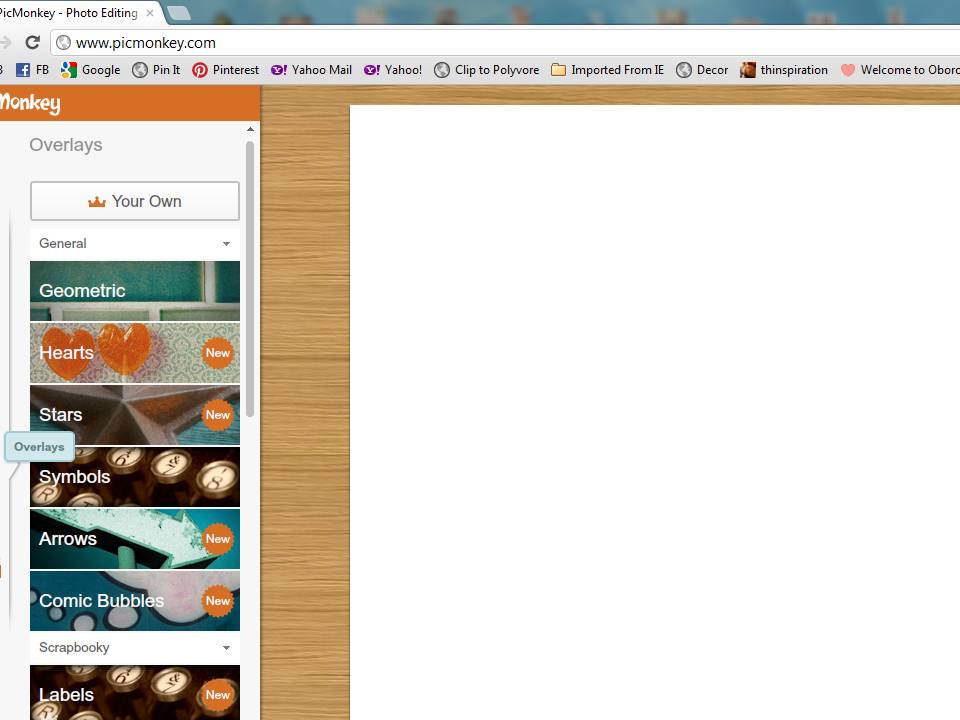 2. Open Picmonkey and upload the blank file you just saved. It will look like a blank space (that is what we want).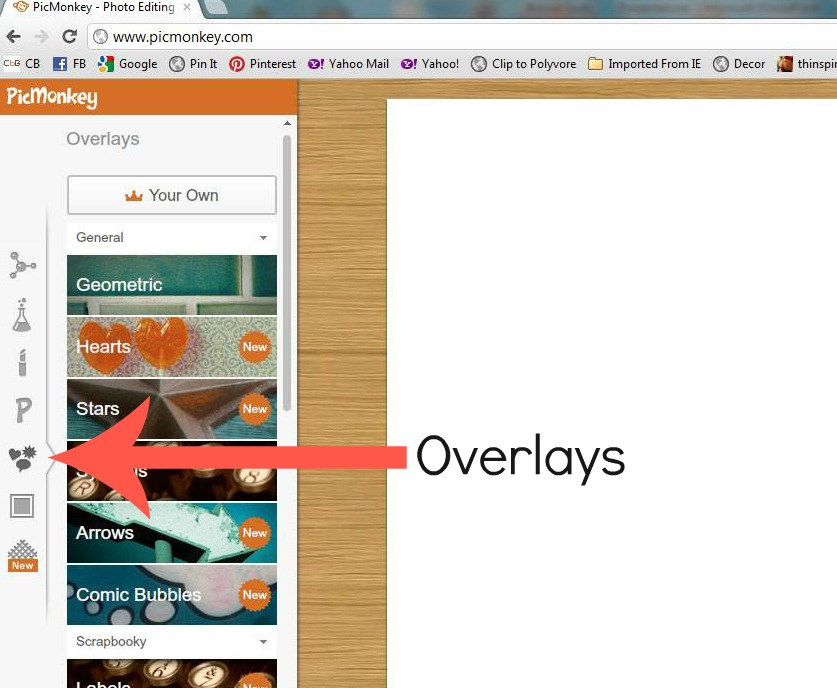 3. Click on 'OVERLAYS'. This is where you will find various symbols such as arrows, hearts, speech bubbles and many more.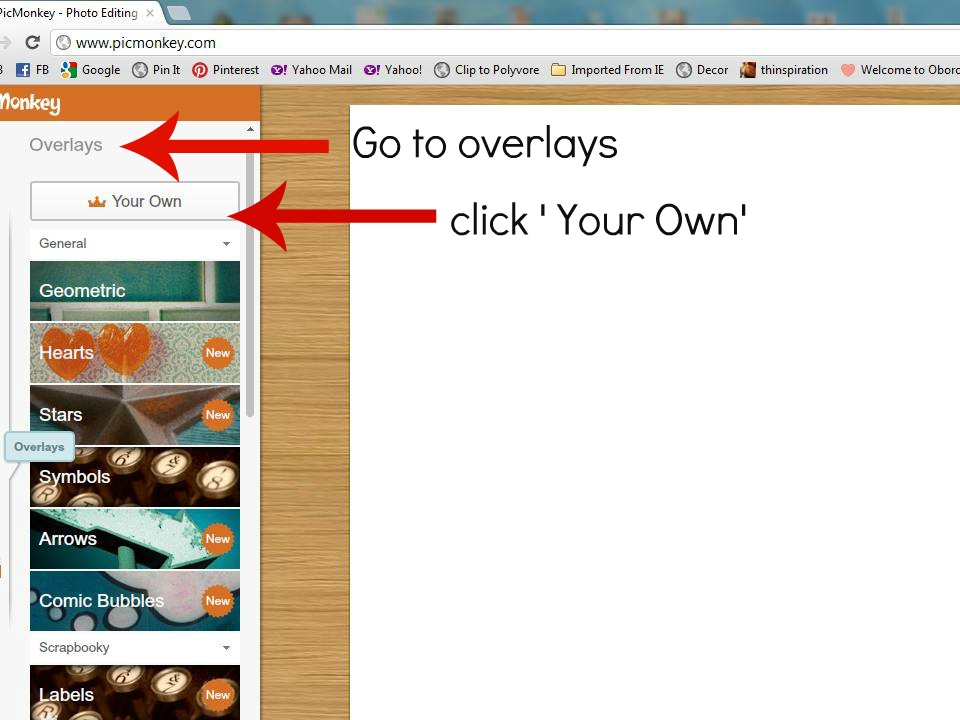 4. But today you are making your own so, click on 'Your Own'


5.
Choose desired pictures from your picture files and size by dragging corners.
Unfortunately, you can only upload one at a time, but the uploading takes seconds.
6. Size pictures to desired dimensions by dragging the corners.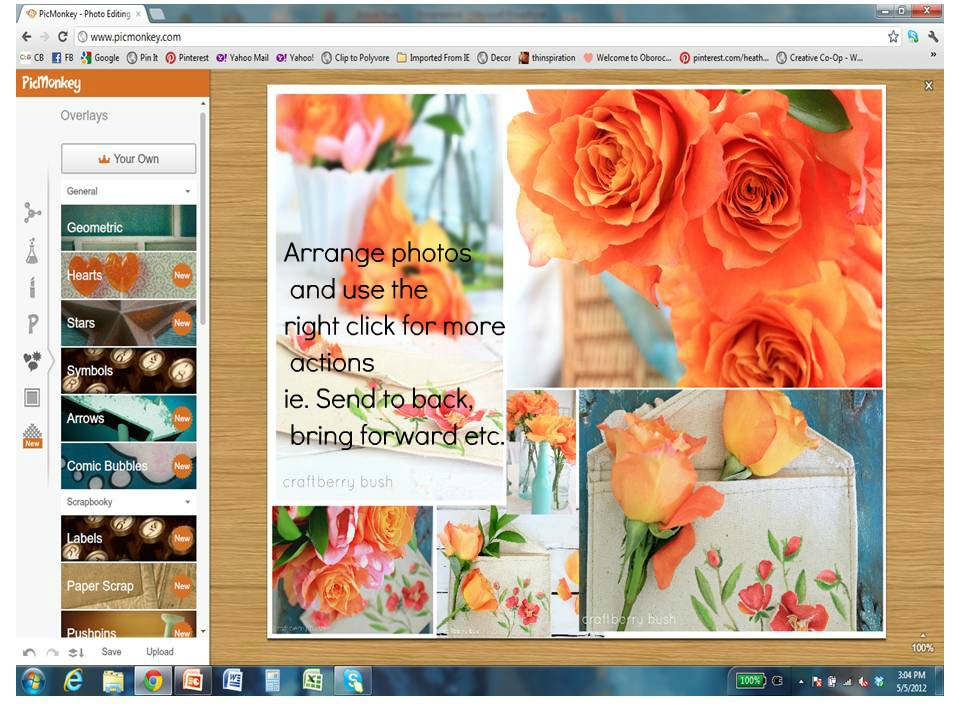 7. Arrange as many pictures as you would like.
You can find more useful functions by right clicking on the picture. ie. send to back, bring forward. etc.
You can also use the menu to blend pictures into each other, change colours, etc.
8. Add text if you wish or any other editing you would like for your collage.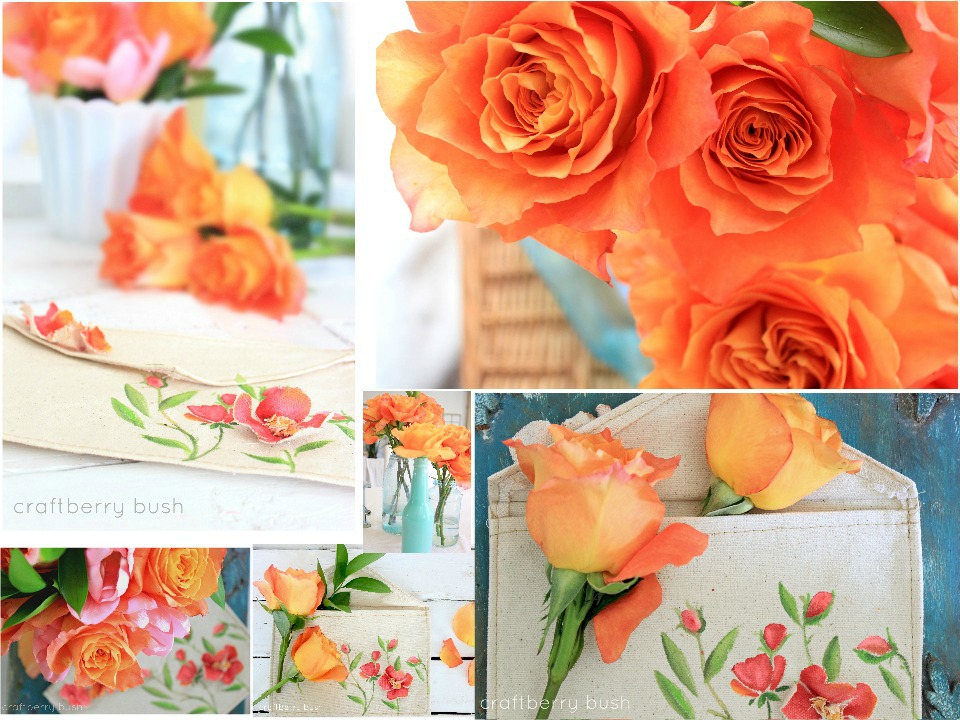 And that's it! Easy, right?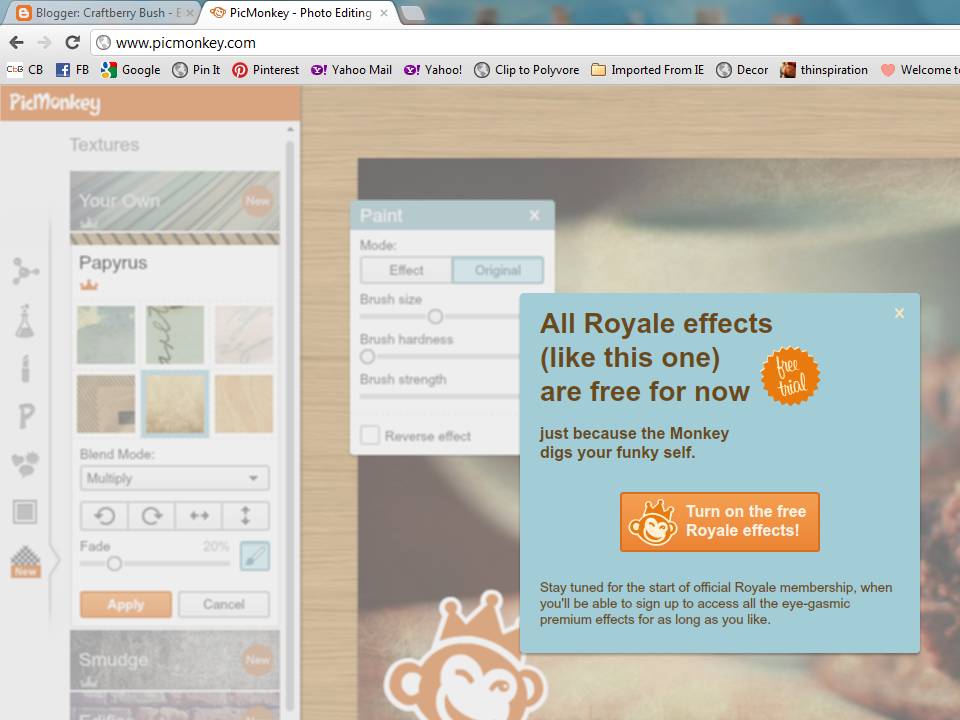 Please note that as Picmonkey grows in popularity and more features are added, I suspect they will introduce a charge for its 'Royale ' effects, so enjoy it now while it's free.
I am really enjoying using Picmonkey and I have discovered a lot of the same features, if not better than those of Picnic.


Hope you give it a try.


Wishing you a wonderful new week!


much love,
Lucy


ps – this weekend I pulled my polymer clay out and played a little. It's been so long since I have sculpted that I felt a little rusty. Here is a little peek at what I worked on.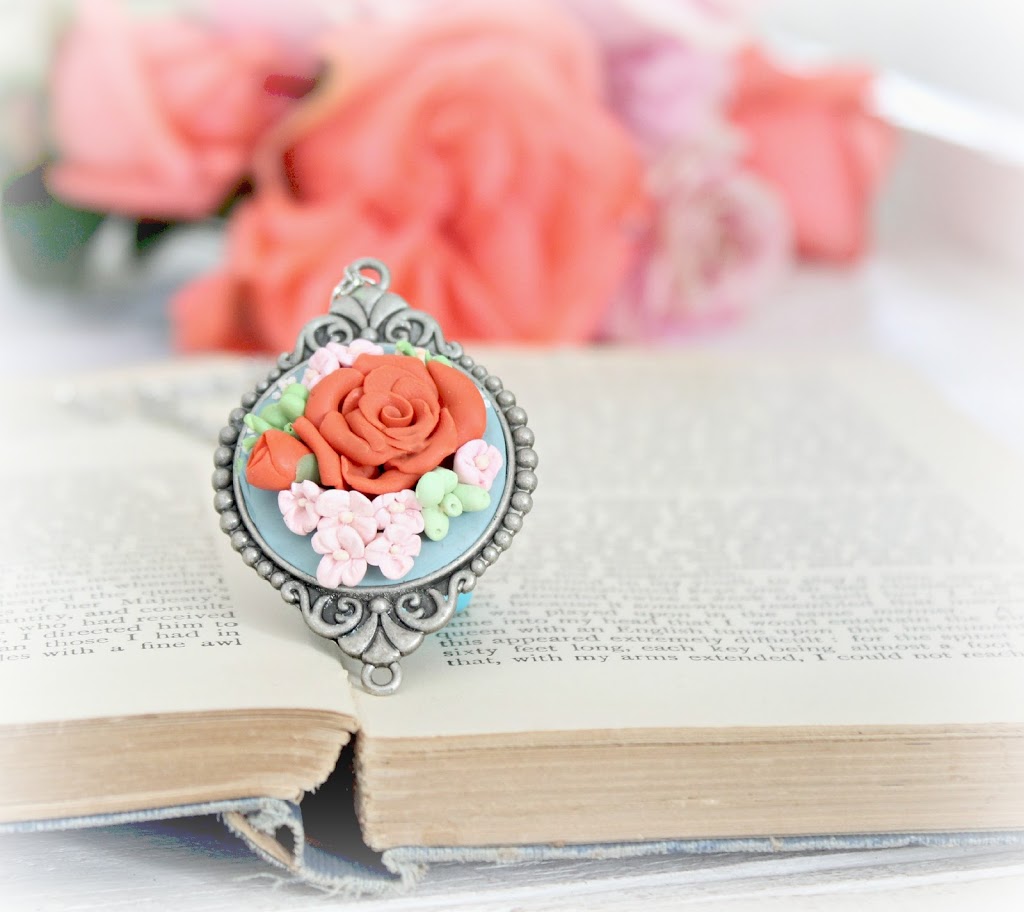 Carolyn's homework
Home stories A to Z
Primp
The 36th avenue
Someday Crafts
French Country Cottage
2805
Crafty,Scrappy,Happy
Whipperberry
Tatertots and Jello
The girl creative
Chic on a Shoestring decorating
Finding fabulous
My Romantic Home
Simply designing
The Shabby Nest
I heart naptime
Today's creative blog
It's overflowing..
Ask Anna
a.k.a design
Thrifty Decor Chick
Cedar Hill Ranch