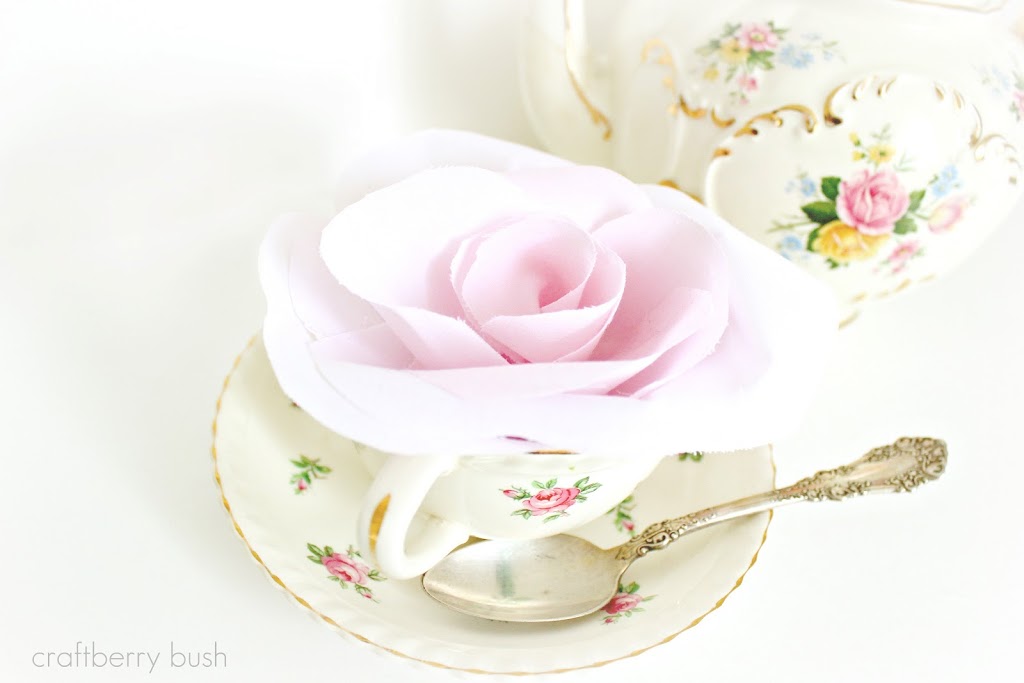 Hi everyone! I hope you had a wonderful weekend.
I wanted to take a moment to apologize to anyone who may have sent me an email and I have not responded. I'm not ignoring you, I promise. There is a chance I never received your email as my account has experienced "technical difficulties" as several of you advised having received a 'bounce back' message when sending me emails. If you would like to contact me, please direct your emails to: craftberrybush@yahoo.com


I am always excited to read your emails, whether it's for encouragement, design advise or instructions for a craft. The following tutorial request is from Susan, who wanted to know how to make this flower.


Here goes…


Materials

1. Cut petal shapes in three different sizes; for this particular craft, I used 6 large, 6 medium and 3 small.
2. Spray with starch and iron (this will make the fabric more rigid and easier to work with)
3. Cut a small slit at the bottom of the petal as shown



4. Apply hot glue to one side
5 & 6. Overlap forming a bowl like shape and continue to do this to all petals



7. Take two of the smallest petals and glue together to form a funnel shape
8. Take one of the smallest petal roll and glue as shown
9. Insert the single petal into the funnel shaped petal

Take your set of large petals and glue them one by one, overlapping in a circle to form a 'bowl'



The middle picture shows you what the bottoms looks like. Take the medium size petals and form a 'bowl'.


The Third picture shows you the large petals glued together, the medium and the smallest petals ready to be assembled.



Place medium 'bowl' of petals and glue into the large 'bowl' of petals.
Place the smallest petals into the medium petals and if
desired, curl petals under with curling iron.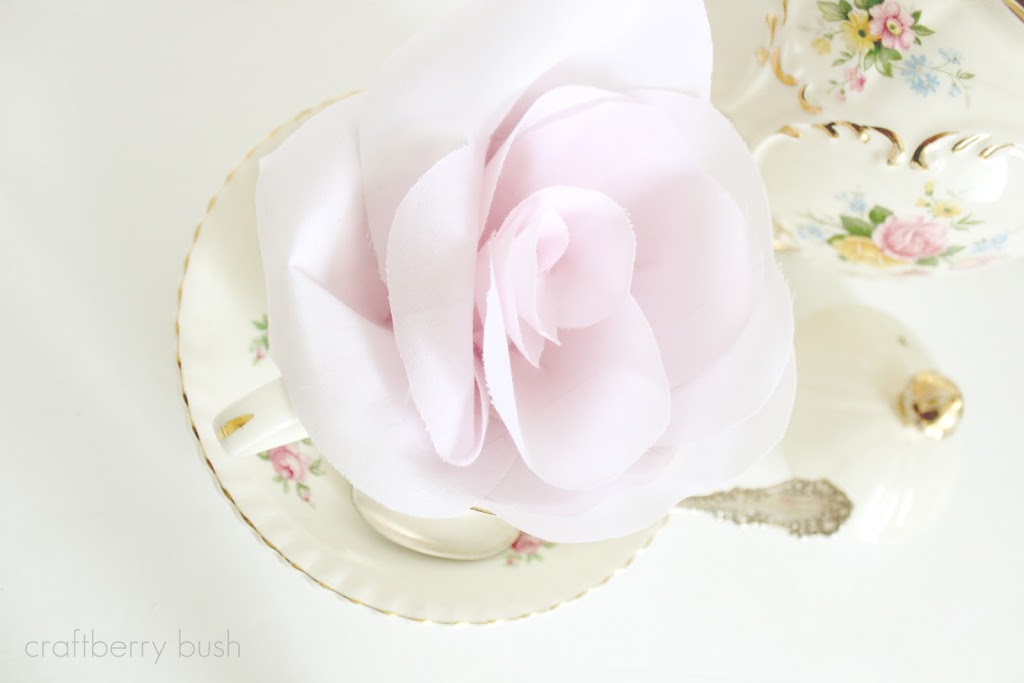 I originally created this flower to accessorize a gift, but can you imagine several glued onto a wreath? Perfect for Spring.


I hope this tutorial was helpful and encourage you to contact me should you have any questions about this, or any other tutorial I have done or you would like to see.


I'll be back later this week with a couple of Spring projects that will hopefully inspire you.


much love,
Lucy


ps. I would like to take this opportunity to thank Kristin from Homespun with love, who was kind enough to do a feature of Craftberry Bush on her beautiful blog.


pps. In addition, my newest friend Barb from Hodge Podge is doing her part to give Canadian bloggers a voice and recently featured a Q&A with Craftberry Bush.


Thank you both so much – I am both grateful and humbled.









Linking at
Carolyn's homework
Home stories A to Z
Primp
The 36th avenue
Someday Crafts
French Country Cottage
2805
Crafty,Scrappy,Happy
Whipperberry
Tatertots and Jello
The girl creative
Chic on a Shoestring decorating
Finding fabulous
My Romantic Home
Simply designing
The Shabby Nest
I heart naptime
Today's creative blog
It's overflowing..
Ask Anna
a.k.a design
Thrifty Decor Chick
Cedar Hill Ranch