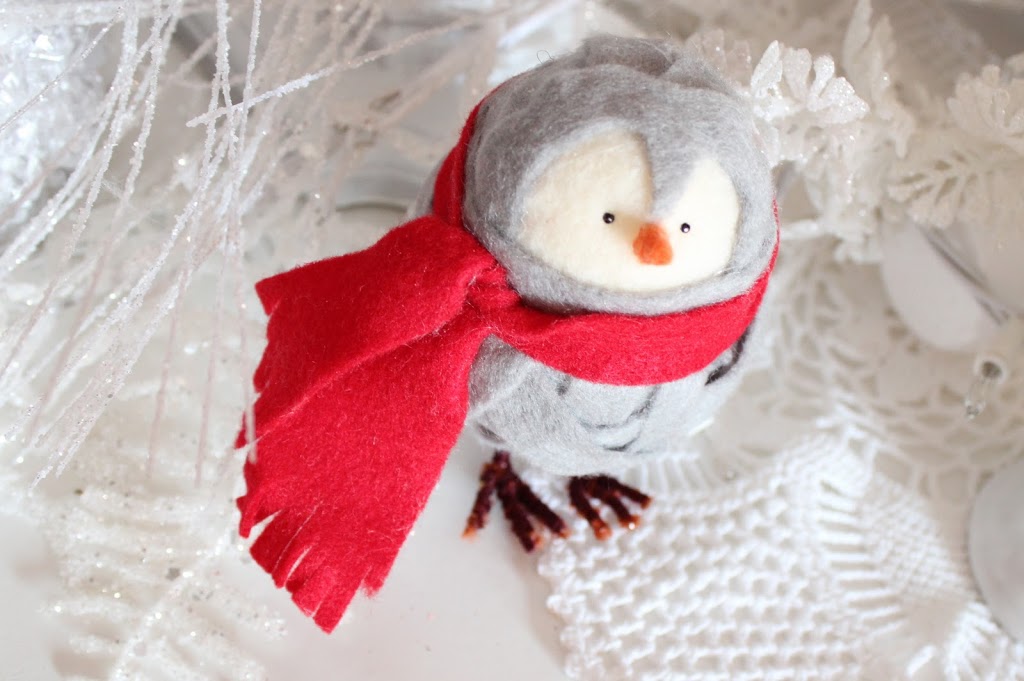 I hope you had a wonderful Christmas, filled with love, laughter and new memories.


It's hard to believe that after weeks of preparing for Christmas it is now in the past. We will soon be ringing in the new year and I thought it would be fun to share some of the posts that did not make the final cut. Either due to time, failed attempts or me thinking it was not blog 'worthy'. Most recently – the little felt birdie pictured above. I think he is so adorable and so he will sit in the 'draft' file until next year…:)
I love the non-traditional colours she chose, inspired by peacock feathers I found at the dollar store. She has a beautiful home and I would love to give you a tour, but maybe next time….
The kiddies and I always love the time we spend decorating the gingerbread house. I love how the hard candies we used as bricks make the house look like a quilted Candyland house. So fun..
In the fall, I made pumpkin pancakes for the kiddies, but some one else posted the idea before I did, so I decided not to post it…


When I was contacted by the producers of the Martha Stewart show to potentially showcase my soda bottle penguins on the show (I speak about it here), I was also asked to send other items to showcase. I made this faux cupcake, which several people mistakingly took for real, and tried to eat.
And finally, this Spring I made these tulip popcakes for my cousin's baby shower (the tutorial also sits in the draft folder…).


So there you have it, some of the craftberries that for some reason or another did not fully bloom.


I am looking forward to the new year as I attempt to give this little blog a makeover. It is my wish that you will be a major part of the changes as I ask for suggestions and advice.
I'm still a novice when it comes to HTML codes and blog design so any advice you might have is welcomed with open arms.


Once again, thank you for a wonderful year. I can't wait to share yet another one with you, but for now, I'm off to see what you guys are up to. See you soon!


much love,

Lucy