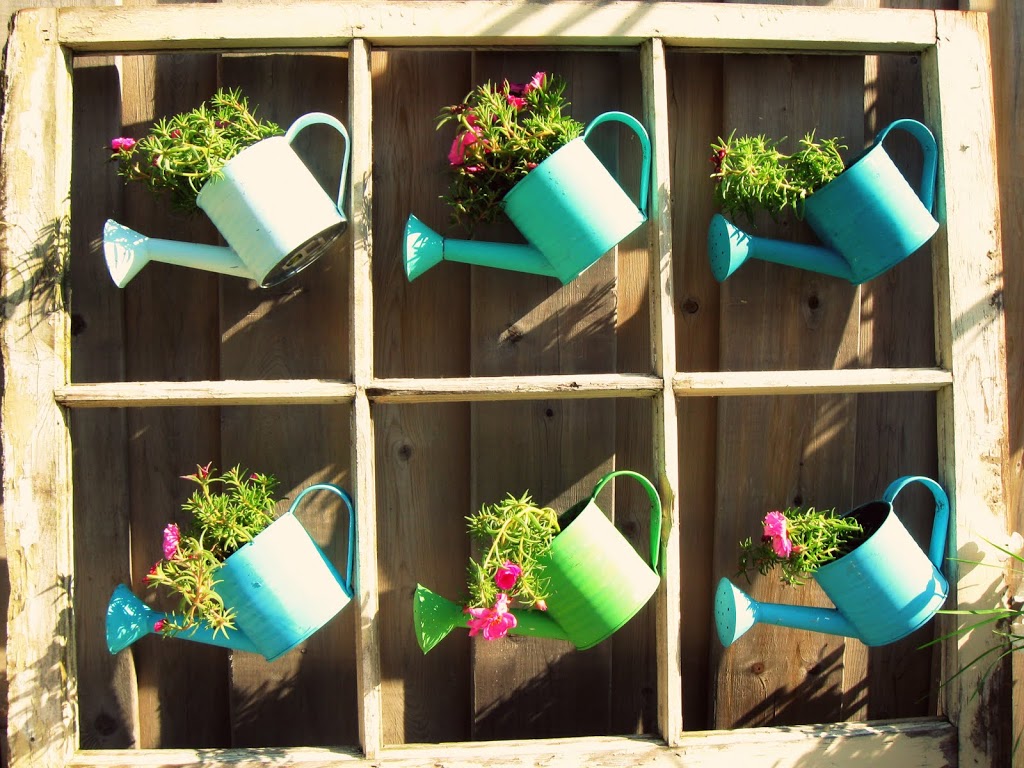 Well here it is…my newest creation.
It took a little while as I've been busy with a few other things and was only able to dabble at it here and there. Y
ou likes? I know it's a little out there, but when I look at it, it makes me smile.
I saw these cute little steel watering cans at the Dollar Store back in May when the summer inventory was coming in, and fell in love with them….
Every time I went to the store, I would see them but didn't have a good enough reason to purchase them. I knew I could paint and use them as vases (which I think look beautiful), but it was missing a little something…..
Enter the old window frame we found on the side of the road the night before garbage day. We were leaving my mom's neighbourhood and as we turned the corner, I let out a scream that made hubby screech the wheels. After his few chosen (not to be repeated here) words, I asked him to please put them in the trunk of the truck, but would he? No. In an effort to try and "help" me conquer my shyness, he made me go and knock on the door of the house they were sitting outside of, just to make sure they were being disposed of. After several minutes of calling each other's bluff, and him putting the truck in drive, I once again conquered my fear and made my way up the driveway of this stranger's home. The lady was not only extremely kind, but appeared somewhat perplexed that this stranger was interested in clearing her 'trash' for her.
Anyway…it finally hit me. How cute would it be to paint those little watering cans and nail one to each window panel? See the nails on the handle? I thought of wrapping twine around it to hide the nails, but I think it looks fine just like that.
Some varnish or outdoor paint if you wish the paint to remain on the cans.
I used regular acrylic paint without varnish as I want them to flake and rust naturally. Once they achieve the 'aged' look that I want, I will cover them with varnish to seal the look.
Because I live in Canada, I am not sure if your local dollar store will carry these beauties….but you can easily recreate this by drilling regular cans to the bottom of the panels. That was my initial thought, but hubby suggested hanging them by the handle (he was right…again).
I'm not sure what type of plant this is, but I wanted a nice contrasting colour. I also thought the plant should be a hanging plant.
I hubby will be hanging the frame upon the fence, but I'm not sure if it will hang on a slant or straight. Do you have a preference?
I'm so happy with this crazy little garden. I really hope you like it too.
This morning, I got drunk with what will be the last bit of silence I will experience for a while as today was the kiddies' last day of school. But I'm soooo happy to have them home all day long. While those little squabbles and finger prints on the fridge may seem annoying at times, knowing

that they are with me and are safe under my care is what brings me the most peace.
So nice of you to visit, I will be back soon and hope you will be too.
Many warm hugs and much love,
p.s. I am agonizingly behind in replying to many of the sweet words some of you have taken the time to share with me. I'm so sorry, but will try to find some time to write back soon.
Linking for the first time at